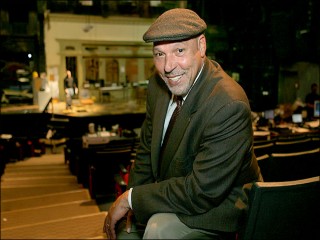 August Wilson biography
Date of birth : 1945-04-27
Date of death : 2005-10-02
Birthplace : Pittsburgh, Pennsylvania, United States
Nationality : American
Category : Arts and Entertainment
Last modified : 2010-07-09
Credited as : American playwright, ,
August Wilson
(April 27, 1945 in Pittsburgh, Pennsylvania, United States – October 2, 2005 in Seattle, Washington, United States) was an American playwright whose widely acclaimed ten-play cycle about African-American life in the twentieth century carved out a prominent place for black drama on the American stage. His literary legacy is a series of ten plays, The Pittsburgh Cycle, for which he received two Pulitzer Prizes for Drama. Each is set in a different decade, depicting the comic and tragic aspects of the African-American experience in the twentieth century.
Born
Frederick August Kittel
, Wilson was the fourth of six children in a poor family in Pittsburgh's depressed and predominantly black Hill District. His father, an Austro-Hungarian immigrant named Frederick ("Fritz") August Kittel, had a volatile temper, a trait Wilson inherited. As a baker who was frequently out of work, the elder Kittel did not live with or support the family. Wilson's mother, Daisy (Wilson) Kittel, a black cleaning woman with roots in a North Carolina sharecropping family, kept a loving if strict home and taught Wilson to read from the age of three.
Wilson's formal education ended in ninth grade. In quick succession he left three schools: Central Catholic High School, where as the only black student in his grade he was subjected to abuse; Connelley Vocational High School, which had low academic standards; and Gladstone High School, where a history teacher incorrectly believed that a paper he submitted had been written by one of his older sisters. For months Wilson did not tell his mother and stepfather, David Bedford, that he had quit school and was instead going to the main branch of the city's Carnegie Library system, in the Oakland neighborhood, to read volumes of African-American writing. Later in life Wilson claimed that mainstream American and European literature and drama played almost no role in his formative years.
After serving in the army from 1962 to 1964, Wilson held a series of odd jobs and immersed himself in local life. The year 1965 proved pivotal. After his birth father died that year, Wilson changed his name. He discovered the blues, which, along with the painter and collagist Romare Bearden, the Argentine writer Jorge Luis Borges, and the political playwright Amiri Baraka, Wilson frequently acknowledged as having inspired his writing. He moved from his mother's home into a rooming house and, as he had decided to become a writer, bought a typewriter for $20 (which he had earned, ironically, by writing a college term paper for an older sister). At first he wrote poetry, but he said that he spent eight years trying to find his own voice as a poet.
Wilson came of age in a political climate that fostered the formation of a black cultural identity. He participated in the Black Power movement and carried this race consciousness to his early production work at the Black Horizons Theater (some sources give the theater's name as Black Horizons on the Hill), which he cofounded in 1968. In 1969 he married Brenda Burton, a follower of the Nation of Islam. They had a daughter, but the marriage ended in 1972.
In 1973 Wilson wrote his first play, Recycle. Like most of his plays written in the 1970s, Recycle is experimental in nature, with unrealistic dialogues. In 1977 Wilson went to Saint Paul, Minnesota, to work on his play Black Bart and the Sacred Hills. He then moved to Saint Paul and joined the Playwrights' Center in Minneapolis, working as a writer for the Science Museum of Minnesota.
While still living in Pittsburgh, Wilson had soaked in the street life of his black neighborhood. In Saint Paul, far removed from any large black community, he learned to more fully interpret the voices from his hometown. The plays he wrote from this point on typically contain wide assortments of African Americans—including ex-convicts, hustlers, musicians, truth tellers, and hardworking folk—some of whom appear in more than one play in his cycle. His characters meet in a communal space, such as a boardinghouse, a restaurant, or an office, and talk about their aspirations and the disappointments in their harsh lives. While white people rarely appear on stage, race and racism are never far from the characters' minds. Music, especially the blues, is either a dominant theme or a strong undercurrent, in counterpoint with Wilson's lyrical, stylized vernacular. The plays contain an occasional hint of the supernatural and often culminate in violence and death.
In 1979 Wilson wrote an early version of Jitney, a father-son drama set in a taxi station in Pittsburgh's Hill District. He submitted it to the Eugene O'Neill Theater Center's National Playwrights Conference, a prestigious drama competition held in Waterford, Connecticut. The play was rejected twice but nevertheless enjoyed a successful run in Pittsburgh in 1982.
In 1981 Wilson married Judy Oliver, a white social worker; they had no children. The next year, on the strength of Ma Rainey's Black Bottom, which he started writing in 1976 and revised in 1981, Wilson was finally invited to the O'Neill Center, where he began a long and fruitful collaboration with its director, Lloyd Richards. In that play—the only one in the cycle not to take place in Pittsburgh—four black jazz musicians wait for a legendary blues singer in a Chicago recording studio, with tensions rising while they discuss race relations and the coming of swing. In short order the play moved to the Yale Repertory Theatre, in New Haven, Connecticut, and to Broadway, where it opened to glowing reviews in 1984 and ran for eight months.
The idea of penning a cycle did not occur to Wilson until after Ma Rainey, when he noticed that Jitney was set in the 1970s, Ma Rainey in the 1920s. He then decided to write one play for each decade of the twentieth century. His next full-length work, Fences, starts in the 1950s, at the outset of the civil rights movement. The play chronicles the travails of Troy Maxson, a garbage collector whose youthful dreams of playing professional baseball were denied because of his race. Maxson refuses to see that society is changing and opposes his son's accepting a football scholarship. Opening on Broadway in 1987, Fences proved Wilson's biggest commercial success and won the first of his two Pulitzer Prizes for drama, as well as a Tony Award for best play.
Wilson was outspoken in his opinions. He objected to "color-blind casting," the practice of choosing an actor of one race to fill a role intended for an actor of another race, and championed a distinctly African-American theater, a position his critics called separatist. Wilson insisted that a Hollywood film version of Fences be directed by a black director; the project was not realized.
After bursting onto the nation's theater scene with Ma Rainey and Fences, Wilson remained one of the most successful and visible American playwrights for the rest of his life. He wielded an unusual level of control over his plays and had the luxury of fine-tuning them in regional theaters before their Broadway debuts.
Joe Turner's Come and Gone appeared on Broadway in 1988 while Fences was still running. In Joe Turner, set in 1911, a man searches for his long-lost wife and for his own identity, making a trip that mirrors southern blacks' mass migration to the North. In 1990 The Piano Lesson, in which a brother and sister clash over what to do with an upright piano that has been part of the family history since its slavery days, won Wilson his second Pulitzer Prize. William Henry III of Time magazine called the piano, which represents the struggle between preserving heritage and creating a brighter future, one of the "most potent symbol[s] in American drama." Adapted into a television film in 1995, The Piano Lesson is Wilson's only play to have been filmed.
After his second marriage dissolved in 1990, Wilson moved to Seattle. In 1994 he married Constanza Romero, a Colombian-born costume designer who had worked on The Piano Lesson. They had one daughter.
Wilson's plays continued to be produced on Broadway. Two Trains Running, about dreams, regrets, and romances among workers and customers at a soon-to-be-demolished Pittsburgh diner in 1969, opened in 1992. Seven Guitars, set in 1948 and centering on a blues guitarist with one hit record who is determined to return to Chicago to produce a second, was staged in 1996. It was followed in 2001 by King Hedley II, about a family's violent past and present troubles in 1985. Gem of the Ocean, set in 1904, tells the story of a guilt-stricken young man who seeks redemption, at the home of a 287-year-old healer, by going on a spiritual journey. Chronologically the first play in the cycle, it premiered on Broadway in 2004. Meanwhile, Jitney, which Wilson substantially revised in 1996, won the Olivier Award, London's equivalent to the Tony Award, for best play in 2002.
In the summer of 2005 Wilson completed the final entry in his ten-play cycle, Radio Golf, which tells the story of an urban redevelopment plan set in 1997. While revising the play for a pre-Broadway production in Los Angeles, Wilson was diagnosed with inoperable liver cancer. He died on 2 October 2005 at the Swedish Medical Center in Seattle and was buried in Greenwood Memorial Park Cemetery in O'Hara Township, just outside Pittsburgh. On 16 October 2005 Broadway's Virginia Theatre was renamed the August Wilson Theatre, making Wilson the first African American to be so honored.
Wilson's string of successes was unprecedented for an African-American playwright, and he helped to launch and bolster the careers of a generation of black actors, including Charles S. Dutton, James Earl Jones, and Angela Bassett. Taken together, Wilson's cycle of ten plays is a concerted and epic effort to dramatize black history and culture—a major body of work poised to become a cornerstone of American theater.
Although no book-length biographies of Wilson have been published, Mary Ellen Snodgrass, August Wilson: A Literary Companion (2004), contains a detailed chronology of Wilson's life; and Sandra Garrett Shannon, The Dramatic Vision of August Wilson (1995), has a section on Wilson's development as a young writer. Obituaries are in the Pittsburgh Post-Gazette and New York Times (both 3 Oct. 2005).
Read more
Latest headlines