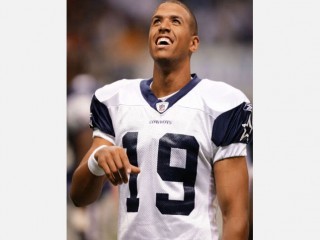 Austin Milles biography
Date of birth : 1984-06-30
Date of death : -
Birthplace : Summit, New Jersey
Nationality : American
Category : Sports
Last modified : 2010-10-20
Credited as : Football player NFL, wide receiver for the Dallas Cowboys, Super Bowl/NFL Draft player
Miles Jonathon Austin III is an American football wide receiver for the
Dallas Cowboys
of the National Football League. He was signed by the Cowboys as an undrafted free agent in 2006. He played college football at Monmouth.
PRO: Perhaps one of the biggest surprises league-wide last season was the emergence of Miles Austin as a viable threat to any defense around the league. Austin, who originally joined the club as one of just three rookie free agents to make the team out of training camp in 2006, saw most of his time through his first four seasons as the club's kickoff returner, but 2009 was different. His work leading up to the season had Austin slotted as the club's third wide receiver, but he stepped into the national spotlight when Roy Williams (ribs) sat out of the game at Kansas City (10/11), giving Austin his first career start. Austin exploded for 250 yards on a career-best 10 catches with two touchdowns, including a 60-yarder for the overtime win. Austin's 250 yards were a club record, the most receiving yards by a player in his first career start in NFL history and just the 15th time a player reached 250 yards since 1970. Not to be just another one-hit wonder, Austin finished with 171 yards the next game against Atlanta (10/25) in his second consecutive start for a two-week total of 421 yards - tops in team history, fourth-most in league history and just the fifth player to follow a 250-plus yard game with a 100-yard performance. He then added 61 yards in the next game for the most receiving yards in league history through a player's first three career starts before tacking on 49 yards the following week for a four-game total of 531 yards - the third-highest four-game total in club history. By season's end, Austin led the team with 1,320 yards and 11 touchdowns while finishing second with 81 catches with his first career Pro Bowl selection. His 1,320 yards were the sixth-most in a season in club history and the sixth-most by a rookie free agent in league history. He was just the 15th different undrafted player to reach 1,000 yards and just the 12th to have 10-or-more touchdowns in a season. As a rookie in 2006, Austin took over as kick returner when Tyson Thompson (ankle) went down for the season and did it again for Thompson in 2007. Austin averaged 26.0 yards-per-kickoff return in 2006, the second-best average by a rookie in club history. He finished ninth in the NFL in kickoff return average (25.5) on 24 attempts in 2007. He once again took over kick return responsibilities in 2008 after Felix Jones injured his hamstring and averaged 21.5 yards-per-return. The 2008 season also allowed Austin to emerge as a deep threat as he averaged 21.4 yards-per-catch on 13 receptions for 278 yards and three touchdowns. As he became a starter at wide out, Austin's kickoff return role dwindled in 2009, but he still averaged 22.4 yards on seven returns. Coming into the 2010 season, Austin is fifth in club annals with 2,146 return yards.
2009:
# Played in all 16 games with nine starts - first nine of his career - to lead the team with 1,320 receiving yards - his first career 1,000-yard season - and 11 touchdowns while finishing second with 81 catches.
# Earned his first Pro Bowl selection following his breakout year, third in the NFL, tops in the NFC, in yards and 14th in the league, sixth in the conference, in touchdowns.
# Became just the 15th undrafted player in league history to top 1,000 yards and the 12th with 10-or-more touchdowns in a season.
# Established a single-game club-record with his 250-yard performance at Kansas City (10/11) in his first career start, replacing the injured Williams (ribs).
# Had a total of 482 receiving yards through his first three career starts - the most by any NFL player through his first three starts.
# Had a four-game stretch with 531 yards, the club's third-highest four-game receiving yards total.
# His 81 receptions on the season were good for 15th in the league and tied for eighth in a season in club history.
# Had one catch for a 42-yard touchdown in the season-opening win at Tampa Bay (9/13).
# In his first career start in place of Williams (ribs), earned NFC Offensive Player of the Week with a career-best 10 catches for a club-record 250 yards with two touchdowns, including the 60-yard game winner in overtime at Kansas City (10/11). His 250 yards eclipsed Bob Hayes' previous club record of 246 set at Washington (11/13/66).
# His 250-yard performance marked the first time in NFL history that a player reached 250 yards in his first career start and was just the third time a player reached 200 yards in his first start. Anquan Boldin (217 in 2003) and Mark Duper (202 in 1983) were the others.
# Austin's game-winning overtime touchdown marked the first time a player scored an overtime touchdown in his first career start.
# Had his second career start the next game after the bye against Atlanta (10/25) and responded with six catches for 171 yards and two touchdowns. His 171 yards were the most by a Cowboys receiver coming off a 200-plus yard performance and were the second-most yards by an NFL receiver following a game with at least 250 yards. His 421 yards over the two games were also the most by a Dallas pass catcher in team history.
# His back-to-back two-touchdown games were the first by a Cowboy since Terrell Owens had two at the N.Y. Giants (11/11/07) followed by four against Washington (11/18/07).
# Caught five passes for a team-best 61 yards with one touchdown to go along with his first career rush - on a reverse - for 11 yards in a start against Seattle (11/1).
# Had just one catch for a 49-yard touchdown to give Dallas the lead in the fourth quarter in the win against Philadelphia (11/8). His four-game touchdown streak was the longest by a Cowboy since Owens had at least one in seven straight games in 2007.
# With his 49 yards against the Eagles, upped his receiving yards total from the previous four games to 531 - the third-most over a four-game span in franchise history - Owens, 575 (10/21/07-11/18/07) and 537 (11/4/07-11/22/07).
# Paced the club with seven catches for 145 yards and a touchdown on Thanksgiving Day against Oakland (11/26). His 145 yards tied Lance Rentzel (11/23/67) for the second-most by a Dallas Cowboy on the holiday and marked his fourth 100-yard performance of the season.
# Tied his career high with 10 catches for 104 yards with one touchdown to mark the second time on the season he had back-to-back 100-yard performances. Over the last two games, Jason Witten also had 100-or-more yards in each game to make the duo the first to each record 100 yards in consecutive games since Bob Hayes and Lance Rentzel in 1967.
# Played in his 50th career game against San Diego (12/13) and finished with six catches for 71 yards with a touchdown to make him the seventh different Cowboy receiver to reach 10 touchdowns in a season.
# Led the team in the win at previously undefeated New Orleans (12/19) with seven catches for 139 yards to up his season yardage total to 1,138 - his first career 1,000-yard performance. It marked the fifth consecutive season the Cowboys had a pass catcher top 1,000 yards, the 24th time in club history and made Austin the 11th different Cowboy to accomplish the feat.
# His touchdown gave him 11 on the season - the sixth-most in a season in club history - and made him one of just five players in club history with 10-or-more touchdowns in a season.
# Had a team-best nine catches for 92 yards in the win at Washington (12/27), assuring Dallas of a spot in the playoffs. His 92 yards upped his season total to 1,230 to pass Witten, Michael Irvin and Owens for the eighth-most yards in a season in club history.
# In the season finale against Philadelphia (1/3/10), led the team with seven catches for 90 yards to help Dallas capture its 17th NFC East Division title.
# Made his first career postseason start against Philadelphia (1/9/10) and led the team with seven catches for 82 yards and a touchdown.
# Was held to just four catches for 34 yards with his first career postseason carry (an eight-yard reverse) in the Divisional Playoff loss at Minnesota (1/17/10).
2008:
# Saw time as a reserve receiver and kickoff returner before assuming the return role full-time in Week 6.
# Finished the season with 13 catches for 278 yards and three touchdowns and 29 kickoff returns for 624 yards.
# Was inactive in the season opener after spraining his knee in the preseason game against Houston.
# Made his season debut against Philadelphia (9/15) and had two catches for 12 yards.
# Exploded at Green Bay (9/21), scoring his first career touchdown, recording a career-long 63-yard catch and finishing with 115 yards on two catches for his first career 100-yard outing.
# Found the end zone the next week against Washington (9/28) on an 11-yard catch.
# Registered his third career receiving touchdown on a 14-yard grab and took over kickoff return duties after Felix Jones was injured at Arizona (10/12).
# With his 76 yards on three returns at St. Louis (10/19), became just the 12th player in team history to top 1,500 career kickoff return yards.
# Suffered a knee injury at Washington (11/16) and missed the next three games.
# Returned to action against the N.Y. Giants (12/14) and had one catch for 23 yards and three kickoff returns for 76 yards.
2007:
# Served as the club's leading kick returner finishing third in the NFC (ninth in the NFL) with a 25.5 average on 24 attempts for 612 yards.
# Recorded his first career reception against the N.Y. Jets (11/22).
# Posted season and career-highs with six kickoff returns for 166 yards against Green Bay (11/29).
# Had a regular season career-long 60-yard kickoff return at Detroit (12/9) to finish the game with three returns for 112 yards and a 37.3 average.
2006:
# Finished his rookie season with 29 kickoff returns for 753 yards for a 26.0 kickoff return average - the second-best by a rookie in club history.
# Played his first NFL game against Houston in Week 5 (10/15), when he made two tackles on special teams.
# Had a season-high 29.6-yard average on five returns against New Orleans (12/10), including a season-long 37-yard return.
# Returned three kickoffs for 136 yards at Seattle in the Wild Card Playoff Game (1/6/07), the second-most in team playoff history. Set team playoff records for kickoff return average (45.3) and longest kickoff return (93 yards - the first kickoff return for a touchdown in team playoff history).
COLLEGE:
# Finished his career at Monmouth University as the school's all-time leader in touchdown receptions (33), receptions (150) and yards (2,867).
# In eight games as a senior, had 51 catches for 1,101 yards and a team-record 14 touchdowns.
# In his sophomore and junior seasons, led the team in catches, yards and touchdowns, catching a then team record 12 touchdowns as a sophomore.
PERSONAL:
# Miles Austin was a two-year letterman at Garfield, N.J., High School, where he played wide receiver and defensive back.
# As a senior, recorded 75 tackles and 10 interceptions.
# Also played basketball, finishing with 1,028 career points, and was a member of the track and field team, for which he recorded the second-longest javelin throw in Bergen County history (214'8").
Read more
Latest headlines