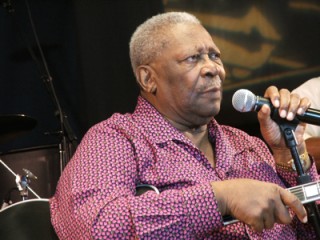 B. B. King biography
Date of birth : 1925-09-16
Date of death : -
Birthplace : Indianola, Mississippi, U.S.
Nationality : American
Category : Famous Figures
Last modified : 2010-07-12
Credited as : Blues singer and guitarist, ,
B. B. King
(also known as:
Riley King, Riley B. King, The Beale Street Blues Boy, The Blues Boy, Bassman of the Blues, The Boy from Beale Street, King of the Blues
) , born September 16, 1925 in Indianola, Mississippi, United States is an African-American blues singer and guitarist.
"B. B. King is widely recognized as the greatest living blues guitarist," Dimitri Ehrlich of Interview asserted. "This title derives not only from his mastery of the guitar but from the generosity of spirit he brings to the blues." Musician magazine named King "the common man's blues titan since the '50s" as well as one of the top 100 guitarists of all time. Such praise is not uncommon for King; his biting lead guitar, passionate vocals, and genteel presence have epitomized the blues for many listeners since his arrival on the music scene more than four decades ago. In addition, he has helped to popularize the blues with rock audiences, playing over the years with such rock artists as Jimi Hendrix and U2. Blues- rock guitarists such as Eric Clapton have also cited him as a crucial influence. "His is the hardest music to fake because-- at its core--it's pure feeling," wrote Colin Escott in the liner notes for King's 1992 four-CD boxed set, B. B. King: King of the Blues.
King arose from humble circumstances but has remained philosophical about his success. "I felt that this was what I wanted to do, to make a living playing the guitar," he recollected in an interview for Ebony magazine. "My father was born on the plantation, I was born on the plantation. I wanted more for my children. This--the guitar--was my way out."
The plantation in question was located between Itta Bena and Indianola, Mississippi, where Riley B. King was born in 1925. His parents split up when he was a small child, and though he lived for a few years with his mother in the Mississippi hills, he found himself alone at age nine after she died. His father retrieved him from a tenant farm a few years after that. Working as a farmhand on a cotton plantation in Indianola, he earned $22.50 a week. "I guess the earliest sound of blues that I can remember was in the fields while people would be pickin' cotton or choppin' or somethin'," King noted in a 1988 Living Blues interview cited in Contemporary Musicians. "When I sing and play now I can hear those same sounds that I used to hear then as a kid."
Early on, King was forbidden to sing the blues; among deeply religious southern black communities in the 1930s and 1940s, it was largely thought of as "the Devil's Music." He obediently sang gospel in church and even performed professionally with groups like the Famous St. John Gospel Singers. "I didn't want to disrespect my [father and stepmother], so I never played blues around the house," King explained to Interview, "but I knew then, same as I know today, that I wasn't doing anything wrong. I think that before they died they both felt very proud of me." Ironically, it was the sound of a "sanctified preacher" playing the guitar--as he informed Ebony's Lynn Norment--that first aroused the interest that would make King an exponent of the infernal blues. Recordings by early blues masters like Robert Johnson, Blind Lemon Jefferson, and King's favorite, Sonny Boy Williamson, were often playing on his Aunt Jemima's Victrola. King's farm boss agreed to loan him $30 to buy a guitar from the Sears & Roebuck catalog and sign up for music lessons.
"My Darling Clementine" was the first song King learned on the instrument, but the budding musician quickly developed an impressive blues technique. It wasn't long before he was earning more singing and playing guitar Saturdays on Indianola street corners than he could make all week on the plantation. "I would play whatever somebody would ask me to," King noted in an interview with Escott and Andy McKaie for the boxed set booklet. "They'd ask me to play a gospel song, which I'd be glad to, and they would compliment me highly. People would ask me to play and sing the blues, and they'd give me a tip, sometimes even a beer."
Discussing his youth in Interview, King was at pains to dispel the myth that Indianola was a rural nowheresville. "You didn't have to go to bed with the chickens in the evening," he insisted. "Usually, when the sun went down, you could go to one of the cafes or clubs [in town], which was something I was crazy about."
The elegant attire sported by patrons of clubs like Johnny Jones' Nightspot presented a beguiling contrast to King's work-stained overalls. But it was the racial violence of the Mississippi region, not the economic divergence, that eventually drove him away: "I saw lynchings, seen people hanging, seen people drug through the streets," he told Ed Bradley on the television program Street Stories. "Blues music actually did start because of pain, and especially the black people in the South that started to singing." Besides, the lure of another place became stronger and stronger. A city called Memphis--and in particular the club-strewn Beale Street--promised the excitement and musical atmosphere of which he dreamed. He visited there for the first time in 1946, but didn't decide to stay until two years later.
King served briefly in the U.S. Army but soon made his way to Memphis with his guitar, moving in with his cousin Booker (Bukka) White, himself a blues artist. King's attempts to emulate Bukka's slide guitar technique helped him develop what Musician called his "trademark," namely "a first-finger vibrato that shakes at the wrist and punctuates the blues as recognizably as very few other sounds." He sought out Sonny Boy Williamson, who had a radio show on WDIA in West Memphis, and asked to play a song for him. Williamson was sufficiently impressed with King's rendition of "Blues at Sunrise" to offer him his own radio show and a spot in the line-up at Miss Annie's 16th Street Grill. "Twelve dollars a night," he exclaimed to Bradley. "I'd never heard of that much money in the world before."
King had landed a regular performing spot on the club circuit. As a disc jockey, he was able to advertise his own gigs on radio, and soon he and his trio had amassed a following. "Memphis and Beale Street were for me the college of hard knocks, the college of learning," he recollected in the Ebony interview with Norment. "This is where I got my formal training." Known on the radio as the "Beale Street Blues Boy," which was shortened to "Bee-Bee," and then to his famous initials, King actually went on the road briefly to promote a tonic called Pep-Ti-Kon, for which he had written a jingle. Almost immediately, though, he wanted to make records.
After he had badgered the WDIA staff long enough, he was signed to Bullet Records and in 1949 recorded four sides at the radio station, including "Miss Martha King" and "I've Got the Blues." He performed in the area, as he recalled to Escott and McKaie, going "any place where I could get back to Memphis the next day by 8 o'clock." Musician and talent scout Ike Turner connected King with the Bihari brothers of the Kent/Modern/RPM group, and his 1951 single for his new label, "Three O'Clock Blues," became a Number One hit. He scored several other hits during these years, and by the mid-1950s was playing about 300 shows a year; he would maintain this schedule for over two decades.
Most of King's fans know that his Gibson guitar is named "Lucille." Several of the special hollow-bodied electric instruments have inherited the name, and King noted in Ebony on Lucille's 40th anniversary how it all came about. He was playing at a dance in Twist, Arkansas, when two men got into a fight and knocked over a heater, starting a fire that spread through the dancehall. King escaped the burning building, then remembered his $60 guitar and ran back in, nearly perishing in an attempt to rescue it. When he discovered that the belligerents who had started the blaze were quarreling over a woman named Lucille, he gave the name to his guitar--"to remind myself never to do anything that foolish."
At first King distanced himself from the new musical style-- rock 'n' roll--that emerged in the latter half of the 1950s. Gradually, however, he began incorporating some of the stylistic traits of influential early rockers like Little Richard and Fats Domino. In 1962 he moved to the large ABC label (which was later absorbed by MCA), and, after releasing a number of singles, put out his first album, 1965's Live at the Regal. In 1968, after the assassination of civil rights leader Martin Luther King, Jr., he played an all-night blues benefit with rock innovator Jimi Hendrix and fellow blues guitarist Buddy Guy to raise money for King's Southern Christian Leadership Conference.
During the late 1960s, English rock's absorption of the blues- -showcased in the work of British guitar heroes like Clapton, Jeff Beck, Jimmy Page, and others--rekindled interest in the blues among mainstream U.S. audiences. King found himself playing rock festivals with the likes of Led Zeppelin, the Jefferson Airplane, Black Sabbath, Jethro Tull, Santana, and ill-fated singer Janis Joplin, with whom he had developed a close friendship. As black audiences moved away from the blues, King courted young white listeners. Asked by Clarence Waldron of Jet if he felt African Americans had abandoned the music to whites, he replied: "Anything that we stop supporting and others start, I don't know if you call it giving it away or we just leave it out there and let somebody else have it."
In 1969, "The Thrill Is Gone" was released; the blues-with- strings number fetched a 1971 Grammy and became King's biggest hit and a concert standard thenceforth. "If I didn't sing that song," he quipped to Ebony, "they would throw tomatoes at me." Throughout the late '60s and the early '70s, King also recorded with supportive rock musicians like Carole King, Joe Walsh, and Leon Russell; the latter wrote the soulful single "Hummingbird."
During this time, King maintained his punishing performance schedule and released albums like B. B. King in London, featuring former Beatles drummer Ringo Starr. In 1971, with attorney F. Lee Bailey, King founded FAIRR (Foundation for the Advancement of Inmate Rehabilitation and Recreation), an organization dedicated to the improvement of prison conditions. This work corresponded with regular prison performances; his Live at San Quentin is considered a classic representation of such shows.
King was faced with a heartbreaking variation on a theme in 1992 when he played at a Gainesville, Florida, correctional facility; among the inmates there was his daughter Patty, who was serving time for a drug violation. "I've got 15 children scattered about," King told Bradley. "I love my family. I love my children. And I wished I could have been a better father than I have been in some ways." As he commented in Ebony, "Due to my job, I just was never there in person. In spirit, yes, and financially, yes. I've been told by my children that just being there in person would have been better." King has been married and divorced twice, though he suggested to Ebony and Jet in the early 1990s that he might consider marrying again; he told the latter publication, "The happiest times of my life were when I was married."
By the 1980s King was formally recognized as a blues institution. He won the a 1984 Grammy for Best Traditional Blues Recording for Blues 'n' Jazz; he appeared on the album Rattle and Hum with the Irish rock band U2--the video for the song on which he performed took an MTV award--and worked in the studio with members of the cutting-edge rock band Living Colour; he also received a Lifetime Achievement Award at the 1988 Grammy festivities and another at the Songwriters Hall of Fame dinner two years later. Along with the former honor came profound praise: King was hailed as "one of the most original and soulful of all blues guitarists and singers, whose compelling style and devotion to musical truth have inspired so many budding performers, both here and abroad, to celebrate the blues.''
In the early 1990s, King was inducted into the Rock 'n' Roll Hall of Fame, received a Presidential Medal of Freedom from George Bush, and was granted a National Heritage Fellowship Award from the National Endowment for the Arts; he even earned a star on Hollywood's Walk of Fame. Live at San Quentin, released in 1990, twenty years after it was recorded, earned him another Grammy. And Beale Street by now featured a popular establishment called B. B. King's Blues Club and Restaurant.
MCA released B. B. King: King of the Blues, a four-CD boxed set, in 1992, and King participated in the ambitious B. B. King's Blues Summit recording, a live-in-the-studio celebration laid down in Memphis and Berkeley, California, that paired him with such legends as John Lee Hooker, Buddy Guy, Etta James, Robert Cray, and Lowell Fulson, who had written "Three O'Clock Blues." Andy McKaie, who organized and co-produced the project, noted in the CD's booklet that the invited guests unanimously replied: "If B. B. wants me, tell me when and where!" McKaie added: "The King of Blues himself, possibly the most gracious man in all music, then treated each guest like royalty."
By the time he reached his late sixties, King had scaled back his performance schedule somewhat--he was briefly hospitalized due to diabetes in 1990--though he still toured regularly. In the spring of 1994, he brought the blues to Red China, playing an invitation-only concert at the Beijing Hard Rock Cafe. Although he had come a very long way from the plantation and the segregated hothouse of the early blues scene, he told Bradley on Street Stories that onstage, little had changed over the years. "I've forgotten what I look like. In fact, I don't even exist. It's just the guitar and myself in that setting." He was by now on Lucille the Fifteenth. "We've spent 40 years together," he noted to Ebony. "She likes younger men but puts up with me."
PERSONAL INFORMATION
Born Riley B. King, September 16, 1925, between Itta Bena and Indianola, MS; son of Albert and Nora Ella (Pully) King; married and divorced twice; children: fifteen (five adopted). Military/Wartime Service: Served in U.S. Army, 1943.
AWARDS
Grammy Awards for Best R&B Vocal, for "The Thrill Is Gone," 1971; and for Best Traditional Blues Recording, for Blues 'n' Jazz, 1984, for "My Guitar Sings the Blues," 1986, and for Live at San Quentin, 1991. Humanitarian Award, B'nai B'rith Music and Performance Lodge of New York, 1973; NAACP Image Award, 1975. Lifetime Achievement Awards from National Academy of Recording Arts and Sciences (special Grammy), 1988; from Songwriters Hall of Fame, 1990; and from Gibson guitar company, 1991. Star on Hollywood Walk of Fame, 1990; Presidential Medal of Freedom, 1990; National Heritage Fellowship from National Endowment for the Arts, 1991; inducted into Rock 'n' Roll Hall of Fame, 1991.
CAREER
Worked on cotton plantation, sang with gospel groups, and played guitar in Indianola in youth; worked as disc jockey at WDIA in Memphis, TN, 1949-53; recording and performing artist, 1949--. Co-founder/co-chair, Foundation for the Advancement of Inmate Rehabilitation and Recreation (FAIRR); organizer of performances at U.S. prison facilities; participant in benefit performances, including 1990 Roy Orbison All-Star Benefit Tribute. Co-hosted National Blues Awards, 1986. Opened B.B. King's Memphis Blues Club and Restaurant, Memphis, TN, 1991. Appeared in films Into the Night and Heart and Souls as himself.
SELECTIVE DISCOGRAPHY
* Singles "Miss Martha King," Bullet, 1949.
* "Take a Swing with Me," Bullet, 1949.
* "How Do You Feel When Your Baby Packs Up and Goes," Bullet, 1949.
* "I've Got the Blues," Bullet, 1949.
* "Three O'Clock Blues," Kent/Modern/RPM, 1951.
* "You Didn't Want Me," Kent/Modern/RPM, 1952.
* "Be Careful with a Fool," Kent/Modern/RPM, 1957.
* "I Need You So Bad," Kent/Modern/RPM, 1957.
* "Sweet Sixteen," Kent/Modern/RPM, 1960.
* "How Blue Can You Get It," ABC/MCA, 1964.
* "Rock Me Baby," ABC/MCA, 1964.
* "Help the Poor," ABC/MCA, 1964.
* "Beautician Blues," ABC/MCA, 1964.
* "Never Trust a Woman," ABC/MCA, 1964.
* Albums; on ABC/MCA Live at the Regal, 1965.
* Lucille, 1968.
* Live and Well, 1969.
* Completely Well (includes "The Thrill Is Gone"), 1969.
* The Incredible Soul of B. B. King, 1969.
* Indianola Mississippi Seeds (includes "Hummingbird"), 1970.
* Live in Cook County Jail, 1971.
* B. B. King in London, 1971.
* L.A. Midnight, 1972.
* Guess Who, 1972.
* The Best of B. B. King, 1973.
* Friends, 1974.
* (With Bobby Bland) Together for the First Time ... Live, 1974.
* Lucille Talks Back, 1975.
* (With Bobby Bland) Together Again ... Live, 1976.
* King Size, 1977.
* Midnight Believer, 1978.
* Take It Home, 1979.
* Now Appearing at Ole Miss, 1980.
* There Must Be a Better World Somewhere, 1981.
* Love Me Tender, 1982.
* Blues 'n' Jazz, 1983.
* Six Silver Strings, 1985.
* Live at San Quentin, 1990.
* B. B. King: King of the Blues (boxed set), 1992.
* B. B. King's Blues Summit, 1993.
OTHER
* U2, Rattle and Hum (appears on "When Love Comes to Town"), Island, 1988.
* Randy Travis, Heroes and Friends (appears on "Waiting on the Light to Change"), Warner Bros., 1990.
* With various artists, Air America (motion picture soundtrack; appears with Bonnie Raitt on "Right Time, Wrong Place"), MCA, 1990.
* With various artists, Am I Cool, or What? (appears on "Monday Morning Blues"), 1991.
* Also played on The Rainy Day Blues (children's cassette and book), TNT Media Group.
Read more
Latest headlines