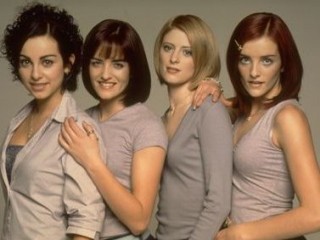 B*Witched biography
Date of birth : -
Date of death : -
Birthplace : Dublin, Ireland
Nationality : Irish
Category : Arts and Entertainment
Last modified : 2012-04-06
Credited as : Music group, Across America 2000, Where Will You Go? song
B*Witched were an Irish girl group that was active between 1998 and 2002. They enjoyed success in both Europe and North America between 1998 and 2000, releasing two albums and eight singles, all of which made the UK Top 20. The original lineup comprised twin sisters Edele and Keavy Lynch, Sinéad O'Carroll and Lindsay Armaou.
Along with BoyZone, Westlife, the Corrs, and Samantha Mumba, the Irish vocal group B*Witched has sold millions of records around the world with its eclectic pop music and wholesome image. Recognized as one of the hardest-working youth-oriented acts to emerge in recent years, the four group members have conducted extensive concert tours and participated in several marketing tie-ins to promote their music, which include a record-setting run of four number-one-charting singles (their first four releases) in Great Britain. In cultivating an international fan base of preteens, teen-agers, and young adults, B*Witched has brought its "Irish hip-hop-pop" to audiences far beyond their home base in Dublin, Ireland, all while retaining the resolutely upbeat attitude embodied in their music.
B*Witched attained international acclaim before any of the members had reached her twenty-first birthday. Each grew up in Dublin, where twin sisters Edele and Keavy Lynch had gained a certain amount of fame as the younger sisters of Shane Lynch, a member of the group BoyZone. One of the most successful teen groups of the 1990s, BoyZone was one of the first Irish acts to reach the top of the charts in Britain and Europe since U2 and Sinead O'Connor. The group had a string of number-one hits, usually cover renditions of ballads, and was for a time the most popular boy band in the world, following the demise of Britain's Take That. Encouraged by Shane's success as well as their family's long-standing love of music, the twin sisters decided to form a vocal group with friends Lindsay Armaou, who was working as an apprentice mechanic in a garage, and Sinead O'Carroll, an all-around performer with experience in acting and dancing as well as music.
BoyZone's domination of the European charts after the mid 1990s showed great acceptance of Irish pop bands outside their native soil. B*Witched, however, struggled to get noticed in the Dublin scene, which was still considered an out-of-the-way territory by the pop music industry. Their first break came when they appeared in a television documentary on the dance studio where they rehearsed, which was noticed by managers Tommy Jay Smith and Kim Glover. Eventually the group's first record would appear on Glover's Glow Worm label, though it was distributed by Epic Records. The group secured a contract with Epic after putting on a memorable performance for its staff: hoping to distinguish themselves from the most popular girl group of the moment, the Spice Girls, B*Witched decided to put on a children's tea party as the setting for their appearance. Charmed by the energy and innocence of the act, Epic granted the group its contract, and B*Witched entered the studio to record its first album with producers Ray Hedges and Martin Brannigan. The producers also helped the group finalize its name choice, settling on "B*Witched" because they were entranced by the singers' charm. The asterisk was inserted to make the name more distinctive.
Released in late 1998 in Britain and Europe and early the following year in the United States, B*Witched contains twelve tracks in a thirty-nine minute collection of diverse musical styles. The album received mostly positive reviews upon its release, with critics singling out the more upbeat, dance-oriented songs as the collection's strong point. Rolling Stone welcomed B*Witched as "a cheerfully catchy summary of the state of the slumber party--the sound of nice girls acting tough, all in the name of pop," while People named the "giddy confection for the preteen at heart" its "Album of the Week." While reviews almost always invoked the Spice Girls in describing B*Witched, Keavy Lynch proudly noted in an interview with the Orange County Register, "The press can't compare us to any one thing. Our music is totally different because it has so much to it. We've got indie-rock, drum 'n' bass, Irish music, soul, funk. It's all very energetic and very bewitching!"
From the start, B*Witched took aggressive promotional steps to introduce its work to the public. Prior to its debut release, the group went on a tour of British grammar schools, performing in as many as three schools a day. The free school concerts were a tremendously valuable marketing tool. After each show, the record company signed students up for a fan club database, distributing information on the band's upcoming concerts and releases. By the time "C'est La Vie," the first single from B*Witched, was released in Britain, thousands of school-age fans were waiting to buy it, and it entered the charts at number one.
Indeed, riding a renewed wave of popular teen-oriented acts on the music scene, B*Witched proved immensely successful with record buyers. Entering the album charts at number three in Britain, B*Witched eventually sold over three million copies worldwide and attained platinum status in America. In Britain, the group achieved a feat that no other group up to that time had accomplished: each of the first four singles--"C'est La Vie," "Rollercoaster," "To You I Belong," and "Blame It on the Weatherman"--entered the charts at number one. A global hit, "C'est La Vie" also went into the top ten in America. The group's popularity extended beyond Europe and North America to include Australia and Asia, where the singers toured in 1999.
Building on its successful debut, B*Witched toured extensively throughout 1999. The group appeared as the opening act for 'N Sync and 98 Degrees in the United States and conducted its own abbreviated concerts and promotional appearances at shopping malls as well. The group also filmed a television special for the Disney Channel that showed them in concert and offstage. Targeting its fan base of teens and tweenies--youngsters between preschool and teenage years--B*Witched secured promotional space in over one hundred Hello Kitty retail stores in malls and signed a contract to endorse the Fetish brand of makeup for young consumers. As one retail executive explained in a Billboard profile by Dominic Pride and Tom Ferguson, "The Spice Girls and All Saints are perhaps becoming a bit distant from the very young kids.... I see B*Witched as being their natural heirs. They're very much an upcoming 'just won the talent show' sort of band, and kids really like them." Reinforcing their wholesome and down-to-earth image, B*Witched usually appear in denim outfits and sports shoes in concert and in videos, an image that caused Irish singer Sinead O'Connor to advise in Q's November 2000 "Cash for Questions" column: "Take some more clothes off. We need a dirty Irish band. Apart from me."
In addition to its clean, fun-loving image, B*Witched also uses its Irish identity in its promotions to distinguish itself from the growing number of teen-oriented bands on the music scene. For the release of its first album in the United States, the group made a number of appearances around St. Patrick's Day, which helped the album debut at number thirty-eight upon its release. As Sinead O'Carroll explained in a Chicago Tribune interview, "There's an Irish element that runs through all of our songs," despite the range of musical styles on the tracks.
With the astounding success of fellow Irish groups the Corrs and Westlife, who pursued similar musical styles and vocal arrangements, and the continued ascendency of boy bands and girl groups like 'N Sync, All Saints, and S Club 7, B*Witched was no longer a singular pop act by the time of its second release, 1999's Awake and Breathe. Produced by Hedges and Brannigan, most of the collection features songs co-written by B*Witched itself, featuring "an exhilarating mixture of bounciness, self-help lyrics, and a refreshing lack of salaciousness," as a Q review noted approvingly. Charting in the top five in Britain upon its release, Awake and Breathedid not quite match the group's extraordinary debut, but the single "Jesse Hold On" did give B*Witched its fifth consecutive hit. The album also gave the group the chance to collaborate with renowned African musicians Ladysmith Black Mambazo, who contributed to the track "I Shall Be There."
In 2000 the group recorded a cover of Tony Basil's song "Mickey," which was included on the soundtrack for the film Bring It On. Keeping in touch with its young fan base, B*Witched also toured as part of the Nickelodeon channel's All That Music and More concert series. As it prepared for its third release, B*Witched looked forward to working with producer Richard Stannard, noted for his past work with the Spice Girls. B*Witched also hinted that it would change its musical direction for its third album, though the group insisted that its wholesome image would remain in place.
After touring Europe and America, where they co-headlined the All That Music and More Festival with LFO and Blaque, the band began work on a third album. Three new songs were recorded, including "Hold On" (featured in The Princess Diaries), "Mickey" (featured in Bring It On), and "Play That Funky Music". The latter two appeared on their new American EP, Across America 2000, along with live tracks and the earlier cover of "Does Your Mother Know". Across America 2000 was supposed to make a comeback for the band in America and sold reasonably well. The group appeared on the American soap opera General Hospital on 4 July 2001.
Planned singles, "Where Will You Go?", was scheduled for release in mid-2002 to give the band a comeback in the UK, but the group were dropped by their label before a promotional video (due to be filmed in Africa) as well as a Christmas single "(To Be) Held In Your Arms" strategically released alongside their third album could be produced. Plans for a new deal with Telstar Records fell through later that year, and the group officially split in September 2002 after Sinéad O'Carroll left the band. To date, the third album has remained shelved. In October 2009, the song "Where Will You Go?" leaked to the Internet.
Read more
B*Witched Picture Gallery
Latest headlines