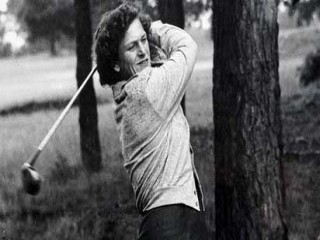 Babe Didrikson Zaharias biography
Date of birth : 1911-06-26
Date of death : 1956-09-27
Birthplace : Port Authur, Texas, United States
Nationality : American
Category : Sports
Last modified : 2010-06-17
Credited as : Athlete, Golfer and basketball player, Guinness Book of Records
Mildred Ella "Babe" Didrikson Zaharias
(June 26, 1911 – September 27, 1956) was an American athlete named by the Guinness Book of Records, along with Lottie Dod, as the most versatile female competitor. She achieved outstanding success in golf, basketball, and track and field.
Family Background.
Mildred Ella Didriksen was born 26 June 1914, in Port Arthur, Texas. Her mother, née Hannah Olson, was born in Norway and emigrated to the United States in 1908; her father, Ole Didriksen, also born in Norway, came to Port Arthur in 1905 and worked as a sailor and carpenter. Throughout her adult life she was known as Babe Didrikson, taking the name "Babe" from the sports hero Babe Ruth and the spelling of her surname, Didrikson, to emphasize that she was of Norwegian rather than Swedish ancestry.
Childhood.
After the 1915 hurricane which devastated Port Arthur, the family, which included her sister and two brothers, moved to nearby Beaumont. Growing up in the rugged south end of the city, Didrikson was a tomboy who shunned feminine qualities and excelled at a variety of athletic endeavors. She was slim and of average height but had a muscular body and was exceptionally well coordinated. Her hair was cut short like a boy's, and she usually wore masculine clothing. As a youth, Didrikson had a belligerent personality and was constantly involved in fights and scrapes.
Exceptional School Athlete.
At Beaumont High School, Didrikson was outstanding at a number of sports, including volleyball, tennis, baseball, basketball, and swimming, but she was not popular with her classmates. Didrikson was a poor student, usually passing only enough courses to remain eligible for athletic competition. All of her energy was directed toward accomplishment on the athletic field, where she had no equal. Didrikson's best sport was basketball, which was the most popular women's sport of the era. During her years in Beaumont, her high school team never lost a game--largely because of her aggressive, coordinated play.
Playing Sports in Dallas.
In February, 1930, Colonel Melvorne J. McCombs of the Casualty Insurance Company recruited Didrikson to play for the company's Golden Cyclone basketball team in Dallas. She dropped out of high school in her junior year and took a job as a stenographer with the company with the understanding that she would have time to train and compete in athletics. During the next three years, 1930-1932, Didrikson was selected as an All-American women's basketball player and led the Golden Cyclones to the national championship in 1931. She often scored thirty or more points in an era when a team score of twenty for a game was considered respectable. While in Dallas, she competed in other athletic events, including softball. Didrikson was an excellent pitcher and batted over .400 in the Dallas city league. Increasingly, however, her interest was drawn to track and field and she became a member of the Golden Cyclone track team in 1930. Profiting from coaching provided by the Dallas insurance company and relying on her innate athletic ability, Didrikson soon became the premier women's track and field performer in the nation.
Record Breaker in Track and Field.
Between 1930 and 1932, Didrikson held American, Olympic, or world records in five different track-and-field events. She stunned the athletic world on 16 July 1932, with her performance at the national amateur track meet for women in Evanston, Illinois. Didrikson entered the meet as the sole member of the Golden Cyclone team and by herself won the national women's team championship by scoring thirty points. The Illinois Women's Athletic Club, which had more than twenty members, scored a total of twenty-two points to place second. In all, Didrikson won six gold medals and broke four world records in a single afternoon. Her performance was the most amazing feat by any individual, male or female, in the annals of track-and-field history. The outstanding performance at Evanston put Didrikson in the headlines of every sports page in the nation and made her one of the most prominent members of the United States Olympic team of 1932.
Olympic Feats.
Although Didrikson had gained wide recognition in her chosen field of athletics, many of her fellow athletes resented her. They complained that she was an aggressive, overbearing braggart who would stop at nothing in order to win. During the trip to Los Angeles for the Olympic Games, many of her teammates came to detest her, but her performance during the Olympiad made her a favorite among sportswriters and with the public. At Los Angeles, Didrikson won two gold medals and a silver medal, set a world's record, and was the co-holder of two others. She won the javelin event and the eighty-meter hurdles and came in second in the high-jump event amid a controversy which saw two rulings of the judges go against her. Didrikson came very close to winning three Olympic gold medals, which had never been accomplished before by a woman. She became the darling of the press, and her performance in Los Angeles created a springboard for Didrikson's lasting fame as an athlete.
Life as a Professional Athlete.
After the 1932 Olympic Games, Didrikson returned to Dallas for a hero's welcome. At the end of 1932, she was voted Woman Athlete of the Year by the Associated Press, an award which she won five additional times, in 1945, 1946, 1947, 1950, and 1954. After a controversy with the Amateur Athletic Union concerning her amateur status, Didrikson turned professional in late 1932. She did some promotional advertising and briefly appeared in a vaudeville act in Chicago, where she performed athletic feats and played her harmonica, a talent she had developed as a youth. Struggling to make a living as a professional athlete, Didrikson played in an exhibition basketball game in Brooklyn, participated in a series of billiard matches, and talked about becoming a long-distance swimmer. In 1933, she decided to barnstorm the rural areas of the country with a professional basketball team called Babe Didrikson's All-Americans. The tour was very successful for several years, as the team traveled the backroads of America playing against local men's teams. In 1934, Didrikson went to Florida and appeared in major league exhibition baseball games during spring training and then played on the famous House of David--all the men on the team sported long beards-- baseball team on a nationwide tour. As a result of her many activities, Didrikson was able to earn several thousand dollars each month, a princely sum during the depths of the Depression.
Turn to Golf.
During the mid-1930's, Didrikson's athletic interests increasingly shifted to golf. Receiving encouragement from sportswriter Grantland Rice, she began intensive lessons in 1933, often hitting balls until her hands bled. She played in her first tournament in Texas in 1934 and a year later won the Texas Women's Amateur Championship. That same year, Didrikson was bitterly disappointed when the United States Golf Association (USGA) declared her a professional and banned her from amateur golf. Unable to make a living from the few tournaments open to professionals, Didrikson toured the country with professional golfer Gene Sarazen, participating mainly in exhibition matches.
Marriage and Golfing Success.
On 23 December 1938, Didrikson married George Zaharias, a professional wrestler; they had no children. Her marriage helped put to rest rumors that she was in fact a man and other attacks on her femininity. Zaharias became her manager and under his direction she won the 1940 Texas and Western Open golf tournaments. During World War II, Babe Zaharias gave golf exhibitions to raise money for war bonds and agreed to abstain from professional athletics for three years in order to regain her amateur status. In 1943, the USGA restored her amateur standing.
Amazing Golfing Record.
After the war, Babe Zaharias emerged as one of the most successful and popular women golfers in history. In 1945, she played flawless golf on the amateur tour and was named Woman Athlete of the Year for the second time. The following year, she began a string of consecutive tournament victories, a record which has never been equaled by man or woman. During the 1946-1947 seasons, Zaharias won seventeen straight tournaments, including the British Women's Amateur. She became the first American to win the prestigious British championship. In the summer of 1947, Zaharias turned professional once again, with Fred Corcoran as her manager. She earned an estimated $100,000 in 1948 through various promotions and exhibitions, but only $3,400 in prize money on the professional tour, despite a successful season. In 1948, Corcoran organized the Ladies Professional Golfer's Association (LPGA) in order to help popularize women's golf and increase tournament prize money. During the next several years, the LPGA grew in stature and Zaharias became the leading money winner on the women's professional circuit.
Rebound from Surgery.
The Greatest Woman Athlete.
Babe Didrikson Zaharias was a remarkable woman in many respects. Her place in American sports history is secure in her athletic accomplishments alone: In addition to her six Woman Athlete of the Year Awards, she was named the Woman Athlete of the Half Century by the Associated Press in 1950. No other woman has performed in so many different sports so well. She is arguably the greatest woman athlete of all time.
Challenged Public's Perception of Women.
Beyond this, however, Zaharias was a pioneer who struggled to break down social customs which barred women from various segments of American life. During an era when society dictated that women conform to a particular stereotype, Zaharias persisted in challenging the public's view of woman's place in society. She not only insisted on pursuing a career in sports but also participated in sports considered in the male domain. In her dress, speech, and manner, Zaharias refused to conform to the ladylike image expected of female athletes. She did it successfully because she was such an outstanding athlete. It nevertheless took courage, because she was subjected to the most insidious rumors and innuendos concerning her sex and femininity, attacks which she suffered without complaint.
Pioneer in Women's Sports.
During her final illness, Zaharias displayed the kind of strength and courage which was a trademark of her career. She was a great athlete, but beyond that she was a courageous pioneer blazing a trail in women's sports which others have followed.
Read more
Latest headlines