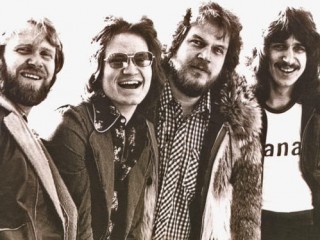 Bachman-Turner Overdrive biography
Date of birth : -
Date of death : -
Birthplace : Winnipeg, Manitoba, Canada
Nationality : Canadian
Category : Arts and Entertainment
Last modified : 2012-04-09
Credited as : Rock band, Randy's Vinyl Tap, Bachman & Turner album
Bachman–Turner Overdrive is a Canadian rock group that had a series of hit albums and singles in the 1970s, selling over 7 million albums in that decade alone. Their 1970s catalog included five Top 40 albums and six Top 40 singles. The band has sold nearly 30 million albums worldwide, and has fans affectionately known as "gearheads" (derived from the band's gear-shaped logo). Many of their songs, including "Let It Ride", "You Ain't Seen Nothing Yet", "Takin' Care of Business", "Hey You" and "Roll On Down the Highway", still receive play on FM classic rock stations.
Randy Bachman helped form two of Canada's most successful rock bands of the 1960s and 1970s--the Guess Who, which he founded with singer Chad Allen in 1962, and Bachman-Turner Overdrive (BTO). Allen left the Guess Who in 1965 before it emerged as one of Canada's most popular and beloved international acts under the aegis of songwriters Bachman and Allen's replacement, Burton Cummings. When Bachman left the Guess Who in 1970, he recorded a solo album, Axe, before forming Brave Belt with Allen. Brave Belt released two albums on Reprise Records before landing a contract with Mercury Records. Tim Bachman replaced Allen on guitar and vocals and bassist Fred Turner joined remaining Brave Belt members Randy and Robbie Bachman to form Bachman-Turner Overdrive. The moniker was reputedly agreed upon at a truck stop near Windsor, Ontario, where the bandmates noticed a copy of Overdrive magazine, a trucking industry trade journal.
The songs recorded by the brothers Bachman and Fred Turner formed a demo album originally titled Brave Belt III. "I sent it to twenty-six record labels," Bachman said in an interview reprinted on the Rough Guide to Rock website. "Got twenty-six refusals. Finally, somebody who had refused it in late January called back in March and said they had listened to it again and were reconsidering it. But we had to change our name. And they wanted me to use my name, Bachman, because it had rings of success with the Guess Who and we could get DJs to play it."
Turner's and Bachman's gruff vocal mannerisms recalled the voice of Creedence Clearwater Revival's John Fogerty, while the tight, boogie-based rock playing of the band was reminiscent of the Rolling Stones during the Mick Taylor era. Their first album, Bachman-Turner Overdrive, yielded the single "Blue Collar," the group's first hit when radio station CKLW broke it in the Windsor-Detroit market. Bachman-Turner Overdrive II, also released in 1973, contained the hit singles, "Takin' Care of Business" and "Let It Ride."
William Hanson wrote in MusicHound Rock: The Essential Album Guide, "Every teenager in North America was aware of this record after its release, and the five opening guitar notes on `Takin' Care of Business' can still make heads bob today." Oddly enough, the piano on this tune was played by Norman Durkee, a pizza delivery man who happened to be taking a pizza to Steve Miller, who was recording in an adjacent studio.
Canada and the Great Lakes states were quickly swept in by Bachman-Turner Overdrive's crunchy guitar licks and vocal harmonies that provided the songs' hooks. The prairies and Great Lakes areas remained strongholds for the band as they won milder acclaim on the coasts and beyond.
The success of the band's initial single offerings foreshadowed the ground breaking success of BTO's third album, Not Fragile. Released in 1974, Not Fragile introduced the first of many lineup changes, as Tim Bachman was replaced by guitarist Blair Thornton. The singles "You Ain't Seen Nuthin' Yet" and "Roll on Down the Highway" propelled Not Fragile to platinum sales. "You Ain't Seen Nuthin' Yet," a number one hit, was "a direct steal from the Who," wrote Dave Marsh in The Rolling Stone Record Guide, "and an imaginative one." The song's propulsive rhythm beneath a soaring lead guitar line and a cliche-ridden lyric borrows as much from the Young Rascal's "Good Lovin' " as from the Who's Pete Townshend. The stuttering vocal is reminiscent of the Who's "My Generation," but Randy claimed in Bachman-Turner Overdrive: Rock Is My Life This Is My Song that the song was a "gold joke" as he jokingly laid down a dummy vocal before the song was recorded. A later version sung without the stutter sounded "like Frank Sinatra singing `Strangers In The Night,' " so they stuck with the original.
The BTO juggernaut continued during the mid-1970s. 1974's Four Wheel Drive, recorded in just six days, went platinum the first week of its release, largely because of the single "Hey You," which has been interpreted as a derisive critique of Bachman's former bandmates in the Guess Who. The simple riffs and arrangements of the first four albums were replaced by the more jazzy and complex sound of Head On, released in 1975. The exception, the rock anthem "Take It Like a Man," went on to become a minor hit. The Best of BTO (So Far), released in 1976, solidified the band's reputation as rock-solid purveyors of rock and pop singles. However, the latter part of the 1970s witnessed the unraveling of the band. "My Wheels Won't Turn," a single from Freeways, released in 1977, was BTO's first single since their first album not to chart. Turner reportedly was so unhappy with Freeways that he refused to have his photograph taken for the cover art. Indeed, the album featured only one Turner composition, "Life Still Goes On (I'm Lonely)." The remaining compositions were credited to Randy Bachman.
After Freeways, the band released a live album, marking time while Randy Bachman decided to leave the band and record another solo album, Survivor, which was released in 1978. The rest of the band carried on, officially dropping the name Bachman-Turner Overdrive and calling themselves simply BTO. Bachman's replacement was April Wine bassist Jim Clench, who shared vocal responsibilities with Turner. Street Action, released in 1978, went virtually unnoticed by the record-buying public, a fate shared by Randy Bachman's subsequent Ironhorse project. The BTO quartet soldiered on, releasing 1979's Rock `n' Roll Nights, which featured outside songwriting for the first time, including tunes by the likes of Bryan Adams and the album's producer, Jim Vallance, who was a frequent collaborator with Adams. Lack of public interest, in part, resulted in the band's dissolution following the release of Rock `n' Roll Nights.
Turner re-teamed with Bachman in 1981 for the second album release of his band, Union, which featured vocals by Bachman, Turner, and Frank Ludwig. Freed from the restrictions of what the public expected from BTO, Union explored many facets of rock music, including surf and blues. In 1983, Bachman and Turner reformed BTO with Gary Peterson from the Guess Who on drums and Tim Bachman. This lineup recorded BTO (1984), Live Live Live (1986), and Best of BTO Live, which was not released until 1994. Randy Bachman quit the band again in 1991, replaced by guitarist Randy Murray. Other members of the 1990s incarnation of BTO included Turner on bass and vocals, Blair Thornton on guitar, and Rob Bachman on drums. The quartet recorded Trial by Fire, which featured new versions of BTO classics, two new songs and three covers, including "House of the Rising Sun." Meanwhile, Randy Bachman played a benefit show in 1996 to help save Christ Church Cathedral in Vancouver. Reported Leanne Larmond in the Anglican Journal: "BTO's guitarist--better known to his fans for `Taking Care of Business' than `Seek Ye First'--is a tenor in the cathedral choir."
Critics are divided on BTO's legacy. Dave Marsh noted that the band peaked with Not Fragile, an album that "seemed to exhaust Bachman's imagination--everything before and since is simply sluggish." The band's entry in The Illustrated Encyclopedia of Rock acknowledges BTO's limitations, while properly assessing their assets: "However much it might be open to derision as formula cash-register boogie, BTO's rock is at least dexterously played and arranged, with dynamics reminiscent of mid-period Led Zeppelin." For a period during the mid-1970s, however, BTO enjoyed high sales, steady radio play, and sold out arena shows.
Since the last disbandment of the band in 2005, several of their albums have been reissued. The first one to be made available again since the disbandment was Freeways in 2005, followed by Bachman–Turner Overdrive II in 2006 and Four Wheel Drive in 2008. Brave Belt I and Brave Belt II were re-released on a single CD March 17, 2009.
Although Rob and Blair have remained very reticent about BTO since late 2004, Rob has been rumored to state he no longer wishes to play in the band and has hung up his drum sticks.
On January 23, 2009 Tim Bachman played on stage at one of Randy Bachman's shows, the first time they have played on stage together since 2003. Randy Bachman, who already hosts the successful radio show "Randy's Vinyl Tap", will be the host of a new television show called "Road to Guitar", which will be airing on the Discovery Channel. He was on tour with Burton Cummings during the summer of 2009, and added dates for the Randy Bachman Band in the United States and Canada for August and September.
Randy Murray still plays occasional shows around the Vancouver area. He is the only Trial by Fire–era member of BTO to have played shows after the disbandment in January 2005. Like Rob, Murray has also stated he no longer wishes to be in BTO.
On September 12, 2009, the Winnipeg Free Press reported that Randy Bachman and C.F. Turner would reunite to play concert dates in Europe, Canada and the U.S. in 2010. They are backed by Randy's current band of Marc LaFrance, Mick Dalla-Vee and Brent Howard, and are billed simply as "Bachman & Turner". Some early confirmed tour dates announced were June 2010 at the Sweden Rock Festival and the High Voltage Festival in July 2010 at London UK; the story added that there was also interest from agents as far away as South America and Australia.
The rock duo's self-titled album, Bachman & Turner, was released September 7, 2010 in North America and on September 20, 2010 in Europe.
Read more
Bachman-Turner Overdrive Picture Gallery
Latest headlines