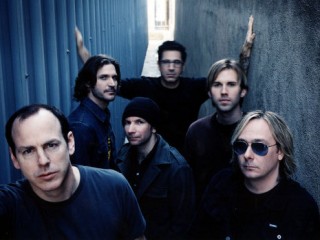 Bad Religion biography
Date of birth : -
Date of death : -
Birthplace : Los Angeles, California
Nationality : American
Category : Arts and Entertainment
Last modified : 2012-04-09
Credited as : punk rock band, Epitaph Records, The Dissent of Man
Bad Religion is a punk rock band that formed in Los Angeles in 1979. Their current line-up consists of Greg Graffin (vocals), Brett Gurewitz (guitar), Jay Bentley (bass), Greg Hetson (guitar), Brian Baker (guitar) and Brooks Wackerman (drums). Gurewitz is also the founder of the label Epitaph Records, which has released almost all of the band's albums. They are often credited for being involved in the revival of punk rock and inspiring several subsequent punk bands during the late 1980s, as well as influencing a large number of other punk and rock musicians throughout their career.
Combining the brief, rapid-fire sonic assault of 1980's Southern California hardcore punk with highly intelligent lyrics which often addressed issues such as religion, politics, and ecology, Bad Religion forged songs that rang listeners' ears as well as their heads. The Southern California hardcore punk band, according to Seth Hindin of Rolling Stone, was "one of the most influential and commercially successful American punk groups of all time." Influenced by The Clash, the Buzzcocks, and Bad Brains, their two-pronged attack of a tight, blistering sound and sharp, compelling lyrics attracted a wide variety of fans. The group even awarded research grants for college students studying cultural and natural sciences in 1998 and 1999. Listeners from the United States and abroad, especially in Europe, helped keep Bad Religion going for more than 20 years. Perhaps the band's success at making their music exactly the way they wanted through a band member's label was key in promoting their career. Bad Religion maintained their powerful, raw performance with sophisticated content throughout their 20-year history.
Erupting out of the northern suburbs of Los Angeles, California, in 1979, the members of Bad Religion burned with frustrations similar to their colleagues Black Flag, the Descendants, Fugazi, the Circle Jerks, and Minor Threat. Greg Graffin, imported from Wisconsin, found several El Camino High School classmates who were also aggravated about their teenage culture. "Mr. Brett" Gurewitz, Jay Bentley, and Jay Ziskrout joined Graffin to spew forth their righteous anger as they learned how to play their instruments. Bentley admitted that Kiss' Alive! one,and the Sex Pistols' Never Mind The Bullocks, were two of the albums that changed his life and led him to join the Los Angeles punk rock scene. Bad Religion soon gained a small following and by 1981 put out a self-titled EP. The release was through their own label, Epitaph Records, which would play a vital role in their success. Thus began the story of the longest lasting band from the Southern California hardcore scene of the early 1980s.
Members developed their musical abilities over the year following their EP. Peter Finestone was added as a new drummer, they refined their timing as a group, hammered out melodies, tightened grooves, and even delved into piano. Hard work reaped rewards and the debut full-length album, How Could Hell Be Any Worse, was released in 1982. Produced by Jim Mankey, who would eventually work with Concrete Blonde, album sales shot to more than 10,000 units within a year. Hugh Hackett of The Rough Guide to Rock, stated, "How Could Hell Be Any Worse can be considered the genesis of the punk revival in the United States that culminated with the stellar success of the likes of Green Day and Offspring."
Perhaps inspired by new wave sounds, Bad Religion plugged in synthesizers and ventured into a new area with the release of 1983's Into The Unknown. The 1970s keyboard-pop collection of ballads turned the punk listeners away. A breakup ensued and the album became the major skeleton of Bad Religion's closet. Eventually, however, the disowned second album grew into a collector's item. Meanwhile, Graffin and Finestone used the down time by segueing into higher education. Bentley continued his musical efforts through Wasted Youth and TSOL.
A little time away from Bad Religion provided members a new focus that the band needed to proceed. Upon Graffin's return to Los Angeles in 1984, the artistic energy began to take the familiar hardcore punk shape again. Because Gurewitz had to recover from debilitating substance abuse, Graffin was the only original member prepared to make music. He quickly gathered a handful of fellow punkers and lead the group into Bad Religion's next album, an EP entitled Back to the Known. The 1985 release was recorded by Graffin, the former Circle Jerks guitarist Greg Hetson, who had played with Bad Religion in the past, drummer Pete Finestone, and bassist Tim Gallegos. Punk rock was what Bad Religion knew, so that was what they recorded. Many previous Bad Religion fans forgave the band for Into the Unknown and savored the five-song EP of hardcore punk. It would be the last release for three years, while Graffin completed a Master's degree in geology from UCLA during the hiatus.
Bad Religion reassembled and began their run for lift-off in 1987 by performing reunion concerts throughout California. The crew included Graffin, Gurewitz, Bentley, Finestone, and Hetson. Flight was attained with their 1988 release Suffer.The MaximumRockNRoll and Flipside album of the year established Bad Religion as a significant member of the American hardcore punk community. Songwriting was shared by Graffin and Gurewitz this time and each wrote according to his own style. Graffin's style showcased the speed and sonic power of underground punk of the 1980s, the roots of American hardcore punk. Gurewitz wrote songs that were wrapped in a pop sound that glistened with rock overtones. This style laid some of the initial building blocks for the bridge connecting underground hardcore punk to mainstream "modern music" and pop-punk of the 1990s. The Trouser Press guide to `90s rock described the album as "ablaze with unusual hooks (sea chanteys seem to be a primary source for song shapes, which give the band an abiding folk-roots undercurrent), pointed riffs and pretentious pseudo-erudition." Warp speed attacks and alluring melodies tickled the ears of listeners and created a punk rock classic. Bad Religion was back and ready to soar.
According to a writer from The Trouser Press Guide to `90s rock,Bad Religion continued quality hardcore with 1989's No Control,yet another Epitaph release. Dubbing it "perhaps one of the best hardcore albums ever," the offering highlighted vocal harmonies, the usual insightful lyrics, and machine-gun musical delivery. Bad Religion emerged as a leader in hardcore punk and an inspiration for many up-and-coming bands. Those groups inspired by Bad Religion would churn out pop-punk tunes across the world. Bad Religion spread their religion by "evangelizing" an international crowd. European listeners greatly appreciated Bad Religion's art and welcomed them with high regard during their tour.
Against the Grain was released in 1990. It was hard-hitting sonically and lyrically, addressing topics such as the anti-abortion movement with especially aggravated sound. Pete Finestone departed in 1991 to play with Fisherman and was replaced with another drummer, Bobby Schayer. In the meantime Epitaph cranked out a compilation entitled 80-85,pulling together unreleased material and songs from Bad Religion, How Could Hell Be Any Worse?,andBack to the Known. Into the Unknownwas completely omitted. Against the Grain, and their following release in 1992, Generator,a darker expression, turned out to be considered disappointing to many. The group's reputation had been established, however, especially overseas. Two concerts in London, England, were sold out with no advertising. Fans in Germany considered Bad Religion a band of superstars.
Bad Religion continued their flight through turbulence. Graffin was working on his PhD in zoology at Cornell University in New York. Gurewitz was operating Epitaph in Los Angeles, where Bentley also worked. Despite the many extra-curricular commitments of Bad Religion members, another respected album was released in 1993, Recipe for Hate. Alternative rock was accepted by the mainstream by that time, so Bad Religion and Epitaph were in promising positions to ride the alternative rock wave and changes were inevitable. Eddie Vedder of Pearl Jam even joined the punk veterans for a duet on Recipe for Hate. Bad Religion's huge following along with the growing popularity of modern rock caught the attention of a major recording company, Atlantic Records. A deal with Atlantic re-issued the previous Epitaph release Recipe for Hate. Thus began the realignment of Bad Religion's flight.
The major label debut, Stranger than Fiction, from 1994, which included an outside co-producer, Andy Wallace, was the last Bad Religion album on which Gurewitz played. Epitaph was requiring more attention with the success of "Smash" from the Offspring and releases from the band Rancid. It had become one of the largest independent labels in the States. Gurewitz's full-time attention to Epitaph allowed the label to grow to enormous success. As stated by Rolling Stone's Seth Hindin, "originally Bad Religion's vanity imprint, [Epitaph] has grown into perhaps the largest, best-known punk label in the world." The label included acts such as Offspring, Rancid, NOFX, and Pennywise.
Brian Baker of Minor Threat, Dag Nasty, and Junkyard filled the open rhythm guitar position for the Stranger than Fiction tour and stayed with the band for their successive releases. One band member claimed the Stranger than Fiction tour was, "the most pleasant experience of the last three years." Ironically, the album outsold previous releases, perhaps due to the popularity of aggressive rock and the greater marketing capacity of Atlantic Records. Epitaph released All Ages in 1995, which was a compilation of songs from the four albums released between 1988 and 1992. Only two tracks were pre-1985.
The Gray Race appeared in 1996, along with other offerings from Bad Religion relatives. De-popped Gray Race tunes were written by Graffin and co-produced by Ric Ocasek of the Cars. Not even Baker's guitar playing could prevent critics' comments that the release mainly consisted of filler material. Perhaps major label recording demands stifled creativity. Graffin, meanwhile, found an outlet for his other musical tastes. He offered a solo album, American Lesion, in late 1996. Its sound stepped away from the rapid-fire sonic attacks of Bad Religion and ventured through several slow piano ballads. Gurewitz also did some work in the studio. The Daredevils was a studio group that released a CD single of "Hate You" and "Rules, Hearts". Critics recognized a familiar sound from the Daredevils even though some ill-feelings toward Bad Religion emerged from the project.
A live album, Total,was released in 1997. It was a collection of live performances and contained many hits from Bad Religion. NO Substance was released in 1998 and accurately portrayed the dynamic intensity and powerful drive of Bad Religion's live performance. After recording much of the album in Graffin's house in upstate New York, the group tested it at several small club shows in New York City.
Bad Religion's powerful sonics and Graffin's insightful writing on how he sees American society as a community of robots lacking substance proved appealing. Bad Religion later headlined the 1998 Vans Warped Tour. In late 1999, Graffin was a speaker on the politically and socially charged Spitfire Tour. The band continued after No Substance by signing Todd Rundgren as producer for their next album. As for the remaining band members, Brian Baker released a solo album entitled Troublizing. In addition, he joined other punkers in Lickety Split to record and perform. Hetson co-founded an independent label called Porterhouse Records, which released efforts by Speed Buggy and Rosemary's Billy Goat.
Bad Religion is considered one of the most successful independent punk acts, selling over 5 million albums worldwide, and charting two singles on the Mainstream Rock charts and seven singles in the Top 40 of the Alternative Songs charts. The band has also enjoyed success outside of the United States; they had three charting singles in the U.K., while "21st Century (Digital Boy)" and "Punk Rock Song" charted in Sweden in 1995 and 1996, respectively. "Punk Rock Song" also charted in Finland and Germany.
In an April 2011 interview with The Washington Examiner, guitarist Brian Baker was asked if Bad Religion was going to make another album after The Dissent of Man. His response was, "It's all very punk [attitude] just like it's always been. We will record when we have enough songs. For us, it just kind of happens." During the Boston show on April 29, 2011, frontman Greg Graffin said "after this year you probably won't be seeing much more of us. We're going to try one more album and then all join the navy, do honest work", hinting at a possible split or hiatus.
In an interview at the KROQ Weenie Roast on June 4, 2011, Graffin stated that Bad Religion will record and release their new album in 2012. Bassist Jay Bentley also mentioned an early 2012 timeframe for going back into the studio in an interview at Live 105's BFD festival, which took place on the day after the Weenie Roast. According to Jay, Brett has written two songs for the new album.
Current members:
Greg Graffin: lead vocals, piano, synthesizer, acoustic guitar, main songwriter (1979–present)
Brett Gurewitz: guitar, backing vocals, main songwriter (1979–1983, 1986–1994, 2001–present)
Jay Bentley: bass, backing vocals (1979–1982, 1986–present)
Brian Baker: guitar, percussion, backing vocals (1994–present)
Greg Hetson: guitar (1984–present)
Brooks Wackerman: drums, percussion (2001–present)
Read more
Bad Religion Picture Gallery
Latest headlines