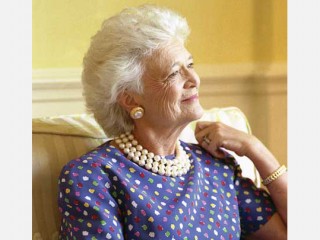 Barbara Bush biography
Date of birth : 1925-06-08
Date of death : -
Birthplace : Rye, New York, USA
Nationality : American
Category : Famous Figures
Last modified : 2010-08-03
Credited as : First lady of the United States, mother of President George W. Bush,
Barbara Bush
, also known as:
Barbara Pierce, Barbara Pierce Bush, Barbara P. Bush, Mrs. George Bush
born June 8, 1925 in Rye, New York, United States is First Lady of the United States.
Soon after beginning her reign as the nation's 38th first lady, Barbara Pierce Bush made a small change in the private quarters of the White House. She converted the room that had served as a beauty salon for Nancy Reagan into a delivery room for Millie, the Bushes' pregnant springer spaniel. As an aide to Mrs. Bush told the New York Daily News: "She had no need for a beauty salon. It's the only area without a rug, perfect for a litter of puppies." A few days after the room was made over, six puppies were born, with Bush serving as midwife. The salon-turned-puppy-nursery story illustrates a dramatic difference in personal style between Bush and her predecessor. While Nancy Reagan took pride in cultivating a look of elegance, bringing a kind of designer mentality to the role of first lady, Barbara Bush is practical, homey, and down-to-earth. She leaves her hair white, lets her wrinkles show, takes a size-14 dress, and wears fake pearls. If the Hollywood chic of Mrs. Reagan put a distance between the first lady and the American masses, the grandmotherly mien of Mrs. Bush has closed the gap, allowing her to establish a vital connection with the public.
For an Administration that stresses the American family, Barbara Bush is a particularly fitting first lady. In 1945 she married George Bush and began a family, dropping out of college in her sophomore year. Since then she has lived a life of devotion---not only to her five children and 11 grandchildren, but to a way of life. Her husband's wide-ranging public career demanded that she shoulder most of the parenting duties herself, and over the years, it has led them to put down roots in 17 cities and 29 homes.
Since entering the national spotlight, Bush has been determined to channel her visibility toward bettering society. Having made a career during her younger years in community volunteerism---what the president calls his "thousand points of light" concept---she now works to bring others to the mission. Homeless shelters, AIDS hospitals, and Head Start projects are a few of the types of facilities she visits in an effort to draw media attention to the need for local help. Lending her name to a string of social, health, and educational organizations, she also works to attract more private-sector funding of volunteer programs, agreeing with her husband that the federal government should not bear the brunt of the costs.
Over the past several decades it has become traditional for a first lady to devote herself to a specific cause. Jacqueline Kennedy and Pat Nixon each chose White House restoration, while Rosalynn Carter concerned herself with mental health and Nancy Reagan crusaded against drug abuse. By now, the pet cause of Barbara Bush is well-known: to raise the national level of literacy. During her husband's vice-presidency she participated in over 500 literacy events throughout the country, and as first lady she has intensified the effort. Her newly established Barbara Bush Foundation for Family Literacy, a private, Washington-based organization, has been soliciting grants from the public and private sectors. Rather than create new literacy programs, the foundation has been distributing the funds among existing ones, hoping to help curb the high dropout rates that afflict many of them. Bush is honorary chairwoman---a necessarily passive role, since, as the Los Angeles Times observed, "it might be considered unseemly for the first lady to be putting the arm on people for money." Meanwhile, she is a sponsor of Laubach Literacy International and a board member of the Business Council for Effective Literacy, which encourages business support for the cause. All of the proceeds from her 1984 book, C. Fred's Story (Doubleday), a collection of anecdotes about the Bushes' late cocker spaniel, went to major literacy organizations.
Underlying Bush's literacy campaign are startling statistics. Experts in the field estimate that some 23 million adult Americans are illiterate, lacking basic skills beyond a fourth-grade level, while 35 million are semi-illiterate, lacking skills beyond the eighth-grade level. Yet for her, the urgency of the problem is not so much in these figures as it is in the myriad of other problems that she considers to be caused by illiteracy. "Literacy fits in with so many other things," she told the Chicago Tribune. "If more people could read, fewer people would have AIDS. There would be less homelessness. I'm absolutely convinced of that."
The Bush Foundation is attacking the problem from an "intergenerational" approach, attempting to break the illiteracy cycle from generation to generation. Accordingly, it is awarding grants only to those programs that involve not only children but also their parents and grandparents. "In 10 years of traveling," Bush told the New York Times, "visiting literary programs, libraries, kindergarten groups, day-care centers, single-parent classes for high school dropouts, public housing projects, food banks---you name it, I've visited it---it has become very apparent to me that we must attack the problem of a more literate America through the family. We all know that adults with reading problems tend to raise children with reading problems. And when I talk about family literacy, I am talking about families of all kinds: the big and bouncing kind, the single parent, extended families, divorced, homeless and migrant."
Bush believes that the problem isn't simply a matter of parents who can't read. According to her, it's parents who can't parent. "There's not an awful lot we can do about that except try to train parents," she told the Chicago Tribune. "Missouri, for instance, has a parenting program where they talk to mothers literally in clinics before they have the babies and teach them how to parent. I think our school systems have been at fault some. I think we have been at fault enormously. We expect our teachers to be mother and father and church and teach our children morals....I think a lot of our problems are because people don't listen to our children. It's not always easy. They're not always so brilliant that you want to spend hours with them."
Bush talks about parental devotion from personal experience: As a young mother she grappled tirelessly with her son Neil's dyslexia. "She expended more time and effort to help him overcome severe reading difficulty," the Chicago Tribune noted, "than many mothers spend on parenting, period." The experience not only inspired her to take up the cause of literacy but also sparked her interest in the related field of learning disabilities. In the 1989 issue of Their World, published by the National Center for Learning Disabilities, she wrote an introductory letter. "George Bush and I know the frustration of living with an undiagnosed or untreated learning problem, and we know the great joy and relief that comes when help is finally found," the letter begins. "I foresee the day when no American---neither child nor adult---will ever need to be limited in learning."
On the wide range of political, social, and ethical issues that confront the nation, Bush has firm opinions of her own. More than once this has led her outside the bounds of first-lady protocol, requiring her, as she told the Philadelphia Inquirer, to learn to "curb my mouth." Now when she's asked to comment on a controversial issue, she uses a stock answer: "Let me tell you how George Bush feels." "As the wife of an elected official," she explained to the Diplomatic Digest, "I feel exactly as the Vice President does to the President. You owe that person, that elected official, your support on the outside. What you say behind closed doors, that's fine. You can voice your own opinion there, but I'm not an elected official." With a smile, she added, "When I am, I expect George Bush to support me!"
Most nights, 1600 Pennsylvania Avenue has company---usually a family member, or perhaps one of the many friends the Bushes have cultivated over years of public life. It's usually not until the dinner hour that the couple has time to themselves. By now they have established a routine: eat by candlelight, work for a while, walk the dog. When she is alone in her spare time, Mrs. Bush enjoys needlepointing---the chintz sitting room displays a rug that she worked on for years---and, not surprisingly, reading. Her literary taste ranges from Louisa May Alcott to Tom Wolfe. She also likes to simply take in the grandeur of her 29th home. "It's so much more beautiful than I thought," she told the Christian Science Monitor. "Today I had lunch off of [Woodrow] Wilson's plates; sometimes I have lunch off of Lincoln's plates."
Barbara Bush already knows how she would like to be remembered after leaving the White House. "I hope people will say, 'She cared; she worked hard for lots of causes,'" she told the Christian Science Monitor. Many people write to her, she added, wishing to help with the various social concerns she has espoused. Her response: "If you'll just go out and help the neighbor who needs help, you'll be on my program."
PERSONAL INFORMATION
Full name, Barbara Pierce Bush; born June 8, 1925, in Rye, N.Y.; daughter of Marvin (a publishing company executive) and Pauline (Robinson) Pierce; married George Herbert Walker Bush (president of the United States), January 6, 1945; children: George Walker, Robin (deceased), John Ellis, Neil Mallon, Marvin Pierce, Dorothy Walker LeBlond. Education: Attended Smith College, 1943--44. Politics: Republican. Religion: Episcopalian. Addresses: Home and office---The White House, 1600 Pennsylvania Ave., Washington, D.C. 20500.
AWARDS
National Outstanding Mother of the Year Award, 1984; Woman of the Year Award, USO, 1986; Distinguished Leadership Award, United Negro College Fund, 1986; Distinguished American Woman Award, College of Mt. St. Joseph, 1987; named Outstanding Leader in the Literacy Movement, 1988; honorary degrees from Stritch College, 1981, Mt. Vernon College, 1981, Hood College, 1983, and Howard University, 1987.
CAREER
First Lady of the United States, 1989---. Advocate for improved literacy among Americans; honorary chairperson, Barbara Bush Foundation for Family Literacy, National Advisory Council of Literary Volunteers of America, and National School Volunteers Program; member of board of directors, Reading Is Fundamental and Business Council for Effective Literacy; sponsor, Laubach Literacy International. Honorary chairperson, Leukemia Society of America, Hispanic American Family of the Year Program, and National Organ Donor Awareness Week, 1982--86; member of advisory council, Sloan-Kettering Cancer Center; honorary member of board of directors, Children's Oncology Services of Metropolitan Washington, the Washington Home, and the Kingsbury Center; trustee, Morehouse School of Medicine.
Read more
Latest headlines