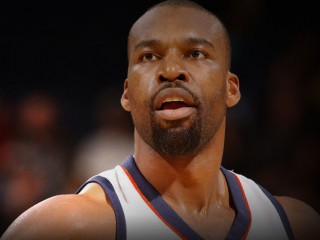 Baron Davis biography
Date of birth : 1979-04-12
Date of death : -
Birthplace : Los Angeles, California, U.S.
Nationality : American
Category : Sports
Last modified : 2010-08-04
Credited as : Basketball player NBA, currently plays for the Los Angeles Clippers,
Baron Davis is not a man to shrink from a challenge. The powerhouse point guard has led bad teams with poor prospects to amazing victories, along the way earning the admiration of friends, foes and fans around the NBA. So has Baron finally encountered a mountain that is insurmountable—stewardship of the Los Angeles Clippers? Even with the new arrival of the wonder kid, power forward Blake Griffin, has Baron committed career suicide? Or is it the opening scene of an only-in-Hollywood sports story? They say you can't go home again. Baron hopes to be the exception to the rule.
GROWING UP
Baron Davis
was born on April 12, 1979, in Los Angeles, California. Not much is known about his parents—Baron rarely talks about them, if ever. He and his sister, Lisa, were raised by their grandparents, Luke and Lela Nicholson.
The family lived in a two-bedroom home in South Central LA. The house was always alive with action of some sort. Relatives of all ages—aunts, uncles and cousins—were around all the time.
Luke and Lela didn't cut Baron and Lisa much slack. They knew the trouble that lurked on the neighborhood streets and demanded that the children keep their noses clean and work hard in school. Baron, a smart kid with an outgoing personality, obeyed his grandparents.
Luke and Lela also had an ace in the hole when disciplining Baron. He absolutely loved sports, especially basketball. When Baron didn't maintain good grades, he wasn't allowed to play. Only once did the youngster test his grandparents' rule. An extended stint away from the court ensured he never again made the same mistake.
Baron didn't have to go far to hone his game. Luke erected a backboard and rim in the family's backyard, where Baron and his friends gathered for ferocious pick-up games. The court surface alternated between patches of grass and a slab of driveway cement. The uneven ground helped Baron develop an amazing handle on the ball.
When Baron finished elementary school, he was offered a basketball scholarship from the Crossroads School for Arts and Sciences. Though Baron hated leaving his friends behind, Luke and Lela convinced him to take advantage of the opportunity. Crossroads, an exclusive private school in Santa Monica, featured one of the most progressive and challenging curriculums in the California. It also boasted a proud athletic heritage.
For Baron, the adjustment to Crossroads was difficult at times. He was surrounded by kids from much wealthier families. Many were already planning careers as doctors or lawyers. Baron's singular focus was basketball. He rooted for Magic Johnson and the Lakers, whose Showtime championship run was just coming to an end. But he also felt an allegiance to the hard-luck Clippers. Marques Johnson was the first player to catch his attention, then Danny Manning, Charles Smith, Ken Norman and Ron Harper. And Baron never forgot when Gary Grant and Benoit Benjamin came to his neighborhood one year and passed out Christmas gifts.
Baron relied on his family to help him through his transition at Crossroads. When Luke passed away during Baron's 8th-grade year, his bond with Lela and Lisa grew in importance. He got to calling his grandma "Madea," short for Mother Dear. The death of his grandfather also served to strengthen Baron 's resolve on the basketball court.
A lightning-quick guard with explosive leaping ability, Baron was unstoppable with the ball in his hands. His days on the playgrounds fostered a fearless style of play. He went hard to the hole, welcomed contact and loved setting up teammates with dazzling passes. Baron could also pull up and stroke the outside jumper with great confidence. He possessed a power forward's heart, a point guard's head and a swingman's shooting touch—he was a scoring machine who understood that basketball was a team game.
Baron's career at Crossroads made him one of the most storied prepsters in California history. He reminded many onlookers of Jason Kidd, who years earlier had made his mark at St. Joseph of Notre Dame High School. Kidd became the subject of one of college basketball's fiercest recruiting wars. Baron was just as highly regarded.
By the spring of 1996, the Crossroads junior was receiving 20 phone calls a week from college coaches. California boasted a tremendous depth of high school talent—including Schea Cotton and the Collins brothers, Jarron and Jason—but no one attracted nearly as much attention as Baron. His coach, Darrell Roper, found it difficult just to keep up with the requests for game film.
As Baron opened his senior year at Crossroads, the list of big-time schools pursuing him included Duke, Kansas, Michigan, Connecticut and Georgetown. Of course, hometown favorite UCLA was also in the mix. Bruins head coach Jim Harrick and his recruiting coordinator, Steve Lavin, considered Baron to be the program's most important recruiting target of the 1990s.
UCLA relied on its hoops history and ties to NBA stars to appeal to Baron. He was often invited to play in pick-up games at the Wooden Center, where former Bruin greats got his ear, and urged him to stay in Los Angeles.
Baron's sister, meanwhile, was also lured into the recruiting picture. UCLA employed her in its food service department, and Harrick ensured that she had a comfortable means of transportation to and from her job—his son sold her his Chevy Blazer. When the NCAA learned of the purchase, an investigation was launched, and the spotlight fixed on Baron intensified to an almost blinding level. He later became the subject of a PAC-10 inquiry when he was spotted in a new Ford Explorer.
Despite the lingering controversy, the pressure applied by UCLA wore Baron down, and he verbally committed to the Bruins in September. Still, speculation persisted that he would change his mind. That made Baron's senior campaign at Crossroads all the more remarkable. In storybook fashion, he averaged 26 points, eight rebounds and seven assists, and led Crossroads to California's small-school state championship.
In April of 1997, Baron finally ended the suspense of his college choice. The past eight months had taken a toll on everyone involved, most notably Harrick. The NCAA had dug up enough dirt on the UCLA coach to force the school to dismiss him. In his place, the Bruins hired Lavin. His relationship with Baron helped convince the teenager to keep UCLA on his short list. His other option was Kansas. With the college hoops world waiting with bated breath, Baron announced on live television (a pre-game show on Fox Sports West, prior to a tilt between the Clippers and Utah Jazz) that he was going to be a Bruin.
ON THE RISE
The summer before his freshman season Baron was selected as a member of the USA Basketball Junior Select Team preparing to compete in the Hoop Summit game. In a 97-90 victory over an international squad, he tallied nine points and five assists.
Baron next joined the Bruins, a team that was long on talent but short on discipline. The club leaders were seniors Charles O'Bannon and Cameron Dollar. Underclassmen Toby Bailey, Jelani McCoy and J.R. Henderson all had serious pro aspirations. Baron and fellow freshmen Earl Watson and Billy Knight rounded out an impressive nucleus.
But as Lavin learned in the preseason, the Bruins didn't always function as a team. A penchant for one-on-one play and unnecessary razzle-dazzle plagued the club at times. The coaching staff hoped that Baron would give UCLA much-needed guidance at the point.
Early in the regular season, he demonstrated his leadership abilities in a tense December tussle with upset-minded St. Louis. Baron shrugged off a sore right ankle and helped the Bruins to a 73-67 victory. In 40 minutes of action, he did his best work on defense, combining with Bailey and Watson to limit Billikens star Larry Hughes to 4-of-12 shooting from the floor.
Over the next month, Baron struggled through the normal ups and downs of a freshman. Sometimes, he was brilliant. Against Alabama-Birmingham, he scored 20 points in the second half to spark a comeback win. In a pair of PAC-10 victories, he sealed the deal with late-game heroics. Versus Arizona State, it was a dunk, and then a jumper with time running down. Days later, Baron victimized Oregon with a steal that he converted into the game-winning layup.
Just as often, however, Baron was guilty of trying to do too much. His assist-to-turnover ratio was an unimpressive 1.5-to-1. Inconsistent from the outside, he pumped up too many 3-pointers. Staying out of foul trouble was a problem, too. To lessen the burden on Baron, Lavin handed more responsibility to Watson. He often checked the opposing point guard and handled the ball on the fast break.
The changes produced the desired results, and UCLA headed into the NCAA Tournament with thoughts of a national title. At just over 11 points a game, Baron was the team's fourth-best scorer, and no one was better at breaking down a defender. He also topped the club in assists and steals. Meanwhile, the rest of the UCLA players were starting to peak. Despite the absence of McCoy—who resigned from the team in February—the Bruins promised to be a handful for anyone they encountered.
The No. 6 seed in the South, UCLA edged Miami in the first round to set up an intriguing game with Michigan. That's where Baron's season came to an unexpected end. In the first half, he landed awkwardly after a high-flying dunk. The 18-year-old limped to the locker room, where he was examined by UCLA's team physician. Cleared to return, Baron rejoined the action, but was clearly laboring. He watched the remainder of the contest from the bench, as the Bruins hung on for an 85-82 victory. Afterwards, doctors diagnosed Baron with a tear of anterior cruciate ligament in his left knee. He was done for the year. Without him, UCLA faced an uphill battle in the Sweet 16 against Kentucky. The Wildcats won easily, 94-68.
Baron spent the summer doing two things—rehabbing from surgery on his left knee and eating in every burger joint he could find. His weight shot up by 25 pounds, and none of it was muscle. By the start of the 1998-99 season, however, Baron had slimmed down close to his playing weight. The Bruins, meanwhile, had beefed up their ranks with several prized recruits, including JaRon Rush, Jerome Moiso and Dan Gadzuric. Lavin figured to slot those three into the starting lineup, with Baron and Watson the tandem in the backcourt.
UCLA fans didn't see that five together on the court until the fifth game of the year. Not yet 100 percent, Baron sat out the first four contests, and then made his sophomore debut in December. He immediately assumed the role of team leader. Two days before the calendar turned to 1999, he showed his knee felt fine with a monstrous dunk against Loyola Maramount.
With Baron going for double-figures most nights, the Bruins headed into February on a roll. In addition to his scoring, Baron had earned the respect of his teammates for his winning attitude. He analyzed video of opponents and was the player who spoke up in the locker room when the club needed a spark.
Sometimes, however, Baron's mouth got him in trouble. After a frustrating game at Washington, he berated the refs, an outburst that drew a reprimand from the PAC-10. But two days later, he canned a basket with time expiring to deliver a 79-77 victory over Oregon.
The Bruins ended the season at 22-8 and received the #5 slot in the South for the NCAA Tournament. Against a gritty Detroit club, UCLA opened up a big lead early in the second half but allowed the Titans to score nine straight points to knot the score. The game came down to free throws, and Detroit made them when they counted for a 56-53 upset. In what many viewed as a "put up or shut up" test for Baron—who had all but punched his own ticket for the NBA —the first-round defeat was an enormous disappointment.
The loss tarnished an otherwise brilliant year for Baron. Named Third Team All-American by AP, he upped all of his averages as a sophomore (15.9 points, 5.1 assists, 3.6 rebounds and 2.5 steals). Just as important, he regained full strength and flexibility in his left knee. This development was of particular note to NBA scouts. With opinion mixed on the nation's top junior and senior point guards—Steve Francis, Andre Miller and Jason Terry—Baron was an extremely attractive option for many teams. Baron officially announced his decision to forego his final two years at UCLA, and then began the pre-draft interview process. Every lottery team took a serious look at him. Baron's hope was to stay in Los Angeles, even if it meant joining the lowly Clippers.
LA's hapless hoops franchise held the fourth pick overall, and Baron would have been a wildly popular selection. But as the big day approached and his stock continued to rise, the likelihood that he would last that long diminished. In the top slot, the Chicago Bulls were considering power forward Elton Brand, perhaps the safest bet in the draft. The next two teams, the Vancouver Grizzlies and Charlotte Hornets, were both in the market for a point guard.
The Hornets actually found themselves in a tricky situation. Before the draft, Baron refused a workout with the club, sending the message that he didn't want to play on the East Coast. But the team felt it couldn't pass on such a hot prospect. When the Bulls went with Brand and the Grizzlies tabbed Francis, Charlotte gambled on Baron.
The Hornets quickly realized they had made a steal with their first-round pick. From his days at Pauley Pavilion, Baron had become close friends with Eddie Jones, the athletic shooting guard acquired by the Hornets the previous winter. Jones, along with head coach Paul Silas, had helped engineer a stunning turnaround in Charlotte. The team won 22 of 35 down the stretch of the lockout-shortened '98-99 campaign. With Bobby Phills, Derrick Coleman, Elden Campbell and David Wesley accompanying Jones in the starting lineup, the Hornets were extremely optimistic. Baron bought into the excitement and signed with the club.
Baron's rookie season took a sobering turn when Phills was killed in a car accident in midseason. The Hornets had started the year on a roll, but the shock of their teammate's death temporarily derailed them. After Charlotte retired Phils's number in February, the team regrouped. With 14 victories in their last 16 games, the Hornets finished 49-33 and earned homecourt advantage in the first round of the playoffs. Unfortunately, they were bounced by the Philadelphia 76ers, losing the series in four games.
Baron spent the year as one of Silas's first players off the bench. Despite his jaw-dropping talent, the Hornets decided to bring him along slowly. Installed as Wesley's apprentice, he learned as much by watching as he did by playing.
In his NBA debut, a 100-86 win over the Orlando Magic, Baron scored nine points and added five rebounds, two assists and two steals. Those numbers were pretty much emblematic of his season. As a reserve, Baron was counted on to change the pace of games, providing a spark when Silas inserted his second unit. For the season, his stats were modest (5.9 ppg, 3.8 apg and 2 rpg), but his potential was undeniable. Fittingly, Baron put forth his best performance as a rookie in Los Angeles, against the Clippers. In a blowout victory attended by family, friends and hundreds of fans from his alma mater, he posted 19 points and seven assists.
For Baron, the toughest adjustment during his first NBA season was living so far away from home. The holidays were hardest on him. In fact, when he was unable to sit down with his family for Christmas dinner, he arranged for a magnificent catered meal for Lela, Lisa and the rest of his relatives.
Heading into the 2000-01 campaign, Baron was hungry for a bigger role with the Hornets. Over the summer he studied hour upon hour of video of jitterbug guards like Isiah Thomas and Stephon Marbury. In the process he picked up a crossover hesitation move and a quicker release on his running jumper. Baron also learned the value of limiting mistakes when the ball was in his hands.
Charlotte was busy, too. The team pulled a major trade with Miami in August, acquiring Jamal Mashburn and P.J. Brown from the Heat. Unfortunately, the deal sent Jones packing. The upside of the departure of Baron's good friend was an opening in the starting five.
Silas entered the year thinking Baron would split time with Wesley at the point. One day in practice, however, he decided to pair them in the backcourt. The move transformed the Hornets. A plodding team with Coleman, Campbell, Mashburn and Brown all on the floor at the same time, Charlotte could suddenly run with anyone in the league.
No one benefitted more from the switch than Mashburn, who averaged 20.1 points a night to go along with 7.6 rebounds and 5.4 assists. Campbell and Brown proved an effective one-two punch in the paint. Even when Coleman was sidelined with an irregular heartbeat, the Hornets flourished. At 46-36, they cruised into the playoffs ready to make some noise.
Baron keyed Charlotte's success from the season's opening tip. In November, he throttled the Detroit Pistons with seven steals, and was then honored as the NBA's Player of the Week after leading the Hornets to four wins in a row. During that stretch, he posted two triple-doubles (12 points, 10 rebounds, 11 assists versus Philadelphia, and 14 points, 10 rebounds and 11 assists versus Cleveland).
Baron got stronger and better as the year progressed. In early January, he logged 53 minutes in a triple-overtime win over the Bulls. During All-Star Weekend, he participated in the Slam Dunk contest, and then topped the Sophomores in the Schick Rookie Game with eight assists. Down the stretch in March, he was at his best, scoring 15 points a night on 54 percent shooting. He ended the season as the team leader in assists, while also pulling down five rebounds each night.
In the playoffs, Baron further elevated his game. Finding the groove on his jump shot, he boosted his scoring average to nearly 18 points and also stepped up the pressure on defense. The Hornets followed his lead, sweeping the Heat in the first round. Next Charlotte faced Milwaukee with a chance to advance to the Eastern Conference Finals. In seven wild games, the run-and-gun Bucks won the series. Still, the Hornets' six post-season victories were a franchise record.
MAKING HIS MARK
Flying high after his eye-opening playoff performance, Baron intensified his offseason workout program. He played in three summer leagues simultaneously, and then joined Team USA in the Goodwill Games. With Baron at the helm, the Americans rolled to the gold with five straight victories. Baron averaged 10.6 points and toppedthe team in assists and steals. His biggest moment came on the defensive end in the semifinals against Brazil. With time running out, Baron denied a potential game-winning shot by Dementrius Ferraciu. The U.S. went on to win 106-98 in overtime.
Baron returned to Charlotte more confident than ever. The Hornets were equally juiced about their chances in the 2001-02 campaign. The team boasted the same starting unit from the year before and added veteran swingman Stacey Augmon, whose defensive presence would be a welcome addition off the bench.
It wasn't likely, however, that the Hornets would be playing in front of raucous packed houses. With owner George Shinn threatening to move the club unless the city built him a new arena, the people of Charlotte voted to reject construction of a $342 million facility. The franchise initiated plans to move after the season, and the fans stayed away in droves. Shinn, once the most beloved man in town, was now the most reviled. Those who did show up at the arena did as much booing as cheering.
Without any tangible homecourt advantage, Charlotte still managed a record of 44-38, good for the fourth seed in the Eastern Conference playoffs. Before the season began, the club dealt Coleman to Philadelphia for former Carolina star George Lynch, even though he was coming off a broken left foot. More health problems hit the Hornets when a painful abdominal strain shelved Mashburn for more than two months. Wesley and Campbell also attended many games in their street clothes, leaving Baron to pick up the slack.
The young guard answered the call. For the year, Baron set a club record with 29 double-doubles. Twice he matched his career-high with 38 points in a game. Three times he dished out 15 assists. Baron's best month was February, when he averaged 21.2 points and 8.2 assists.
He was rewarded for his fine play with his first appearance in the All-Star Game, replacing Toronto's Vince Carter on the East roster. When he heard the news, he called Lela and offered to pass on the contest. She was recovering from pneumonia, and he wanted to see her. Lela told him he was crazy. Baron listened and joined his fellow All-Stars in Philadelphia.
By then, Mashburn was back in the lineup, and Charlotte was gearing up for another spirited postseason run. After the forward took honors as the East's Player of the Month in March, the Hornets became a favorite choice of the media to reach the NBA Finals. Unfortunately, Mashburn was struck by a viral illness, a condition that was eventually diagnosed as anemia and then positional vertigo.
Again, Baron lifted the team on his shoulders. In the first round, with Orlando's Tracy McGrady trying to bait him into a one-on-one showdown, Baron kept quiet and let his game do his talking. In an easy win over the Magic, hewas stupendous, averaging 25 points, 9.3 assists and nine rebounds. He closed out the series with back-to-back triple-doubles, becoming the fifth player in NBA history to do so. The others were Magic Johnson, Wilt Chamberlain, John Havlicek and Oscar Robertson.
Up next were the top-seeded Nets and their new floor leader Jason Kidd. Charlotte gave New Jersey all it could handle, but the Hornets fell in five games. In the end, the difference was Kidd's veteran savvy. Though Baron walked off the court a loser, he learned a lot in the series.
The Hornets also learned something: They couldn't afford to lose Baron to free agency. With two years left on his deal, Shinn re-signed him to a six-year contract worth $84 million. A short time later, the team loaded the moving trucks and headed to New Orleans to begin a new chapter in the franchise's history.
For the second summer in a row, Baron suited up for Team USA, this time at the FIBA World Championships in Indianapolis. The tournament didn't go well for him or the Americans. Perhaps trying to justify his big payday, Baron was uncharacteristically selfish with the ball, often thinking shot before pass. The U.S. squad looked equally out of sorts and finished an embarrassing sixth.
Baron's performance in Indianapolis raised questions about his mindset as the 2002-03 season approached. Would he let his contract affect his play? As it turned out, he never really got the chance to disprove his doubters. In early December, Baron was hit by a sore back and couldn't answer the bell for the first time in his pro career. Later in the season, a gimpy left knee plagued him. In all, Baron sat out of 32 games. While his final stats (17.1 ppg, 6.4 apg and 3.7 rpg) didn't necessarily reflect it, he was laboring every time he stepped on the court.
Baron wasn't the only Hornet slowed by injuries. Campbell underwent knee surgery and then was dealt to Seattle, which prompted Silas to promote youngster Jamaal Magloire into the starting lineup. When the playoffs started—New Orleans went 47-35 and earned the fifth seed in the East—Mashburn was felled by a chipped bone in his right hand. That meant increased playing time for forwards Lynch and Baron's former UCLA teammate, Jerome Moiso. The undermanned Hornets dropped their opening series to the Sixers in six games.
Despite a noticeable limp that severely limited his mobility, Baron ignored the pain in his left leg and performed with surprising effectiveness against Philly. With New Orleans down 2-0 in the series, he engineered a 99-85 victory in Game Three with 28 points and eight assists. But with Baron unable to match up with Allen Iverson on defense, the Hornets were eventually out-gunned.
Determined to redeem himself, Baron embarked on a vigorous offseason conditioning program. Under the guidance of a personal trainer, he hit the weight room, ran three to five miles a day and increased his flexibility. Baron also hired a chef who ensured he maintained a healthy diet. With his knee and back fully mended, he showed up for training camp with a beautifully sculpted body.
But all wasn't right with Baron. The Hornets let Silas go and replaced him with Tim Floyd, whose career record as an NBA coach was 49-190. Baron wasn't enamored of the move anddidn't hide his feelings. But Floyd managed to smooth things over with his star guard, and New Orleans made him happy by signing veteran Darrell Armstrong as his backup.
Early in the season, Baron and the Hornets looked good. The team won twice as much as it lost, and he raised his game yet another notch. On the cusp of superstar status, Baron was considered the league's most valuable player for the first half of the NBA season.
Although Mashburn was bitten again by the injury bug and sat out the season with knee problems, Magloire matured into a solid force in the paint, forming a nasty duo with Brown. Wesley and Armstrong, meanwhile, gave Floyd great minutes in the backcourt. Several free-agent signees—backup center Sean Rooks from the Clippers, guard Kareem Reid from the CBA and USBL, and forward Paul Shirley from the Hawks and CBA—helped round out the team. Also getting his feet wet was second-round draft pick James Lang, a 6-10 center from Central Park Christian High School in Birmingham, Alabama.
In the East, where the favored Nets were struggling, New Orleans saw a chance to be the successor to the throne of the two-time NBA finalists. But it turned out to be an up-and-down season plagued by injuries and uncertainty about Floyd at the helm. In November, Baron scored 37 points, including six threes, to lift the Hornets to a 3-0 record after a 97-90 win against Boston. Late in the month, they beat the Celtics again, 81-73, in a low-scoring contest. Baron was a key with 17 points.
Another November victory came against the unbeaten Lakers. Baron's quickness, accuracy and defense against Kobe Bryant were the deciding factors. He scored 23 points and added 12 assists and four steals in a 114-95 thriller. The next night, the Hornets lost to the Bulls, 109-106. It was Baron who kept them close, scoring 35 points, including five threes. The effort marked the third time in seven games that Baron had posted more than 30 points.
Later against the Portland Trailblazers, Baron scored 23 points in a 101-79 victory. The performance included his 2,000th career assist, second only to Muggsy Bogues in franchise history. By Decmeber, Baron was averaging 24 points a game and shooting 40% from beyond the arc. Even in Hornet losses, he was explosive. But he sprained an ankle in January and missed six games. It proved an omen for the second half of the season. In March, he suffered a sprained ankle again and sat for two weeks. The team went 1-5 without him.
In early April, Brown and Armstrong stepped up to snap a 10-game losing streak. But when Wesley went down with a sprained toe, the Hornets—without their top three scorers—dropped to sixth place in the Eastern Conference. They ended the regular season with a disappointing 41-41 record.
Baron and his teammates viewed the playoffs as a chance for redemption. Unfortunately, he was still hobbled. Facing the Heat, Baron limped through the first two games, and the Hornets lost both in Miami. Back in New Orleans for Game 3, he gutted out a 77-71 win, topping all New Orleans scorers with 21 points.
The Hornets evened the series with a 96-85 victory. Baron lifted his team with a double-double (23 points and 10 assists). It was a courageous performance considering that he had sat out of practice the previous two days to nurse his ankle.
New Orleans ultimately forced a decisive Game 7, but the Heat took over on their home floor and won 85-77. Midway through the contest, Baron was hit by back spasms and did not return.
The postseason's quick end ushered in change in New Orleans. The Hornets fired Floyd—it was no secret that he really never gelled with his players. In fact, Baron was seen waving off Floyd's calls in a few games. The team hoped the light at the end of the tunnel was Byron Scott, hired as the club's third coach in three seasons.
As a child, Baron had been a fan of Scott, who played on three championship Lakers teams. The feeling was mutual. Scott called Baron "the best young point guard in the league."
Their marriage in New Orleans, however, was a rocky one. The Hornets got off to an awful start, limping through November and December. Incredibly, they won just two of their first 30 games. Baron was hobbling along, too. An inflamed disc kept him out of the lineup as often as he was in it. In January, with the franchise in total disarray, New Orleans began actively shopping Baron. A month later Golden State GM Chris Mullin pulled off a deal that brought the star back home.
The trade rejuvenated Baron—and the Warriors. Finally healthy in March, he gave the team a true threat at the point. With Jason Richardson flanking him in the backcourt, Golden State boasted one of the league's most explosive tandems. Meanwhile, Mike Dunleavy began looking more like a first-round pick, and Troy Murphy was posting double-doubles in scoring and rebounds on a regular basis. The Warriors won 14 of 18 down the stretch and drew some of their biggest crowds in a decade. In 28 games on the coast, Baron averaged 19.5 points and 8.3 assists.
The 2005–06 season started well for the Warriors. The team had a winning record, and Baron was headed for a career-high assists total. Then disaster struck. A losing streak in January was followed by a season-ending injury to Baron's ankle. Golden State's' goose was cooked. Baron missed nearly 30 games, and the team missed the postseason for the 12th year in a row. He averaged 17.9 points and 8.9 assists per game, but he wasn't available down the stretch when the team was fighting for its life.
The new season brought a new coach, Don Nelson, who installed an up-tempo offense that suited Baron's skills. The Warriors also added a couple of young faces, Monta Ellis and Andris Biedri?s, who would improve as the 2006–07 season wore on. The biggest change came in January, when Golden State pulled the trigger on a monster trade that brought in Al Harrington and Stephen Jackson. They combined with Baron and the talented Richardson to give the Warriors a formidable lineup.
It took a couple of months for the club to gel, but once it did, the results were fantastic. The Warriorsfinished with a flurry of victories to give them a 42–40 record and a berth in the playoffs for the first time since 1994. They clinched a spot on the last day of the seaosn with a win in Portland. Baron averaged 20.1 point per game and shot a career-best 43.9 percent from the field.
One of the stretch-run victories came against the powerhouse Dallas Mavericks. It ended the team's 17-game winning streak. Dallas fans thought nothing of this loss, but the Warriors were bolstered by it as they prepared to meet the Mavs in the first round of the playoffs.
The Warriors stunned the Mavericks in Game 1. Baron was all over the court, practically willing his team to victory. He scored 33 points—19 in a wild third quarter. Jackson chipped in with 23. Dallas struck back and celebrated a blowout win in Game 2. Both Baron and Jackson were ejected in this contest.
The tension was high as Game 3, the first on Golden State's home floor, began. Baron netted 24 and Richardson scored 30 as the Warriors took the series lead with a 109–91 victory. Two nights later the Warriors won again, 103–99. Baron had five points and three assists in the closing moments of a crazy game that saw the momentum swing back and forth again and again.
The Mavs squeezed out a victory at home in Game 5, but the Warriors closed them out at home in Game 6. Baron injured his hamstring in Dallas, but he managed to limp through the decider and score 20. Jackson was the man, nailing seven back-breaking 3-pointers against the Mavs. It marked the first time ever that a #8 seed had defeated a #1 seed in a seven-game series.
Golden State's magic ebbed away in the next round against the Utah Jazz. The Warriorslost the first two games even though victory was in their grasp. After a big win in Game 3, they simply could not match the strength and size of Utah and succumbed in five games. Baron's final postseason numbers were amazing. He averaged 25.3 points a game.
Expectations were high for 2007–08, but as often happens with a team that suddenly overachieved, the Warriors faced several obstacles. The team traded Richardson to the Charlotte Bobcats, and Jackson missed a couple of weeks after being suspended for a firearms possession incident. Baron picked up the slack with a rarity for him—an injury-free season.
The Warriors got back on the winning track after Jackson returned. Ellis, meanwhile, became an effective scorer. All three averaged over 20 points a game. Baron led the team with a 21.7 average. Golden State's season derailed when the team signed Chris Webber in January. The Warriorswere counting on the big man to give them a much-needed inside presence, but the offense was too fast for the aging veteran, and he retired after just nine games. The ensuing tailspin cost the team a playoff spot. The Warriors finished with 48 wins, which wasn't good enough in the super-strong Western Conference.
After the 2007–08 season, Baron decided it was time to go home. He didn't simply return home—he put himself in play in Southern California's motion picture industry, where he planned to devote himself post-career. Ironically, he was urged to sign with the Clippers by Elton Brand, who then surprised everyone by inking a deal with the 76ers. Los Angeles then quickly signed Marcus Camby, and Golden State plucked Corey Maggette from the Clippers.
A chaotic off-season was merely a prelude to an unfortunate regular season for Baron. He fought through myriad injuries: hip, back, toe, tailbone, finger, hamstring and, to top it off, stomach ulcers. In turn, he averaged a mere 14.9 points, 3.7 rebounds and 7.7 assist a game—his lowest totals since his second year in the league. Baron's disappointing season was made worse by his occasional clashes with head coach Mike Dunleavy. There were rumors that he wanted out of Los Angeles, which he publicly denied.
Despite his injuries—and the Clippers' awful 19-63 record—Baron still managed to show flashes of brilliance. On November 22, he scored 30 points and handed out 10 assists in a victory over the Oklahoma City Thunder. He also had a pair of 20-assist games.
No one ever cashed in betting on the Clippers, but betting against Baron isn't a smart play either. Los Angels has the makings of an interesting ream. With Eric Gordan a year older, a healthy Camby on the court, and the arrival of Blake Griffin, the Clippers could become a playoff contender.
Much will depend on Baron. His skill as a player will be needed on a nightly basis, and with the nucleus of the young talent on the roster, his ability as a leader will be absolutely indispensable. Of course, he's not at all adverse to starring in, directing and producing his own Hollywood fairy tale.
BARON THE PLAYER
Baron is built more like a running back than a point guard, and often plays with that mentality. He loves to drive the lane, draw contact and challenge big men. His leaping ability enables him to hang in the air, buying an extra split-second to release his shot or spot an open teammate. Early in his career, Baron's jump shot was inconsistent. A streaky shooter, he was dynamite when he felt it and a dud when he didn't. Gradually, he has increased his range, whiled also improving his shot selection, which has made him more of a threat from the outside.
Baron has always been an excellent passer. He is at his best when he involves everyone in the offense. Ironically, it's becoming easier for him to do that now that he has developed into a more dangerous scorer. With opposing defenders concentrating more on stopping him, teammates are often left uncovered. Baron rarely misses them, yet he still pumps in 20 to 30 a game.
Baron has never shied away from leadership roles. Check his career playoff stats—every spring his numbers jump to eye-popping levels. Teammates and opponents marvel at his will to win when the game is on the line. He wants the ball in his hands with the clock winding down.
Baron's ability to lead extends off the court. He's funny, charming and well-spoken, qualities that make him popular in the locker room and with the media. Baron is more than just talk, however. He works hard, is devoted to his family and produces in the clutch.
EXTRA
* One of Baron's best friends is Eddie Jones. The two met in the summer of 1995 during a pick-up game at UCLA. Baron played that day in sneakers that had almost completely worn out. Jones literally gave him the shoes off his feet. They have been close ever since.
* In 1997-98, Baron was named PAC-10 Freshman of the Year. He averaged 11.7 points and 4 rebounds, and led UCLA in assists (5.0 apg) and steals (2.4 spg).
* Baron was the first UCLA player in more than 20 years to be a Top 3 NBA draft pick. The other Bruins who can claim that honor are David Greenwood (1979), Marques Johnson (1977), Richard Washington (1976), David Meyers (1975), Bill Walton (1974), Sidney Wicks (1971), Lew Alcindor (1969) and Lucius Allen (1969). Gail Goodrich (1965) and Walt Hazzard (1964) were territorial picks.
* Baron's career-high at UCLA was 27 points, against Cal in 1999.
* In 2000-01, Baron was one of only five guards in the NBA to average at least five points, five rebounds and five assists. The others were Kobe Bryant, Steve Francis, Jason Kidd and Jalen Rose.
* Baron canned an 89-foot prayer against the Milwaukee Bucks in November of 2001. The shot was credited as the longest in NBA history.
* It didn't take long for Baron to become the face of the Warriors. The team sent him as its representative for the 2005 Draft Lottery.
* Baron was the only NBA player to average 20 points and eight assists a game in 2006–07.
* In 2007 Baron led the Warriors to their first road playoff victory since 1991.
* In 2007–08, Baron, Stephen Jackson and Monta Ellis averaged over 20 points each. It was the first time since the TMC Era (Tim Hardwawy, Mitch Richmond, Chris Mullin) that a trio of Warriors all reached this plateau.
* Baron's two 20-assist games in 2009 set a new career high.
* Though he's only 6-3, Baron is one of the NBA's premier dunkers. A friend keeps a running list of his best jams. A dunk over Kevin Garnett in his rookie year still ranks at the top.
* Baron loves rap music. He went to his first concert during his sophomore year at UCLA. Baron met Jay-Z backstage, then got an even bigger thrill when the rapper wore his #5 Bruins jersey during the show.
* One of Baron's classmates at Crossroads High School was actress Kate Hudson.
* Baron already has a plan in place for when his playing days are over. He was an executive producer on "Asylum," a movie by Paramount Classics starring Natasha Richardson and Ian McKellan. His next movie, "Blacktop," tells the story of Los Angeles streetballers. He also is involved with a New Orleans film company called Pacificap.
* Baron has appeared in videos by Ja Rule, P. Diddy and Angie Stone. He has also been on ESPN's "The Life," and starred in an episode of HBO's "Arli$$."
* Baron has a bulldog named Bubba.
* Baron is afraid of heights.
* Baron once appeared on a celebrity version of "The Weakest Link." He lost to Chipper Jones of the Atlanta Braves when he muffed a question about "The Mary Tyler Moore Show."
* Baron hosts his own summer camp every year in Las Vegas. The Baron Davis Next Level Basketball Camp is designed for boys and girls grades 4 through 10.
* Baron is a fan of actors Will Ferrell and John C. Reilly. He appears in the commentary section of their Step Brothers DVD.
* Baron is a member of the Screen Actors Guild.
* Baron calls his official web site (www.barondavis.com) the Boomiverse.
Read more
Latest headlines