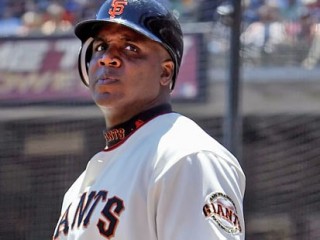 Barry Lamar Bonds biography
Date of birth : 1964-07-24
Date of death : -
Birthplace : Riverside, California
Nationality : American
Category : Sports
Last modified : 2010-07-23
Credited as : Baseball player MBL, baseball record of 755 on August 7th, Major league baseball's all-time home run leader
Barry Lamar Bonds
was born on July 24, 1964, in Riverside, California, to Pat and Bobby Bonds. Pat was literally the girl next door—she and Bobby had been neighbors since the sixth grade. Bobby was a high school baseball star contemplating a big-league career when Barry arrived. He chose baseball over football even though he was better known as a gridiron and track hero for Riverside Polytechnic High School. Bobby once scored six touchdowns in three quarters and was state champ in the long jump.
After playing a year for
Riverside City College
, Bobby signed with the San Francisco Giants in 1965 and began his pro career with Lexington of the old Class-A Western Carolinas League. After stops in Fresno, Waterbury and Phoenix, he made it to the majors as a right fielder in 1968.
Barry was a month shy of his fourth birthday when Bobby cracked the San Francisco lineup. In his first game with the Giants, the 22-year-old hit a home run with the bases juiced against the Los Angeles Dodgers—the first player in the 20th century whose first major-league hit was a grand slam. A season later, Bobby was being hailed as the game's most exciting young star. That same year, Barry's brother, Rickey, was born.
Barry's godfather was Bobby's teammate, Willie Mays. The "Say Hey Kid" saw a lot of himself in the swift and powerful Bonds and took him under his wing. He was also serious about his godfathering duties, watching over Barry as he shagged fly balls during batting practice in Candlestick Park as a kid.
As early as Barry can remember, both Willie and his dad were feeding him baseball advice. And throughout his childhood and later in his baseball career, they never let his head get too big. Whenever Barry's ego inflated, both men delighted in poking holes in it. The constant needling kept Barry grounded when everyone else was treating him like a god. And it kept him working hard when another player might have rested on his laurels.
Bobby and Willie knew Barry was playing to impress them, and they used this to spur him on. The pair filled Barry's young mind with the little secrets that had made them great ballplayers. They told Barry to think 0-2 even when the count was 3-and-1 andto pretend he was 0-for-4 when he was 3-for-3. They always gave him challenges—and always rewarded him when he succeeded. Barry remembers push-up contests against his brother. Whoever won got more ice cream.
Barry also recalls his father attending his Little League games in the Northern California suburb of San Carlos—watching from his parked car so as not to create a commotion in the stands and steal his son's spotlight. Barry played for the Lions Club Yankees and was already drawing crowds with his speed and power. He was a lefty—taught to hit that way by his father, who thought it would give him an advantage. He liked to crowd the plate, daring pitchers to beat him inside.
Despite Barry's status as the town superstar, there were aspects of his childhood that he didn't enjoy. His parents were nearly divorced when he was eight, and his aunts and uncles had embarrassing brushes with the law. Bobby was also arrested for drunk driving, an event that drew harsh criticism in the press.
The Bonds family remained in the Bay Area throughout Barry's formative years, even when Bobby began bouncing from team to team. A free-swinger with blazing speed and awesome power, he never reached base consistently enough to be a leadoff hitter, and struck out too much to bat cleanup. Every team that acquired him tried to plug him into one of these two slots, only to be disappointed when he failed to fit the mold.
As Bobby tried to find himself as player, Barry was developing into a star in his own right. He dominated in football, basketball and baseball for Junipero Serra High School, a private school in San Mateo with a rich sports tradition. He did the minimum to get by in class, while putting out the maximum once he pulled on his uniform.
As a freshman, Barry spent the baseball season on the JV team. The next three years—1980, '81 and '82—he starred on the varsity. Barry batted .467 his senior campaign, when he says he got serious about the sport and was honored as a prep All-America.
At the same time, Bobby's career was winding down to an end. The Giants dealt him to the New York Yankees for Bobby Murcer in 1975, and a year later the Bronx Bombers traded him to the California Angels. Over the next six years, Bobby would also play for the Chicago White Sox, Texas Rangers, Cleveland Indians, St. Louis Cardinals and Chicago Cubs.
Meanwhile, Bobby's first team, the Giants, were scouting his son. The club was impressed enough to tab the tennager with its second pick in the 1982 draft. Barry, however, had already received a scholarship offer from baseball powerhouse Arizona State, where a distant cousin, Reggie Jackson, had been a star in the 1960s. When the Giants came to sign Barry, Bobby—who was in the midst of his final pro season with Columbus of the International League—insisted on a $75,000 signing bonus. At the time, this was more than most second-rounders received, though not an outrageous request considering the bloodline involved. San Francisco chipped five grand off Bobby's demand, figuring the offer would be enough for Barry (who didn't need the money anyway, thanks to a wealthy dad). The Giatns were wrong. Displaying his signature stubbornness, Barry dumped San Francisco and decided to attend Arizona State.
In Tempe for the Sun Devils, Barry became one of the great players in college history. Coach Jim Brock loved his work ethic and hunger for stardom, but worried his skinny freshman slugger—he weighed 165 pounds—would be overmatched by the league's top-flight pitchers. With All-American Oddibe McDowell in center, Brock inserted Barry in right and batted him ninth. When the youngster began driving in runs in bunches, he was moved to the top of the order.
PAC-10 lefties gave Barry problems his first year, and he slumped to .250 at one point. He also was suspended for missing a mandatory workout. By season's end, however, he had raised his average to close to .300. In 64 games, Barry also hit 11 home runs with 54 RBIs and 16 stolen bases. In the College World Series, he crushed a 455-foot homer.
The 1984 season saw Barry bat .360 and steal 30 bases, while maintaining his power numbers. He made headlines again in the College World Series, hitting safely in seven consecutive trips to the plate. Barry also gained a reputation for being tough on umpires, and occasionally teammates. He prepared for each game very intensely and took it personally when he felt that others were not doing their jobs.
That summer, Barry hoped to be selected for the U.S. Olympic team. Coach Rod Dedeaux had a lot of talent to choose from, including Will Clark, Mark McGwire and Barry Larkin. Feeling Barry might upset team chemistry, Dedeaux left him off the squad. Barry joined a second team representing the U.S. that was competing in the World Amateur Championships in Cuba. Despite a nasty case of dysentery, he knocked in 16 runs in 11 games and dominated with his blinding speed.
During this competition, Barry made an adjustment that would pay off for the next 20 years. In order to keep from getting jammed, he choked up on his bat. The experiment resulted in a three-run game-winning homer against Japan.
With Arizona State on probation for academic violations and thus ineligible for postseason play, the 1985 season was Barry's last college campaign. Despite a sprained knee, he had a sensational year, finishing with 23 homers, 66 RBIs and a .368 average. With nothing left to prove at the collegiate level, he let it be known that he was ready to go pro.
Though arguably the best all-around player in the draft, Barry's reputation for being difficult caused the Milwaukee Brewers—who owned the top pick—to look elsewhere. Instead, they selected B.J. Surhoff of North Carolina. Because Barry's dad was coaching for the Indians (owners of the ninth pick), most believed that his next address would be Cleveland. But the Pirates, picking sixth, threw a wrench into those plans by choosing Barry first. Pittsburgh had actually coveted Larkin, but the Cincinnati Reds snatched him at number four.
Barry's first stop was for Pittsburgh was Class-A Prince William. He won Player of the Month honors a few weeks later, after a three-homer game against the Durham Bulls. Barry finished the year hitting .299 with 13 homers and 15 steals in 71 games. That winter, he went to Venezuela to continue to sharpen his skills.
ON THE RISE
To Pittsburgh's delight and surprise, spring training of 1986 found Barry competing for a major-league job. The Pirates broke camp with a hodgepodge of journeyman in their outfield, including RJ Reynolds, Joe Orsulak, Mike Brown, and Lee Mazzilli. Barry hit .316 before being farmed out to Class-AAA Hawaii of the Pacific Coast League, with the understanding that he would be called up as soon as he was ready to play everyday. The Pirates were in no hurry to rush their prize prospect—they figured to lose 90 games no matter what Barry did.
After 44 games, Barry had a .311 average and seven home runs, and was covering the outfield well and stealing at will. The club promoted him at the end of May, stuck him in center field, and batted him leadoff. He went hitless in his first game, with three strikeouts.
Barry settled down and belted his first homer on June 4, against Craig McMurtry of the Atlanta Braves. In 113 games, he led all N.L. rookies with 16 homers, 48 RBIs, 36 steals and 63 walks. He showed great patience for a young hitter, refusing to offer at anything that wasn't a strike. His looping swing, however, left him vulnerable to inside heat, as his .223 average and 102 strikeouts attested. But when enemy hurlers missed in the zone, Barry usually gave the ball a ride.
The Pirates added another important piece to their puzzle in July when they swapped pitcher Jose DeLeon for rookie Bobby Bonilla, a switch-hitting utility player who would eventually find a home at third base. Like Barry, he possessed immense potential but was still learning the league. Pittsburgh fans looked forward to the day when these two hit their stride.
Team management felt the same and began making moves to acquire building-block type players. Tony Pena was dealt to the Cardinals for Mike Lavalliere and Andy Van Slyke, while Rick Rhoden was traded to the Yankees for Doug Drabek.
The wheeling and dealing continued during the 1987 season, as Johnny Ray was swapped for prospects to open a spot for second baseman Jose Lind. All the newcomers made solid contributions, while Barry sparkled in his first full year (.261, 25 HR and 32 SB). In their second season under manager Jim Leyland, the Pirates finished just two games under .500.
Pittsburgh took a huge step forward in 1988, playing solid baseball and challenging the New York Mets for supremacy in the N.L. East before fading down the stretch. Drabek became the staff ace, middle man John Smiley emerged as a steady lefty starter, and Bonilla and Van Slyke both knocked in 100 runs. Barry, still batting leadoff, hit .283 with 24 homers. The Pirates went 85-75, instilling high hopes for the future.
That future included moving Barry into the heart of the order, where his developing power could be put to good use. For the time being, however, the Pirates kept him at the top because of his sharp eye and base-stealing skills. Another consideration was his low average with men in scoring position. Too eager in the clutch, Barry forgot the fundamentals and often got himself out. No one doubted he was on the verge of becoming a major run-producer—he already hit lefties well—but until he settled down in pressure situations, the team felt it best to keep him in the leadoff spot.
The one move the Pirates made with Barry in 1989 was a position shift to left, with Van Slyke taking over in center. Both players were excellent fielders, but Barry had the inferior arm. The lefty did beautifully in his new position, gunning down 14 runners and becoming the N.L.'s premier left fielder. At the plate, Barry had a down year, with just 19 homers and a .248 average. Meanwhile, the Bucs nosedived after injuries to Van Slyke, Lavalliere and first baseman Sid Bream. When their bench failed to pick up the slack, Pittsburgh sank to 74-88.
Barry's fans stuck by him. At 25, they said, he was just entering his prime years. His critics countered by saying he was a clone of his father—a player whose performance never caught up to his potential. In their postseason arbitration meeting, the Pirates argued that Barry had taken a step backward instead of developing his talents. The arbitor agreed, and Barry lost his case. Pittsburgh also let it be known that Barry could be had for the right price. There were no offers.
The Pittsburgh faithful who cried "Wait 'til next year" were screaming "I told you so" in 1990. Everyone in the lineup was healthy again, and a patchwork pitching staff led by Drabek carried the Pirates to the N.L. East flag.
The big story was Barry, who batted in the five-hole behind Bonilla. Spurred on by his arbitration loss, he had a historic year at the plate, becoming the first player ever to hit 30 homers, steal 50 bases, knock in and score 100 runs, and bat .300 in the same season. He raised his average a whopping 150 points with runners in scoring position, led the league with a .565 slugging average, and never went more than two games without getting on base.
Once he reached safely, Barry was a terror. Not only did he swipe 52 bags, he all but eliminated the frequent baserunning boo-boos he had committed as a young player. In the field, he threw out 14 runners for the second year in a row and won his first Gold Glove. For his efforts, he was voted the National League MVP.
With Barry protecting him, Bonilla also had a monster year, leading the club in hits, runs, doubles and RBIs. Unfortunately, both players failed to hit .200 in the playoffs, and the Pirates were ambushed in the National League Championship Series by the Reds, four games to two.
The Pirates won the N.L. East again in 1991, as Smiley returned from a broken hand to win a league-high 20 games. The Bucs got solid performances from all of their regulars, including 25-year-old shortstop Jay Bell, who became the top #2 hitter in baseball. Barry's numbers fell a bit short of his '90 stats—in part because he was getting more selective—but he had another remarkable season. His patience at the plate was beginning to have an effect on the way umpires called balls and strikes on him. During Barry's first five seasons, he often got wrung up on borderline pitches. In 1991, those calls were almost always made in his favor. His evolution as a hitter was ascending to an important plateau.
Barry's season ended in disappointment again, however, as the Pirates lost to the Braves in a thrilling NLCS. Barry failed to hit well for the second time in his playoff career, swinging at bad balls even though the Atlanta hurlers regularly pitched around him. The Pirates held a one game in the series but dropped the final two at home when they failed to score a single run.
Pittsburgh lost Bonilla to free agency after the '91 season, but the club managed to squeeze good production out of its role players in 1992. The starting staff—minus Smiley, who was traded to the Minnesota Twins—was good behind Drabek and young Randy Tomlin. With the bullpen also excelling, the Pirates had more than enough to claim a third straight N.L. East title. Barry enjoyed another terrific year, clubbing 34 homers and leading the majors with a .634 slugging percentage. With no other power hitters in the lineup, he drew a league-high 127 walks. Add a third consecutive Gold Glove, and Barry was a no-brainer for his second MVP award.
The postseason found the Pirates with a seeming deathlock on the pennant once again. They erased a two-games deficit in the NLCS against the Braves with a run-scoring outburst against Atlanta's vaunted pitching staff, and then carried a 2-0 lead into the ninth inning of Game 7. Incredibly, the Braves came back to win—the deciding run scored by Bream, another player the Bucs had allowed to depart as a free agent. For the first time in his playoff career, Barry hit well, reaching base 12 times in 29 plate appearances. Still, another early exit from the playoffs was a bitter pill to swallow.
Instead of brooding through the offseason, Barry stay occupied with the job of settling on a new baseball address. With hiis contract with the cash-strapped Pirates expired, he became a free agent—and his timing couldn't have been better. At 28, he was in his physical prime and unquestionably the finest all-around player in baseball.
After talking to a handful of clubs, Barry believed San Francisco was the best fit and signed a nine-year, $43 million contract. The Giants already had a pair of All-Star caliber hitters in Will Clark and Matt Williams, talented table-setters in Robby Thompson and Darren Lewis, a couple of veteran arms in Billy Swift and John Burkett, and a lights-out closer in Rod Beck. The team's defense was superb, and its new manager, Dusty Baker, was the kind of guy Barry could get used to playing for.
The task before the Giants in 1993 was to supplant the Braves as N.L. West champs. They made quite a run, staying with Atlanta all year, includig a spine-tingling September surge. Barry was better than advertised, especially down the stretch. In the campaign's final 16 contests, with first place hanging in the balance almost every day, he hit six homers and knocked in 21 runs. On October 1, he slammed a pair of home runs and drove in seven runs to keep the season alive. The battle-tested Braves refused to fold, however, eking out a one-game victory.
Barry's year at the plate was as good as anyone could remember. He led the league with 46 homers, 123 RBIs, a .677 slugging average and a .458 on-base percentage. He was walked intentionally 43 times and received countless more "unintentional intentionals" among the 126 bases on balls he drew. He continued to gun down baserunners in the field and swiped the extra bag himself when he was on the basepaths. Barry's presence in the lineup had a transforming effect on Williams, who blasted 38 round-trippers and topped 100 RBIs and runs scored for the first time. The only what-if in the San Francisco's season regarded Clark, who started slowly and ended the year on a bum knee to finish with the worst numbers of his career.
The 1994 season opened with the Giants free of the Braves, who moved to the N.L. East when baseball realigned both leagues into three divisions. San Francisco added Mark Portugal to its pitching staff and replaced Clark with a platoon of Todd Benzinger and Dave Martinez. Injuries plagued the Giants all spring and summer, and they struggled to play .500 ball. Were it not for Williams and Barry (on a pace to hit 60 and 50 home runs, respectively), San Francisco would have been in serious trouble. As it was, no one was running way with the West, so the race was still tight. Come August, it didn't matter anyway, as the season was cancelled before the month was out because of labor problems. Barry finished with 37 homers and a league-best 74 walks.
The Giants entered the 1995 campaign without much quality pitching and with a host of aging players and journeymen filling out the lineup. The team tried to overcome these shortcomings, but when Williams went out with a broken foot, Barry was left naked. Though pitchers walked him 120 times, he still managed 33 home runs and 104 RBIs, while leading the league in on-base percentage. A dreadful slump in August kept him from having a fourth consecutive .300 season.
Although the year was a total loss for the Giants, who ended up in the N.L. West cellar, it was a valuable learning experience for Barry. The shortened stroke he had developed over the years now enabled him to make minor adjustments on a pitch-by-pitch basis. Barry blossomed as a situational hitter, thinking along with the pitcher and catcher and anticipating when and where he would get a delivery he could handle. More than half of his homers tied the game for San Francisco or gave his club the lead; 13 came in the final three innings.
Barry was still sharp in the field, although he did not win the Gold Glove. After misplaying a line drive in a June game, Barry heard it from the fans, who now expected nothing less than perfection. A few days later, in front of the season's largest crowd, he collected four hits, inclkuding a pair of long homers. This time Barry received a standing ovation, which he returned with a big blown kiss.
There would be no such warm and fuzzy moments in 1996, as the Giants were dreadful again. Their pitchers got hammered on a regular basis, while six of the seven starting position players missed significant time with injuries. With Barry the only threat in the San Francisco lineup, opposing managers decided not to pitch to him.
Barry was issued 151 walks in '96, at the time the most ever in National League history. In between his free trips to first base, he pounded out 42 home runs, knocked in 129 runs, and scored 122 times. Playing on a 94-loss club and seeing so few good pitches began to wear on Barry's nerves. In turn, his already contemptuous personality seemed to get even worse. Indeed, in a summer game he reached the 300-homer, 300-steal plateau for his career, and then was ejected for mouthing off to an umpire.
The Giants retooled in 1997, adding veterans J.T. Snow, Jeff Kent and Darryl Hamilton to the everyday lineup. The team's pitching bounced back, as young Shawn Estes won 19 and Kirk Rueter and Mark Gardiner combined for 25 victories. When Roberto Hernandez and Wilson Alvarez were acquired down the stretch, the Giants had just enough arms to edge the Los Angeles Dodgers by two games in the N.L. West.
Barry had another great year, coming within three steals of joining the 40-40 club. He was amazing in September, smashing seven homers in the team's last 11 games. Barry scored 123 runs, drove home 101, and walked a league-high 145 times. What should have been a magical year, however, ended abruptly for the Giants in October when they were swept in the Division Series by the lowly Marlins. Even though Florida went on to beat the Cleveland Indians in the World Series, it left a terrible taste in Barry's mouth. The Florida pitchers went right after the slugger and retired him every time it counted.
The 1998 season also ended in disappointment for San Francisco. The surprising San Diego Padres ran away with the West, leaving the Giants to battle the Mets and Cubs for the Wild Card. On the last day of the year, San Francisco blew a big lead against the Colorado Rockies to finish in a tie with Chicago. The Giants then lost a one-game playoff to the Cubs to bow out of the postseason for a second straight year.
Barry's numbers were exceptional once again—120 runs, 122 RBIs, 130 walks, 28 stolen bases and a .303 average—but this was the year that Sammy Sosa and Mark McGwire faced off in their record-setting home run showdown. McGwire hit 70, a mind-boggling 33 more than Barry, while Sosa belted 66. Neither player could top Barry down the stretch, however. With the Wild Card on the line, he slugged close to .800 in August and September. He also became the first member of the 400-400 club, won his eighth Gold Glove in nine seasons, and tied an N.L. record by reaching base 15 consecutive times.
Something else was notable about Barry's '98 season. Two years earlier, he had tipped the scales at just over 180 pounds. Now he weighed in at an eye-popping 210. He looked like a different person, leading some to wonder whether his new physique was chemically enhanced. Those who knew Bonds defended him. For years, he had been putting himself through a fanatical offseason workout routine. This, they said, explained why Barry always seemed to excel in the dog days of the summer, and why he had been on the DL only once in his life.
Alas, his well-muscled frame could not save him from a second trip to the injury list in 1999. Barry missed two months during the season due to bone spurs and tendon damage in his right wrist. When he returned, he hurt his knee, an injury that required offseason surgery. The only reason he didn't sit out September was because the Giants had an outside shot at the Wild Card. When Barry was in the lineup, he was his usual devastating self. For the year, he hit 34 home runs—about one every 10 at-bats.
The 2000 campaign found Barry healthy and happy with his new surroundings. The Giants were playing their inaugural season in PacBell Park, a lovely stadium in downtown San Francisco. He was surrounded by a lineup of professional hitters, including Kent and Ellis Burks. No fewer than nine Giants homered in double figures during the year. The pitching staff was also robust, with Estes, Gardner and Rueter joined by young gun Russ Ortiz and Livan Hernandez, a late-season acquisition in '99. Robb Nen, who had taken over closing duties, became one of the best firemen in the game.
During the regular season, the club outdistanced the Dodgers and Arizona Diamondbacks for the N.L. West title. After winning the opener of the Division Series against the Wild Card Mets, the Giants dropped a pair of one run games to fall behind in the best-of-five series. The second loss was particularly galling, as Barry was called out at a critical moment on a pitch from John Franco that appeared to be inside. In Game 4, New York's Bobby Jones pitched the game of his life, beating San Francisco 4-0 on one hit. The snakebit Giants were eliminated again.
MAKING HIS MARK
Barry was now 36. He had not been to the World Series, and to many it seemed that time was running out—even though the facts suggested otherwise. In 2000, Barry achieved career highs with 49 home runs and a .688 slugging percentage, putting up these numbers despite fracturing his thumb. The injury probably cost him the MVP, which went to teammate Kent by a narrow margin. The second baseman had actually blasted Barry in a Sports Illustrated article that summer for his lack of team spirit. When reporters pressed Barry for a reaction, he offered a dig at the media, an insult that might have swung a few votes away from him.
Barry buckled down in 2001, the final year of his long-term deal with the Giants. Although he loved the Bay Area, he knew a big season would put him the driver's seat in terms of when, where, how—and for how much—he would finish his career. Barry became more finicky at the plate than ever. Unless he had two strikes on him, he didn't swing at anything he couldn't belt out of the park.
As the year wore on, the homers and walks began piling up in astonishing numbers. Barry was well into the 60s when the September 11 terror attacks interrupted the season. He continued smashing homers when the schedule resumed andfinished the year with 73, shattering a record which, just three years earlier, was deemed all but untouchable. To this day, Barry cannot explain how he did it—everything he hit hard seemed to fly out of the park. (Critics, of course, claimed chemical enhancement played a major role.)
Barry also walked 177 times to break Ruth's 79-year-old recor, and slugged .863 to obliterate a mark the Babe set way back in 1920. What made this record all the more remarkable is that Barry was dealing with crushing personal problems off the field. His father, who was battling cancer, was not doing well. Meanwhile, an uncle and cousin died, and Barry's bodyguard died, too.
San Francisoc dueled Arizona all year long but finished two games out of first. The combination of September 11, the lack of a postseason for the Giants, and the fact that Barry hit #71 in a West Coast night game ensured his achievement received a fraction of the attention it might have otherwise.
Coming off his fourth MVP season, Barry decided to stay with the Giants and began 2002 knowing he would be expected to have another record-shattering season. This would be tricky, given that most of the righthanded pitchers he would face had no intention of throwing him a strike. Instead of pressing, Barry simply waited them out. The pitchess he swung at, he hit hard. The pitches he didn't swing at were called balls.
At season's end, Barry had only 46 homers, but his other numbers were mind-boggling, including an all-time record 198 walks. To put that stat in perspective, consider that in the 50 years prior, the N.L. leader had half that number 16 times. Barry also established an all-time record for on-base percentage at .582. Ruth led the majors in this category 10 times and never came within 30 points of Barry's mark.
In addition, Barry won the batting title—hitting .370 to become the oldest N.L. champ—and captured his fifth MVP.
The Giants got reliable pitching out of their starters and nice offensive years from Kent and role players Benito Santiago, Reggie Sanders and Kenny Lofton. The N.L.'s Wild Card entrant, they cruised into the postseason a dangerous team. After falling behind the Braves in the Division Series, San Francisco battered Tom Glavine to knot things up, and then squeaked out a win in the decider. Barry starred in the series with three home runs, the final one providing the margin of victory in Game 5.
Next, the Giants took on the Cardinals, who had stunned the D-backs with a three-game sweep. San Francisco captured the first two games in St. Louis, dropped Game 3 at home, and then squeezed out a pair of one-run victories to win the pennant. The Cardinals refused to pitch to Barry, walking him 10 times. Though he had just three hits, he knocked in six runs.
The Giants were surprised to find themselves as the favorites in the World Series, where they faced the Anaheim Angels. In the opener, Barry homered in the top of the second inning and San Francisco held on for a 4-3 victory. He launched a ninth-inning home run in Game 2, but it was not enough as the Angels evened the series with an 11-10 win. Barry went deep again in Game 3 when the series moved north to San Francisco. The blast was meaningless, however, as the Giants dropped a 10-4 decision.
San Francisco drew even with a 4-3 victory, and then won Game 5 behind Barry, who collected three hits, and Kent, who smashed two long balls. Barry homered for the fourth time in Game 6 to help build a 5-0 lead. Six outs away from his coveted first championship, he watched in amazement as the Angels mounted a thrilling 6-5 comeback victory. The heartbreak was complete when rookie John Lackey and a trio of Anaheim relievers stymied the Giant attack to win 4-1 in Game 7.
Barry reached base five times in the final two games and ended up batting .471 with 13 walks, an on-base percentage of .700 and a slugging average well over 1.000.
The 2003 season brought more milestones and heartache. Barry celebrated when he became the sole member of the 500-500 club. But this accomplishment was overshadowed by the death of his father, who passed away from brain cancer.
The Giants, favored to win it all in '03, had the kind of depth in their everyday lineup that other teams envy. The pitching was also strong, with youngsters Jerome Williams and Jesse Foppert joining Jason Schmidt and Rueter in the starting rotation. As the season wore on, however, the San Francisco arms faltered, forcing the Giants to acquire Sidney Ponson from the Orioles. Though the Baltimore hurler didn't live up to expectations, San Francisco won 100 games and clinched the West in September. The club appeared ready for a return visit to the World Series.
Barry ended the year with fine numbers (45 homers, 90 RBIs, .341 average, .749 slugging and .529 on-base percentage), but it was the most emotionally and physically challenging year of his life. Both knees and both hands ached all year, his neck and back hurt, he sprained an ankle, and suffered a slight tear in his right hamstring. He rarely played an inning without pain. The loss of his dad made his injuries all the more difficult to handle.
In late July, in fact, Barry was placed on the bereavement list and missed a week of action. He was mentally spent, and for a time he considered quitting. In his first game back, Barry smashed his 40th homer. He left the game minutes later when his heartrate climbed to 150, a result of atrial fibrillation. He was hospitalized with exhaustion. Barry returned to the field two days later and finished the season.
In the first round of the playoffs, San Francisco's pitching and defense collapsed against the Marlins, who were beginning a remarkable postseason run that would end in a World Series triumph over the Yankees. A crucial dropped fly ball by rightfielder Jose Cruz, Jr. proved the turning point in the series, which San Francisco lost three games to one.
The beginning of the 2004 season was filled with controversy for Barry. Investigators reported that he was one of several athletes (including Jason Giambi, Gary Sheffield and Bill Romanowski) who had received illegal performance-enhancing drugs from personal trainer Greg Anderson. This information was obtained by federal agents in a sting that lead to the indictment of Anderson and Bay Area Laboratory Co-Operative owner Victor Conte.
Initially, it appeared the headlines would doom Barry. But as the season progressed, the story's impact weakened, and he got stronger. He focused partly on his 660th career home run, which would tie him with Mays for third on the career list. Barry hit it on April 12, in San Francisco's home opener, blasting one off Milwaukee pitcher Matt Kinney into McCovey Cove. The very next day, he hit #661 to move by himself behind Ruth (714) and Aaron (755).
Barry's collected his next milestone on September 17, at SBC Park in San Diego, when he hammered his historic 700th homer off of Jake Peavy in a 4-1 victory over the Padres. The long ball kept the Giants in the thick of the playoff picture. Just a few games behind the Dodgers and in a virtual tie in the Wild Card race, San Francisco seemed in perfect position to return to the postseason. Despite some spotty pitching, Barry's regular presence in the lineup was lifting his club.
Going into the campaign's final weekend, the Giants faced a crucial series in Los Angeles. With the Astros running the table at home against the Rockies, San Francisco needed to sweep the Dodgers. But after a win on Friday night, the team's major weakness, its bullpen, reared its ugly head. Leading by three in the bottom of the ninth, the Giants surrendered seven runs and blew their shot at the division.
Barry finished the season with MVP numbers—a .362 batting average, 45 home runs, 101 RBIs, and an .812 slugging percentage. He shattered the record for walks with 232, had an on-base percentage of .609, and struck out only 41 times. He also enjoyed a great year with the glove, making his ninth Gold Glove almost a certainty.
It has been a long, strange career for Barry. When he won his seventh MVP, in November of '04, fans and the media alike marveled. But while he has done little wrong on the field, every time he opens his mouth off the field, it somehow blows up in his face. This is due in part to his dislike for playing ball with the media. Reporters know that he can be one of the most captivating interviews in all of sports—and resent the fact that he rarely gives them the time of day.
Barry became even more reclusive during a lost 2005 season. He had his knee scoped in January and again in March, and initially it was thought he would start his year in June. But an infection set in, and for a time his comeback looked in doubt. He even considered retirement. Barry worked his way through the injury on his own in Los Angeles. When his teammates were asked about his progress, all the could do was shrug. Barry was Barry, what could they say?
With the N.L. West race still up for grabs in September, Barry finally returned to the San Francisco lineup on September 13th. He doubled in his first game back and quickly rediscovered his power stroke, cracking five homers in 14 games. After Barry twisted his knee in the outfield, the team shut him down for the year. The Giants finished with just 75 wins.
Barry's leg problems continued in 2006, and he played only sporadically in the first half. Opponents still pitched around him, as the Giants had little else to scare enemy pitchers. Barry, however, struggled to be a productive hitter. The Giants still managed to hold their own in the West and occupied first place as late as mid July. They plummeted in the standings after that, until Barry's bat finally came alive in late August.
He hit .400 in the final five weeks and brought the Giants back to respectability. Once again, however, San Francisco felt short of the division crown. Barry's final numbers—including 26 homers, a .270 average, and a league-leading 115 walks—were solid, though hardly spectacular. His.545 slugging percentage wasbest in the N.L., too.
Barry felt good heading into the 2007 season and, barring a career-ending injury, was a cinch to break Hank Aaron's all-time home run record. He began the year with 734—21 behind Aaron. His proximity to the mark reignited debate on several fronts, with a renewed focus on baseball's steroid policy and much discussion on how Barry's record-breaking blast should (or should not) be celebrated. Comissioner Bud Selig remained conspicuously slient on the matter, futher fueling the controversy.
Barry heard boos when the team traveled, but the San Francisco fans—and owner Peter McGowan—were very supportive. Everyone associated with the club wanted him to hit his historic homers at home, and as the momentous event approached, there were echoes of the complaints that arose when the Braves considered sitting Aaron for road games so that he would hit 714 and 715 in Atlanta.
After Barry hit 754 off Florida's Rick Vanden Hurk at AT&T Park, it appeared that his pursuit of 755 was taking its toll on him. Days before he had enjoyed one of his finest moments when the hometown fans cheered him loudly during the All-Star Game in San Francisco. But as he stood one home run shy of tying Aaron, enemy fans became more vocal, pitchers got even more careful with him and few umpires cut him a break on close calls.
Barry struggled at the plate until the Giants traveled to San Diego, a city where he had always felt comfortable. On August 4, facing youngster Clay Hensley, Barry smoked a 2-1 delivery deep into the left field seats. Hours before, during an early BP session, he had worked on driving the ball the other way.
As Barry watched his big fly careen off the facing on the second deck, he pumped his fist in celebration. After touching homeplate, he gave a bear hug to his son Nikolai, who was working as a bat boy. Teammates and coaches then greeted him on the field. Selig, on hand for the game, observed it all from a luxury box.
Three days later, Barry finaly passed Aaron, blasting a 3-2 pitch off Washington's Mike Bacsik over the right field wall at AT&T Park. San Francisco fans erupted in cheers, and his teammates spilled out of the dugout. After the Giants congratulated Barry, he embraced his family. Willie Mays was also in attendance, and Aaron acknowledged #756 with a recorded message shown on the scoreboard.
The game was stopped temporarily, as Barry was given a chance to address the crowd. Microphone in hand, the new home run king thanked his hometown fans for their support, the Nationals for pitching to him and his family for sticking by him. Then, with tears in his eyes, Barry looked to the sky and expressed his gratitude to his father.
With emotions running high, it may be too soon to predict how baseball fans will ultimately judge Barry and his home run records. Is he a saint? Of course not; he does not claim to be. Those who have observed him since his early days with the Pirates will tell you that he lets his softer side show a bit more, and that he is not as quick to pinch an intruder's head off. Still, the edge and iciness is there, right on the surface, as a warning to anyone foolish enough to violate his space.
Then there's the steroids issue. For years, people have suspected Barry of using some sort of performance enhancer. The drastic changes in his body—not to mention the remarkable jump in his production late in his career—was proof enough for some.
Barry has admitted as much, sort of. In December of 2003, he testified before a Grand Jury that he used "the clear" and "the cream," as suggested by his trainer, Anderson. But Barry also contends he had no idea either of the substances was a steroid. In the 2006 book Game of Shadows, the authors alleged that Barry used a number of banned substances.
Barry has granted several interviews since, during which he has reaffirmed the contention that he never knowingly took steroids. Major League Baseball, meanwhile, has offered no evidence to the contrary.
Will Barry one day embody the apex of slugging, or will he forever personify the rampant use of performance-enhancing drugs in baseball? Only history will tell, but if sports teaches us anything, it is that his sins will be clouded with time and his achievements will ultimately stand out.
Barry has spent a career perfecting the mechanics of his swing, but it is his superb pitch recognition that has enabled him to put up better numbers the longer he plays. A few years ago, he got to the point where he could judge the speed, spin, and location of a ball almost the instant it left a pitcher's hand. Not on every pitch, but on most. Coupled with his command of the strike zone and short, upper-cut swing, it has made him the best hitter of his generation.
Another reason Barry has continued to improve at an age when others have long passed their prime is that he has tremendous respect for pitchers. He recognizes the kind of ability required to reach the majors, and takes every at bat seriously—even against a trembling rookie. Though Barry remembers opponents' tendencies, he does not keep a book on pitchers. For this reason, he does not think he hits any one poorly or particularly well.
Barry's days as a left fielder may soon come to an end. That's a shame, because many consider him to be the best at his position in history. With the legs to cover center and an arm deadly accurate at 250 feet, his skills were ideally suited for left. Barry is still a good base stealer, but with the aches and pains mounting, he has limited his attempts. His future, should he remain in baseball past the 2007 season, may be as a Designated Hitter in the American League.
Read more
Latest headlines