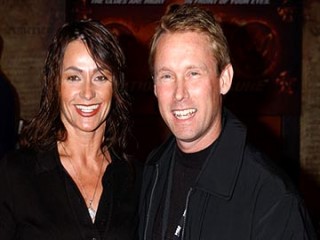 Bart Conner biography
Date of birth : 1958-02-28
Date of death : -
Birthplace : Chicago, Illinois, USA
Nationality : American
Category : Sports
Last modified : 2010-07-08
Credited as : Olympic gymnast, husband of Nadia Comaneci,
Bart Conner
, born March 28, 1958 in Chicago, Illinois, United States is an American gymnast.
Bart Conner
was the first U.S. male gymnast to receive a gold medal in international competition. He is credited with helping to bring the American men's gymnastics team to a first place finish at the 1984 Olympics and is remembered as the only American male gymnast to win a gold medal at every level of competition.
A Champion is Nurtured
Bart Conner was born on March 28, 1958, in Chicago, the son of Harold and Jackie Conner. Conner's father, an engineer, was the director of the School of Construction Science. Conner was an athletic youngster growing up in Morton Grove, Illinois; he played pee wee football and enjoyed speed skating. His participation in an elementary school gymnastics program at age ten led him to seek further training at the local Young Men's Christian Association (YMCA). He entered regional competition at age eleven, winning medals in pommel horse and tumbling. In 1972 Conner finished in first-place in the all-around competition at the Amateur Athletic Union (AAU) Junior Olympics Junior Nationals.
As a member of the gymnastic team at Niles West High School in Skokie, Illinois, Conner took first place trophies both in all-around competition and on parallel bars, at the Illinois State Championships in 1974. As the U.S. Gymnastics Federation (USGF) elite junior division all-around champion, and AAU junior national champion that year, Conner received recognition as the outstanding high school gymnast in Illinois. In 1975 he tied for first place at the USA Men's (USGF) all-around championship.
Olympic Years
In 1976, after winning the first McDonald's American Cup, Conner was named to the U.S. team for the Montreal Olympics. He finished at forty-sixth place in the all-around preliminaries, but distinguished himself as the youngest member of the team.
At the University of Oklahoma in Norman from 1976-79, Conner trained under Coach Paul Ziert. Oklahoma took the Big Eight and National College Athletic Association (NCAA) gymnastics championships in 1978, and Conner won the NCAA all-around title that year. Also in 1978 he won all-American honors and won a second American Cup. Soon his reputation as the top U.S. male gymnast was rivaled only by his contemporary, Kurt Thomas.
At the World Championships in 1979 Conner placed first on parallel bars, to become the first American man to take the gold in international gymnastics competition. He won the USA Men's all-around championship with a score of 114.25 that year and won gold medals on pommel horse and parallel bars at the World Cup.
Conner was the top qualifier for the 1980 U.S. Olympic team, but an American boycott of the Moscow venue that year kept the team from competition. The boycott provided Conner with ample time to recuperate from a torn right bicep, and he returned to Norman to complete work on an undergraduate degree in journalism and public relations.
After winning American Cup Championships in 1981 and again in 1982, Conner pushed the envelope of his athletic prime when late in 1983, on December 3, a slip during a performance in Japan caused another torn bicep. With only six months remaining before the Olympic trials, he held out hope of making the 1984 team.
Still ailing in May, at the USGF championships in Evanston, Illinois, Conner withdrew from the competition on the second day, despite a strong second place showing in the compulsories. The pullout left him deficient in the qualification points necessary to place on the Olympic team. He petitioned successfully to the Olympic Committee to make an exception because of the circumstance and after a sixth place finish at the subsequent Olympic trials earned a spot on the 1984 team.
At the Olympics in Atlanta, Conner won a gold medal on parallel bars, scoring two perfect tens. The U.S. team won a gold medal in the all-around competition with a score of 591.40, besting China's score of 590.80. Conner expressed his pleasure to the Omaha World-Herald and praised his teammates succinctly, "Nothing matches a team victory ... because you have six times as much emotion."
When the hoopla subsided, Conner published a book, Winning the Gold, in 1985. He devoted much of his time to bringing professional gymnastics to the level of an art-sport--Just as professional ice skaters move from competition to exhibition and onward, to full-blown paid performances, Conner envisioned a similar career path for professional gymnasts. Endorsements provided him with financial subsidy, and he appeared on television and in movies.
Mr. Nadia Comaneci
Five years after winning the gold, the grit and determination of Olympic competition segued into an international romance for Bart Conner when in 1989 he became personally entwined in the dramatic personal life of gold-medal Romanian gymnast Nadia Comaneci. It was some years earlier in 1976 when the two first met at Madison Square Garden, during a pre-Olympic gymnastics exhibition. In the rush of reporters after the program, Comaneci--then an anonymous fourteen-year-old--posed with Conner who kissed her cheek for a promotional photo.
More than ten years passed, and in 1989 Comaneci escaped under cover of night from her homeland, to seek asylum in the United States. Soon, rumors surfaced that she was being held in Florida against her will and Conner contacted her. He offered moral support through her difficult time in a strange country, and in 1991 she joined him at his home in Norman. The friendship flourished, and the following year Conner and Comaneci established a gymnastics academy. Conner proposed marriage to her in 1994; they were married in 1996.
The Conner-Comaneci nuptials were among the most lavish of the decade. Held in Bucharest, the ceremonies spanned two days, beginning on April 26 with a civil ceremony at the Parliamentary Palace. A religious ritual on the following day was held at the historic Casin Monastery. A banquet, hosted by the future president of Romania was attended by dignitaries of the sports world and government officials alike. So elaborate were the national preparations in Romania to honor Comaneci at her wedding, that Conner was left to remark, "Next to her ... I'm going to look like the little guy on top of the wedding cake ... After April 27, I'll be known as Mr. Nadia Comaneci."
Working against painful osteoarthritis in his left elbow, right knee, and lower back, Conner has been on therapy since his 1983 biceps injury. At that time he underwent surgery to re-attach the biceps, and in 1985 he underwent knee reconstruction. Overall he endured a series of nine operations.
In the early 2000s, he continues to practice gymnastics in 45-minute sessions daily. Managed by Ziert, Conner maintains a limited agenda on the exhibition circuit where he is known for his artistic pairs performances with Comaneci. Slowed only minimally by the pain of osteoarthritis, that debilitating condition nonetheless creates increasing obstacles as he approaches middle age. His involvement with an osteoarthritis public awareness campaign called Boost Education of Arthritis Treatments (B.E.A.T.) provides a positive outlet for Conner, allowing him to bring awareness of the disease as well as its various remedies into the public domain.
While serving as a color commentator for several news networks, including ESPN, and ABC, Conner additionally operates his own company, Perfect 10 Productions, in partnership with a group of fellow Olympians. He and Comaneci host a fitness program on cable television. He is active as an inspirational speaker and sits on the Executive Board of Special Olympics International. He is a national vice-president of the Muscular Dystrophy Association.
Conner stands 5-feet-5-inches tall and weighs 125 pounds. As a tribute to his historic contributions to men's gymnastics in the United States, he was enshrined in 1991 into the U.S. Olympic Hall Fame. He was inducted to the USA Gymnastics Hall of Fame in 1996, and into the International Gymnastics Hall of Fame in 1997.
June 3, 2006: Conner and his wife, former gymnast Nadia Comaneci, welcomed the birth of their son, Dylan Paul.
AWARDS
1972, Amateur Athletic Union Jr. Olympic Jr. Nationals all-around champion; 1974, U.S. Gymnastics Federation elite junior division all-around champion; Amateur Athletic Union junior national champion; State of Illinois high school all-around and parallel bars champion; named outstanding high school gymnast for the State of Illinois; 1975, USA Men's all-around co-champion; Amateur Athletic Union national elite all-around champion; national high school all-around champion; 1976, American Cup all-around champion; national high school all-around champion; 1978, National College Athletic Association all-around champion; USA parallel bars champion; 1979, USA Men's all-around champion; wins two gold medals at World Cup: for pommel horse and parallel bars; National College Athletic Association floor exercise champion; US Olympic Festival champion for vault, parallel bars, and high beam; USA Championship: all-around, pommel horse, rings, and parallel bars; USA World Trials all-around champion; World Championship 3rd Team, parallel bars champion; World Cup champion for pommel horse; 1981-82, American Cup champion; 1983, USA Champion for pommel horse; 1984, Wins two Olympic gold medals: for parallel bars and team competition; 1991, Inducted into the U.S. Olympic Hall of Fame; 1996, Inducted into the USA Gymnastics Hall of Fame; 1997, Inducted into the Oklahoma Sports Hall of Fame; inducted into the International Gymnastics Hall of Fame.
CHRONOLOGY
* 1958 Born March 28 in Chicago, Illinois
* 1976 Wins a place on U.S. Olympic 7th Team, places 46th in all-around preliminaries
* 1980 Wins a place on Olympic Team that boycotts games in Moscow
* 1984 Wins a place on Olympic Team
* 1985 Publishes memoir
* 1992 Establishes the Bart Conner Gymnastics Academy
* 1996 Marries Nadia Comaneci in Bucharest, Romania on April 26-27
Read more
Latest headlines