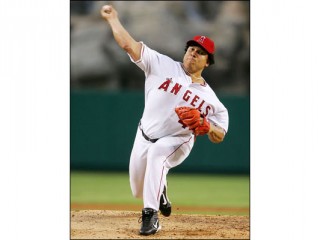 Bartolo Colon biography
Date of birth : 1973-05-24
Date of death : -
Birthplace : Altamira, Dominican Republic
Nationality : Dominican
Category : Sports
Last modified : 2010-10-19
Credited as : Baseball player MLB, pitcher with the Anaheim Angels ,
Bartolo Colon was born on May 24, 1973, in Altamira, Dominican Republic, a village of about 3,000 people. Strong and agile as a child, Bartolo could scamper up a tree and pluck coconuts while his friends watched in awe. Bartolo often joined his brothers, sister and father, Miguel, in the beanfields and fruit groves, working 12-hour days. He worshiped his dad, and was proud when friends and relatives said how much he looked like Miguel as a young man.
Bartolo learned baseball from his father. The family could not afford a proper ball, so they made one of tightly bound rags. The standard milk-carton gloves was also part of Bartolo's equipment.
Bartolo's hard work and strong legs served him well during neighborhood baseball games. He threw effortlessly and hard. He also stopped climbing trees, and instead began knocking coconuts to the ground with rocks. Bartolo's fastball began drawing attention in 1989, when a bird dog for the Cleveland Indians watched him pitch in a youth league game.
Bartolo had lied about his age to make himself two years younger. Therefore, even though he was 16 and could be signed legally, no one would touch him at this point. Turned away from tryouts again and again, he would sit at home and weep, fearing that he had missed his chance.
Bartolo eventually got his tryouts, but had to wait another two years before earning of a contract offer. He had enormous legs for a kid who was supposedly his age, and already tipped the scales at 200, despite being an inch or two shy of six feet. Finally, the Indians signed him in 1993 for a modest bonus, thinking of course that he was 18. In reality, he was 20—a fact that would eventually emerge after an original birth certificate was produced in 2002.
Bartolo's first pro season came in 1994, in the Dominican Summer League. He went 6-1 with a 2.59 ERA. Bartolo played his first year of minor league ball in the U.S. with Burlington of the short-season Appalachian League the following summer. His teammates that first season included Jaret Wright and Russ Branyan. Bartolo led the Indians with seven wins and struck out 84 batters in 66 innings.
ON THE RISE
The 1995 season was Bartolo's breakthrough year. Pitching for Kinston of the Class-A Carolina League, he finished second in wins with 13 and ERA with 1.96, and led the circuit with 152 strikeouts. He was named the league's Pitcher of the Year, despite shutting down on August 1 with a bruised elbow.
Bartolo began the 1996 season as the Tribe's #1 pitching prospect. After a dozen starts at Canton/Akron, he was promoted to Class-AAA Buffalo. There things took a turn for the worse, as a return of elbow troubles sidelined him for six weeks. It was the second elbow injury of his young career, and over the winter the organization decided he might be better suited for relief work. They noted that, after 80 pitches, Bartolo tended to to lose his mechanics, which appeared to be the cause of his arm problems.
Bartolo did a little self-rehabbing that winter, making 10 starts for Aguilas in winter ball. He hurled 43 innings to the tune of a 0.21 ERA—the lowest in Dominican Winter League history.
After failing to defend their AL championship in '96, the Indians geared up for a run at the 1997 pennant. Bartolo's winter heroics convinced the team to give him another shot at starting, but it would have to come in the minors. The Cleveland mound corps looked solid at the major-league level, where righty starters Charles Nagy, Jack McDowell, Orel Hershiser and Chad Ogea were backed up by lefty Brian Anderson.
But as so often happens, injuries on the big club opened the door. Bartolo became the Indians' yo-yo man, moving between Cleveland and Buffalo seven times during the season. With McDowell and Anderson spending most of the year on the DL, he and fellow rookie Wright were asked to make 17 and 16 starts, respectively. Wright went 8-3 and Bartolo 4-7. Those numbers were good enough to earn the Tribe their third straight Central Division title.
Bartolo's campaign had its ups and downs. At times, he was unable to throw his off-speed pitches for strikes. In his second start, he labored through 61 pitches in the first inning alone. But down the stretch, he won two clutch games, and—more important—was injury-free all year. (Bartolo's minor league record was a sparkling 7-1, including a no-hitter.)
In the playoffs, the Indians scored a startling comeback victory over the New York Yankees, then defeated the Baltimore Orioles in the ALCS. With Ogea and Anderson healthy, Bartolo was left off the post-season roster. He watched in frustration as the Florida Marlins eked out a seven-game victory in the World Series.
Over the winter, the Indians received several tempting offers for Bartolo—including a couple of top-notch starters. Rumors were rampant that the Mariners had offered Randy Johnson and that the Tribe had turned Seattle down. At first, Bartolo was deeply shaken by the idea that his team would trade him. Then, after a while, he just wanted the deal to get done.
In the end, the Indians decided to stick with the kid, and it was a classic example of the best trades being the ones you don't make. Bartolo opened the 1998 season in the starting rotation and blanked the California Angels on four hits in his first start. This was not the Bartolo of '97, whose fastball flattened out and who could not get his curve or slider to dance. He was throwing explosive strikes at 98 mph—a two-seamer that dove down and a four-seamer that overpowered hitters. Although he still struggled with his breaking ball, his changeup was knee-buckling at times.
With his record at 9-4 in early July, Bartolo was selected for the All-Star team. He got into the game in relief and picked up the victory. Unfortunately, Bartolo ran out of gas in the second half. Still, he went on to fashion a 14-9 record with a 3.71 ERA and 158 strikeouts. Cleveland won the division easily, and survived a fireworks display by Nomar Garciaparra to vanquish the Boston Red Sox in the opening round of the playoffs. Bartolo started the clincher, going five-plus innings and allowing just one run.
In the ALCS versus the Yankees, Bartolo took the mound with the series tied at a game apiece. He gave the team a huge lift with a dazzling 6-1 victory, going the distance in a brilliant four-hitter. It marked the first time since Bob Lemon in 1954 that a Cleveland pitcher had thrown a complete game in October. Bartolo was set to pitch Game 7 if needed, but the Yanks swept the next three to win the pennant.
Bartolo established himself as Cleveland's staff ace in 1999, winning 18 times against only five losses. In a season when ERAs went through the roof in the AL, he was one of only seven starters to post a mark under 4.00. After a 7-3 first half, any questions about Bartolo's durability were answered when he went 11-2 the rest of the way, with a 2.60 ERA. Several times during the season, he hit 100 mph on the gun. Bartolo relied almost exclusively on his fastball, and although he allowed 24 homers, he was still one of the toughest pitchers in baseball to hit.
The Indians won the division again, and again they faced the Red Sox in the Division Series. Bartolo chalked up 11 Ks and dominated Boston in Game 1, which the Indians won in the bottom of the ninth, 3-2. Cleveland also took Game 2. When the Red Sox won Game 3 of the best-of-five series, manager Mike Hargrove made a fateful decision, asking Bartolo to take the mound on three days rest. It was a disaster. He gave up seven runs in one inning, and Boston evened the series with a 23-7 win. In the rubber game, Pedro Martinez overcame back problems to beat the Tribe and deny them a shot at another World Series.
The Indians' failure to advance in the playoffs cost Hargrove his job. His replacement, Charlie Manuel, endured a difficult first season. He clashed with team leader Robby Alomar, underwent two operations, was forced to use 32 different pitchers, and failed to make the playoffs despite winning 90 games. The Chicago White Sox finished first in the AL Central, and in the West the Oakland A's and Angels each won 91 games to edge the Tribe.
Bartolo's season was not exactly a smooth ride, either. He reported to camp overweight, and pitched indifferently in the first four months, partly due to a sore knee, sore shoulder, and a strained oblique in his left side. From August 1 until the campaign's conclusion, however, he was untouchable. Bartolo did not lose a game in the final two months, and won three of his final four starts—including a one-hit shutout of the Yankees. He finished 15-8, and his strikeout total demonstrated his dominance, as he fanned 212 hitters in just 188 innings. The second-half transformation coincided with pitching coach Dick Pole's insistence that he pitch inside. It had been something fellow Dominican Pedro Martinez had been urging him to do for years.
The Indians returned to the top of the heap in 2001, and despite some weird numbers, Bartolo was their steadiest pitcher. He threw a career-high 222.1 innings, and struck out more than 200 for the second year in a row. He won 14 games and lost 12, dropping an inexplicable nine games in Jacobs Field.
Challenged by the Minnesota Twins early on, the Indians played steady ball and hit a lot of home runs to win 91 times. Some thought the loss of Manny Ramirez to free agency would keep the Tribe out of the win column, but a 49-homer season from Jim Thome and 35 dingers from newcomer Juan Gonzalez made up for the loss.
Bartolo started Game 1 of the Division Series against the Mariners and twirled eight magnificent innings in a 5-0 shutout. With the Indians up two games to one, he had a chance to close out Seattle, but blew a 1-0 lead in the seventh inning. Cleveland lost the game, and coughed up the series the following day for yet another disappointing early post-season exit.
MAKING HIS MARK
With Cleveland's stars aging and salaries soaring, the team's plan for 2002 was to wait and see how a retooled lineup fared against the Twins and White Sox, then either become a buyer or a seller. The emergence of C.C. Sabathia as a potential #1 starter had made Bartolo expendable, and with the Tribe playing sub-.500 ball in June, they began listening to offers for their ace. The Montreal Expos offered first baseman Lee Stevens and three good prospects—Grady Sizemore, Cliff Lee and Brandon Phillips—and the Indians accepted.
Bartolo was having his best year at the time, with 10 wins in less than half a season. The Expos, a cash-strapped club with no more than an outside chance at the Wild Card, were expected to repackage their new acquisition during the summer. But GM Omar Minaya did not get the offer he wanted, and Bartolo just kept chugging along, winning 10 more games for his first 20-victory season. The key to his year turned out to be a move to the first base side of the pitching rubber. It took some movement off his fastball, but enabled him to control all of his pitches better. His final numbers (20-8, 2.83 ERA) were by far the best of his career.
With a financial crisis looming, the Expos could not hold on to Bartolo over the winter. In January of 2003, they traded him to the White Sox for Orlando Hernandez, reliever Rocky Biddle, and a pile of cash. After a so-so first half, Bartolo turned it on down the stretch, finishing 15-13 with 173 strikeouts and a league-best nine complete games.
Though the White Sox came up short of the division title by four games, they tried desperately to sign Bartolo after the season. He chose to test the free agent market.
The Angles put the best deal on the table, offering $51 million over four years. Bartolo joined fellow Dominican star Vladimir Guerrero on a team that still boasted much of its championship roster from 2002. Anaheim fans, however, were concerned when their new staff ace reported to camp overweight and out of shape. It took him until the All-Star break to find his rhythm, but he was money in the second half, going 12-4 to finish with 18 victories. The Angles won their division, but tanked in the playoffs, as the Red Sox swept them in three games. Bartolo pitched well in his start, then watched his usually reliable bullpen lose the game.
With his weight hovering around 250 and his velocity beginning to dip, some questioned how much longer Bartolo could remain a top-of-the-rotation starter. They got their answer in 2005.
Bartolo put all the pieces together, going 21-8 and edging Mariano Rivera and Johan Santana for the Cy Young Award. His control was awesome, as he allowed a mere 43 walks in 222.2 innings. In the final two months, with the A's pressing, Bartolo went 10-3 to keep the Halos ahead. They finished with 95 wins to take the division.
The post-season was a different story, however. In the Division Series, Bartolo allowed the Yankees to score four runs in the first two innings of Game 1, and although he shut them down the rest of the way, he ended up taking the loss. He returned to the hill in the deciding Game 5, but walked off the mound in the second inning with a searing pain in back of his right shoulder. The injury dated back to a spring training game, when he doubled against the Colorado Rockies. He had reaggravated it during a relief appearance against the A's a month earlier.
Anaheim went on to win the game and the series, setting up an ALCS showdown with Bartolo's former club, the White Sox. The Southsiders took the seriesin five games, and went on to beat the Houston Astros for the championship.
Bartolo's quest for a championship continues. He has achieved everything else a pitcher could hope for, and feels his chances of getting a ring are good with the Angels. They are a tough, gritty club with a handful of take-charge stars. In '05, they ran into Chicago's red-hot pitching staff, and there was little they could do.
Bartolo believes he can be a power pitcher for several more years. Like many baseball stars, he does not possess the classic build of an All-Star, but puts up numbers that make people forget his rotund build. He also is able to distinguish between the pain of throwing 100 pitches, and the pain of a serious injury—"listening" to his body," as he says—so he'll pitch deep into games and give his team a great chance to win. Perhaps most important, he won't listen to what others say about his body. He may look more like a fan than a player when he walks into the ballpark, but between the paunch, the thunder thighs and the triple chin, he's still got what it takes to throw darts past major league hitters.
BARTOLO THE PITCHER
Few power pitchers can do what Bartolo does. He actually gets stronger as the game goes on. It is not unusual to see him hit 96+ on the radar gun in the seventh, eighth and ninth innings with baseball's most ferocious four-seam fastball. Although his velocity has decreased somewhat from his late 20s, he still gets it up there when he has to, and his control has improved dramatically. He can throw four or five pitches for strikes, and knows how to work the plate.
Bartolo's weight has long been a concern. He moves well for someone with his girth, and his 250-plus pounds do not seem to have affected his durability. Indeed, he has been better in the second half of seasons in recent years. The key is Bartolo's legs. They generate the enormous power he needs to be effective.
When he arrived in the majors, Bartolo was easy to run on. He has improved the quickness of his delivery, and is now one of the tougher righties to steal on. With age, Bartolo has found new maturity. He used to pitch well in big games and poorly in meaningless ones. As his 21-win Cy Young season suggests, he has learned how to focus on lesser opponents.
EXTRA
* Bartolo's 18 wins in 1999 were the most by an Indian during the decade.
* In 2000, Bartolo became the first Indians hurler to top 200 strikeouts since Dennis Eckersley in 1976.
* In 2000, Bartolo tied Bob Feller's Cleveland record by striking out the first six Blue Jays he faced in a July game.
* Bartolo earned his 100th victory against the Kansas City Royals at the end of the 2003 season.
* In 2004, Bartolo became the first pitcher since Bobo Newsom to win 18 games with an ERA over 5.00.
* Bartolo won six games against the Rangers during the 2004 season.
* In 2005, Bartolo became the first Angel to win the Cy Young Award since Dean Chance in 1964.
* Bartolo was just the third Angel to lead the league in wins. Clyde Wright and Nolan Ryan were the first two.
* Bartolo is the only major leaguer to win 14 or more games each year between 1998 and 2005.
* Bartolo's 39-20 mark with the Angels in his first two years gave him the club record for winning percentage for 50+ decisions.
* During Bartolo's first few years with the Indians, Omar Vizquel served as his interpreter. Cleveland's Puerto Rican-born community relations director Allen Davis also took him under his wing.
* Bartolo and his wife Rosanna have three kids—Bartolo Jr., Emilio and Wilder.
Read more
Latest headlines