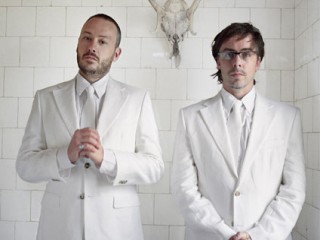 Basement Jaxx biography
Date of birth : -
Date of death : -
Birthplace : London, England
Nationality : English
Category : Arts and Entertainment
Last modified : 2012-04-10
Credited as : Electronic music duo, Remedy album, Attack the Block soundtrack
Basement Jaxx are a British electronic dance music duo from London, England consisting of Felix Buxton (born 1971) and Simon Ratcliffe (born 1 December 1969). They first rose to popularity in the late 1990s. As the British Hit Singles & Albums book duly noted "they surfaced from the underground house scene, are regular transatlantic club chart-toppers and won the BRIT Award for Best Dance Act in 2002 and 2004".
With the release of 1999's Remedy, the British house music duo Basement Jaxx--DJs Felix Buxton and Simon Ratcliffe--set the dance world on fire with a sound they call punk garage, turning the pair into club land messiahs. Given the pair's diverse musical influences--Timbaland, Larry Heard, George Duke, Lonnie Liston-Smith, and Thomas Bangalter, one of the driving forces behind both Daft Punk and Stardust--Basement Jaxx's music reflected a myriad of musical styles. And as illustrated by Remedy, Buxton and Ratcliffe display an apparent penchant for creating original, exciting music without limitations. "There's the ragga and the Latin, and a bit of disco, funk and noise," Buxton explained inRolling Stone. "We were tired of music that didn't have any joy about being alive at all--just dreary going-on music," added. "We definitely wanted to celebrate life a bit. We're happy to be alive, and we want to make music that can give you hope and dreams: something raw, something emotional, something real."
Not only did the full-length debut sell millions of copies worldwide, but Remedy also turned out to be one of the most critically acclaimed albums of the year, garnering the kind of positive reviews usually reserved for traditional rock groups. Rolling Stone gave it a four-star "excellent" rating, Spin named it as one of the top albums of the 1990s, and numerous others listed Remedy as one of the best albums of the year. Upon the LP's release in America, the first single from the album, "Red Alert," hit number one on the Billboard Dance Music/Club Play chart. According to the music press, Basement Jaxx's success arose because, unlike other techno outfits who focus primarily on drum loops and samples, Buxton and Ratcliffe decided to reintroduce melody, structured songs, and real vocalists onto the world's dance floors.
And while Basement Jaxx's music does resemble other house music imports such as the Chemical Brothers or Fatboy Slim, there nonetheless exists a noticeable difference. "We really respect what Fat Boy Slim does. But what he's doing is very different from what we're doing. His music is more like `Zap, here it is.' It's not music of depth and longevity. It's music of this moment. Our music is less throwaway," said Buxton in an interview with Boston Globe correspondent Christopher Muther. In other words, the difference between Basement Jaxx's sound and other techno-styled music is, "Its soul, its depth," Buxton added. "There are very few acts where I can feel the emotion in their music. For me, music needs to move you, that's what it's all about. That's what we're trying to do."
Although unrecognized among mainstream audiences until the phenomenal arrival of Remedy, the hard-working team, who spend most of their time off in the studio, had already made a name for themselves behind the scenes. The pair first met in 1993 through mutual friends at a bar in the multi-ethnic Brixton neighborhood of London, England (some sources state they met at a Thames riverboat party organized by Buxton). At the time, Buxton, the son of a vicar in the Anglican church--a "rather strict father," he revealed to Rolling Stone's Matt Hendrickson--was employed by a publicity firm boasting such clients as Tupperware, but he really wanted to make house and garage music. Ratcliffe, who grew up in Holland and Wales, was a student at the University of London and working like Buxton outside of the music business in an electronics store, though he had recently begun creating his own jungle and house records in his basement studio.
Not long after their initial meeting, the duo started recording together at Ratcliffe's flat, combining their musical inspirations into a single ideal: to return to the roots of house music. Whereas Ratcliffe gravitated to the deep Latin funk of groups like War and George Duke, Buxton found his inspiration in Chicago house music, thus resulting in Basement Jaxx, a mixture of several different styles. In 1994, the pair formed their own label, Atlantic Jaxx Records, and recorded their first two EPs. Although they went unnoticed in England, the recordings did manage to attract recognition from some of their heroes, including DJ legend Tony Humphries, who played the song "Da Underground" from Basement Jaxx's first EP on his New York City mix show during 1994 and 1995, as well as American house DJ Louie Vega. "We were two skinny white English guys," remembered Ratcliffe, as quoted by Hendrickson. "And we had Americans calling and telling us that what we were doing was dope. That gave us the push to continue."
In addition to receiving complimentary words from other DJs, the pair also earned a reputation for their live performances. A crucial factor to their eventual success, the two held regular "Basement Jaxx" nights at various locales around Brixton, making their very first of such events at Taco Joe's, a seedy, hole-in-the-wall Mexican restaurant frequented by drug dealers and situated beneath a railway. As word spread about the duo, Jaxx night at Taco Joe's and other small venues became popular attractions, with more than 100 people from all walks of life crammed into dimly lit rooms built to hold just 50 patrons.
A typical show would include Basement Jaxx spinning all types of music, from Whitney Houston and Public Enemy to the twosome's own originals. "Posh people, people off the street, drug dealers, everyone came together. The system was booming, and it was really raw. It was wicked," Buxton told Hendrickson. However, the two decided to quit holding Jaxx nights in the late-1990s, at the peak of the events' popularity. From the beginning, Basement Jaxx had held strong to the ethos: "Check your attitude at the door, and throw your coat on the floor." So, when Jaxx night later became known as the "cool place to go," Buxton and Ratcliffe thought it best to pull the plug. "Before, we could just play the music we wanted. That disappeared," explained Ratcliffe. "Everyone started coming with this attitude of `You're cool, let's see what you can do.'" Buxton further noted, "It was a bit fashion-overload. `This magazine is coming this week, this one the next.' We could see it changing. So you have to move on."
Meanwhile, Basement Jaxx had concentrated on recording, too, and in 1995, their club classic "Samba Magic" caught the attention of Virgin Records. After the label picked up the song for distribution, the duo started drawing praise from both the American and British house community as one of the top production units around. As a result, Basement Jaxx spent much of 1996 remixing songs for several well-known acts: the Pet Shop Boys, Roger Sanchez, and Lil' Mo Yin Yang, just to name a few. That same year, they also released a third EP containing the club favorite "Flylife," which reached the British Top 20 and was one of the most popular dance anthems of the year after the Multiply label re-released the single in 1997. Soon thereafter, the pair released a compilation of their best Atlantic Jaxx efforts that led to offers from several major record companies.
Weighing their long list of options, Buxton and Ratcliffe decided to sign to the independent XL Recordings, with Astralwerks distributing Basement Jaxx's records in the United States. In May of 1999, after the arrival of "Red Alert," Basement Jaxx released Remedy in the United Kingdom. Subsequently, in August of that year, the duo's full-length debut arrived in America to rave reviews. USA Today, for example, listed Remedy on its list of the ten best albums of the year, while Rolling Stone reviewer Rob Sheffield described Basement Jaxx as "a pair of daft punks whose wholly original `punk garage' style melds old-school Chicago house with Latin salsa, ragga, jazz discord and anything else that isn't nailed down." Compared to other techno acts, "They blow the DJ boffins right out of the booth with the dirty-mind party bounce of `Red Alert' and `Same Old Show,'" Sheffield further remarked. "For these guys, dance music belongs to the true believers, and on Remedy they take you to church."
The success of the unique Basement Jaxx sound brought Buxton and Ratcliffe's live act--featuring a live band, dancers, and singers--to fans across the globe, from Japan and Australia to California, New York, and Canada. The duo's popularity continued to escalate, and they scored their second number-one Billboard Dance Chart hit with "Rendez-Vu." In 2000, Basement Jaxx earned three Brit Award nominations: Best British Album for Remedy, Best Dance Act, and Best British Single for "Red Alert." They picked up two awards at the Winter Music Conference 2000 (WMC2000) in Miami, Florida, taking home honors for Best Newcomers and Best Dance Act.
Their fourth studio album, Crazy Itch Radio, was released on 4 September 2006 in the UK, simultaneously with its first single, "Hush Boy". The album featured guest vocals by Martina Sorbara (credited as "Martina Bang"), Lily Allen, and Robyn. In 2006, Basement Jaxx were also one of the support acts for Robbie Williams on his 'Close Encounters' tour. For Cyndi Lauper's Bring Ya to the Brink in 2008, they produced and wrote the track "Rocking Chair". They also released a series of releases over this period of new material, entiled Planet.
In 2009, Buxton revealed in a BBC Radio 1 broadcast that Basement Jaxx's forthcoming album Scars was completed and being mastered. Buxton stated that the tracks include guest appearances by Yoko Ono, Santigold, Lightspeed Champion, and Yo! Majesty. The band was also interested in getting Grace Jones to add vocals to the new album. The album was released in September 2009. The first single "Raindrops" preceded in June 2009. The band recorded at the Bizspace centre in Coldharbour Lane, in Loughborough Junction. Basement Jaxx also collaberated with Metropole Orkest in a new album.
Along with Stephen Price, Basement Jaxx scored the 2011 film Attack the Block, and the soundtrack was released on 16 May 2011.In November 2011, Simon revealed the pair were working on a new album - hinting some tracks were already appearing in their DJ sets.
Studio albums:
-Remedy (1999)
-Rooty (2001)
-Kish Kash (2003)
-Crazy Itch Radio (2006)
-Scars (2009)
-Zephyr (2009)
-Basement Jaxx vs Metropole Orkest (2011)
Read more
Basement Jaxx Picture Gallery
Latest headlines