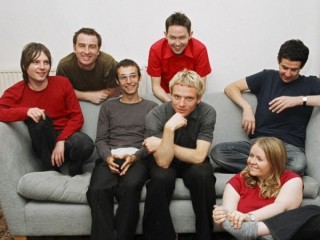 Belle And Sebastian biography
Date of birth : -
Date of death : -
Birthplace : Glasgow, Scotland
Nationality : Scottish
Category : Arts and Entertainment
Last modified : 2012-04-10
Credited as : Indie pop band , wistful pop sound, Belle & Sebastian Write About Love
Belle and Sebastian are an indie pop band formed in Glasgow in January 1996. Belle and Sebastian are often compared with bands such as The Smiths,Bob Dylan and Nick Drake. The name Belle & Sebastian comes from Belle et Sébastien, a 1965 children's book by French writer Cécile Aubry, later adapted for television and an anime. Though consistently lauded by critics, Belle & Sebastian's "wistful pop" has enjoyed only limited commercial success.
While the Scottish folk-pop octet Belle and Sebastian appeared to guard their anonymity, giving media interviews on only rare occasions and often refusing photo opportunities, those close to the band and the members themselves insist that their shyness is not contrived. "There is this sort of myth, and we're not really comfortable with it, because some of the effects are a bit embarrassing, painting [lead singer and songwriter] Stuart [Murdoch] out to be some sort of enigma," drummer Richard Colburn revealed to David Daley in Magnet magazine. "He's just this guy that writes songs, you know. When the band started, it was to make records. It wasn't to talk about the records. We think we should get on to making another one rather than talk about ourselves."
"Everyone's a bit elusive, likes to keep a bit to themselves," bassist Stuart David revealed to Angela Lewis in Independent. "That's what most of us have in common." Despite shunning the press, Belle and Sebastian nonetheless captivated fans in their native Britain, winning the Brit Award for 1998's best new band in 1999, and in the United States as well, although band members continue to view their rise in popularity with amazement. "I still don't think of us as being a particularly successful band," Colburn told Magnet in early 1999. "We were quite taken aback by the response (in the United States). I don't think when we recorded Tigermilk we went, `Let's sit back and watch them praise us.' We've only played maybe 20 gigs. Then one day you'll get a letter from Brazil, and someone on the other side of the world likes your record. It doesn't seem feasible."
Singer, songwriter, and guitarist Stuart Murdoch and bassist Stuart David formed Belle and Sebastian at an all-night caf in Glasgow, Scotland, in January of 1996. The name of the band came from a short story written by Murdoch, inspired by the French children's story about a boy named Sebastian and his dog, Belle. Soon, they enlisted six other musicians: Stevie Jackson on guitar and vocals; Richard Colburn on drums; Chris Geddes on keyboards; Isobel Campbell on viola, cello, guitar, and vocals; Sarah Martin on violin; and Mick Cooke on trumpet. At the time, Murdoch and Colburn were sharing a flat above a Glasgow church, for which they were also the caretakers. After the octet recorded some demo tapes together, Belle and Sebastian were contacted by a Jeepster (the British record label) talent scout who was participating in the Stow College Music Business Course in Glasgow. Each year, the course (run by multi-instrumentalist Alane Rankine, a former member of the Associates) produces and releases one record--usually a single--on a college label called Electric Honey Records for promising new bands. While most incoming groups approached by the course students have a limited supply of written music to work with, Belle and Sebastian had already composed an unusually vast amount of material, enough to support a whole album.
Thus, rather than release a debut single, Belle and Sebastian instead made a full-length LP, the elusive Tigermilk, which took just three days to record and contained songs mostly penned by Murdoch. Shane Harrison of the Atlanta Journal and Constitution described the debut effort as "a blend of gentle folk, low-key `60s psychedelia and a bruised, occasionally caustic, lyrical wit. The sum of those parts is a very distinctive, though not easily described, sound." Electric Honey issued a limited edition (1,000 copies) of the album available on vinyl only in mid-1996, not anticipating Tigermilk's overwhelming success. Before long, the release became a huge collector's item and brought in ridiculous prices. In the summer of 1998, for instance, one band member auctioned an autographed copy to donate the proceeds to charity and raised more than $1,200. Later, in early 1999, Belle and Sebastian allowed their record company (Jeepster/Matador) to reissue Tigermilk on CD.
In August of 1996, Belle and Sebastian signed with Jeepster. They released their second album, the acclaimed If You're Feeling Sinister, in November of that year. Soon thereafter, Belle and Sebastian gave their debut performance in London, first as the support slot for the Tindersticks, followed by a headlining show at the Borderline. In February of 1997, Belle and Sebastian released the album to American audiences on the Virgin subsidiary label Enclave. If You're Feeling Sinister, regarded as Belle and Sebastian's most satisfying folk-pop album for its infectious musical arrangements built around charming stories, made several top ten lists in the United States, including the Village Voice's annual critics poll of 1997.
Throughout the summer of 1997, Belle and Sebastian set out to release a string of EPs, the first of which, Dog On Wheels, hit in late April. The record contained early demos of the band, previous to the six other band members joining Murdoch and David, including a version of "The State I Am In." The song, played by Radcliffe on Tigermilk, appealed to fans without a copy of Belle and Sebastian's limited edition debut and reached number 59 on the British singles chart. The second EP, Lazy Line Painter Jane, was recorded at a show at the Union Chapel in Islington, London, and released in late July of 1997. Despite the poor sound quality, the band encouraged the crowd, many of whom were seeing Belle and Sebastian perform for the first time, to dance in the aisles and pews of the chapel. Lazy Line Painter Jane barely missed the United Kingdom top 40, but managed to peak at number 41, much to the amusement of keyboardist Geddes who had made a bet with Jeepster executive Mark Jones that the EP would not enter the top 40.
After playing two more gigs in Oxford and Colchester in England, the band traveled to New York City for the first time in September of that year and took part in the CMJ (College Music Journal) festival. Afterwards, Belle and Sebastian gave two performances at the Angel Organization Foundation Center for the Arts in Greenwich Village. Fans became so excited at the venue (another old chapel) that parts of the ceiling crumbled down on to the stage while the band played, according to Belle and Sebastian's website at Matador Records. Returning to Europe, the group performed in late September 1997, at the Barcelona (Spain) BAM festival, where Belle and Sebastian captivated yet another audience. The venue setting this time was in an ancient courtyard at the Plaza Del Rai beneath a moonlit sky.
The group's third summer EP, 3..6..9 Seconds of Light, was issued on Jeepster in mid-October 1997, leading the British music press to acknowledge the band's popularity and importance. Both Melody Maker and NME (New Musical Express) named the title-track single of the week, and despite a lack of radio support, the single became the band's first United Kingdom top 40 hit, debuting at number 32 on the charts. The group concluded 1997 by working on music for their third full-length album, as well as playing two gigs at the Manchester (England) Town Hall in December.
In the late summer of 1998, Belle and Sebastian released the album The Boy with the Arab Strap. In response to the band's third effort, Magnet noted, "Perhaps The Boy with The Arab Strap (Matador) doesn't feel as decisively crafted or immediately captivating as its predecessors, but it's always winning, always pretty, with highlights like the rollicking title track and the breathtaking `Is It Wicked Not To Care.'" The fall of that year, the group returned to American soil for their first proper tour of the United States, headlining shows up and down the East Coast that concluded with two sold-out gigs at the Supper Club in New York City.
In addition to playing with Belle and Sebastian, two of the group's members started side projects as well. David, for one, recorded an album with his wife, Karn, under the namesake Looper entitled Up A Tree (released on Sub Pop in the United States in 1999). Whereas Belle and Sebastian's music centered around Murdoch's youth-inspired fantasies and melodic instrumentation, Looper combined pop playfulness with electronic beats. "[Belle and Sebastian] is how Stuart Murdoch likes the world to sound--I like it to sound this way," David told Matthew Fritch of Magnet, explaining his decision to form Looper. Cellist Campbell pursued a solo effort as the Gentle Waves with The Green Fields of Foreverland (issued by Jeepster/Never in 1999), full of mostly melancholy songs that nevertheless offered a sense of optimism.
On 18 November 2008 the band released The BBC Sessions, which features songs from the period of 1996–2001 (including the last recordings featuring Isobel Campbell before she left the band), along with a second disc featuring a recording of a live performance in Belfast from Christmas 2001.
In a news update to the official website on 11 August 2010, it was revealed that their eighth studio album would be titled Belle & Sebastian Write About Love. The first single from the album, as well as the record's title track "Write About Love", was released in the US on 7 September 2010. The UK and international release was 25 September 2010. In December 2010 Belle & Sebastian curated the sequel to the Bowlie Weekender in the form of Bowlie 2 presented by All Tomorrow's Parties.
The current members are:
-Stuart Murdoch: 1996–present, vocals, electric and acoustic guitar and keyboards
-Stevie Jackson: 1996–present, vocals, electric and acoustic guitar
-Chris Geddes: 1996–present, keyboards
-Richard Colburn: 1996–present, drums
-Sarah Martin: 1997–present, violin, keyboards, electric and acoustic guitar, and vocals
-Mick Cooke: 1998–present, trumpet and bass
-Bobby Kildea: 2000–present, guitar and bass
Discography:
-Tigermilk (1996)
-If You're Feeling Sinister (1996)
-The Boy with the Arab Strap (1998)
-Fold Your Hands Child, You Walk Like a Peasant (2000)
-Storytelling (2002)
-Dear Catastrophe Waitress (2003)
-Push Barman to Open Old Wounds (2005)
-The Life Pursuit (2006)
-Belle and Sebastian Write About Love (2010)
Read more
Belle and Sebastian Picture Gallery
Latest headlines