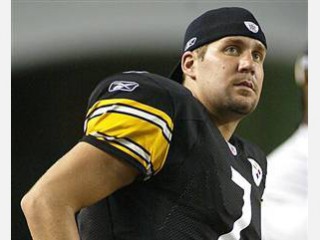 Ben Roethlisberger biography
Date of birth : 1982-03-02
Date of death : -
Birthplace : Findlay, Ohio
Nationality : American
Category : Sports
Last modified : 2010-08-23
Credited as : Football player NFL, quarterback for the Pittsburgh Steelers, Super Bowl 45
GROWING UP
Benjamin Roethlisberger
was born in Findlay, Ohio on March 2, 1982. His parents, Ida and Ken, were struggling wit their marriage when Ben entered the world. The two divorced when he was 18 months. His dad got custody, with Ida taking him on alternate weekends. Ken soon remarried. Ben got along well with his stepmother, Brenda. A sister, Carlee, came along later.
When Ben was eight, Ida was involved in a car accident. Waiting to be picked up by her, he was shooting baskets when the news was delivered. Kept alive for several weeks, Ida never regained consciousness. Her family decided to end her suffering and told doctors to let her go.
Ben rarely talks about this episode, but acknowledges Ida by pointing to heaven after every touchdown. By the time she passed away, he was referring to Brenda as "Mom," so the adjustment to life without his biologocal mother was not as hard as it is for most kids in this situation.
Findlay, a working-class suburb of 40,000 about an hour south of Toledo, had a real hometown feel to it. In fact, the town's eventual mayor, Tony Iriti, was Ben's football coach in the fifth and sixth grade. Iriti later became a volunteer assistant at Findlay High School.
Ben was a bright, happy kid despite his parents' breakup and his mother's tragic death. He was a good student and an excellent athlete. His heroes were John Elway (whenever he could snag Elway's number 7, in any sport, he did—all the way up to the NFL) and Joe Montana, though basketball was his best sport. Ben inherited his athletic abilty from his dad. Ken was a student-athlete at Georgia Tech in the 1970s, playing quarterback and shortstop for the Yellow Jackets.
Ben was a big movie buff. He particularly enjoyed James Bond films, and in junior high he decided he wanted to be a secret agent—or at least an FBI agent—when he grew up. That is, after his NBA career was done. Ben's undisputed #1 sport by his teen years—and his consuming passion—was hoops.
Tall and well-coordinated, Ben understood the rhythm of basketball and could think two passes ahead when other boys were still thinking about dribbling. When he entered Findlay High in 1996, he quickly won a starting role on the varsity hoops team, took over the point-guard job, and ultimately set the school's career scoring record. Ben also became the Trojans' varsity shortstop and was a dependable .300 hitter with good range and a nice arm. He captained the Findlay squads in both sports, and made All-League and All-District teams.
Ben was also a pretty fair football player. As a freshman or sophomore, he played on the varsity as a reserve quarterback, displaying a strong and accurate arm in practice, but did not get into any games. He seemed ready to lead the varsity as a junior, but still rode the bench. The first stringer was Ryan Hite, whose father, Cliff, was Findlay's coach. Hite ended up playing Division-III ball for Denison—ironically, as a receiver—but was an excellent quarterback for Findlay. He led the school to the league title in 1998.
Ben moved to wide receiver in his junior year, where he caught 57 balls for 757 yards. He became good friends with Mike Iriti, Tony's son and also a wideout on the team. They would eventually become one of Ohio's top passing tandems.
Ben always envisioned himself as a quarterback and knew the job would be up for grabs in his senior season. That kept him interested in football. Otherwise he would have skipped his final year to concentrate on winning a Division-I hoops scholarship.
The summer before the 1999 season, Ben and some friends attended a summer camp on the campus of the University of Miami (Ohio). A RedHawks assistant spotted Ben tossing the ball around and alerted head coach Terry Hoeppner. He was furious that a local kid with that much talent did not appear on any recruiting sheets in their office until he discovered the young man had never taken a snap. Hoeppner made a note to follow Ben's progress back in Findlay.
A few weeks later, Ben was nmaed the starting quarterback for the Trojans. he spent the fall riddling enemy defenses. His years as a receiver had paid nice dividends, as he got to understand coverage schemes from the secondary. This not only helped him read defenses, it also taught him how receivers find seams and how much time they need to get open. It also didn't hurt that Ben now stood 6-5. With the size to see over the pass rush, he still maintained the shiftiness he had developed in basketball. Despite his height. Ben juked tacklers as if he were a halfback. His experience at shortstop was beneficial, too—he was a strong passer on the run.
Ben could hardly believe how easily quarterbacking came to him. He threw for six touchdowns in his first start for Findlay. Miami of Ohio offered him a full scholarship the next day.
As the season progressed, every game was like a personal highlight film—Ben looked at enemy defenses and had his way with them down after down. Overall, the Torjans went 10-2, advancing to the second round of the state playoffs, where they lost to Grove City High School.
For the year, Ben passed for 4,041 yards and 54 touchdowns. Both marks set state records. Going into the season, Ben had assumed he would be playing college basketball in 2000. But his success on the gridiron convinced him that he might have a brighter future as a Division-I quarterback.
This was far from a consensus opinion, however. Because Ben was new to the position, college scouts were late in catching on to his talent. By the time big-time programs like Ohio State, Michigan and Michigan State started sniffing around, Hoeppner had already sold Ben on the idea of suiting up for Miami of Ohio. He told the teen that he could be the next Chad Pennington, who had just finished a sterling career with Mid-America Conference rival Marshall. There, with Randy Moss, Pennington had put up incredible numbers.
Hoeppner's offer sounded a lot better than the one from the Buckeyes, who had Ben slotted in at tight end. Even better, Miami of Ohio also recruited Iriti, Ben's favorite receive. He had reeled in more than 100 receptions in '99 and established a state record with 21 touchdown grabs.
When Ben arived on campus in Oxford in August of 2000, he realized he had a lot of learning and growing to do. Ben weighed just 185 pounds, and quarterback was still a relatively new position to him. He watched his first season from the sidelines as a redshirt while he bulked up. Ryan Hawk did a decent job as the starter for the RedHawks, but everyone knew he was just keeping a spot warm for Ben. Assuming the teenager grabbed the starting job in 2001, Hoeppner would have a backup with a thorough knowledge of the system. Ben made his coach look like a genius in a spring intrasquad game in 2001, wowing the crowd by hitting on 21 of 33 passes on a windy day.
ON THE RISE
Molding his offense around Ben, Hoeppner installed what he called the "Midwest Coast Offense." The RedHawks mixed the run and the pass beautifully. Ben, who was named the starter in August, never tipped his hand until the play was actually in motion. He worked with halfback Cal Murray as his main running option.
Ben's debut for the RedHawks came against Michigan in Ann Arbor in September. With 100,000 bloodthirsty fans exhorting the Wolverines, he held his own under a brutal pass rush. At one point, Ben broke his nose on uncalled spear, which gave him a slight concussion, but he stayed in the game. After Michigan opened a 10-0 lead, Ben connected with Eddie Tillitz for a 21-yard touchdown. The RedHawks kept the game close into the fourth quarter, but a scoring pass was nullified by a holding call and then Ben threw an interception in the end zone. Michigan scored twice to take a 31-6 lead, and won 31-13. Ben connected on a meaningless touchdown with eight seconds left.
In his next game, against Iowa, Ben was knocked out of the game on a sack. Hoeppner, fearing his freshman might not survive the season, ordered him to take a seat. Hawk came in and immediately got hammered. Before he could make his next move, Hoeppner saw Ben pulling his helmet back on and moving toward the field. He played the rest of the year.
Ben had been nervous against the Wolverines and Hawkeyes, but he found his groove and performed well the remainder of the season. The only other game in which he felt jumpy was a November battle against Bowling Green. The school's Doyt Perry Stadium was close enough to Findlay that it seemed like the whole town was in the stands. After some initial jitters, Ben he threw for 305 and two touchdowns to beat the Falcons, 24-21. His third 300-yard game of the year gave him the MAC's freshman passing yardage record.
Named conference Player of the Week three times, Ben also passed for five touchdowns against Ohio University, in a week when he wasn't honored. By season's end, he led all freshman quarterbacks in nearly every statistical category.
Ben enjoyed his biggest day against favored Hawaii, which prepared a special blitz package to confuse him. It took all of one series for ben to figure out the defense. He proceeded to set school marks for completions and passing yards, finishing with 452 yards and three touchdowns in a wild 52-51 loss. Miami finished the campaign at 7-5.
Voted MAC Freshman of the Year—the first RedHawk to earn the honor since Deland McCullough in 1992—Ben racked up 25 touchdowns and 3,105 passing yards, both school records. He also set marks for completions (241), completion percentage (.663) and total offense (3,294 yards).
Perhaps the highlight of Ben's season was a game-winning 70-yard Hail Mary pass to Tillitz against Akron. The play was called "Big Ben." and from that day on so was he.
Ben did not take his freshman success for granted. He worked tirelessly with coaches on the practice field and in the film room. His drive to get better in areas where he was weak accelerated his growth throughout his three years for the RedHawks.
Ben had another great year in 2002. He started the season with a 27-21 victory over North Carolina, passing for 204 yards and a touchdown in a downpour at Chapel Hill. A week later, he burned Iowa for 343 yards and three touchdowns, but Miami lost a heartbreaker, 29-24. The RedHawks then fell to LSU in Baton Rouge. The team had survived the roughest part of its schedule and actually had a win to show for it.
Miami took its next three before dropping a 48-41 barnburner to Northern Illinois. Ben did all he could, pilling up 525 passing yards and four scores. The RedHawks rebounded with easy wins over Buffalo, Toledo and Ohio. After the victory over the Rockets, Ben was named MAC Special Teams Player of the Week. Punting for an injured Mike Wafzig, he pinned Toledo inside its 10-yard line three times, and booted a career-long 58-yarder.
The campaign ended on a disappointing note, however. Battling Marshall for the MAC East Division crown, the RedHawks faced the Thundering Herd without their star passer Byron Leftwich. With Miami fans expecting an easy win, reserve Stan Hill was terrific, throwing for four TDs and diving over the goal line himself with five seconds left for a 36-34 win. On a night when the defense was struggling, Ben brought his team back from double-digit deficits twice, but in the end Marshall had too much. The loss was doubly humiliating because defensive coordinator Jon Wauford clubbed an opposing fan after the final whistle and was led off the field in handcuffs. He later resigned.
The RedHawks finished 7-5 for the second year in a row. Ben, meanwhile, continued to establish himself as one of the nation's best young passers. He broke his single-season records for completions (271) and passing yards (3,238). Just the fourth quarterback in MAC history to record multiple 3,000-yard campaigns, he also drilled nine of 11 punts inside the opponent's 20-yard line.
The 2003 edition of the RedHawks dropped the season opener to Iowa, 21-3, and Ben was intercepted four times. The school had hyped him as a Heisman hopeful over the summer, and now everyone had egg on their face. But Ben and the RedHawks recovered to run the table, finishing the year at a remarkable 13-1 and #10 in the country.
Among Miami's victims were good teams from Northwestern and Colorado State. In all, the Red Hawks played six bowl-bound schools, losing only to the Hawkeyes. In a 44-14 drubbing of the Wildcats, Ben completed 28 passes and had no interceptions in a game that set a record for the most points scored by a MAC school against a Big 10 opponent.
Another big win came against Kent State. Trailing the perennial doormat 27-24 with 10 minutes to play, Ben told his coach and teammates that it was time for him to take control. He guided Miami on two scoring drives for a 38-30 victory.
Most important in '03, the RedHawks finally handled Marshall. On a gusty November evening, Ben authored a 45-6 pasting of the Thundering Herd. Delivering the ball to his receivers in a 30-mph wind, he amassed 282 yards and a pair of touchdows. The win was huge for Miami, which was playing its first game as a nationally ranked school (No. 23) since the 1976 season. The RedHawks had finally reappeared on the college map, and Ben had kept them there when it counted. The victory over Marshall also broke the school's stranglehold on the MAC East Division and earned the RedHawks a berth in the conference championship game.
In Miami's next contest, Ben threw for 327 yards in a 56-21 win over Central Florida to push the team over 500 points for the year—a new conference record. That was just a warm-up for the MAC title game against 20th ranked Bowling Green. Ben piled up 440 passing yards against the Falcons in a 49-27 victory. He displayed all of his skills in the contest. When Bowling Green pressured him, he picked up valuable rushaing yardgae. When they laid off, he picked the pass coverage to pieces.
Ben's final college appearance came against Louisville in the GMAC Bowl. The game was basically over by halftime, as Ben hit on four touchdown passes on the way to a 49-28 win. The Cardinals came within inches of sacking him on several occasions, but he wriggled away each time to complete back-breaking passes. Martin Nance had a nice game with eight catches and 163 yards in the first half alone, and Murray put the game away in the second half, finishing with 142 rushing yards. Both players finished the year with 1,000-plus yards, marking the first time a MAC team had produced a 4,000-yard QB, 1,000-yard runner and 1,000-yard receiver. The RedHawks could also claim the season's longest college winning streak, at 13 games.
A third-team All-American, Ben finished the year with 4,486 passing yards and 37 touchdowns in 14 games. Eight times he threw for more than 300 yards, including a couple of efforts in which he surpassed 400 yards.
Playing in the MAC, however, Ben's numbers were somewhat suspect. But thanks to NFL alumni Pennington and Moss—not to mention Leftwich's rising star—the conference's reputation was on the rise. In fact, many pro scouts believed Ben was the real deal. He understood how offenses worked, possessed excellent leadership skills, had a good arm and surprising mobility for a player his size.
Although he had a year of college eligibility remaining, Ben felt there was little left to prove in college ball. Winning the MAC title was his primary objective with Miami, and now that he had accomplished that goal, he decided to enter the NFL draft and begin his pro career.
At the February scouting combine, Ben opened a lot of eyes. Compared to other MAC players, he had looked big and fast. Next to the top NCAA talent, he looked just as big and just as fast. He also impressed teams with his personality. He took he game seriously, but also showed he could relax and enjoy his situation. This quality was filed under the intangibles category—an important one for prospective quarterbacks.
As the 2004 draft approached, Ben believed he was the best quarterback coming out of college. Although Eli Manning and Philip Rivers got more ink—and were ultimately selected ahead of him—a lot of scouts agreed with the 22-year-old. That included the Green Bay Packers, who wanted Ben as a protege for Brett Favre. They held the 24th pick, but he wouldn't last that long.
The Steelers—who hadn't selected a passer in the first round since 1970—were pleased to find Ben on the board for the 11th pick. The club was confident that he would be an NFL-ready backup to their starter, Tommy Maddox, especially after a summer of total immersion in their run-oriented playbook. Ben was delighted to be drafted by Pittsburgh. Besides being close to home, the community reminded him of the one in which he had grown up. Ben agreed to a six-year contract and banked a $9 million signing bonus—less than half of what Manning, the #1 pick, received from the New York Giants.
The Steelers, coming off a 6-10 season, were expected to finish a game or two over .500 in 2004. They were not considered a major threat to the Baltimore Ravens, who figured to cruise to the AFC North title. The key in Pittsburgh would be the defense. The Steelers hoped to rediscover their old smashmouth tradition under Dick LeBeau, who was returning for his second stint on head coach Bill Cowher's staff. He had decent material to work with. James Farrior was the team's best tackler, linebacking mate Joey Porter was a superb pass rusher, and second-year safety Troy Polamalu was an emerging star.
Ben was one of three quarterbacks in camp. He might see playing time behind Maddox and Charlie Batch, depending how the season went. Duce Staley and Dan Kreider formed the starting backfield, with aging Jerome Bettis as the short-yardage back. Hines Ward and Plaxico Burress gave Maddox two quality receivers, and Alan Faneca and Jeff Hartings anchored a very good offensive line.
Ben's first exhibition action came in a 38-3 win over the Houston Texans. He zipped the ball around the field and led three long scoring drives. Demonstrating poise and patience, he made something out of nothing on a couple of occasions and avoided major mistakes.
In the second game of the regular season, against the Ravens, Maddox tore up his elbow at the start of the third quarter. With Batch nursing a bad knee, and former college QB Antwaan Randle El only available for the direst emergency, Ben was thrust into the job. With the Steelers being shut out, he quietly threw for two scores in a losing effort.
Afterwards, the Steelers tried to be upbeat about having a rookie at the helm. In the locker room, however, there was real worry. Faneca was the most outspoken. In a rare bit of candor, he questioned whether Ben was ready to be an NFL starter. When his comments were probed and dissected in the ensuing days, the veteran approached Ben in practice and told him it was nothing personal. No one wants to lose their starting quarterback six quarters into a season, Faneca explained. Ben was the first to agree.
On the bright side, the Steeler offense was tailor-made for Ben's talents. With Staley, Kreider and Bettis, Pittsburgh had one of the league's deepest running games. In the speedy Burress, the sure-handed Ward, and the elusive Randle El, the team claimed an athletic and diverse receiving duo. And the Pittsburgh front line was as good as anyone's. The prevailing wisdom was that Ben might be able to hold the fort until Maddox healed.
As Ben soon demonstrated, however, he was nothing like your average NFL rookie—although his first start, on the road against a superb Miami defense, started disastrously. On his first play from scrimmage, Ben forced a sideline pass to Kreider that went right into the hands of cornerback Patrick Surtain of the Dolphins. The collective response on the Pittsburgh sideline was a big "Oh No." Then it started raining (thanks to the tail end of Hurricane Jeanne), which only added to the anxiety. A classic rookie el-foldo seemed to be in the making. But Ben held it together, and the Pittsburgh defense kept the Dolphins out of the end zone. A fourth-quarter touchdown pass by Ben sealed a 13-3 victory. Pittsburgh was 2-1, and doctors said Maddox was only four or five weeks away from returning.
A week later, against the Cincinnati Bengals, Ben engineered a late drive for a come-from-behind 28-17 win. Again, the Steeler defense was terrific, but Ben did a nice job managing the game. The Browns came to town next, and Ben ran for one touchdown and threw for another in a 34-23 win. He showed his toughness against Cleveland, absorbing a brutal hit from Orpheus Roye as he released a beautiful 48-yard spiral to a streaking Burress.
In Ben's fourth start, against the Cowboys, the Steelers trailed 20-10 in the fourth quarter. Ben produced an impressive scoring drive to cut the deficit to 20-17, and then got the ball back and drove again into Dallas territory. As the two-minute warning approached, Pittsburgh crossed up the Cowboys with a pair of pass plays. Ben completed both, and three rushes later Pittsburgh had the win. That was the game that convinced Ben's teammates they had a special player. Dallas coach Bill Parcells was also a believer. He compared Ben to Dan Marino after the contest.
And the Tuna wasn't far off. Though Ben was still wet behind the ears, his decision-making was more astute and poised than that of many veterans. He made the plays the Steelers needed him to make, and played virtually mistake-free football.
Initially, the Steelers simplified their playbook for Ben. More runs were called than with Maddox, and Ken Whisenhunt, Cowher's first-year offensive coordinator, focused a lot on play-action passes. That gave Ben an extra second of protection and only a couple of receivers to choose from. But after the Dallas win, it was starting to dawn on Whisenhunt that Ben could probably handle a lot more. By November, he bgean entrusting his rookie passer with the option to call multiple audibles at the line. As Ben got a better feel for the league and saw how many playmakers he had to work with, his game continued to flourish.
Ben's fifth start came against the unbeaten New England Patriots, winners of a record 21 straight games. Ben was magnificent, completing 18 of 26 passes for two touchdowns and 196 yards in an eye-opening 34-20 victory. The win did not come cheaply, however. Staley, who had been doing a nice job as the starting halfback, suffered an injury to his hamstring. Bettis—averaging less than a yard per carry as his backup, but among the league leaders in touchdowns—came in and picked up 65 yards. But few believed the Bus would be a suitable long-term replacement.
Next up were the Philadelphia Eagles, who like New England the week before, came into the game without a loss. Sixty minutes later, the only unbeaten entity in the NFL was Ben Roethlisberger. He completed 11 of 18 passes and threw for two scores in a 27-3 shellacking. The big news was a rejuvenated Bettis, who rumbled through the Philly line for 149 yards. It was his best game since 2001.
Just as impressive was the fact that Ben had been unfazed by the alignments thrown at him by defensive gurus Bill Belichick and Jim Johnson. The Philadelphia game also marked the first time in league history that a team had scored back-to-back victories over unbeaten clubs that late in the season. Pittsburgh 's record was now 7-1. The last Steeler club to start a year that well went on to win the Super Bowl.
Ben's seventh start, a 24-10 win over the Browns, established a new NFL record. No passer had ever started his career 7-0. By this time, Maddox was healthy enough to play. But even he had to admit there was no reason to bench the red-hot rookie. The 2002 NFL Comeback Player of the Year found himself back on the bench.
By now, Ben had stopped getting the rookie treatment from enemy defenses. Other teams had blitzed him to death, and he had proved he could beat it. Opponents were backing off, challenging him to throw against normal coverage. The Steelers responded by continuing to use the run to set up Ben's passes. Bettis resumed his rebirth and, unbelievably, would chug to 941 yards on the season.
The Steelers remained on a roll, winning their next two games despite modest contributions from their rookie quarterback. The team had come together beautifully, and its defense was one of the best in the league.
With the exception of the Dallas game, Ben rarely had to make do-or-die plays for the Steelers. That changed against the Jacksonville Jaguars, as Pittsburgh trailed 16-14 with time running out. The team turned to Ben to engineer a clutch drive, and he came through, putting the Steelers within field-goal range in the final seconds for a 17-16 victory. He was 14 of 17 for 221 yards on the day, with two touchdowns and no interceptions.
Ben's good fortune finally ran out the day after Christmas, in Pittsburgh's rematch with the Ravens, the only team to beat them all year. The Steelers won 27-7, but Ben was blindsided by Terrell Suggs after he tossed a short touchdown pass in the third quarter. Team doctors initially feared a cracked rib, but x-rays revealed only a bad bruise. He sat out the final game of the year, which Maddox won to give the Steelers a marvelous 15-1 record and homefield throughout the playoffs. Ben's final stats were 2,621 yards, 17 touchdowns and 11 interceptions in 13 games. His quarterback rating was a lofty 98.1.
Ben didn't always execute the plays he called—the NFL game was still fast for him on occasion—but he never lost his cool. And he was confident enough enough in his scrambling to wait for new opportunities to develop. He also knew when to take a sack or throw the ball away. Ward was a great help in terms of advice. A quarterback in college, he gave Ben in-game pointers, both in the huddle and on the sidelines. The receiver joked that he was Ben's "Mama"—weighing in on everything the rookie did.
The Steelers drew the New York Jets in their playoff opener. The two teams had met earlier in the year, with Pittsburgh gutting out a 16-6 win at home. The big question heading into the contest was whether Ben could handle the pressure of his post-season debut. He opened the game looking shaky, but the Pittsburgh defense stepped up, and the Steelers grabbed a 10-0 lead.
The Jets responded 17 straight points, then Ben engineered a tying drive in the fourth quarter. With the contest on the line, he had several chances to be the hero. Instead, Ben showed uncharacteristic nerves. With less than two minutes left, Ben airmailed a pass to Burress that New York intercepted. But Ben was taken off the hook when kicker Doug Brien botched a 42-yarder to end regulation. In overtime, the Steelers relied on their ground game to move into field goal range. Jeff Reed connected from 33 yards for the victory.
In the AFC Championship Game, the Steelers met a familiar foe in the Patriots. Again, the spotlight fell on Ben. Belichick, notrious for confounding quarterbacks he faced twice in the same season, put together a game plan to force Pittsburgh to throw the ball. His strategy paid off right away—Ben was intercepted on his team's first possession. The Pats converted the turnover into a field goal and never looked back, winning in a rout, 41-27.
The difference in the contest was the play of the quarterbacks. New England's Tom Brady turned into another virtuoso performance, while Ben struggled to find his accuracy and confidence. His early interception clearly affected him, as did a sore right thumb. Indeed, several of Ben's passes fluttered from his right hand, though just as often he was completely confused in the pocket.
Ben emerged as a team leader in the off-season when he convinced Bettis to un-retire and play one more year. The young quarterback promised the Bus he would lead him to his first Super Bowl. At times, it looked like Ben wouldn't make it, even if the Steelers did. He was bothered by knee problems and had to sit out four games. When Ben was healthy, he was effective, guiding the team to nine victories. He finished third in the conference behind Peyton Manning and Carson Palmer in quarterback rating. Ben's final numbers were 168 completions in 268 attempts for 2,385 yards and 17 touchdowns. He rallied the Steelers to three fourth-quarter comebacks.
Pittsburgh won 11 games in all, snagging the sixth and final Wild Card spot. Reaching the Super Bowl would require an historic performance. No team had ever ascended from so low on the playoff ladder to win the Lombardi Trophy. First up were the Bengals, whose late-season victory over Pittsburgh had decided the AFC North crown. The game is best remembered for a knee injury to Palmer that essentially ended Cincinnati's championship aspirations. His replacement, Jon Kitna, passed the Bengals to a 17–7 lead. But the Steelers shifted into high gear and scored 24 unanswered points to win 31–17.
In round two, the Steelers traveled to Indianapolis where they faced the heavily favored Colts. Pittsburgh pounded Manning and managed to carve out a 21–3 fourth-quarter lead. Then the Colts came charging back. After Manning hit Dallas Clark with a 50-yard scoring pass, he marched his team down the field again for another touchdown, adding a two-point conversion to cut the deficit to 21–18. Prior to this score, Troy Polamalu had intercepted a pass, effectively sealing the deal for the Steelers. But his pick was ruled no-good by the officials, leaving the door open for Indianapolis.
The Pittsbrugh defense stepped up as the two-minute warning came and went, pinning the Cols against their own goal line on the ensuing possession. Manning was sacked at the 2-yard-line on fourth down, and Ben led the Pittsburgh offense on the field for the coup de grace. He handed the ball to Bettis, who attempted to plunge into the end zone—only to have the ball knocked loose by Gary Brackett. Nick Harper scooped up the fumble for the Colts and began running toward the Pittsburgh end zone.
All that stood between the Steelers and the most epic screw-up in NFL history was Ben. He dove at Harper's legs and managed to trip him up. It was a season-saving tackle. The Colts had to settle for a game-tying field goal, but Mike Vanderjagt—perfect thus far in the postseason—missed the kick. The Steelers were suddenly looking like a team of destiny.
They did nothing to diminish that image the following week when they disposed of the Broncos in Denver, 34–17. Ben had his best game of the playoffs, tossing two touchdown passes and completing 21 throws for 279 yards. He also scored the game's final touchdown on a four-yard bootleg.
Despite his leadership and clutch playmaking, there were still questions about Ben's inexperience as Pittsburgh returned to the Super Bowl for the first time since the 1990s. Their opponent, the Seattle Seahawks, was not an overly physical team. Like the Steelers, they were fast on defense, which the experts figured would give Ben problems.
The experts were right, but Ben still made the plays when he had to. Eight times he kept drives alive with third-down completions. The backbreaker for Seattle was a touchdown completion to Ward on third-and-28 in the fourth quarter. Ironically, Ben didn't throw the pass—Antwaan Randle-El did. The former college quarterback took a handoff on a fake reverse and then floated a spiral to the Ward.
Although Seattle played well, some fundamental mistakes combined with questionable officiating did them in, 21–10. Ben's numbers were nothing to brag about, but he could now claim the mantle as the youngest winning quarterback in Super Bowl history.
With a great defense and a confident young quarterback, Steeler fans were crowing about a new Pittsburgh dynasty during the off-season—until news of the unthinkable hit the airwaves. Ben was involved in a serious motorcycle crash and suffered multiple injuries, including a broken nose, a broken jaw and a ruptured blood vessel that could have killed him. He was not wearing a helmet at the time. Some questioned whether Ben would ever be the same again. He healed in time to join the team in training camp, but was then felled by appendicitis.
Ben missed the season opener and was rusty upon his return. He finally got it going in Week 6, but against the Atlanta Falcons the following Sunday, Patrick Kerney nailed him. Ben wobbled to the sidelines with a concussion. He returned to the lineup and continued his up-and-down play. Because the Steelers often trailed in games, Ben was asked to throw the ball a lot more than in years past. This resulted in a career-high 3,513 passing yards, but also 23 interceptions. Though the Steelers missed the playoffs, Ben finished the year in style, completing a 67-yard TD pass to Santonio Holmes in overtime in Pittsburgh's final game, knocking the hated Bengals out of the postseason in the process.
Naturally, questions surrounded Ben as he began his fourth NFL season. By all measures, 2006 had been a disappointment. In 2007, he showed he was a big-time NFL passer. Ben began the season with four scoring strikes on opening day and finished it with a team-record 32. The highlight of the year came against the stingy Ravens in Week 9. Ben tossed five touchdown passes andscored a perfect 158.3 QB rating in a 38–7 victory.
The following week, Ben showed his cool under pressure. With the Steelers trailing Cleveland by 15 points, he engineered a thrilling comeback that was capped off by a 30-yard TD scramble to win the game. In Week 16, he posted his second perfect QB rating of the year against the St. Louis Rams.
The Steelers needed every last big play from their quarterback. Their defense was undependable at times, as witnessed by four gut-wrenching losses in games when Ben had led them back from double-digit deficits. Still, Pittsburgh made the playoffs, and Ben earned his first Pro Bowl selection.
The Steelers hosted the Jaguars in the first round of the postseason. Willie Parker, who had replaced the retired Bettis as the team's workhorse back, was injured and unavailable for the game. With Pittsburgh's running game neutralized, the Jacksonville focused on Ben. He struggled mightily in the first half, throwing three interceptions. In the second half, Ben adjusted and began to lead the team back from a 21–7 hole.
Ben passed for 263 yards and a pair of touchdowns in the third and fourth quarters. The Jaguars were reeling. Pittsburgh held a 29–28 lead, but twice in the final stanza, the Steelers failed to convert two-point tries. This would prove devastating as Ben's opposite number, David Garrard, scrambled for 32 yards on a fourth down to set up a field goal that gave the Jags a 31–29 edge. Had Pittsburgh elected to kick two extra points the game would have been tied.
Ben had one last chance to author a mircale finish, but he fumbled with under a minute to go. It was a bitter end to an exciting season. A return trip to the Super Bowl just wasn't in the cards.
Of course, 2008 was a different matter. Ben led the Steelers to five wins in their first six games. He hit a rough patch at midseason, getting sacked five times in a loss to the Giants. He performed poorly a week later in a Monday Night win over the Redskins. Against Washington, new Pittsburgh coach Mike Tomlin benched Ben and inserted Byron Leftwich, who played the entire second half.
In a Week 10 showdown with the Colts, Ben tried to play through the pain of a sore shoulder and was miserable for the third game in a row. He had stated on many occasions that he was not an "I Guy," meaning that win or lose, the Steelers were a team. He made an exception after the Colts game, telling reporters, "I lost this game."
The defeat proved to be a turning point, as Ben got healthy and reeled off victories in six of Pittsburgh's final seven games to finish 12–4. He did so from ahead, behind, in good weather and in the muck. His comeback victory against the Cowboys in early December was the 49th win of his career—the most ever by a quarterback in his first five seasons. Pittsburgh's only late-season loss was to the TennesseeTitans. In that game, Ben threw his first interception in 131 attempts—the longest streak of his career.
The game that had everyone holding their breath was the finale, against the Browns. The Steelers won in a 31–0 rout. For 15 minutes at the end of the second quarter, however, Ben lay on the field following a sandwich hit by Willie McGinest and D'Qwell Jackson. He was diagnosed with a spinal cord concussion. He would have two weeks to rest before he took the field again.
Ben finished the season with a career-high 281 completions. He threw 17 touchdowns against 15 interceptions. His passer rating of 80.1 was down from the 104.1 mark from the previous season, but he had clearly matured into a first-rate NFL quarterback.
After a first-round bye, the Steelers lined up against the San Diego Chargers. Ben looked sharp in leading the team to a 14–10 halftime lead. At the beginning of the second half, he connected on three third-and-longs on his way to a sensational touchdown drive that made the score 21–10. The Chargers fought back but never got close, as the Steelers won 35–24. Pittsburgh's blockers did an amazing job. Worried that one big hit might derail their Super Bowl aspirations, they limited the San Diego defense to just one sack, and Ben was rarely under serious pressure.
The AFC Championship was a showdown between division rivals. The Steelers had already beaten the Ravens twice, and common football wisdom held that defeating the same club three times in the same season was a tricky task. Ben was superb throwing into teeth of the vaunted Baltimore defense, racking up 255 yards, no picks and a 65-yard touchdown pass in a 23–14 win. Pittsburgh controlled the action most of the way, but the Ravens closed the score to 16–14 in the second half. Polamalu gave the Steelers breathing room with a 40-yard interception return for a touchdown.
The win marked Ben's seventh postseason victory in five seasons, moving him past Troy Aikman into second place behind Brady. More important, the victory paved the way for Ben's second trip to the Super Bowl. He was magnificent in his return to the big game.
Pittsburgh's game plan against the Arizona Cardinals in Super Bowl XLIII was fairly simple. On defense, the Steelers hoped to pressure Kurt Warner and limit Larry Fitzgerald's opportunities to make game-changing plays. On offense, Ben and his teammates looked to control the ball and capitalize on turnovers. The recipe worked in the first half--though it was a scintillating 100-yard interception return by James Harrison that gave the Steelers a 17-7 lead.
The second half opened much like the first. Ben orchestrated a time-consuming drive that result in a second Pittsburgh field goal. That's when the game shifted into a new gear. Arizona went to a hurry-up offense and put the Steelers on their heels. Warner finally got Fitzgerald involved, and he made Pittsburgh pay. Late in the fourth quarter, he caught a pass in stride on a quick slant and outran the defense for a 64-yard touchdown. The Cardinals led 23-20.
Ben stepped back on the field with less than three minutes remaining. His poise under pressure was remarkable. As he had done all game, Ben bought time in the pocket with pass rushers in his face and zipped one completion after another. The Steelers started their final drive on their own 22-yard-line and marched methodically down the field. With 35 seconds left, Ben hit Santonio Holmes, his favorite target of the day, in the back right corner of the end zone for a touchdown. The catch was as good as the throw. Pittsburgh held on for a 27-23 win, and the franchise's sixth Super Bowl championship.
Holmes, who hauled in nine passes for 131 yards and a touchdown, was voted the game's MVP. The award could have just as easily have gone to Ben. He completed 21 of 30 attempts for 256 yards and a score. Those numbers hardly told the story. Ben's leadership was on full display, especially on the game-winning drive, and his ability to scramble was something that the Cardinals simply couldn't prepare for.
When Tommy Maddox went down with an injury way back when, no one was sure what to expect of the Steelers—a shot at the Super Bowl was as much as anyone could ask for. A lot has changed since then. Ben has developed into a quarterback in the mold of Bart Starr. Wins are the stat he cherishes most, and his teammates have complete confidence in him. As Terry Bradshaw can attest, when push comes to shove, Pittsburgh fans don't settle for anything less than a Super Bowl title—no matter how many you've already won. With two titles under his belt, Ben is giving the Steeler faithful exactly what they want.
BEN THE PLAYER
"Seeing the whole field" is crucial for an NFL quarterback, and it is normally a skill that develops only with experience. Ben was NFL-ready in this respect the day he took over Pittsburgh's starting job. His instincts have always been special, but what makes him a true standout among the league's passers is his talent for deciphering the X's and O's in real time. As a rookie, Ben saw some pretty complex defenses, a lot of blitzes—and more than a few disguised coverages—yet he rarely made a bad pass. As he has matured and gained experienced, his skills in this area have only improved.
Ben is normally at his best when he is under pressure. He stays in the pocket and has the ability to deliver the ball with strength and accuracy, even when he gets creamed. He also knows when it's time to run. His composure in these situations—and his passing touch along the sidelines—turns countless broken plays into first downs. There are few players who can match Ben's cool decision-making and execution when all hell is breaking loose.
That is not to say he doesn't get scared. Ben is human, and you can see his eyes widen when a defensive end breaks loose and begins bearing down on him. The adrenaline surge quarterbacks experience under these circumstances can lead to panic, but in Ben's case it seems to trigger a creative response. It is a quality that passers are born with, and in Ben's case, it emerged at a remarkably early age.
Ben understands that a quarterback must earn the respect of his teammates. He has done this by working hard, taking charge in the huddle, bouncing back from serious injuries, and performing when his team needs him most. Two Super Bowls in five seasons attests to this fact.
EXTRA
* As a basketball player, Ben averaged 26.5 points as a high school senior, with nine rebounds and five assists a game.
* Ben's second choice for college was not Ohio State, as is commonly believed. He says he would have chosen Duke.
* The quarterback to whom Ben was most often compared in college was Hall of Famer Jim Kelly.
* Ben ended his college career with 19 touchdowns and one interception in his final five games.
* Ben finished his three-year college career with 854 completions in 1,3094 attempts (65.5%) for 10,829 yards, 84 touchdowns and 34 interceptions.
* Ben was the eighth Miami of Ohio player to earn All-America recognition.
* Part of Miami of Ohio's Heisman campaign for Ben included a website called WhereHaveYouBen.com.
* Ben was the 2003 MAC MVP and Offensive Player of the Year.
* Ben spent his first NFL season living in a townhouse a few minutes away from the Steelers' practice facility.
* The last Steeler rookie to start as early in his career as Ben was Terry Bradshaw in 1970. Bradshaw threw six touchdowns and had 24 interceptions as a rookie.
* With his seventh win of the 2004 season, Ben broke the NFL record for consecutive victories to start a career. It had been held by another Steeler, Mike Kruczek. He set the mark at 6-0 in 1976 filling in for an injured Bradshaw. Kruczek did not throw a single TD pass that year.
* Ben's 66.4 completion percentage broke Dan Marino's record for NFL rookies.
* Ben led the AFC with 8.9 yards per passing attempt in 2005.
* Ben's passer rating of 22.6 in Super Bowl XL was the lowest ever for a winning quarterback.
* Ben had his first four-TD game on opening day of the 2007 season against the Cleveland Browns. Later that season he threw for five touchdowns against the Baltimore Ravens.
* In 2007, Ben became the first quarterback in history to have two "perfect games" in the same season.
* In 2008, Ben led the Steelers to an 11–10 victory over the Chargers. It was the first game with that score in NFL history.
* Ben passed for a touchdown and had an AFC-high 18-yard run in the 2008 Pro Bowl.
* With 51 career victories in his first five seasons, Ben eclipsed the record of 48, held jointly by Otto Graham, Dan Marino and Tom Brady.
* When Ben isn't scanning game film, you're likely to find him playing PlayStation.
* Ben's #7 jersey was the NFL's top seller for Christmas 2004.
* The most popular sandwich in Pittsburgh in 2004 was the Roethlis-burger. At Peppi's it is an artery-choking concoction that combines ground beef, sausage, scrambled eggs and provolone. At Brentwood Express, it's a 12-ounce burger with bacon, ranch dressing, bbq sauce, provolone and cheddar cheese.
* In a 2004 poll of NFL personnel directors, Ben edged Byron Leftwich for top honors as the game's best young quarterback.
* In 2007, Ben appeared at a Harlem Globetrotters game and joined in the team's famous football routine. He confounded the Washington Generals with a perfect TD strike to High Rise Brown.
* Ben has his own brand of beef jerky. All profits go to charity.
* Ben's Favorites include:
- Colors - black and gold
- Food - the flank steak and cheezy potatoes his parents make
- TV Show - SportsCenter
- Pro Athletes - Joe Montana, Jerry Rice and Michael Jordan
- Hobbies - Golf, fishing and watching movies
- Movies - Gladiator, Bad Boys (I and II) and Barbershop (I and II)
* If Ben could have any pet in the world, it would be either a monkey, dolphin or white tiger.
* Ben loves peanut butter and jelly sandwiches made with Extra Crunchy Jiff and either strawberry or blackberry jelly.
* Ben is a spokesman for Swiss Roots, a program that helps American with Swiss ancestry reconnect with their homeland.
Read more
Latest headlines