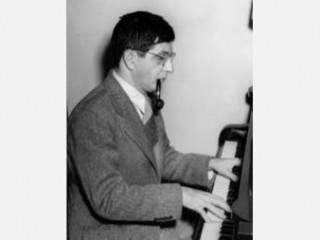 Bernard Herrmann biography
Date of birth : 1911-06-29
Date of death : 1975-12-24
Birthplace : New York City, New York, US
Nationality : American
Category : Arts and Entertainment
Last modified : 2011-01-17
Credited as : Composer, work in motion pictures,
Bernard Herrmann is perhaps the greatest composer of motion picture music in the twentieth century. He is best remembered for his dark, suspenseful, innovative musical scores, written for such celebrated film directors as Alfred Hitchcock, Orson Welles, Francois Truffaut, and Martin Scorsese.
Herrmann composed some 50 original film scores over the course of his career. He became known as a master of psychological and emotional intensity, expressed through bold, dark compositions, often described as moody or brooding. He had a keen ear for creating a sense of foreboding, evoking an eerie, chilling atmosphere with haunting, atonal compositions that perfectly complemented the dialogue and visual imagery of the cinematic medium. Characteristic of his work is a simplicity of composition, made up of small, fragmentary musical units, used in repetition, and intentionally lacking melodic resolution. Herrmann's signature is the use of obsessive sounds, expressing the interior of a disturbed, often psychotic, mind. His brilliant sense of timing made for some of the scariest suspense music in the history of cinema. In the factory-like context of classic Hollywood film production, Herrmann managed to attain the almost unheard-of power to both orchestrate and conduct his own compositions. This allowed him a broad freedom to make use of unconventional and innovative instrumentalization, another signature of his work. He frequently used unusual instruments or unique combinations of instruments, sometimes adding to or eliminating whole orchestra sections, and was among the first film composers to utilize electronic instruments.
Herrmann (called "Benny" by his friends) was born on June 29, 1911, in New York City, the son of Russian Jewish immigrants Abraham Herrmann, an optometrist, and Ida Gorenstein. He grew up on New York's Lower East Side, where he attended DeWitt Clinton High School. Herrmann showed early promise in music, winning a $100 prize for composition at the age of 13. As a teenager, he was inspired by the music of Charles Ives, an innovative composer not widely recognized at that time. By the age of 18, he was playing violin in the local Yiddish theater.
Herrmann studied music at New York University and Juilliard Graduate School of Music. However, he quit school in 1932, before completing his degree. That year, Herrmann made his debut as a composer of ballets for the Broadway production of Schubert's Americana. At age 20, he founded and conducted the New Chamber Orchestra, which performed in New York and Washington, D.C. In 1933, the Young Composers Group performed a string quartet composed by Herrmann. He later worked as a guest conductor for the New York Philharmonic Orchestra.
In 1934, Herrmann began his 25-year career as a conductor and composer for radio, working for the Columbia Broadcasting System (CBS). He was chief conductor of the CBS Symphony Orchestra from 1940 until 1951, often championing the innovative compositions of many new composers, such as Ives (whom he befriended). Always interested in the work of lesser known or unknown composers, Herrmann hosted radio programs such as his "Music of Famous Amateurs" show, in which he conducted and broadcast performances of musical compositions by famous people—royalty, artists, writers, philosophers—who were not known for their musical talents. These included philosopher Frederick Nietzche, poet John Milton, and King Henry VIII. In another program, Herrmann broadcast the amateur compositions of high school students.
While at CBS, Herrmann worked with radio-play writer Orson Welles, composing scores for broadcasts of Welles' Mercury Theater program. He collaborated with Welles on the 1938 radio adaptation of the H.G. Wells novel The War of the Worlds —a broadcast which became infamous for having been so realistic that citizens throughout the Northeastern United States panicked, fearing that Martians had actually landed on earth in a hostile invasion.
Herrmann's live musical compositions included the cantata Moby Dick, performed by the New York Philharmonic Orchestra in 1939. In 1941, Herrmann saw the live performance of a symphony he had composed. However, he was gravely disappointed that his opera Wuthering Heights was never performed during his lifetime.
Herrmann was married three times. He and his first wife, Lucille Fletcher, a writer, with whom he had two children, were married from 1939 until 1948. Their divorce was in part precipitated by the fact that Herrmann had fallen in love with his wife's cousin, Lucille Anderson, whom he married in 1949. His second divorce came in 1965. In 1967 he married the young Norma Shepherd, a journalist.
When Orson Welles, who was eventually recognized as one of the greatest film directors of all time, moved to Hollywood, he invited Herrmann to join him in working on his masterpiece first film, Citizen Kane (1940). Herrmann's role in the production was unique for that time, in that he was allowed to observe the filming of the movie, rather than merely composing the score after filming was completed. Welles actually edited one scene of the film in accordance with Herrmann's score, granting the composer a level of influence previously unheard of in Hollywood. Herrmann subsequently composed the score to Welles' next cinematic masterpiece, The Magnificent Ambersons (1942).
Herrmann's talent for film composition was early recognized when he won an Academy Award for best musical score on All That Money Can Buy (1941; British title: The Devil and Daniel Webster ). In Hollywood, however, Herrmann also quickly earned a reputation as a short-tempered, hot headed, egotistical man, prone to explosive confrontations with friends and enemies alike. His widely respected musical genius outweighing his well-known personality flaws, Herrmann worked with many of the greatest directors of the classic film era, including: Michael Curtiz ( The Egyptian, 1954); Joseph L. Mankiewicz ( The Ghost and Mrs. Muir, 1947, and Five Fingers, 1952); Nicholas Ray ( On Dangerous Ground, 1950); Raoul Walsh ( The Naked and the Dead, 1958); and Robert Wise ( The Day the Earth Stood Still, 1951), among others.
Herrmann's work in film represented a great innovation in motion picture musical composition, in contrast to such early masters as Max Steiner. He created expressive film scores that evoked the inner psychological state of the characters, rather than the conventional practice of film scoring which was literal and functional, or overblown and sentimental. As stated in the documentary film Bernard Herrmann (1992), "In the era when film music came into its own, Herrmann's work helped to shape our very idea about what music does for movies."
Herrmann, who had continued to live in New York, moved to Hollywood in 1951. His life-long ambition was to become a conductor of a live orchestra. He accepted his lot as a film music composer only after many disappointments in his efforts to compose and conduct for live musical performance. In the 1950s, Herrmann began what was to become an eleven-year long collaboration with master of suspense Alfred Hitchcock, for whom he scored eight films. His early works with Hitchcock include such successes as The Trouble with Harry (1955), The Man Who Knew Too Much (1955), and The Wrong Man (1956). Herrmann's one cameo film appearance was as a conductor of the London Symphony Orchestra at Albert Hall, in The Man Who Knew Too Much.
Herrmann's greatest film compositions, and his greatest works with Hitchcock, were Vertigo (1958), North by Northwest (1959), and Psycho (1960). The score to Vertigo is characterized by the repetitive, melodically unresolved sounds expressive of an obsessive mind. His most widely recognized score, however, is that of Psycho, about which Edward Johnson, in Bernard Herrmann (1977), observed: "For the first half of the film nothing much happens beyond a girl absconding with forty-thousand dollars—yet Herrmann's stark, jagged music, so redolent of Bartok and Stravinsky, is sufficient to grip the spectators in their seats, filling them with a nightmarish apprehension of the terror to come." In particular, the famous shower scene in Psycho, in which a woman is stabbed to death while she is taking a shower, is perhaps the most recognizable, and most widely imitated, of any piece of film music. For the score to Psycho, Herrmann used only string instruments. The short, repetitive, high-pitched bursts of sound, which accompany the rhythm of the knife stabbing repeatedly into the woman's body, call to mind the shrill shrieks of a bird in danger, birds being associated throughout the film with the killer, Norman Bates. French film director Claude Chabrol, in the documentary Bernard Herrmann (1992), said of the Psycho shower scene, "the music is like the gasps of a person who is relieving himself of an obsession."
Herrmann worked with Hitchcock as a sound consultant on The Birds (1963), which had no musical score, but utilized electronic sound effects to represent the sounds of birds. The last film they completed together was Marnie (1964). In 1966, however, one of the greatest film composers of all time and one of the greatest film directors of all time had a falling out, after which they never again spoke to one another. Hitchcock had hired Herrmann to score the music for Torn Curtain, but fired him before the job was completed, and replaced him with another composer. Hitchcock's cataclysmic decision was in part motivated by pressure from the studios to incorporate more pop music into film soundtracks, a change which the obstinate Herrmann was unwilling to make. Embittered by this experience, he did not work in Hollywood again until ten years later.
Herrmann's career included composing for television, such as the theme music for the series The Twilight Zone (1959), The Alfred Hitchcock Hour (1962), and Lost in Space (1965), as well as special broadcasts and made-for-television movies.
In the mid-1960s, his Hollywood film career waning, Herrmann traveled frequently to England, finally moving to London in 1971. During this period, he composed for many British and European films, mostly in the thriller/suspense genre, including movies produced in France, Italy, Holland, West Germany, and Yugoslavia. Francois Truffaut, the avant-garde filmmaker of French New Wave cinema, employed Herrmann to score his films Fahrenheit 451 (1966), and The Bride Wore Black (1967). Herrmann also devoted his time to recording most of his original compositions on phonograph album collections. Since his death, more than ten albums of his recorded music, primarily his original film scores, have been released.
In the 1970s, Herrmann was rediscovered by a new generation of young American directors. Brian de Palma hired him to compose scores for the horror/suspense films Sisters (1972; British title: Blood Sisters ), and Obsession (1975). He also scored the music for Larry Cohen's 1974 thriller It's Alive!
Herrmann's last film composition was for Taxi Driver (1976), directed by Martin Scorsese, one of the greatest directors of the American New Wave cinema. In the documentary Bernard Herrmann, Scorsese said of the effect of Herrmann's score on Taxi Driver (1975): "His music is like a vortex: it goes deeper and deeper and deeper. It has a feeling that it never comes to completion, and it starts all over again—just when you think it's finishing, it starts all over again. It's kind of like a whirlpool, a vortex, an emotional one, a psychological one—and it has deep psychological power."
Herrmann died of heart failure in his sleep, in New York City on December 24, 1975, just hours after completion of the sound editing for Taxi Driver, which was dedicated to his memory. At the 1977 British Academy Awards, he was posthumously granted the Anthony Asquith Award for Film Music for Taxi Driver. Scorsese paid further homage to Herrmann when he used his score from the original Cape Fear (1961) in a 1991 remake. Several films by other directors posthumously applied Herrmann's film scores to new cinematic productions.
Bruce, Graham, Bernard Herrmann: Film Music and Narrative, UMI Research Press, 1985.
Contemporary Musicians, Gale Research, 1995.
Contemporary Theatre, Film and Television, The Gale Group, 2000.
Dictionary of American Biography, Supplement 9: 1971-1975, Charles Scribner's Sons, 1994.
International Dictionary of Films and Filmmakers, Volume 4: Writers and Production Artists, St. James Press, 1996.
Johnson, Edward, Bernard Herrmann: Hollywood's Music-Dramatist, Triad Press, 1977.
Read more
Latest headlines