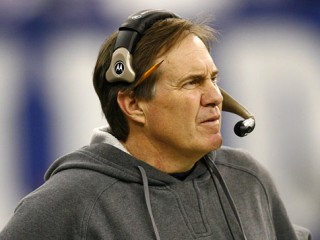 Bill Belichick biography
Date of birth : 1952-04-16
Date of death : -
Birthplace : Nashville, Tennessee
Nationality : American
Category : Sports
Last modified : 2010-11-29
Credited as : Football coach NFL, head coach for the New England Patriots, Super Bowl
Bill Belichick was born April 16, 1952 in Nashville, Tenn. and raised in Annapolis, Md. His father, Steve, played fullback for the Detroit Lions in 1941 and coached for 33 years at the Naval Academy. Bill was a standout prep athlete at Annapolis High, where he has since been inducted into the school's Hall of Fame. He attended Phillips Academy in Andover, Mass., before enrolling at Wesleyan, where he earned his bachelor's degree in economics in 1975.
Coaching History
Career Record - 153-90 (.630)
Regular Season - 138-86 (.616)
Postseason - 15-4 (.789)
Patriots Record - 116-45 (.720)
Bill Belichick
is in his 35th season as an NFL coach and is the only head coach in NFL history to win three Super Bowl championships in a four-year span. In his nine seasons as Patriots head coach, Belichick has won 116 games - which is already more than any other head coach in NFL history through his first 10 seasons with a team.
Belichick was hired by Chairman and CEO Robert Kraft on Jan. 27, 2000 and is in his 10th season as Patriots head coach. Through nine seasons, Belichick has delivered three Super Bowl championships, four conference titles, six division crowns and 14 playoff victories, while posting an overall record of 116-45. Belichick directed the Patriots to victories in Super Bowls XXXVI (2001), XXXVIII (2003) and XXXIX (2004), and in 2007 he became the first NFL head coach to guide his team to a 16-0 regular season.
Despite an NFL system designed to ensure parity, Belichick's program has produced a remarkable run of sustained success. From 2001-08, the Patriots won 75.8 percent of their regular-season games (97-31), recording the highest winning percentage of any major American professional sports team over that span. Over a 100-game stretch from 2003-08, Belichick directed the team to an 82- 18 record - the best record in any 100-game span in NFL history. Belichick has led the Patriots to a winning record (nine or more victories) in each of the last eight seasons, making the Patriots the only NFL franchise to accomplish that feat from 2001-08. For five straight seasons from 2003-07, Belichick's teams won the AFC East title and advanced in the playoffs each year, with the Patriots' five straight years of playoff advancement tying the second longest streak in NFL history.
Belichick's accomplishments have placed him among the elite coaches in NFL history. He owns a career record of 153-90 as a head coach, and his career winning percentage of .630 ranks fourth in NFL history among coaches with 150 or more wins, trailing only George Halas (.682), Don Shula (.666) and Curly Lambeau (.631). Belichick has compiled a career playoff record of 15-4, with his .789 playoff winning percentage placing second in NFL history behind Vince Lombardi (9-1, .900). Belichick's 15 career playoff wins rank fifth all-time.
Belichick's teams have relied on a versatile and deep roster, consistently overcoming injuries and setbacks while using contributions from the entire team to perform at a high level. Since 2001, New England has used an average of 40 different starters per season and set NFL records for most starters by a Super Bowl champion (42 in 2003) and most starters by a division champion (45 in 2005) in a 16-game season. In 2007, the Patriots tied an NFL record with 21 different players scoring touchdowns. In 2008, the Patriots went 11-5 despite placing a team-record 14 players on injured reserve (the 1993 Collective Bargaining Agreement established the current injured reserve rule), including quarterback Tom Brady, who suffered a seasonending injury in the first quarter of the season's first game.
Belichick's Patriots have rarely been rattled, and have been able to consistently maintain leads and bounce back following losses. Since the beginning of the 2003 season, New England is 18-1 (.947) in games following a loss, dropping back-to-back contests just once over that span. Another hallmark of Belichick's teams has been their ability to consistently succeed against top competition. The Patriots enter the 2009 season with a record of 32-13 (.711) against playoff teams since the beginning of the 2003 season.
Belichick's recent accomplishments are the latest triumphs in an NFL coaching career that began in 1975, during which he has helped produce five Super Bowl titles, seven conference championships and 13 division titles. Now in his 35th season in the NFL, he has more years of NFL experience than any of the other 31 head coaches. He won his first two Super Bowls as the defensive coordinator for the New York Giants in 1986 and again in 1990 before claiming three Super Bowl championships with the Patriots. George Seifert is the only other man to have won multiple Super Bowls as a head coach and as an assistant coach.
Once he became Patriots head coach, Belichick needed just one season to successfully implement his plan for success. In 2001, his second season in charge, the Patriots rebounded from a 5-11 record in 2000 to improve to 11-5, tying what was then the franchise regular-season record for wins. With a 20-17 victory over the Rams in Super Bowl XXXVI, the Patriots tied the franchise's then-record of 14 overall wins. In 2003 and 2004, the Patriots eclipsed those marks in each season, posting identical 14-2 records in the regular season and notching 17 total wins and a Super Bowl title in each year.
From 2003-04, Belichick directed the Patriots through the most prosperous two-year period for any team in NFL history, netting back-to-back Super Bowl victories and consecutive 17-2 campaigns. The team's 34 victories from 2003-04 mark the highest two-year win total in the NFL's 89-year history. An overall winning streak of 21 consecutive games - also unprecedented in NFL annals - spanned the two seasons. New England was undefeated at home in both 2003 and 2004, and set a franchise record by winning 21 straight home games from 2002-05.
The 2004 season saw the Patriots tie the best regularseason record by a defending Super Bowl champion (14-2). New England capped off the year with another memorable playoff run, culminating in a 24-21 victory over the Philadelphia Eagles in Super Bowl XXXIX that made Belichick just the fourth head coach in NFL history to win at least three Super Bowl titles. Only one coach (Pittsburgh's Chuck Noll, 4) has won more Super Bowls. Belichick's three Super Bowl titles tie Washington's Joe Gibbs and San Francisco's Bill Walsh for second place on the NFL's all-time list. Noll, Gibbs and Walsh are all enshrined in the Pro Football Hall of Fame.
In 2005, New England won 11 games despite being forced to use 45 different starters, an NFL record for a division champion in a 16-game season. After starting the season 4-4 and being faced with a rash of injuries, the Patriots won six of their next seven games to claim their third straight division title.
In 2006, Belichick directed the Patriots to a berth in the AFC Championship Game for the third time in four years and for the fourth time in six seasons. New England won the AFC East division for the fourth consecutive season, and set a franchise record by allowing just 14.8 points per game. The Patriots' 14 total victories tied what was then the second highest total in franchise history.
In 2007, Coach Belichick earned Associated Press NFL Coach of the Year honors as the Patriots became the fourth team in the league's 89-year history to complete an undefeated regular season and the first to achieve the feat since the NFL increased the number of regular-season games to 16 in 1978. Belichick joined Pro Football Hall of Famers George Halas and Don Shula as the only head coaches to complete undefeated regular seasons. New England's 18 overall victories in 2007 tied the 1985 Chicago Bears and the 1984 San Francisco 49ers for the most in league history. New England became the first team in NFL history and the first major American pro sports team since 1884 to open a season with 18 straight wins. The Patriots set all-time NFL records for points scored (589), touchdowns (75) and point differential (+315) in addition to numerous individual and team records.
In 2008, Belichick led the Patriots to an 11-5 record - the team's sixth straight season with 10 or more wins and its eighth consecutive year with a winning record. New England ranked among the NFL's top 10 teams in 2008 in terms of yards gained (5th), points scored (8th), fewest yards allowed (10th) and fewest points allowed (8th), marking just the fourth time the club finished in the top 10 in all of those categories since joining the NFL in 1970. At the conclusion of the regular season, the Patriots were among the league's hottest teams, winning five of their last six games and going undefeated in December (4-0).
Belichick returned to the Patriots as head coach after three seasons with the New York Jets (1997-99) as the team's assistant head coach/secondary coach, holding the responsibility of calling the team's defensive plays. In 1998, the Jets surrendered just 266 points, propelling the team to a division title. After finishing the regular season with a franchise-best 12-4 overall record, the Jets advanced to the AFC Championship game. In his first season with the Jets in 1997, his defense surrendered just 287 points, an average of 17.9 points per game, marking a significant 10.5-point improvement per game from 1996.
Patriots fans witnessed Belichick's impact on a team firsthand in 1996 when he joined the Patriots after five seasons as the head coach of the Cleveland Browns. That year, the Patriots claimed their first division title in 10 years with an 11-5 record and won their first two playoff games at Foxboro Stadium to advance to Super Bowl XXXI. The 1996 Patriots defense allowed just 19.6 points per game and forced 34 turnovers, second in the AFC. In two playoff games, the defense allowed just nine points combined, propelling the Patriots to a berth in Super Bowl XXXI against Green Bay.
Prior to joining the Patriots, Belichick spent five seasons (1991-95) rebuilding the Cleveland Browns, whose 3-13 finish the year prior to his arrival was the worst in the history of the franchise. By 1994, the Browns were again one of NFL's best teams, boasting the second-best record in the AFC. Belichick's first head coaching opportunity came following the 1990 season, when his defensive efforts with the New York Giants helped claim a second Super Bowl title in five years. At the age of 38, he became the NFL's youngest head coach. In his first season, Belichick began the rebuilding process by restoring the foundation of the aging squad he inherited. In 1991, the Browns improved to 6-10 and played in 11 games that were decided by a touchdown or less.
Following back-to-back 7-9 campaigns in 1992 and 1993, the Browns improved to 11-5 in 1994, a mark that is still tied for the second highest victory total in the 60- year history of the Browns franchise. The 1994 squad was defined by its defense, which allowed a league-low 204 points. In their return to the playoffs, the Browns defeated the Patriots, 20-13, in a first-round wild-card game on New Year's Day 1995.
The 1995 season was disrupted by the mid-season announcement that the Cleveland Browns franchise would be moved to Baltimore at the conclusion of the campaign. The announcement caused an undeniable mid-season distraction resulting in a 5-11 finish. Belichick did not accompany the franchise's move to Baltimore after the 1995 season.
Belichick began his coaching career after graduating from Wesleyan University and accepted a staff assistant position with the Baltimore Colts in 1975. At the age of 23, he was named special assistant to Head Coach Ted Marchibroda. In 1976, Belichick joined Rick Forzano's staff with the Detroit Lions and in two seasons in Detroit assisted with the special teams, tight ends and receivers. In 1978, Denver Broncos Head Coach Red Miller hired Belichick as the assistant special teams coach and assistant to defensive coordinator Joe Collier.
In 1979, Belichick joined Ray Perkins' staff with the New York Giants as a defensive assistant and special teams coach, launching a 12-year tenure with the Giants. After the 1980 campaign, he drew the added responsibility of coaching the Giants linebackers. While continuing to coach the linebackers, in 1983 his role with the defensive unit increased. He was named defensive coordinator in 1985, a position he held for the next six seasons.
During his time as the Giants' defensive signal caller, his units were never ranked lower than 11th in the NFL and finished as high as second in the league three times, including the Super Bowl seasons of 1986 and 1990. His contributions with the Giants throughout the 1980s brought him national recognition as one of the best young assistant coaches in the NFL.
Eight former assistant coaches on Coach Belichick's staffs in Cleveland or New England have gone on to become head coaches at the NFL or collegiate level. Three current NFL head coaches worked on Belichick staffs: Cleveland's Eric Mangini, Denver's Josh McDaniels and Detroit's Jim Schwartz. Additionally, five college head coaches were once hired by Belichick as assistant coaches: Notre Dame's Charlie Weis, Alabama's Nick Saban, Iowa's Kirk Ferentz, Fresno State's Pat Hill and Virginia's Al Groh.
Philanthropy
Throughout his career, Coach Belichick has participated in a wide array of charitable endeavors in New England, New York, Cleveland and beyond.
Coach Belichick has been involved in the establishment of scholarship programs in New England, Maryland and Ohio. In 2009, he supported financial aid at Wesleyan University, his alma mater, by headlining a fundraiser in Boston. Proceeds from the event were used to establish a full four-year scholarship to Wesleyan, named the Belichick Scholarship. Additionally, he has presented the Steve Belichick Award in conjunction with the Annapolis Touchdown Club. The award, presented in the name of Coach Belichick's father, a longtime Naval Academy assistant coach, honors an Annapolis resident deeply involved in sports without seeking a spotlight for their achievements. He established a scholarship in his father's memory at Struthers High School in Struthers, Ohio, aiding recipients in achieving their goal of attending college.
Coach Belichick has dedicated his time to sharing his football experience with high school coaches, many of whom are building their own coaching careers and are shaping the next generation of football players. In 2009, he addressed more than 500 Florida high school coaches at the Florida Gators Coaching Clinic. In previous years, Belichick has also addressed high school coaches at USA Football's New England Coaching Camp and has spoken with Alabama high school coaches at the Alabama Coaching Clinic. Coach Belichick was also a keynote speaker at the Frank McGuire Foundation's coaching seminar, addressing 600 New Yorkarea high school coaches.
Coach Belichick has also lent his support to numerous foundations and fundraisers. He participated in the Samsung's Four Seasons of Hope annual fundraising gala, where he introduced longtime friend Jon Bon Jovi to a list of honorees that included Joe Torre, Arnold Palmer, Magic Johnson and Boomer Esiason. The star-studded affair raised over $500,000 to aid children and families in need. He was honored by Roxbury Comprehensive Community Center (RoxComp) and presented with the "Healthy Living Award." He is also a supporter of Hall of Famer Jim Brown's Amer-ICan Foundation and has made speeches and appearances for Brown's foundation. He also supports Hannah and Friends, a foundation founded by Notre Dame Head Coach Charlie Weis to benefit individuals with special needs.
Since becoming Patriots head coach, Coach Belichick has participated in dozens of community events in New England, including the March of Dimes Walk America, the Rodman Ride for Kids, RoxComp's Reading is the Best Medicine Program and the Mayor's Cup Regatta on the Charles River to benefit AccesSportAmerica, a charity dedicated to the fitness of children and adults with disabilities. He has also supported the Pawtucket Police Athletic League and has participated in several events benefiting the Lazarus House, a non-profit charity serving the homeless of Merrimack Valley.
While in Cleveland, the Belichick family launched a charitable foundation benefitting the Zelma George Home, a shelter for homeless women and children. The Belichicks also established an annual scholarship awarded to an Annapolis High School senior for academic and athletic achievement.
Playing
Belichick lettered in football, lacrosse and squash while attending college at Wesleyan University in Middletown, Conn. He earned three letters in football while competing at center and tight end. As a senior, he was named captain of his lacrosse team. He was inducted into the Wesleyan University Athletics Hall of Fame as part of its inaugural class in 2008.
Academics
Coach Belichick has received prestigious awards from two alma maters: Wesleyan University and Phillips Academy in Andover, Mass. At Wesleyan's commencement in 2002, Coach Belichick received the prestigious Baldwin Medal, awarded annually by the Wesleyan University Alumni Association. It recognizes outstanding contributions to public interest and to Wesleyan. In 2005, he received a Doctor of Humane Letters degree from Wesleyan. He was inducted into the Wesleyan University Athletic Hall of Fame in 2008. He is proud to remain close to his Phillips Academy roots, where he was bestowed the Distinguished Alumni Award in 1987 and the Distinguished Service Award in 2008. He was also honored at Phillips Academy when the school declared a day in his honor in 2002.
Coach Belichick makes several annual offseason visits to local schools to speak to students. Speaking engagements included visits to Southern Connecticut State University, Boston College, Wesleyan, Brown University, Salem State College, Phillips Andover Academy and a panel discussion on sports at the Fenn School's Alumni Dinner. He was a guest speaker at the 2006 NCAA Lacrosse All-American banquet held at the Final Four in Philadelphia and at the 2008 NCAA Lacrosse Championship Banquet at Gillette Stadium. In 2004, he received honorary doctorates at Boston University and the New England Institute of Technology, where he also delivered the commencement address to over 900 graduates. In 2008, he addressed a group of 100 Foxborough-area middle school students and hosted them at a screening of the movie "The Express."
Extra Points
* Bill Belichick spent 20 years as an assistant coach in the NFL and this is his 15th season as a head coach. According to the Elias Sports Bureau he is the only man in NFL history to serve 20 or more seasons as an assistant coach and at least 15 seasons as a head coach.
* Belichick's Patriots teams own the all-time NFL records for consecutive total victories (21 from 2003-04), consecutive regular-season victories (21 from 2006-08) and consecutive playoff victories (10 from 2001-05).
* Coach Belichick's career winning percentage of .630 (153-90) ranks fourth all-time among head coaches with 150 or more wins, trailing only Hall of Famers George Halas (.682), Don Shula (.666) and Curly Lambeau (.631).
* In 2007, Coach Belichick led the Patriots to the NFL's first 16-0 regular season and joined Halas and Shula as the only coaches in NFL history to direct their teams to an undefeated regular season.
* Coach Belichick is the only head coach in NFL history to win three Super Bowls in four years (2001-04).
* With 35 years of NFL coaching experience, Coach Belichick is the longest tenured among active NFL head coaches.
* Since he was first named a defensive coordinator in 1985, Coach Belichick's teams have allowed an average of fewer than 20 points per game 20 times in 24 years.
* Eight former assistants on Coach Belichick's staffs are head coaches in the NFL or college in 2009. Five of Coach Belichick's former assistants are NFL general managers in 2009.
The Belichick Library
Coach Belichick is an avid collector of football-related books, and along with his late father, Steve, amassed a library of more than 800 volumes. The library is believed to be one of the largest collection of football books in the world, behind the Pro Football Hall of Fame and the Library of Congress. In 2006, Coach Belichick moved his entire library to the Naval Academy, where his father coached for 33 years. The books are housed in a display at Ricketts Hall in Annapolis for future generations of football players, coaches and fans to enjoy.
Education of a Coach
In 2005, legendary author and historian David Halberstam wrote The Education of a Coach, a book which chronicled Bill Belichick's life and career in football.
Read more
Latest headlines