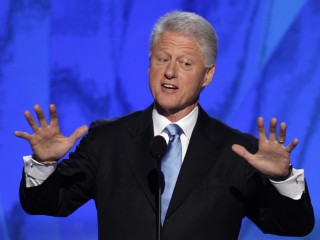 Bill Clinton biography
Date of birth : 1946-08-19
Date of death : -
Birthplace : Hope, Arkansas, U.S.
Nationality : American
Category : Politics
Last modified : 2011-10-17
Credited as : 42nd President of the U.S., Monica Lewinsky, William J. Clinton Foundation
William Jefferson Clinton was born in Hope, Arkansas, a small town with a population of about 8,000. His father, William Jefferson Blythe, died in a car crash several months before Clinton was born, leaving him in the care of his mother, Virginia Cassidy Blythe. In order to provide for her son, Virginia moved to New Orleans, Louisiana, to complete two years of nursing school, while Clinton stayed with his grandparents, Eldridge and Edith Cassidy. Clinton's grandparents were strict disciplinarians who instilled in him the importance of a good education.
Bill Clinton attended Hot Springs High School, a segregated all-white school where he was a stellar student and a star member of the jazz band. The principal of Hot Springs High School, Johnnie Mae Mackey, placed a special emphasis on producing students devoted to public service, and she developed a strong bond with the smart and politically inclined Clinton. In June 1963, as a 17-year-old high school junior, he attended Arkansas Boys State, where he was elected the Arkansas representative to the American Legion's Boys Nation, earning him an invitation to meet President John F. Kennedy at the White House Rose Garden. A photograph of the young Bill Clinton shaking hands with President Kennedy has become an iconic image symbolizing a passing of the baton between generations of modern Democratic leadership. On the same trip, Clinton met another of his political heroes, Chairman of the Senate Foreign Relations Committee J. William Fulbright.
Upon graduating from high school in 1964, Clinton attended Georgetown University to study international affairs. He immediately thrust himself into university politics, serving as the president of his freshman and sophomore classes. However, Clinton lost the election for student body president during his junior year, most likely because his classmates found him "too political."
After graduating from Georgetown in 1968, Clinton won a highly prestigious Rhodes Scholarship to study for two years at Oxford University.
Clinton avoided military service by enrolling in the ROTC program at the University of Arkansas Law School, but instead of attending law school that fall, he instead returned to Oxford. Apparently feeling guilty about his decision to avoid the draft, Clinton resubmitted his name to the draft board, but he received a high enough lottery number to assure that he would not have to serve in Vietnam.
Upon the completion of his Rhodes Scholarship, Clinton entered Yale Law School, where he met a bright young woman named Hillary Rodham, who shared his political ambitions. The pair graduated from Yale in 1973 and married two years later in 1975. They had their only child, a daughter named Chelsea Clinton, in 1980. After graduating from Yale, the Clintons moved to Arkansas, where Bill began teaching at the University of Arkansas at Fayetteville Law School and immediately thrust himself into politics. In 1974, he challenged Republican incumbent John Paul Hammerschmidt for his seat in the U.S. House of Representatives. Clinton lost the race, but it was much closer than anyone had expected and the race marked him as a rising political star of the Arkansas Democratic Party. Two years later, Clinton was elected state attorney general, and then in 1978, at the age of 32, he easily defeated Republican Lynn Lowe to become one of the youngest governors in American history.
Working closely with his wife Hillary, Clinton set out on an ambitious agenda to reform the state's education and health care systems. However, hampered by his youth and political inexperience, Clinton made several big blunders as governor. He poorly handled riots by Cuban refugees interned at Fort Chaffee and instituted a highly unpopular fee hike on auto licenses. At the time, Arkansas governors served only two-year terms, and at the conclusion of Clinton's first term in 1980 a little-known Republican challenger named Frank White shockingly knocked him out of office. Although the loss devastated Clinton, he refused to let it put an end to his promising political career. After working for two years at a Little Rock law firm, in 1982 Clinton once again sought out the governorship. Freely admitting his past mistakes and beseeching voters to give him a second chance, Clinton swept back into office. This time Clinton would hold onto the job for four consecutive terms.
As governor, Clinton took a centrist approach, championing a mix of traditionally liberal and conservative causes. Appointing Hillary Clinton to head a committee on education reform, he instituted more rigorous educational standards and established competence tests for teachers. Clinton also championed affirmative action, appointing record numbers of blacks to key government positions. At the same time, Clinton favored the death penalty and put in place welfare reforms designed to put recipients back to work. Also noteworthy was Clinton's tactic of running the government like a political campaign, constantly consulting public opinion polls and pitching polices to the people through carefully orchestrated advertising campaigns.
By the late 1980s, Clinton also sought to increase his own national visibility. From 1986-1987, he served as the chairman of the National Governors Association, and in the early 1990s he became actively involved in the Democratic Leadership Council, a group of moderate Democrats seeking to move the party in a centrist direction. However, at the 1988 Democratic National Convention, Clinton squandered an opportunity to announce himself as an obvious future presidential candidate when he delivered an excruciatingly long and boring nomination speech for Michael Dukakis. In a skillful bit of political damage control, Clinton quickly made fun of his disastrous speech on The Tonight Show.
In 1992, Bill Clinton easily defeated his competitors in the Democratic primaries to become the party's nominee for the presidency, choosing Tennessee Senator Al Gore as his vice presidential running mate. The Republican incumbent George H.W. Bush was vulnerable in the election of 1992 because he had broken his celebrated campaign promise not to raise taxes and, especially, because the national economy was mired in recession. Although Clinton's campaign was troubled by accusations of draft dodging and rumors of marital infidelity, he campaigned effectively by harping on economic issues. His political strategist James Carville posted a sign at Clinton campaign headquarters that pithily captured his message: "It's the economy, stupid." Clinton was also aided by the surprisingly successful third-party campaign of billionaire Ross Perot, who siphoned off a significant portion of the Republican vote from President Bush. On November 3, 1992, Bill Clinton was elected the 42nd President of the United States of America.
President Clinton again embraced centrist policies and rhetoric to restore his popularity in advance of the 1996 election. In 1994, he signed the Violent Crime Control and Law Enforcement Act, a law that added 100,000 policemen and instituted harsher punishments for a variety of crimes, and in 1996 he signed a law increasing the national minimum wage. Despite the fact that a one-term presidency seemed a foregone conclusion two years earlier, in 1996 Clinton handily defeated Republican challenger Bob Dole to secure a second term in office.
Clinton's greatest accomplishment as president was leading the nation to a period of strong economic prosperity.Clinton's foreign policy achievements included presiding over the 1993 signing of the Oslo Accords between Israel and the Palestine Liberation Organization, at which the famous handshake between Yitzhak Rabin and Yasser Arafat occurred, stabilizing war-torn Bosnia through the Dayton Peace Accords and helping to end Serbia's ethnic cleansing of Albanians in Kosovo.
Clinton's reputation also suffered from scandal in his personal life. His second term in the White House was dominated by the Monica Lewinsky scandal; the president at first denied, and then later admitted, that he had sexual relations with the 22-year-old White House intern. Congress appointed an independent prosecutor, Kenneth Starr, to investigate the affair; he produced a very explicit report with salacious details, known as the Starr Report. In 1998, the Republican-dominated House of Representatives impeached Clinton for perjury and obstruction of justice for his actions in the Lewinsky affair, but the Senate acquitted him on all charges.
In the decade since his presidency concluded in 2001, Bill Clinton has remained active on the global stage. In 1997, he founded the William J. Clinton Foundation "with the mission to alleviate poverty, improve global health, strengthen economies and protect the environment by fostering partnerships among governments, businesses, nongovernmental organizations and private citizens." His most notable projects through the foundation include the Clinton Climate Initiative, dedicated to fostering research to combat climate change; the Clinton Global Initiative, an annual meeting of world leaders to discuss global issues; and the Clinton Foundation Haiti Fund, dedicated to rebuilding Haiti in the aftermath of its devastating 2010 earthquake. Clinton also played an active role in his wife Hillary Clinton's failed 2008 presidential bid and afterward on Barack Obama's successful presidential campaign. In 2004, Clinton wrote a bestselling autobiography entitled My Life.
The only Democrat to win more than one presidential election since Franklin Delano Roosevelt, Bill Clinton is one of the most important American political leaders of modern times. Despite facing an enormous backlash from the Monica Lewinsky scandal, he has rejuvenated his image and remains a popular political figure. Bill Clinton's presidency is still too recent to be judged by disinterested academic historians. Assessments of his successes and failures still necessarily reflect the sharp political divides of the moment, and history has yet to reveal the full consequences of many of his policies. Nevertheless, Clinton himself offered his own preliminary evaluation of his presidency in his memoirs. He wrote, "I judge my presidency primarily in terms of its impact on people's lives. That is how I kept score: all the millions of people with new jobs, new homes, and college aid; the people who left welfare for work; the families helped by the family leave law; the people living in safer neighborhoods — all those people have stories, and they're better ones now."
Read more
Latest headlines