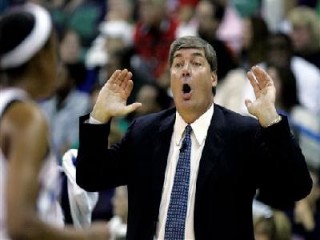 Bill Laimbeer biography
Date of birth : 1957-05-19
Date of death : -
Birthplace : Boston, Massachusetts, U.S.
Nationality : American
Category : Sports
Last modified : 2011-09-16
Credited as : former basketball player, Detroit Pistons, coach NBA
Billiam "Bill" Laimbeer, Jr.
is a retired National Basketball Association player for the Detroit Pistons. While playing center for the Detroit Pistons in the National Basketball Association (NBA) for a number of years, Bill Laimbeer was known as a dirty player who was hated, sometimes by even his own teammates. The head of the so called "Bad Boys," he did whatever he had to do to win. With the Pistons, Laimbeer won two NBA championships in 1989 and 1990. After retiring in 1993, Laimbeer ran a box manufacturing factory for several years, before returning to a front office position with the Pistons. In 2002, he was hired as a special consultant for the Detroit Shock, the Pistons' Women's National Basketball Association (WNBA) team. When the team got off to a bad start in the 2002 season, Laimbeer was hired as head coach and player personnel director, though he had no professional experience in either area. Within a season and a half, Laimbeer led the Shock to the WNBA championship.
Born in 1957, in Boston, Massachusetts, Laimbeer is the son of an executive at Owens Illinois, which was a company that made glass containers and paper products. Laimbeer was raised with his two sisters, Susan and Lee Ann, in the Chicago suburb of Clarendon Hills, where he had a privileged up-bringing. While he played basketball as a child, he did not take the pursuit particularly seriously. Laimbeer continued to play basketball in high school, even after he transferred to Paso Verdes High School when the family moved to that California city during his junior year of high school.
For college, Laimbeer entered Notre Dame where he played basketball, but he flunked out after his freshman year. To regain his eligibility, he spent two semesters at Owens Technical College in Toledo, Ohio. Laimbeer then re entered Notre Dame. He spent two years playing for Notre Dame's basketball team, though he was not a star in any sense. For his last two years of college, he averaged 7.3 points and 6.0 rebounds per game while playing 20 minutes a game, primarily as a substitute. With the Fighting Irish, Laimbeer appeared in the Final Four in the NCAA basketball tournament in 1978, and the regional finals of the same tournament in 1979.
After graduating with a degree in economics in 1979, Laimbeer did not intend to become a professional basketball player. It was just a fun job, though in many ways, Laimbeer liked the game of golf much better. After he was drafted by the Cleveland Cavaliers in the third round of the June 1979 NBA draft with the 65th pick, the team did not make him an offer. Laimbeer then signed with a professional team in Italy. Before he left the country, the Cavaliers tried to sign him, but it was already too late. He played for one season with the Italian League's Pinti Inox of Brescia. He played well, averaging 21.1 points and 12.5 rebounds per game.
When Laimbeer returned to the United States, the 6'11" center played in the Southern California summer league. He also tried out for the United States Olympic team that was going to play at the Olympic Games in 1980. The team never went because of the United States' boycott of the Moscow, U.S.S.R. based games. Laimbeer then signed with the Cavaliers for the 1980-81 season. He had a solid rookie NBA season before the Cavaliers traded him to the Detroit Pistons in February of 1982 with Kenny Carr for Phil Hubbard, Paul Mokeski, and two draft picks.
It was while playing in Detroit that Laimbeer really learned his game, enhanced his concentration, and came into his own. With the Pistons, he successfully drew on his desire to be the best and win, but in his way. Laimbeer told Clifton Brown of the New York Times, "A lot of basketball is mental. Some people find the way I play very frustrating. They can't handle it. I throw them off their game. I'm playing to win, and I'll use all my tools both physically and mentally to win the game. Other players don't like that and I can't help that. I have to do what I do best. I call it gamesmanship."
Laimbeer had to draw on his competitive nature because he knew he was not the best player, but willing to sacrifice and use what he had to get his team to win. He had no speed and could not jump. But he had great defensive skills and ability to nail free throws, as well as good parameter and jump shots. Laimbeer would use his elbows, complain a lot, and agitate others to get his way. He also had a reputation for being a great actor on the court to get the referee's calls to go his way, a quality that did not endear him to other players. Fellow player Kevin McHale told Jack McCallum of Sports Illustrated, "I got to know Bill a little at the All Star Game. He's a really nice guy. He might even be a good guy to have on your team. But he flops. That's why players don't like him."
In 1984, Laimbeer's tough play on what was still a relatively mediocre team prompted the Pistons to sign him to a five year deal worth $3.5 million. He had already been an All Star in 1983 and 1984, and would go on to be a member of the 1985 and 1987 squads. His reputation as a dirty player and bad guy were cemented when he started several fights on the court in the mid 1980s, though he did not punch anyone until the late 1980s. Laimbeer was more than a physical player. In 1985-86, he led the NBA in rebounds, averaging 12.9 rebounds per game. His scoring also improved from 16.3 points per game in 1985 to 17.4 in 1986.
By the late 1980s, the Pistons were a much improved team. In 1988, Laimbeer and the Pistons reached the NBA finals, losing in seven games to the Los Angeles Lakers. It was at this time that the Pistons became known as the "Bad Boys," and Laimbeer did much of his team's dirty work. As the New York Times ' Brown wrote, "Laimbeer infuriates opposing players so much largely because he may be the league's most physical player. An elbow here, a shove there, a hard foul against anyone who dares to drive into the lane there are many tricks that Laimbeer uses to keep opponents off stride." When the Lakers and Pistons met again in the 1989 finals, the Pistons prevailed. Detroit won a second championship in 1990, defeating the Portland Trail Blazers four games to one. Laimbeer remained physically tough throughout his career. He played in 685 consecutive games through January of 1989, when he was suspended for one game for fighting Brad Daugherty. He did not miss one game due to injury through 1990. After the Pistons went into a decline in the early 1990s with key players in the championship teams leaving, injuries also began catching up with Laimbeer. He retired on December 1, 1993, when he had problems with his back and knees and he believed he was unable to play to the professional level he set for himself.
When Laimbeer retired, he was the Pistons' all time leader in rebounds with 9,430. Over the course of his career, he averaged 12.9 points per game and 9.7 rebounds per game. After he retired, Laimbeer retained season tickets to the Pistons and would often go to games. On February 4, 1995, Laimbeer's number was retired by the Pistons.
In 1993, Laimbeer founded his own company, Laimbeer Packaging Corp., which he owned with his father and other investors. The company made boxes in a factory in Detroit, and later added a second factory in Melvindale, Michigan, that made corrugated boxes. Laimbeer ran the company, which had 240 employees and $60 million in projected sales in 1995. He sold the Detroit plant in 2000 as he focused his company on the large box and heavy weight container manufacturing business. Laimbeer left the business entirely in October of 2001.
Laimbeer then returned to the Detroit Pistons. He was initially hired to work for the Pistons in the community relations department. He also began doing television commentary for certain Pistons games. His career took another turn a year later when he was hired to be a special consultant for the Detroit Shock, the WNBA team owned by the Pistons. The Shock played poorly under coach Greg Williams, starting the 2002 season with an 0-10 record. Williams was then fired, and Laimbeer was hired in his place, even though he had no experience except for coaching his daughter Keriann's AAU (Amateur Athletic Union) team for several years. (Laimbeer is married to Chris Skiver, with whom he also has a son, Eric.)
While some observers believed the hiring of Laimbeer was just a publicity stunt, the Shock greatly improved under him. Detroit finished the 2002 season with a 9–23 record. He also developed the team's
fundamentals like rebounding, scoring, and free throws. His work saved the team from folding or moving after the 2002 season, and changed the attitude of the players toward the game. Laimbeer had an effective touch as coach. He told Andrea Woo of Sports Illustrated, "Being out of basketball helped me become more patient and understand that not everyone thinks the same. I'm still demanding, but I get my point across by using playing time and not by getting into someone's face. I never wanted a screamer as a coach."
The Shock blossomed in 2003, going from worst to first in the league. As director of player personnel, Laimbeer traded all but two of the players he started with and drafted well, including center Ruth Riley and college rebounding expert Cheryl Ford. The players were not his only concern. Laimbeer even helped sell tickets by calling season ticket holders and personally asking for their help. Detroit's regular season record was 25-9, with home court advantage in the playoffs.
The Shock reached the WNBA finals against the Los Angeles Sparks, who were coached by Laimbeer's old NBA nemesis, Michael Cooper. After losing the series' first game to the Sparks, the Shock won the series' next two games. One game set a WNBA attendance record with 22,076 people present. For his extraordinary effort, Laimbeer was named the WNBA coach of the year in 2003.
Many were amazed at Laimbeer's ability to succeed as a coach of women, but his team liked to play for him. Ford, who was named WNBA rookie of the year, told Larry Lage of the Associated Press, "Everyone loves him to death and loves playing for him. He gives us all the confidence in the world and he doesn't beat around the bush when he has something to say. He'll tell it to you straight if you're messing up. I haven't seen the Bad Boy side of him, and I'm not ready to see it. I love him as he is."
Read more
Latest headlines