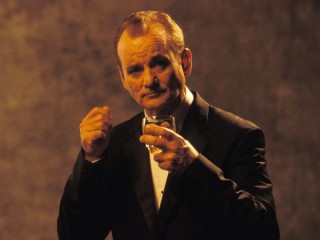 Bill Murray biography
Date of birth : 1950-09-21
Date of death : -
Birthplace : Wilmette, Illinois, United States
Nationality : American
Category : Arts and Entertainment
Last modified : 2010-06-14
Credited as : Actor and comedian, Saturday Night Live , Ghostbusters
Bill Murray
(Also known as:
William James Murray
) born September 21, 1950 in Wilmette, Illinois, United States is an American actor, writer, comedian.
He was married to Margaret Kelly, 1981 (divorced, 1994) and Jennifer Butler, July 4, 1997; children: Homer, Luke (from first marriage), Jackson, Cal, Cooper (from second marriage).
Education: Attended Regis College, Denver, CO.
Among the many Saturday Night Live (SNL) alumni to make the leap to the big screen, Bill Murray has proved to be one of the most successful. During his stint with SNL, he developed a number of memorable personae but perhaps the most enduring is that of the slightly rumpled, insincere charmer, with a masterful deadpan. With ruddy, Everyman looks, he may have seemed an unlikely candidate for big screen stardom but Murray has--in a career that has now spanned four decades, ranging from stand-up improv to serious drama--appeared in nearly 50 movies including Caddyshack, Groundhog Day, and Rushmore.
Murray was born into a large Irish-Catholic family, in 1950. The fifth of nine children, Murray grew up in a crowded household. As a boy, he was kicked out of the Boy Scouts and the Little League. Like most of his brothers, Murray worked as a caddy growing up to help pay for tuition at the Loyola Academy, an all-boys Jesuit school in Wilmette, Illinois, from which he graduated in 1968. He briefly attended Regis College in Denver, Colorado, where he took pre-med courses, but dropped out after being arrested for possession of marijuana.
Looking to change his direction, Murray moved back to Illinois where he joined his older brother, Brian Doyle-Murray, at Chicago's famed improvisational comedy troupe, Second City. There, in the company of a talented cast, Murray worked on his chops doing improv and developed some of the comic personae that would launch him onto the national stage. Murray relocated to New York, where he joined Dan Aykroyd, John Belushi, and Gilda Radner on the National Lampoon Radio Hour.
In 1975 Murray landed a slot on the short-lived ABC late-night show, The Howard Cosell Variety Hour. At the same time Lorne Michael's enduring Saturday Night Live debuted on NBC with a cast that included Murray's former colleagues Aykroyd, Belushi, and Radner, as well as Garrett Morris, Loraine Newman, and Chevy Chase. When Chase left the NBC show after its first season, Murray stepped in as his replacement. Murray remained a standout presence with the Not-Ready-For-Prime-Time Players until 1980. As most of the SNL cast had a hand in writing their own skits, Murray exercised his own writing talent and was rewarded with an Emmy for Outstanding Writing in a Comedy-Variety or Music Series in 1977.
Although Murray had lent his voice to the animated adult spoof Tarzan, Shame of the Jungle, in 1975, his big break came with his role as a summer camp counselor in 1979's Meatballs. Murray traded on the well-developed disreputable character he had perfected on SNL and helped make the film a big hit. Meatballs would be the first of several collaborations with director Ivan Reitman and established Murray as a big-screen presence.
At the end of the 1979-80 season, Murray left Saturday Night Live and embarked on his film career. He appeared in 1980's Where the Buffalo Roam, opposite Peter Boyle, portraying famed "gonzo" journalist Hunter S. Thompson. The film was a disaster at the box office but Murray soon made up for it in 1980's Caddyshack. Murray, long familiar with the links from his summer jobs as a boy, played a psychotic groundskeeper in this over-the-top farce, which also featured an appearance by his brother, Brian. Although Rodney Dangerfield and Chevy Chase received top billing, Murray's performance, and his memorable run-ins with a gopher, stole the film. Caddyshack was directed by Harold Ramis, a fellow Second City veteran, who would also enjoy a long working relationship with Murray, as both director and co-star, and would be associated with some of Murray's greatest hits. Jason Ankeny, in his review for All Movie Guide, described Caddyshack as "a masterpiece of slob comedy, with Murray memorable as a maniacal rangeboy hunting the gopher that is slowly destroying his golf course. The film launched him to the ranks of major stardom."
Murray followed up this success with 1981's Stripes, directed by Reitman, and co-starring Ramis. After being dumped by his girlfriend, Murray's character, John Winger, decides to join the army. Murray pulled out all the stops in bringing his misfit character to life, subverting all attempts at army discipline, and insuring that the film would be a great success. That same year, Murray married Margaret Kelly.
Murray next had a small part in Sidney Pollack's transvestite farce, 1982's Tootsie, reportedly ad-libbing his lines opposite star Dustin Hoffman. Murray's first child, Homer, was born in 1982 and Murray didn't appear in another film until 1984's Ghostbusters.
Directed by Reitman and co-starring Aykroyd, Ramis, and Ernie Hudson, this supernatural comedy became a monster hit. Murray and his co-stars comprise Ghostbusters, Inc., investigators of paranormal phenomena who act as modern-day exorcists. They save New York from angry demons, including, memorably, a giant Stay-Puft Marshmallow Man. Ghostbusters was the most expensive comedy filmed to date, and became a runaway success, spawning a franchise of sequels, an animated series, action figures and a hit theme song sung by Ray Parker, Jr.
In 1984, while at the peak of his popularity as a comic actor, Murray tried his hand at a serious project, adapting William Somerset Maugham's classic novel The Razor's Edge to the screen. Murray co-wrote the script along with director John Byrum and assumed the role of the soul-searching protagonist, Larry Darrell. It was an ambitious and brave move on Murray's part but neither the audience nor the critics were prepared to accept him in a dramatic role. The film failed at the box office and Murray withdrew from filmmaking for several years and in 1985 his second son, Luke, was born. Murray did, however, have in a small role in 1984's Nothing Lasts Forever as well as a cameo in the 1986 remake of Roger Corman's Little Shop of Horrors, playing a masochistic dental patient (a role played by a young Jack Nicholson in the original).
In 1988 Murray decided to end his self-imposed exile and chose the black comedy Scrooged as his comeback. A dark retelling of Charles Dickens' classic story, A Christmas Carol, this holiday release failed to do as well as expected but it had the salutary effect of putting Murray back in the limelight. Murray reprised his role as Dr. Peter Venkman in 1989's Ghostbusters II, which failed to do the business of its predecessor, then followed with 1990's Quick Change as a disaffected bank robber in a clown suit, anxious to get out of New York. Chicago Sun-Times critic Roger Ebert praised the performance, writing that, "Quick Change is a welcome film from Bill Murray, coming as it does after a career slump that produced the disappointing Ghostbusters II and the dreadful Scrooged. It has him back in the real world, which provides him with the kinds of comic possibilities he handles best."
Murray quickly returned to form, and box office success, with 1991's What About Bob?, playing an obnoxious and needy patient who invades the life of his analyst, played by Richard Dreyfuss.
Next Murray reunited with Ramis, who directed what proved to be one of their most critically praised collaborations, 1993's Groundhog Day. Murray played a television weathercaster, covering Groundhog Day festivities in Punxsutawney, Pennsylvania, who gets caught in a time warp and finds himself living the same day--February 2, 1992--over and over again.
Also in 1993, Murray appeared in the dark, low-life comedy Mad Dog and Glory, directed by John McNaughton, from a script by Richard Prince. The film starred Robert DeNiro and Uma Thurman but Murray's portrayal of a nightclub crooner/mob boss is one of the film's standout performances. Ebert credited him with a compelling performance, writing, "Murray, reining in his rapid-fire comic gift, comes across as the kind of guy who would love to be gentle and nice but was born with the wrong genes."
In 1994, Murray's 13-year marriage to Margaret dissolved. He took a small role as transsexual Bunny Breckinridge as part of Ed Wood's bizarre menagerie of misfits in Tim Burton's biopic Ed Wood. The film starred Johnny Depp in the title role and included Martin Landau in a supporting role as Bela Lugosi. Murray's role was small, but memorable, and was largely eclipsed by Landau's stellar performance as Lugosi, which earned him an Academy Award.
Murray's next appearance was in 1996's Kingpin, starring Woody Harrelson and Dennis Quaid. Murray played Ernie "Big Ern" McCracken, a sleazy bowling champion, who delivers some of the most memorable lines in this Farrelly Brothers-directed comedy. That same year, Murray also appeared as a motivational speaker in Larger than Life, and played himself in the Michael Jordan vehicle Space Jam.
In 1997 Murray appeared in The Man Who Knew Too Little, playing a clueless American who joins an audience participation game in London and then, unbeknownst to him, is mistaken for a spy and becomes involved in a real international conspiracy. He also married his longtime companion Jennifer Butler, with whom he has three children.
In 1998 Murray teamed again with McNaughton to play a part in the erotic thriller Wild Things. Murray played Kenneth Bowden, a sleazy lawyer in a neck brace who runs a storefront operation in Blue Bay, Florida. He is hired to defend star Matt Dillon's character from an unjust rape charge.
Murray next lent his talents to director Wes Anderson's sophomore effort, 1998's Rushmore, playing Herman J. Blume, a self-made millionaire and benefactor of a posh private school, who, disaffected with his family life and career, befriends 15-year-old oddball Max Fischer, a scholarship student at Rushmore Academy. Both Max and Blume fall in love with the same teacher and their friendship is tested by the love triangle. In his review of Rushmore, Ebert noted that "Blume is played by Murray with the right note to counter Max's strategies. He is, essentially, a kid himself--immature, vindictive, lovestruck, self-centered, physically awkward, but with years more experience in getting his way." This was one of Murray's best performances in years and he was voted Best Supporting Actor by the New York Film Critics Circle.
Murray was next enlisted by actor-director Tim Robbins to play a part in 1999's Cradle Will Rock. Set in the late thirties, Cradle is a dramatization of Orson Welles's efforts to stage Marc Blitzstein's musical The Cradle Will Rock for the WPA-funded Federal Theater Project. Murray played Tommy Crickshaw, a broken-down ventriloquist brought on board to teach comedy and ventriloquism to the cast. Los Angeles Times critic Kenneth Turan singled out Murray for praise, as "brilliant as always and convincingly antediluvian."
In 2000 Murray appeared as Polonius in Michael Almereyda's version of Hamlet, starring Ethan Hawke as the troubled prince. The action was updated to the present day and the kingdom transformed into the Denmark Corporation. In her review of Almereyda's Hamlet, Austin Chronicle critic Marjorie Baumgarten wrote, "Bill Murray's Polonius is so delightfully coy and self-satisfied that this performance is reason alone to see the picture."
Murray also took on the role of Bosley in the 2000's big screen translation of the '70s television hit, Charlie's Angels, which co-starred Cameron Diaz, Drew Barrymore, and Lucy Liu. While the film didn't much excite the critics, it did well at the box office and is most likely the beginning of a franchise. In a generally favorable review Washington Post writer Desson Howe wrote, "If there's disappointment, it has to do with the men. Although Murray is often very funny as the Angels's fussy, butler-esque helper, it's only because Murray's funnier than the role written for him."
Murray reteamed with the Farrellys in 2001's Osmosis Jones, a mix of live action and animation in which he played Frank, a zoo worker who suffers from food poisoning. Most of the action takes place within Frank's body, known as the City of Frank, where Osmosis Jones, a white blood cell cop voiced by Chris Rock, does battle against the viral invaders. Murray also appeared in Wes Anderson's The Royal Tenenbaums, starring Gene Hackman. Murray took a small role as Raleigh St. Clair, forlorn analyst and husband of the much younger Margot Tenenbaum, played by Gwyneth Paltrow. It was a further demonstration of Murray's willingness to blend in with an ensemble cast.
Well past the quarter-century mark, Murray's career shows no signs of slowing down. He won a Golden Globe award in 2004 for best actor in a musical or comedy for Lost in Translation. He starred in The Life Aquatic With Steve Zissou and Broken Flowers in 2004 and 2005, respectively, and was the voice of Garfield, the cartoon cat, in namesake movies in 2004 and 2006. He has stretched his talent in a variety of roles and his body of work demonstrates a commitment and seriousness of purpose of which anyone should be proud.
AWARDS
Emmy Award for outstanding writing in a comedy-variety or music series, Academy for Television Arts and Sciences, for Saturday Night Live, 1977; Star of the Year Award, National Association of Theatre Owners, 1984; Los Angeles Film Critics Association Award for best supporting actor, for Rushmore and Wild Things, 1998; National Society of Film Critics Award for best supporting actor for Rushmore, 1998; Golden Satellite for best supporting actor in a motion picture (musical or comedy) for Rushmore, 1998; Golden Globe award for best actor in a musical or comedy for Lost in Translation.
CAREER
Actor in films,
including: Next Stop Greenwich Village, 1976; Meatballs, 1979; Mr. Mike's Mondo Video, 1979; Where the Buffalo Roam, 1980; Caddyshack, 1980; Loose Shoes, 1980; Stripes, 1981; Tootsie, 1982; Ghostbusters, 1984; The Razor's Edge, 1984; Nothing Lasts Forever, 1984; Little Shop of Horrors, 1986; Scrooged, 1988; She's Having a Baby, 1988; Ghostbusters II, 1989; Quick Change, 1990; What About Bob?, 1991; Groundhog Day, 1993; Mad Dog and Glory, 1993; Ed Wood, 1994; Kingpin, 1996; Larger Than Life, 1996; Space Jam, 1996; The Man Who Knew Too Little, 1997; Wild Things, 1998; With Friends Like These, 1998; Rushmore, 1998; Cradle Will Rock, 1999; Scout's Honor, 1999; Hamlet, 2000; Michael Jordan to the Max, 2000; Charlie's Angels, 2000; Osmosis Jones, 2001; The Royal Tenenbaums, 2001; Speaking of Sex, 2001; The Royal Tenenbaums, 2001; Lost in Translation, 2003; Coffee and Cigarettes, 2003; The Life Aquatic with Steve Zissou, 2004; Broken Flowers, 2005; The Lost City, 2005.
Television appearances
include: National Lampoon Radio Hour; The Howard Cosell Variety Hour, 1975; Saturday Night Live, 1977-80; The Rutles, 1978; Bill Murray Live from Second City, 1980; Stories from My Childhood, 1998.
Provided voice for animated feature
: Tarzan, Shame of the Jungle, 1975; Garfield, 2004; and Garfield, a Tail of Two Kitties, 2006.
Read more
Latest headlines