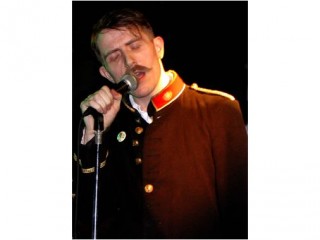 Billy Childish biography
Date of birth : 1959-12-01
Date of death : -
Birthplace : Chatham, Kent, England
Nationality : English
Category : Arts and Entertainment
Last modified : 2011-11-03
Credited as : Singer, Thee Headcoats, Mudhoney
Billy Childish is an English artist, painter, author, poet, photographer, film maker, singer and guitarist.
Although an admitted commercial and critical failure, British musician, writer, and artist Billy Childish has become one of the most prolific performers in rock history. In fact, a complete discography of his solo work and projects as a member of his various bands would take up countless pages. As of late 1999, he had released between 100 to 150 albums as a solo artist and as a member of bands such as Thee Headcoats, and also worked with and produced records for bands such as Mudhoney and the New Bomb Turks. A singer, songwriter, artist, poet, critic, fanzine editor, and guitarist who suffers from severe dyslexia, Childish, it would seem, gets little rest. However, many have never heard of Childish, listened to his songs, viewed his estimated 1,800 paintings, or read his excess of 40 books of verse and two novels that spanned his long, uninterrupted career. A cherished underground musician, Childish has remained obscure to the mainstream. Nevertheless, Childish started recording in 1979, playing a rough, punk-inspired form of music commonly called garage rock for its lo-fi production techniques. Although his music varied in substance and coherency over the years, the consistent element of Childish's work was that it always sounded as though it was recorded and mixed in about an hour. "When we record, I take the song along and teach the others, and then we do one take," he explained to Jim Sullivan in a 1996 interview with San Francisco Weekly. "A lot of it we can't play live, because I don't know the words. We know it for about three minutes, when we record it."
Thus, Childish values immediacy and intensity over technicalities, and he often seems in a hurry to move on to the next song, as well as the next band. Considered a primitive talent because of his learning disability and lack of a completed formal education, Childish made music based on pure emotion and even revealed that he never learned to play guitar properly. But despite such setbacks, Childish remained unfailingly sure of himself and his vision, and even his worst critics declared that his music was as honest and direct as one was ever likely to hear. For this reason, Childish became a cult hero for many across Europe, the United States, and Japan. And while critics called Childish everything from a mad genius to a goofball, his followers insisted that he was one of the most under-appreciated musicians of his generation. Childish has also inspired a younger generation of musicians; some of his most loyal supporters included the late Kurt Cobain, Beck, Jon Spencer, and Graham Coxon of Blur. Years after releasing his first single, the Sex Pistols-inspired "Fun in the U.K.," Childish continued to produce material at an amazing rate, epitomizing the endurance and determination of the archetypal rock outsider.
Art, as well as a love for music, came to Childish early in life. He loved to paint from as far back as he could remember, and enjoyed listening to the Beatles and the Rolling Stones. When Childish reached his teens, he discovered punk music and became a fan of the Sex Pistols, the Kinks, and the Clash. Around the same time, the young artist also started listening to blues and rock music; some of his favorite performers included Bo Diddley and Jimi Hendrix.
Lacking the necessary skills and determination to excel at school, Childish dropped out at age 16, and at age 17, took a job working in the local dockyard. However, making a living as a laborer only lasted for a short time. "I decided I didn't want to do it," he recalled to Sullivan. "I've always been a bit single-minded about that." In 1977, Childish won acceptance into St. Martins College of Art after submitting 600 of his own drawings, but only lasted in the program half a term. Around the same time, Childish was drawn more and more to the British punk scene. According to Childish, taking on an alias was meant as a tribute to punk's earlier days. "We used to go to the shows up in London," he recalled. "I started writing a punk fanzine. Everyone seemed to have a weird and wonderful name, so I wanted one. I was called Gus Claudius, and a friend said, `you're not Gus Claudius, you're Billy Childish.'"
Like many unemployed British artists and musicians, Childish spent much of his life living on government handouts and admitted to neglecting to pay taxes for his art-related income, known as "working on the black" in England, because his earnings were usually so meager. Not until the mid- to late-1990s did he start earning any mentionable income, primarily from his paintings. Childish arrived on the punk scene in 1979 with his first band, the Pop Rivets, an enthusiastic mod-punk combo that recorded three self-produced studio albums. At first, Childish provided just vocals and finally learned to play guitar at about 20 years of age. By 1982, the band had mutated into the Milkshakes (also known as Thee Milkshakes and originally Mickey and the Milkshakes). A more competent band than the Pop Rivets, the Milkshakes played energetic garage rock infused with the spirit of Bo Diddley and the early Kinks. Although not so impressive as their inspirations, the Milkshakes fascinated many by the amount of work they produced. For example, in 1984, the band's most productive year, the Milkshakes released at least seven albums, and four of those recordings came out on the same day.
Meanwhile, Childish, by now playing guitar as well as singing, and Milkshakes partner Mickey Hampshire served behind-the-scenes with their sister group, the Delmonas, who originally convened as the backing singers for the Milkshakes but ended up releasing several records of their own. Around the mid-1980s, Childish retired the Milkshakes and started a similar sounding band called Thee Mighty Caesars. His new band's original lineup consisted of the Milkshake rhythm section, and like their predecessors, Thee Mighty Caesars enjoyed a prolific output. Childish released most of their records on his own imprint label, Hangman. He also used the publishing arm of the label to begin issuing dozens upon dozens of volumes of his poetry. Also during Thee Mighty Caesars years, Childish started producing solo and side projects at an astounding rate under various assumed names and with other musicians. A small portion of his earlier work, which brought forth the singer's blues side, included I've Got Everything Indeed, i remember, and The 1982 Cassettes, all released in 1987. The year 1988's Poems of Laughter and Violence was a spoken-word, ambient project, while 1990's 50 Albums Great was a retrospective collection of solo versions of songs from previous releases.
In 1989, Childish established a new vehicle for his punk and rock impulses with Thee Headcoats, a trio formed with drummer and backing vocalist Bruce Brand, who also performed with the Pop Rivets, the Milkshakes, and Thee Mighty Caesars. Johnny "Tub" Johnson, who replaced original member Ollie Dolat, joined the lineup on bass and backing vocals. Considered the most successful and accessible of Childish's undertakings, Thee Headcoats continued the singer's propensity for releasing massive amounts of work. Some of the group's more recognized albums included 1993's Beached Earls CD, which combined the Beach Bums Must Die and The Earls of Suavedom vinyl-only albums, both released in 1990, and emphasized the band's 1960s lo-fi garage tendencies; Heavens to Murgatroyd, released in 1990, and Headcoatitude, released in 1991, offered both rhythm and blues as well as pop songs; and Bo in Thee Garage, released in 1991, was a careless, yet compelling, Bo Diddley tribute. The band also recorded numerous live albums, including Live! At the Wild Western Room and The Sound of the Baskervilles, released in 1994 and 1995 respectively. These recordings were made with Thee Headcoats' all-female counterparts, Thee Headcoatees (which included members of the Delmonas), whose own albums were largely written and produced by Childish. Some of the musician's other diversions around this time included the Black Hands, a band which featured Childish's leftist sentiments deceptively set to an upbeat accordion, banjo, and trumpet, as well as the Singing Loins and the Natural Born Lovers.
By 1999, Thee Headcoats broke up after Johnson left the band. In that year alone, the band had released ten albums, including In Tweed We Trust and Knights of the Baskervilles, and Childish started tentative arrangements for two new bands, the Buff Medways and Swedish Erotica. Childish has also published two novels: Notebooks of a Naked Youth and My Fault. As of late 1999, the artist/musician had also published 40 collections of poetry and had released an estimated 100 to 150 albums as a solo performer and with his various bands. He also helped an artist society called Stuckism, an anti-conceptual art movement. Because of Childish's lengthy discography and his insistence of making all his recordings available to his public, album reviewers recommend the following as an introduction to the songwriter's work: the two-CD sampler I Am the Billy Childish, released in 1991, features 50 tracks, each from a different Childish project, and the 18-track Native American Sampler, a benefit project for the tribal rights organization Survival International released in 1993, collects previously released cuts from Childish-affiliated bands.
In 2000 he formed Wild Billy Childish & The Friends of the Buff Medways Fanciers Association (2000–2006), named after a type of poultry bred in his home town. The Buffs, as they were sometimes affectionately known, split in 2006, and Wild Billy Childish & the Musicians of the British Empire were born, recording a song about one of Billy's heroes George Mallory titled "Bottomless Pit." In early 2007, Billy formed The Vermin Poets with former Fire Dept singer and guitarist Neil Palmer and A-Lines guitarist and singer Julie Hamper, his wife. Thee Headcoats began their monthly residency at the Wild Western Room in the St John's Tavern, north London, in the early 1990s, and continued after moving to the Dirty Water Club in 1996.
The Musicians of the British Empire (MBEs) played at the venue more or less once a month until feb 2011. Childish has not played live since then.
Selected discography
Billy Childish:
-The 1982 Cassettes , Hangman, 1987.
-i remember , Hangman, 1987.
-I've Got Everything Indeed , Hangman, 1987.
-(With the Black Hands) Captain Calypso's Hoodoo Party , Hangman, 1988.
-Poems of Laughter and Violence , Hangman, 1988.
-50 Great Albums , Hangman, 1990.
-I Am the Billy Childish , Sub Pop, 1991.
-(With the Black Hands) The Original Chatham Jack , Sub Pop, 1992.
-The Sudden Fart of Laughter , Dog Meat, 1992.
-(With the Singing Loins) At the Bridge , Hangman, 1993.
-Hunger at the Moon , Sympathy for the Record Industry, 1993.
-(With the Black Hands) Live in the Netherlands , Hangman, 1993.
-Native American Sampler--A History 1983-1993 , Sub Pop, 1993.
-Made With a Passion , Sympathy for the Record Industry, 1996.
-Devil in the Flesh , Sympathy for the Record Industry, 1998.
-Cheeky Cheese , Damaged Goods, 1999.
-Crimes Against Music: 1986-99 , Sympathy for the Record Industry, 1999.
-In Blood , Wabana, 1999.
Thee Headcoats:
-Headcoats Down! , Hangman, 1989.
-The Earls of Suavedom , Crypt, 1990.
-The Kids Are All Square--This Is Hip! , Hangman, 1990.
-Beach Bums Must Die , Crypt, 1990.
-Heavens to Murgatroyd , Already, 1990,
-Even! It's Thee Headcoats , Sub Pop, 1990.
-Headcoatitude , Shakin Street, 1991; reissued, Get Hip, 1993.
-Bo in Thee Garage , Hangman, 1991; reissued, Get Hip, 1993.
-Beached Earls , Crypt, 1993.
-The Good Times Are Killing Me , Japan, 1993.
-(With Thee Headcoatees) The Kids Are All Square/Girlsville , Damaged Goods, 1993.
-(With Thee Headcoatees) Live! At the Wild Western Room , Damaged Goods, 1994.
-Conundum , Hangman's Daughter, 1994.
-(With Thee Headcoatees) The Sound of the Baskervilles , Overground, 1995.
-In Tweed We Trust , 1999.
-Knights of the Baskervilles , 1999.
Read more
Latest headlines