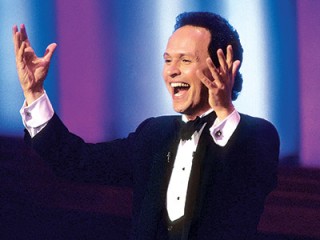 Billy Crystal biography
Date of birth : 1948-03-14
Date of death : -
Birthplace : New York City, New York, U.S.
Nationality : American
Category : Arts and Entertainment
Last modified : 2011-09-05
Credited as : actor, film producer, Emmy Awards
With a "shtick" that harkened back to a bygone era, renaissance man
Billy Crystal
would rightfully earn his place as one of Hollywood's most endearing stars over the course of his career. Comedian-actor-writer-director-producer-emcee, and yes, even major league ball player, were all hats the perpetually peppy entertainer wore at one time or another. Cutting his comedic teeth as a young boy while he and his older brothers learned to "work the room" performing for family at home in New York, Crystal would be prowling the comedy clubs of the city by his late teens. He made a name for himself on television, most notably as a mid-1980s cast member of "Saturday Night Live" (NBC, 1975- ) and with two HBO comedy specials, but it was in film favorites like "When Harry Met Sally" (1989) and "City Slickers" (1991) where Crystal solidified his status as a full-fledged movie star. As a frequent host of the Annual Academy Awards, Crystal also found himself regarded as arguably the best emcee the ceremony had ever had. In addition to onscreen efforts such as "Analyze This" (1999), Crystal would lend his vocal talents to the Disney/Pixar mega-hit "Monsters, Inc." (2001). In 2004, Crystal mounted a one-man show on Broadway, dedicated to the memory of his late father, and in 2008 even realized his childhood dream of playing a game as a New York Yankee. As either a performer or a personality, Crystal remained one of the most versatile, prolific and beloved figures in entertainment.
William "Billy" Crystal
was born March 14, 1948 in the community of Long Beach, NY to his mother, Helen, and father, Jack, a local jazz promoter and recording executive. From an early age, Crystal was surrounded by performers and musicians in a creative hothouse environment which would greatly influence him in the years to come. After graduating from Long Beach High School, Crystal left for West Virginia's Marshall University on a baseball scholarship, but left after his freshman year when the program was suspended. Returning to New York, Crystal attended Nassau Community College, where he entered the theater program. Later, while earning his BFA in film & television direction from New York University, Crystal would study under Martin Scorsese. Honing his skills as a stand-up comic - a vocation he began while still in high school - Crystal frequented New York City comedy clubs like The Improv, and in 1975 was even scheduled to appear on the series premier of "Saturday Night Live" until his act was scratched at the last minute. Two years later Crystal would make his television acting debut in the star-studded disaster movie "SST - Death Flight" (1977), but it was on a groundbreaking new series that same year where Crystal would receive his big break.
"Soap" (ABC, 1977-1981), a lampoon of daytime serials, pushed several cultural buttons of the era, but none more-so than Crystal's portrayal of the openly gay character, Jodie Dallas, a television first. During a hiatus from "Soap," Crystal took on another pioneering role in his feature film debut as the world's first pregnant man in the ill-advised Joan Rivers-directed comedy, "Rabbit Test" (1978). After "Soap" ended Crystal hosted a short-lived comedy-variety series, "The Billy Crystal Comedy Hour" (NBC, 1981-82). Although seen only briefly in Rob Reiner's mockumentary classic "This is Spinal Tap" (1984), Crystal's hilarious turn as a moonlighting mime would mark the first of many collaborations with the director. That same year, the comedic actor made his triumphant return to "Saturday Night Live" - this time as a member of the cast. He would only remain with the show for a single season, but recurring characters such as Fernando and his catchphrase, "You look mahvelous!" would quickly become part of the pop-culture zeitgeist. Around this time, Crystal began a long and fruitful relationship with HBO, commencing with his one-man special, "A Comic's Line" (1984). The comedic actor soon followed this success with "Billy Crystal - Don't Get Me Started" (1986), and the first "Comic Relief" (1986) co-hosted with Robin Williams and Whoopi Goldberg, a recurring philanthropic project the trio would remain committed to for years to come.
Eventually, Crystal had another chance to headline a feature film; this time co-starring with Gregory Hines in the action-comedy "Running Scared" (1986) that was moderately successful. He made another brief, but memorable cameo in his second teaming with Rob Reiner, starring as the reluctant wizard Miracle Max opposite Carol Kane in 1987's beloved fairy tale, "Princess Bride." Right on its heels came the black comedy "Throw Momma from the Train" (1987), starring Crystal and Danny DeVito. The film marked DeVito's directorial debut and helped solidify Crystal's standing as a lead actor, as well as making a minor celebrity of veteran character actress and co-star, Anne Ramsey. Building on that momentum, Crystal wrote and starred in "Memories of Me" (1988), a bittersweet paean to father/son relationships. Although heartfelt, the schmaltzy dramedy failed to impress critics or attract audiences. Crystal would rebound quickly, though, when he broke out as a full-fledged star and believable romantic lead in the endearing classic, "When Harry Met Sally" (1989). Co-starring Meg Ryan, the film traced the circuitous path from enduring friendship to true love for a pair of emotionally conflicted New York urbanites. This would be Crystal's and Reiner's third and most lucrative, collaboration, with Ryan's hilarious fake orgasm/ diner scene becoming one of the year's most sensational cinematic moments.
During this period, Crystal was also making a name for himself in a different arena - that of the awards ceremony stage. He had already hosted the Grammys for two consecutive years (1987-88), and in 1990, hosted the Academy Awards for the first time. Exuberant and affable as always, Crystal was right at home steering the festivities and singing hilarious homages to Best Picture nominees. His opening musical number, would in fact, become one of the more anticipated moments of the show. So adept was he at entertaining the stars in house and audiences around the world, he proved to be - save for Bob Hope years earlier - the most popular Oscar emcee, hosting the program no fewer than eight times. Crystal would win several Emmys for his hosting over the years. Back on the big screen, with "City Slickers" (1991) Crystal would have his biggest hit up then to-date. In this coming of middle-age comedy, Crystal played Mitch Robbins, an ad-exec in the throes of a mid-life crisis who attempts to regain his lust for life on a cattle drive with his best friends. Not only did the film strike a chord with baby boomers across the country, it also brought veteran tough guy actor, Jack Palance, to the attention of a whole new generation. "City Slickers" would also have the distinction of being the first teaming of Crystal with the crackerjack comedy writing duo of Lowell Ganz and Babaloo Mandel. Like Rob Reiner before them, the writing team would partner with Crystal many more times during the course of their respective careers. While working on "Mr. Saturday Night" (1992), Crystal would share both screenwriting and producing duties with Ganz and Mandel, in addition to making his directorial debut. Intended to be a tour-de-force for the actor, it proved to be a crushing disappointment, disappearing from theaters shortly after its release. Starring as Buddy Young, Jr., a borsch-belt comedian character he had originated on "A Comic's Line," Crystal paid homage to the old school Vegas-style entertainers he so revered, but reviews were mixed and the film never found an audience. He bounced back nicely, however, with the sequel "City Slickers II: The Legend of Curly's Gold" (1994), which he starred in, co-wrote and produced. The rollercoaster ride continued with 1995's "Forget Paris," Crystal's second directorial effort, which he also co-wrote. The romantic comedy, co-starring Debra Winger in a rare appearance at that time in her career, was forgotten almost immediately upon release. "Father's Day" (1997), partnering Crystal with "Comic Relief" cohort Robin Williams as polar opposites who each think they might be the biological dad of a young runaway, fared no better. "My Giant" (1998), the comedy starring Crystal as a down-on-his-luck Hollywood agent who thinks a gargantuan Romanian monk is his ticket a back to the big time, also hit theaters with a resounding thud.
Despite these earlier disappointments, Crystal managed to close out the decade on a high note with the Harold Ramis-directed comedy, "Analyze This" (1999). Sharing top billing with film icon Robert De Niro, Crystal played a psychiatrist coerced into helping De Niro's mob boss cope with chronic anxiety attacks. The movie was popular enough to merit a sequel, "Analyze That" (2002), with both actors reprising their roles, although with less than stellar results. Turning his attention back to his first love of baseball, Crystal took the director's chair again for the HBO film "61*" (2001), chronicling Yankee teammates Mickey Mantle and Roger Maris' competition to crack Babe Ruth's single-season homerun record. That same year, Crystal also took a seat in the recording booth, providing the voice of the cyclopean Mike Wazowski in Disney/Pixar's "Monsters, Inc." (2001). He made a return to acting and writing with 2001's "America's Sweethearts," co-starring John Cusack, Catherine Zeta-Jones and Julia Roberts. Despite the high-caliber star power involved, the romantic comedy was as predictable as it was unfunny, although Crystal did manage to provide what few genuinely amusing moments the film had to offer.
In 2004, Crystal performed his eighth tour of duty as the host of the Academy Awards, but it was a separate stage appearance that year that was truly near and dear to his heart. After an initial test run at the La Jolla Playhouse in Southern California, Crystal took his one-man performance, "700 Sundays" (2004), to Broadway at New York's Broadhurst Theater. Inhabiting several roles, Crystal lovingly recounted the early formative days spent with his jazz impresario father, Jack, who passed away when Crystal was only 15 years old. The show sold out throughout its run and won the 2005 Tony Award for Best Theatrical Event. The same year Crystal wrote the children's book, I Already Know I Love You (2004), inspired by the birth of his granddaughter. The following year he published a book adaption of his Broadway performance, 700 Sundays (2005). Crystal took on more voice work in the U.S. version of Hayao Miyazaki's animated feature, "Howl's Moving Castle" (2005), providing the voice of Calcifer, as well as a brief "voice cameo" in Disney/Pixar's hit, "Cars" (2006).
In March of 2008, just one day shy of his 60th birthday, life-long baseball fan Billy Crystal realized a dream come true. Signed to a one-day contract with the New York Yankees, Crystal, wearing #60 in honor of the upcoming milestone, took the field in an exhibition game against the Pittsburgh Pirates. Unfortunately, he struck out, and the following day, was released from his contract. After dusting himself off, Crystal returned to the movies with a cameo in the dreadful Disney comedy "The Tooth Fairy" (2010), starring Dwayne "The Rock" Johnson. He would later reprise the voice of the little green boogey man, Mike Wazowski, in Disney/Pixar's "Monsters, Inc. 2" (2012).
Filmography:
Actor Credits:
Monsters University (2013)
Trying to Get Good: The Jazz Odyssey of Jack Sheldon (2008)
Cars (2006)
Howl's Moving Castle (2005)
Tell Them Who You Are (2005)
Analyze That (2002)
America's Sweethearts (2001)
Monsters, Inc. (2001)
The Journey (2001)
Analyze This (1999)
Ben Sobel
Get Bruce (1999)
My Giant (1998)
Deconstructing Harry (1997)
Father's Day (1997)
Hamlet (1996)
Forget Paris (1995)
City Slickers II: the Legend of Curly s Gold (1994)
Mr. Saturday Night (1992)
City Slickers (1991)
When Harry Met Sally... (1989)
Memories of Me (1988)
Throw Momma From the Train (1987)
The Princess Bride (1987)
Running Scared (1986)
This Is Spinal Tap (1984)
Animalympics (1980)
Enola Gay - The Men, the Mission, the Atomic Bomb (1980)
Breaking Up Is Hard to Do (1979)
Rabbit Test (1978)
Director Credits:
61* (2001)
Forget Paris (1995)
Mr. Saturday Night (1992)
Producer Credits:
Analyze That (2002)
61* (2001)
America's Sweethearts (2001)
Analyze This (1999)
My Giant (1998)
Forget Paris (1995)
City Slickers II: the Legend of Curly s Gold (1994)
Mr. Saturday Night (1992)
City Slickers (1991)
Memories of Me (1988)
Writing Credits:
America's Sweethearts (2001)
My Giant (1998)
My Giant (1998)
Forget Paris (1995)
City Slickers II: the Legend of Curly s Gold (1994)
City Slickers II: the Legend of Curly s Gold (1994)
Mr. Saturday Night (1992)
City Slickers (1991)
Memories of Me (1988)
Read more
Latest headlines