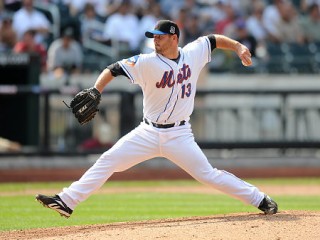 Billy Wagner biography
Date of birth : 1971-07-25
Date of death : -
Birthplace : Marion, West Virginia
Nationality : American
Category : Sports
Last modified : 2010-11-12
Credited as : Baseball player MLB, Pitcher with the New York Mets,
William Edward Wagner was born on July 25, 1971 to Yvonne and Hotsey Wagner. His sister, Chasity, arrived three years later. Although the Mets list Billy's birthplace as Tannersville, he was actually born in Marion, a rural town of 6,000 people in the Shenandoah Mountains of Western Virginia.
Billy's family had a reputation for producing good baseball players. His great-great uncle was a semipro pitcher who was said to be the best payer the town ever produced. His grandfather, Buck Wagner, was a star infielder in the 1950s. Buck's four sons starred for the Marion High School team in the 1960s and 70s. One of these players was Hotsey, the top pitcher in the country. With a Mets farm team located in Marion, it was assumed he would go pro. But he got married the day of his high school graduation to Yvonne, who was just 16. They had Billy 13 months later
Yvonne's three brothers had played ball with Hotsey's three brothers, so the families knew each other well. Unfortunately, they couldn't stand each other. The Wagners were town people, but Yvonne's folks, the Halls, were only a generation removed from the hills. This tension would eventually rip Billy's family apart.
Billy was high-strung and rambunctious—always running somewhere or climbing something. At the age of four he fell and broke his right arm and shoulder. Impatient with the healing process, he taught himself how to throw left-handed and never changed back. Today, he has near-perfect mechanics.
In 1976, the Wagners split. Billy and his sister bounced between parents for several years, sometimes together and other times apart. Food stamps and welfare were a way of life. Both parents had relationships after the divorce, but Billy refused to accept these new adults in his life. He once got into a fight with his mother's boyfriend and drove him off. Billy was all of 10 years old. When his father remarried, he refused to attend the wedding. Billy secretly hoped his parents would reconcile, but as each year passed, his anger continued simmer.
There were good times for Billy, especially with Yvonne's dad, Randolph. Billy's grandfather taught him how to hunt. It was not a recreation in this part of the Appalachians; it was a survival skill. Billy bagged a deer after a little practice, but preferred to go after woodchucks. He would skin and cook them—and claims they tasted just like roast beef. In fact, he still claims woodchuck is his favorite meat.
And there was baseball in Billy's life, too. He was a tiny kid, but the real deal. He could hit, run, field and, most of all, throw. Billy dis not watch a lot of baseball, but when he did it was usually a TBS broadcast of the Atlanta Braves. His favorite player as a kid was Dale Murphy.
Billy and his mom and sister eventually moved in with her parents, who lived in a two-bedroom shack on the highway with a wood stove for heat. Marion grew more miserable for Billy with each passing year. He was shuttled from family member to family member, and craved stability and a loving home. In 1986, the summer Billy turned 15, he went to live with his aunt and uncle, the Lamies, in the remote mountain farming community of Tannersville, about 20 miles away.
On the side of a cement outbuilding on the property was a faded strike zone. No one could remember who painted it, or how long it had been there. Billy worked out his anger against that wall, throwing every ball as hard as he could until the building shuddered. Sometimes he would be out there two hours a day. His cousin, Jeff, would sit down and count balls and strikes.
There were about a dozen kids in town—including two other cousins, Jackie and Cynthia—and every morning they piled on a bus for the hourlong ride over the mountains to school in Tazewell. Because of all the moving around he had done, Billy had dropped a grade and was not eligible to attend Tazewell High School.
The school's coach, Lou Perry, heard that little Billy had a big arm. When he saw him popping the ball at 75 mph, he convinced the school board that he would be a menace playing sports against other 8th graders, and Billy received a "social" promotion to 9th grade. The Lamies told Billy he could play sports as long as he avoided Ds and Fs. When he got a D in his first semester, they pulled him off the JV football team.
Billy played centerfield and pitched for Tazewell. He was a decent hitter, and at just a shade over five feet he was adept at drawing walks. But it was as a pitcher that he put up ridiculous numbers. In one game he faced 21 batters and struck out 19. Billy's fastball topped out around 85 as a high-school senior, which should have attracted some attention from scouts and recruiters, especially with Billy being a lefty. But when they saw Billy's size (5-3, 130 pounds) and looked at where Tazewell was on the map, not one bothered to watch him in person.
ON THE RISE
Billy enrolled at nearby Division III Ferrum College in 1990, following Jeff, who had started there a year earlier. The school did not offer baseball scholarships, so Billy had to patch together student loans, financial aid and some spending money from his aunt and uncle.
By his freshman baseball season, Billy had sprouted to 5-9 and added 40 pounds, much of it in his legs. His top half was wiry, but he had the thick legs of a punter. A friend, Darren Hodges, had been a minor leaguer in the New York Yankee organization. He taught Billy how to drive off the mound. The result was a 10 mph jump in his fastball—and occasionally a heck of a time controlling it.
Ferrum usually played three-game sets against their opponents. Billy would function as the closer in the first two games, mowing down batters who had never seen a 95-mph fastball. Then he would start the third game, at which point the other team was just hoping not to get beaned by an errant pitch. In his sophomore year, Billy set an NCAA record, averaging a mind-blowing 19.1 strikeouts per nine innings pitched. By his third season, scouts were swarming all over him.
Billy finished his career with more than 300 strikeouts in less than 200 innings. That was good enough to make a him a first-round selection. The Houston Astros grabbed him with the 12th pick and inked him to a $550,000 contract.
Billy had no qualms about leaving school a year early, even though he would have been the first person in his family to ever earn a degree. What gave him pause was leaving Sarah Quesenberry behind. Sarah was a basketball player for the school and a psych major, and Billy had been dating her for a while. He went off to Auburn of the NY-Penn League that summer and she stayed behind for her final year. Billy made seven starts, won once, and walked a batter an inning in his first season as a pro.
That November, driving a new truck he had bought with his bonus, Billy took Sarah out for a romantic meal at the Ground Round in Roanoke. She found the restaurant too smokey, so they got back in the truck. When she tried to close the door, it kept hitting something—Billy's head. He was on one knee trying to propose to her. The were married a year later.
Billy spent the entire 1994 season with the Quad City River bandits of the Class-A Midwest League. He went just 8-9, but was unhittable at times, especially early in the year. Billy's control grew more erratic as the campaign wore on and he won only two games in the season's second half. Still, his numbers were remarkable. In 26 starts he fanned 204 batters, and turned in a nifty 2.94 ERA. He led all minor leaguers with 12 Ks per nine innings pitched, and a .188 average against. Billy was voted the league's second-best prospect behind Alex Rodriguez.
Billy began the 1995 season in Class-AA Jackson like a house afire, leaving five of his first six starts with leads. Unfortunately, he failed to pick up a single win until mid-May—a testament to the lackluster Generals bullpen. He was holding opponents to a sub-.200 average after 12 starts, so despite a meager two victories, the Astros moved him up to Class-AAA Tucson. Billy started another 13 games and went 5-3 with a 3.18 ERA for the Toros. He pitched scoreless ball four times, and whiffed 10 on two occasions.
When the Astros added Billy to their 40-man roster that season, he called Sarah with the good news. One night later, she called back in hysterics. Her father and stepmother had both been murdered while trying to intervene in a domestic dispute between family members. Billy left the team and went home to be with Sarah and the rock for the family. All those years of turmoil in Marion had been perfect training for him to help his wife through this ordeal.
Billy returned to the Generals, and the Astros did call him up in September for a taste of the big leagues. He pitched an uneventful third of an inning.
Billy began 1996 in the Tucson starting rotation. He pitched 12 games for the Toros, and unveiled a decent changeup. His curve, while untouchable at times, was still not a consistent pitch. Given his 96-mph fastball and impressive stamina, the Astros were thinking he might be better suited to long relief. After going 6-2 in Tucson, Billy was promoted in June and inserted into the Houston bullpen during a tight division race. In one of his first outings, against Los Angeles, he mowed down eight Dodgers in a row—seven on strikeouts.
When John Hudek and Todd Jones got hurt, Billy got a shot at the closer's role and did a nice job with nine saves. The Astros went into September with a lead over St. Louis, but coughed it up in the final month and finished six games back of the Cards. Billy's performance was one of the few bright spots in a season gone sour.
Heading into 1997, the plan was for Billy to be a two-inning set-up guy. If he developed a reliable breaking pitch, the team planned to move him into the rotation. When the Astros broke camp, however, manager Larry Dierker was already rethinking this strategy. Billy had been soaking up knowledge from Mike Magnante and Donne Wall, and getting smarter about spotting his fastball. He also was hitting 99 and 100 on the radar gun, and his 80-mph curve was snapping off the table. Dierker was not a big reliever in middle relief anyway, preferring his starter to hand the ball to his closer. By the end of April, Billy was closing games for the team.
Billy was averaging close to two K's an inning in the season's first half. He was practically unhittable. Then his youth began showing. When his curve wasn't there in a couple of outings, he abandoned it completely. Time and again he shook off catcher Brad Ausmus when he put down two fingers, and word soon spread through the NL that the kid wasn't using his curve. The hitters started sitting on the heater, and although Billy still was racking up Ks at a mind-boggling pace, he was blowing saves left and right. In August and September, he went more than six weeks without getting a save. He was also hearing boos for the first time.
Dierker went to a closer by committee approach down the stretch, and the Astros limped home with enough wins to take the Central division title. It helped that they were the only team with a winning record. As for Billy, he finished with deceptively good numbers. He won seven, saved 23 and registered 14.5 strikeouts per nine innings, which was good for the all-time major league record. The flip side of the season was that he had the NL's lowest save percentage, blowing one out of ever five chances.
The Astros were a four-man team heading into the playoffs, with Craig Biggio and Jeff Bagwell having their usual monster season, and Darryl Kile and Mike Hampton handling the starting pitching. But the team's second-tier guys were terrible, and it showed. Houston went out meekly to the Braves against Greg Maddux, Tom Glavine and John Smoltz.
Billy opened the 1998 season as the Astros' closer, and this time he held the job all year. Houston were a juggernaut, holding a double-digit lead over the Cardinals for much of the summer. The addition of Randy Johnson and the return to health of Shane Reynolds made up for the loss of free agent Kile, while Moises Alou joined an offense that led the league in runs and RBIs. Billy finished the year with 30 saves and broke his own record with 14.6 Ks per nine innings.
There is no telling what his final numbers might have been had he not taken a Kelly Stinnett liner to the noggin in a game against the Arizona Diamondbacks. Teammates feared the worse when they rushed to the mound and saw blood trickling from his ear and his legs quivering. After the game, the Houston clubhouse was like a funeral parlor. Many of the Astros thought they might never see Billy again. Hampton could not answer reporters' questions. He sobbed quietly in his locker.
Sarah, nearly nine months pregnant, had just turned on the television when the play happened. She was sure her husband was badly injured. But Billy never lost consciousness and despite the apparent seriousness of the injury, he was released from the hospital the next morning with no fractures and no neurological damage. He spent three weeks on the DL with a wicked headache, then returned to closing duties and picked up right where he left off.
All the stars seemed to be aligned for Houston first trip to the World Series. But it was not to be. In the division series against the San Diego Padres, Johnson dropped the opener to red-hot Kevin Brown. Billy gave up a ninth-inning home run to Jim Leyritz that almost cost the Astros Game 2, and then Brown came back to beat Houston again in Game 3. The Astros got blown out in Game 4 and watched in frustration as the Padres made it all the way to the World Series.
MAKING HIS MARK
Billy rebounded from this disappointment to become one of baseball's elite closers in 1999. The numbers he put up were utterly stupid. He struck out 14.9 batters per nine innings (and 111 of the 211 righties he faced), allowed just one run after July 31st, and finished the year with a 1.57 ERA and 39 saves. The Astros needed every one of them, as they edged the Cincinnati Reds by a game and a half for the division title.
The secret to Billy's success was not just that he was throwing his fastball for strikes at 98 and 99 mph. He had also mastered a slider, taught to him by the Big Unit during the '98 campaign. With both pitches coming out of his deceptive lefthanded delivery, there was almost no way to get a decent swing off Billy. Unfortunately, his big season caught up with him in September, when he tried to pitch through a strained elbow. In the playoffs against Atlanta, he was not available to pitch in the pivotal Game 3, an extra-inning heartbreaker that saw Jay Powell on the mound in the 12th when the Braves scored the go-ahead runs in a 5-3 victory. Atlanta took Game 4 and the series the next night.
Billy's elbow pain resurfaced in spring training. He didn't say anything and tried to bull his way through it, but by June he was getting his butt kicked almost every time out. He finally agreed to see doctors, who immediately diagnosed him with a partially torn flexor tendon and operated on the ligament in his elbow. Though officially shut down for the season, Billy, ultracompetitive as always, was soft-tossing in September, as the Astros climbed back to respectability after a horrible start.
Billy entered the 2001 season like the grizzled old gunslinger come back from the dead. His speed was back, and so was his control. He dominated hitters all year and led the league with a 95.1 save percentage. He saved 39 games for the Astros, who won their division with a 93-69 record. The team had acclimated itself to Enron Field, and some young arms—including Roy Oswalt, Wade Miller, and Octavio Dotel now led the staff. Lance Berkman joined Bagwell and Biggio as a third Killer B, and the ageless Alou had another superb season.
All of which set up yet another post-season disappointment. It was all about the Braves again. Maddux, Glavine and Jack Burkett swept the Astros in three.
The team's poor finish cost Dierker his job, but his replacement, Jimy Williams, fared no better. He got the team off to a dismal start in 2002. Billy had only nine save opportunities in the first two months, but picked up the pace when the team started winning, and finished with 35. He was pitching more like a veteran now, mixing the occasional curve in with his fastball, which still hit triple-digits on the radar. Billy also showed more of a willingness to work both sides of the plate. The Astros recovered to post 84 wins, but were 11 games off the Wild Card pace.
Billy put it all together in 2003, pitching with consistence brilliance from the beginning of the season to the end. He set a new team record with 44 saves, and fanned 105 batters in 86 innings. His ERA was 1.78 and enemy hitters managed only a .169 average against him. Billy continued to work the strike zone and mixed his breaking pitches in beautifully. The Astros spent the summer battling the Cubs and Cards for supremacy in the NL Central. Chicago picked up Aramis Ramirez, Randall Simon and Kenny Lofton for the stretch run, while St. Louis bolstered their pitching staff. By contrast, the Astros made no attempt at a deadline deal. When they came up a game short, Billy blasted team management for being cheap. Like a lot of Houston fans, he questioned why the front office didn't surround its core of superstars with better talent.
Six weeks later, the Astros traded him to the Philadelphia Phillies.
The deal netted Houston three underachieving young arms—Brandon Duckworth, Taylor Buchholz and Ezequiel Astacio—and cleared the way for closers in waiting Dotel and Brad Lidge to reshape the Astro bullpen. For Phillies fans, it meant adios to Jose Mesa, who could not have pitched worse just one year after saving 45 games for the club.
Billy joined a team primed to make a run at his longtime nemesis, the Braves. The Phillies had power, speed, youth, experience, a pitching staff with a huge upside, and an in-your-face manager in Larry Bowa. What started as a season of promise, however, ended in frustration for Billy and his new team. Injuries plagued the staff all year. Even Billy was not immune. A strained groin, tender shoulder, and back spasms limited him to 45 appearances and forced old-timer Tim Worrell out of his set-up job and into the closer's role.
After a fast start by Atlanta, the Phillies set their sights on the Wild Card. While they spent most of their time worrying about the Florida Marlins, the Astros caught fire in August and snagged the final playoff spot. They nearly made it to the World Series before the Cardinals upended them in the NLCS.
Billy, who finished his first year in Philadelphia with 21 saves and was brilliant when healthy, felt good for his old teammates. Still, he entered the off-season feeling he had "unfinished business."
Recognizing that his injuries may have had to do with his aging body, Billy intensified his workout regimen over the winter. He came to spring training in 2005 willing to accept nothing less than a division title. That didn't work out for the Phillies, who struggled through a summer without Jim Thome and never found a staff ace. Billy was excellent, however, saving 38 games in 41 opportunities for Philly, which finished off the Wild Card pace after staying in the hunt until September.
Billy was having second thoughts about his decision to hitch his wagon to Philadelphia's star, and decided to test the free agent market. He gave GM Ed Wade the inside track, but when the Mets wooed him with a four-year deal that would make him history's highest-paid reliever, how could he say no? New York opened its wallet despite a crowded market that included Trevor Hoffman, BJ Ryan, Bob Wickman, Todd Jones, Octavio Dotel, Ugueth Urbina and Kyle Farnsworth.
With the Mets , Billy once again finds himself as a dominant closer on a less-than-dominant team. This formula has not worked out for him yet, but New York has the money and inclination to beef up its roster if they are in the mix late in the season. Really that is all he can ask for. One of these years, the odds will be in Billy's favor, and he'll finally get to accomplish his ultimate baseball dream—closing games in the World Series.
BILLY THE PITCHER
Billy has amazingly consistent mechanics for a relief pitcher, which has enabled him to paint the corners with triple-digit fastballs. He specializes in throwing first-pitch strikes, which puts enemy batters in a hole quickly.
After toying with the curve and changeup, Billy finally settled on the slider as his second pitch. It serves as an off-speed delivery, and sets up his fastball, which he is adept at working in and out. Billy fields his position well, and has a decent pick-off move.
Billy brings a starter's mentality to relief pitching in terms of preparation, and this has helped him stay calm and focused as games progress. Like all relievers, he has given up the gopher ball more than once in a big spot in his career. How he handles the wrath of New York fans and writers will be key to his future success.
Read more
Latest headlines