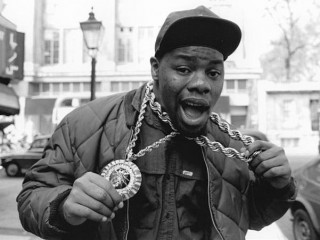 Biz Markie biography
Date of birth : 1964-04-08
Date of death : -
Birthplace : Harlem, New York,U.S.
Nationality : American
Category : Arts and Entertainment
Last modified : 2011-12-12
Credited as : Rapper, reality television personality, called "the Clown Prince of Hip Hop"
Marcel Theo Hall better known by his stage name, Biz Markie, is an American rapper, beatboxer, DJ, comedian, singer, reality television personality, and commercial spokesperson. He is best known for his single "Just a Friend", an American Top 10 hit in 1989. In 2008, "Just a Friend" made #100 on VH1's list of the 100 greatest hip hop songs of all time.Markie has been called "the Clown Prince of Hip Hop."
Since his debut in the mid-1980s, Biz Markie has consistently provided comic relief to a music scene dominated by "gangsta" poses and street realism, rapping about sitting on the toilet while his colleagues dropped rhymes about guns. "I'm the class clown of the rap business," he told DJ Times. "Rap is one big class, full of different students with different opinions. But I'm definitely the only one doing what I'm doing." Indeed, the Biz could practically teach the class when it comes to danceable goofery; his self-deprecating, playful persona has won him a sizable following and diverse career opportunities. "Biz is a beloved but anomalous figure in rap," observed Robert Christgau in the Village Voice. "Bumbling, spaced-out, not hard, not sexy, not cool, his albums have been patchy with great moments." Nonetheless, the rapper has attracted perhaps his greatest mainstream attention because of a lawsuit he lost involving a sampled bit of music taken from an old pop record.
Before he became the Biz, "The Diabolical One," also known as "The Clown Prince of Rap," was born Marcel Hall, in 1964 in Harlem, New York. He grew up a prankster-misfit, preparing a cake liberally dosed with laxative for the vice-principal of his Long Island high school. Ignored outright by the girls at school, he quietly kept score and would reply to those who had "dissed" him years later with the single "What Goes Around Comes Around." For the short term, though, he contented himself with hijacking his classmates' school lunches--"You cough on their food and say 'Look, I coughed on it. I know you don't want that now, right?'" he recalled in the Source --and enjoying the burgeoning rap scene from the periphery.
Biz Markie came of age during the peak of what would come to be called "Old School" rap, which emerged in New York City nightclubs as DJs developed the practice of "scratching" with two turntables, and MCs delivered party-oriented raps. The celebratory air of this period would permeate his own work, regardless of the various trends that came to dominate hip-hop in the 1980s and '90s. "I was an old schooler," he told DJ Times, "and I used to rock back in the days at house parties and stuff in Long Island. Then it started getting sort of monotonous, so I went to Manhattan and tried to make a breakthrough--and I did."
He took on the name Biz Markie and sharpened his DJ skills at clubs like the Roxy and the Fun House; yet even as he displayed mastery of the turntables, he felt uncertain as an MC. He served as a human "beatbox" for other rappers--providing drum sounds with his mouth; this skill would put him in good stead later on. Ultimately, his confidence grew to a level that enabled him to seek out a successful rap producer: Marlon Williams, known on the scene as Marley Marl. "When I felt that I was good enough, I went to Marley Marl's house and sat on his stoop every day until he noticed me, and that's how I got my start."
Marl helped Markie record demo tapes and oversaw his 1985 single "Def Fresh Crew," which featured up-and-comer Roxanne Shante and appeared on the Pop Art label. The rapper was soon signed to Prism Records and over the next couple of years recorded several additional singles, notably "Make the Music" and 1987's "Just Rhymin' With Biz," a duet with his friend and future superstar Big Daddy Kane. Kane also wrote the rhyme that would fuel Markie's splashy 1988 hit "Pickin' Boogers." That ditty quickly established the rapper as a fresh, comic presence in the increasingly serious and often militant world of rap. The year also saw the release of the debut album Biz Markie Goin' Off. Prism, meanwhile, had changed its name to Cold Chillin' and become part of Warner Bros. Havelock Nelson and Michael Gonzales, in their hip-hop guidebook Bring the Noise, noted Goin' Off' s "jaunty celebrations of [Markie's] vocal gift. It includes the ability to thud like a kick drum or chatter like a hambone, and the performer calls his arsenal of eccentric human noises The Inhuman Orchestra (!!)." The singles "Vapors" and "Something for the Radio" also fared well.
1989's The Biz Never Sleeps went gold, and the single "Just a Friend" went platinum. The album's title derived in part from Markie's desire to assure listeners that he would be as effective as his own producer as he had been as a performer. "I wasn't sleeping," he insisted to Word Up!, "but people were sleeping on me. They thought I was gonna come out wack because I did this record myself. I didn't." For Darren Ressler of DJ Times, "Just a Friend" and the companion single "Spring Again" constituted "easily two of 1990's best summertime jams." As the Biz himself told Ressler, "Those are the best songs. I don't know about anyone else, but my best stuff is when I talk about myself."
And the "self" he revealed was a far cry from the threatening boasts and political augury of his peers. Bring the Noise authors Nelson and Gonzales placed him "in the context of Black comedians from Redd Foxx to Richard Pryor (during Pryor's early years)," explaining, "What these funny-men did was take everyday occurrences and make jokes about them." "The scatology of Foxx, Pryor and such acolytes as Eddie Murphy," the authors continued, "echoes in the bodily-function comedy of Biz's most outrageous recordings."
Biz Markie's next move was to create his own cartoon television series, Mouth Man, in 1990--though the program eventually stalled in the planning stages--and establish a production company, Biz Markie Productions, with his own studio. He seemed poised for ever-increasing success when he released his 1991 album I Need a Haircut. In fact, the disc received generally good reviews-- Hip-Hop Connection praised it as "dope," while Black Radio Exclusive called it "super-hype," adding, "All Markie fans will love this one"--and surged initially on the strength of the popular "What Goes Around Comes Around" and the bathroom serenade "T.S.R. (Toilet Stool Rap)."
But a musical snippet, or sample, that appeared on the cut "Alone Again" was borrowed from a 1972 pop hit of the same title by British vocalist Gilbert O'Sullivan and was used without O'Sullivan's permission. A lawsuit followed--the litigation monitored closely by the music business as it was the first to address the legality of the widespread practice of sampling--and Biz Markie lost; federal judge Kevin Duffy ordered sales of I Need a Haircut stopped. Attorney Lawrence A. Stanley, analyzing the case for the Source, opined that Markie's legal team "failed to launch an even remotely credible defense." In any event, the rapper received more mainstream publicity for this setback than for any of his previous successes. He was especially dismayed by O'Sullivan's suit because, as he told the Source, "I loved that song since I was a little kid."
The matter was concluded, Markie proved as irrepressible as his sense of humor; by spring of 1993 he had a new album out, archly titled All Samples Cleared, and soon the disco-influenced single "Let Me Turn You On"--on which the rapper actually sang--began climbing the charts. The Source predicted that Markie's limited crooning ability would not hinder the song's progress, asserting, "True, he's no Luther Vandross, but that won't stop him from rocking every family reunion, pool party and ghetto BBQ this summer." The magazine found Samples overall "more fat and funky than a pile of Old-School elephant shit baking in the sun," declaring that Markie "manages to capture the essence of that good ole hip-hop funk while continuing to lock down the hearts and tapedecks of music lovers worldwide." Billboard observed of the effort, "Markie has hardcore fun using bugged-out metaphors, off-key singing, pig Latin, human beatboxing, old- and new-school rhyme patterns, and silly-corny-gross jokes. He packs all that into tracks stacked with taunting breaks and insinuating grooves." And though Details contributor Mike Rubin expressed some reservations about Samples, he found the rapper's "loose storytelling and self-deprecating wit" "a welcome relief from gangsta rap's drive-by posturing."
In addition to the new album, 1993 saw Markie take on the challenge of acting, in Robert Townsend's film Meteor Man and in a Townsend television series. He also kept up his DJ skills at the Muse nightclub in New York City. From all indications--his defeat in court notwithstanding--Markie appeared poised to moderate hardcore's dour attitude with his playful raps for the foreseeable future. As he told DJ Times, he wasn't cut out for hip-hop activism: "No matter how many records you make about self-destruction, people are going to do it anyway. I'm just here to entertain and make people happy."
In 2002, he appeared as an alien in Men in Black II with Will Smith and Tommy Lee Jones, essentially playing an alien parody of himself, whose native language sounded exactly like beatboxing. Between 2002 and 2003 he appeared in episode 5 of the TV series Fastlane playing himself as a nightclub DJ. In 2003 he appeared in the international television series titled Kung Faux performing a series of voice over characters featured in a variety of episodes.
In 2004, his song The Vapors appeared on the soundtrack of Rockstar's popular videogame Grand Theft Auto: San Andreas which featured an old school hip hop radio station, Playback FM. In 2005, Biz detoured from his recording duties to appear on the first season of the television show Celebrity Fit Club which challenged celebrities to lose weight by a combination of diet and exercise. Biz Markie lost more weight than anybody else in the competition. That year, he was also in an episode of The Andy Milonakis Show.
In 2010, Biz Markie appeared on VH1's 100 Greatest Artists of All Time, providing commentary throughout the series. Biz Markie himself was not included on the list. On November 9, 2010, Biz appeared on The Aquabats! new EP, Radio Down! in the title track. On November 11, 2010, Biz sat in with The Roots on Late Night with Jimmy Fallon and performed "Just a Friend" with actor Jeff Goldblum.
Studio albums:
1988: Goin' Off
1989: The Biz Never Sleeps
1991: I Need a Haircut
1993: All Samples Cleared!
2003: Weekend Warrior
Compilations:
1994: Biz's Baddest Beats
1996: Schoolhouse Rock! Rocks
1998: On the Turntable
2000: On the Turntable 2
2002: Greatest Hits
2006: Make the Music with Your Mouth, Biz
2009: Ultimate Diabolical
2009: "Yo Gabba Gabba Music is Awesome!"
2010: The Aquabats Radio Down!
Read more
Latest headlines