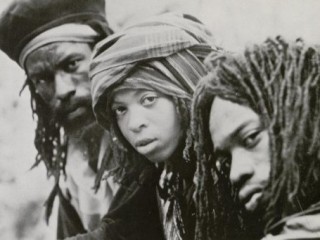 Black Uhuru biography
Date of birth : -
Date of death : -
Birthplace : Kingston, Jamaica
Nationality : Jamaican
Category : Arts and Entertainment
Last modified : 2012-04-11
Credited as : Reggae group, Duckie Simpson, Grammy Award for Best Reggae Album in 1985
Black Uhuru are a Jamaican reggae group formed in 1972, initially as Uhuru (Swahili for 'freedom'). The group has undergone several line-up changes over the years, with Duckie Simpson always maintaining group control and ownership. Their album Anthem, featuring the hit single "What is Life?" won the first ever Grammy Award for Best Reggae Album in 1985.
In 1982 Rolling Stone reviewer Ken Emerson wrote that "When Bob Marley died last year, one consoling ray of hope illuminated reggae's future: the release of Black Uhuru's Red." In a 1984 concert review for the same magazine, Chris Morris referred to the vocal trio as "Jamaica's premier post-Bob Marley reggae outfit." In the world of reggae music, no compliment could be higher than a comparison to Bob Marley, the leading legend of Jamaican music. In the mid-1980s Black Uhuru laid the foundation for its own legend and pioneer status in reggae music--one that would provide the band with remarkable longevity despite several changes in the lineup. By 1989, more than ten years after the band's inception, Red would be logged as one of the top 100 albums of the decade by Rolling Stone.
By the late 1970s Black Uhuru referred to three vocalists who constituted the "golden age" of Black Uhuru's popularity: Michael Rose, Derrick "Duckie" Simpson (who later changed his nickname to "Gong"), and Sandra "Puma" Jones. The singers gathered instrumental backup from a variety of musicians and had a long-standing collaboration with two of the finest musicians in the industry, drummer Sly Dunbar and bassist Robbie Shakespeare. The accompaniment of Sly and Robbie, as they are known familiarly in reggae circles, contributed to the group's breakthrough in the 1980s.
Black Uhuru's roots, however, reach back well before that breakthrough to 1974, when Simpson decided to form a group. The name he chose, the second part of which means "freedom" in Swahili, reflected reggae music's origins in the slums of Kingston, Jamaica, where Simpson was born in 1950. Then, as today, young black men in Kingston had little opportunity to break away from the poverty of the city's slums. Reggae offered one of the few escape routes, but it was already packed with talented hopefuls; the chances of actually succeeding were slim. Nonetheless, Simpson, Garth Dennis, and Don Carlos--the original bandmates--began playing local club engagements in Kingston. They even had the opportunity to produce a few singles--"Folk Songs," "Time Is on Our Side," and "Slow Coach"--with a small reggae production outfit called Top Cat; unfortunately, nothing ever came of it.
Within a few years Dennis and Carlos separated from Uhuru--Carlos for a solo career and Dennis for an eight-year stint with the Wailing Souls. Simpson quickly re-formed the band in 1977, bringing in two more Kingston men: Michael Rose and Errol "Jay" Nelson. This time, the group's singles, "Natural Mystic" and "King Selassie," caught the attention of a London distributor named Count Shelley. Consequently, Black Uhuru's debut album, Love Crisis, which they had recorded on a small label called Prince Jammy's, was released in England in 1977.
Nelson departed soon after the release, leaving Simpson and Rose to work as a duo for a while. During this period they began to collaborate on recordings with Sly Dunbar and Robbie Shakespeare, the rhythm section that would become the most famous and influential in reggae music. At this time, Sly and Robbie were just putting together their Taxi label, and Black Uhuru's "Observe Life" was issued as that company's first release.
Simpson found a replacement for Nelson in 1978. Sandra "Puma" Jones had an unusual background for a reggae musician; in 1986 she described that background for Constance C. R. White of Ms. magazine, who referred to Jones as "a woman whose artistic expression comes from a blending of the various cultures to which she's been attracted over the years." She had been born in Columbia, South Carolina, and raised in New York City before settling in Jamaica in the late 1970s. Jones began to investigate her African heritage in college, where she studied African culture and, particularly, African dance.
She went to graduate school at Columbia University and earned a master's degree in social work while continuing her other interests, including work in local television. But it was travel that would change her course in life; after a period of employment in Ghana, Africa, Jones took a position working with homeless families in Jamaica. She took side jobs as a backup singer in reggae bands and eventually encountered Simpson, who was hoping to change his band's sound by replacing Nelson with a female vocalist. Jones became the third term in the equation that critics would embrace as the Black Uhuru.
The new Black Uhuru combination went back into Sly and Robbie's studio to record a series of singles including future hits "General Penitentiary," "Guess Who's Coming to Dinner?," "Plastic Smile," and "Shine Eye Gal." Their productivity and success as a singles band gave them the impetus for their second album, Showcase, which appeared in 1979, also on the Taxi label. That in turn brought an invitation from a New York City radio station, WLIB, that was ready to sponsor a concert at Hunter College. It was Black Uhuru's first performance outside of Jamaica--an opportunity most reggae bands never had.
Showcase went on to win the favor of Chris Blackwell, president of Island Records, and Black Uhuru's first major-label contract soon followed. The band made their American album debut in 1980 with Sensimilla, named for a type of seedless marijuana used in the rituals of Jamaica's Rastafarian religion. Subsequent albums solidified Black Uhuru's reputation with American audiences, who were at that time greatly expanding the reggae market. The most significant of these releases was 1981's Red, the album that prompted comparisons between Black Uhuru and Bob Marley, reggae's unofficial king.
Red put the band into the top 30 on British music charts and yielded several popular cuts, with "Youth of Eglinton" becoming a reggae classic. In the 1989 write-up for Rolling Stone's Top 100 of the 1980s, the critic recaptured the excitement of the album's release, asserting, "At a moment when the music was in critical need of a strong new voice, Black Uhuru's finest album, Red, shone with all the musical intensity and political fervor of the Rastafarian movement." He further summarized the album as "a plea for cultural revolution and religious faith." Anthem, the band's 1983 release, won the first Grammy that was ever awarded for Best Reggae Album in 1984.
Ken Emerson summed up the attitude of that early reception in a September of 1982 Rolling Stone article, declaring, "The exuberance of their Rastafarian faith was uplifting; their songs evoked not only Kingston but the equally mean streets of Brooklyn and Brixton; their firm stand against sexism was refreshing." Three months earlier, Fred Shruers called Black Uhuru "the most exciting reggae band around" in his Rolling Stone review of Tear It Up. The particular strength of their music was, Emerson claimed, "the improvisatory interplay of three singers." Their live performances were similarly received; one in 1984 prompted Chris Morris to announce that "Black Uhuru have the finesse and firepower to galvanize a crowd, and by set's end, the aisles were jammed with skanking, spliff-smoking devotees."
For Emerson, the weak link in the chain of successes was the 1982 release Chill Out, which he claimed "put a damper on Black Uhuru's flame." Emerson objected to the album's shift away from the simple sound of traditional reggae to a more synthetic sound called "dub". Even critics called the release "overdubbed and doctored to death with synthesized whooshes and whistles and Vocodorized vocals." Emerson's dislike aside, the new sound was becoming the height of reggae fashion in the mid-1980s.
In 1985, after the band's rise to success began to slow, Michael Rose decided to try his hand at a solo career. Delroy "Junior" Reid came in to replace him, appearing first on Brutal in 1986. Sandra Jones was compelled to leave for health reasons just before the recording of Positive in 1987: the singer was battling cancer and would pass away in 1990. It was only a year before her departure from the band that she spoke with Ms. and talked about her dual commitment to her music and her family, which consisted of a husband and six children. She described her musical career as a part of her dedication to social change, prompting the magazine to comment that Jones "sees her singing as a logical extension of her social work since Black Uhuru's lyrics are usually social and political commentary."
When Jones left, Janet Reid came in as the third vocalist for the Positive recording sessions. This particular combination lasted only briefly, however, since Simpson was uncannily reunited with his two original collaborators. The Reggae Times Awards in 1987, honoring Don Carlos as Best Vocalist and Black Uhuru as Best Group, arranged for Simpson, Carlos, and Dennis to play together. A European tour followed, and by 1990 the threesome was recording as Black Uhuru once again, releasing Now under a new contract with Mesa Records.
The album ultimately produced more than a reunion of the original members. It garnered praise from the critics and made headway in the music charts, winning the number two position on Billboard's world music charts. David Hiltbrand of People described the album as a return to "a much simpler, more traditional reggae sound" and reserved special praise for Carlos's "balmy, sonorous voice." Now also brought the group back to the attention of the Grammys, with a nomination for Best Reggae Album.
In 1992, the band released Iron Storm, an album that emphasized Black Uhuru's continuing involvement with social and political issues. An award-winning video was made of the single "Tip of the Iceberg," which featured controversial rap star Ice-T. The video was filmed on the burned-out streets of South Central Los Angeles in the wake of the Rodney King police brutality trial verdict.
Black Uhuru's next offering, 1993's Mystical Truth, made it to the top of the New World Music chart and was called "an exceptional project" by critics. The 12 tracks are an eclectic mix of rasta-rock and soul, including reggae renditions of War's "Slippin' Into Darkness" and Peter Gabriel's "Mercy Street." New Music Report noted, "Black Uhuru ... implores social action in its smooth, always loquacious manner and strives to expand the boundaries of reggae in the process" and hailed Mystical Truth as "an all-time classic." The compilation album Liberation: The Island Anthology, released in 1993, includes standard tracks as well as live versions of familiar songs.
Strongg, their seventh album, was released on the Mesa label in 1994. The eleven selections feature the musical contributions of Sly Dunbar, Ranguten Smith, and Sydney Wolf, and though the album highlights Black Uhuru's commitment to the eradication of oppression, it also offers hope amid the injustice. As Garth Dennis observed in a Mesa Records publication release: "All kinds of things go on, good things and bad things. But things just have to change. Time [for] people to wake up!"
Personnel changes within the band continued through the 1990s. Carlos and Dennis again left the group, but added were lead vocalist Andrew "Bees" Beckford and harmony vocalist Pam Hall. This configuration released Dynasty on the RAS label in 2001 and toured in support of the album. Rick Anderson of All Music Guide called Dynasty "a shameless return to the classic Black Uhuru sound of the 1980s," including the accompaniment of Sly and Robbie. The greatest hits collection 20th Century Masters--The Millennium Collection: The Best of Black Uhuru was released in 2002.
In February 2004, it was announced in the Jamaican press that Simpson and Michael Rose had reunited under the name "Black Uhuru feat. Michael Rose". Together with a female backing singer named Kay Starr, they released a single, "Dollars", and performed at several concerts including "Western Consciousness 2004" on April 28 in Jamaica, of which a live video was released shortly thereafter. A new album was reported to be in progress, although it was never released. The group toured throughout Europe in 2006.
In 2008, Simpson took on lead vocal duties, and the group recorded a new album, As The World Turns, with guest appearances from Latin superstars Aterciopelados and Jarabe De Palo, although this was still unreleased a year later. A 25th Anniversary Edition DVD of their Live In London concert was released in June 2008. In 2011 with new vital blood the legendary group featuring Derrick "Duckie" Simpson, Andrew Bees, Kaye Starr, are touring the US first time since 2002 with successful shows and festivals Worldwide.
Read more
Black Uhuru Picture Gallery
Latest headlines