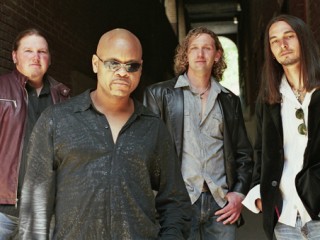 Blessid Union Of Souls biography
Date of birth : -
Date of death : -
Birthplace : Morrow, Ohio, U.S.
Nationality : American
Category : Arts and Entertainment
Last modified : 2012-04-12
Credited as : Rock band, Perception album, The Only Song single
Blessid Union of Souls (sometimes abbreviated to Blessid Union) is an American rock band from Morrow, Ohio that was formed in 1990 by friends Jeff Pence and Eliot Sloan.
Blessid Union of Souls describes their unique blend of pop/rock as "rural soul" which not only describes the variety of musical influences and sounds, but also the diversity of the band members themselves. BUOS consists of singer-songwriter Eliot Sloan, songwriter and guitarist Jeff Pence, keyboardist and coproducer C. P. Roth, percussionist Eddie Hedges, and bass guitarist Tony Clark. The band hails from Cincinnati, Ohio, where they grew up and were influenced by the rural and urban traditions of the Midwest. Sloan described the meaning of their self-coined term "rural soul" in an EMI Records publicity article: "How we were raised, where we were raised--that's who we are ... Jeff is from the country, born on a farm--that's where we get that grass-roots feeling--whereas I'm from a more urban place in environment and inspiration, and C. P. has a classical training ... We never wanted to be a straight, mainstream 'rock' or 'pop' band, we really like to tap into the different types of music we enjoy."
Sloan's description of each band member's background has proven to be the backbone of the band's music and development. Each musician had been collaborating with other musicians since the 1980s. Besides writing and performing music with lesser-known acts, Hedges toured with Bell Biv Devoe, Johnny Gill, and Sheila E., and Roth performed as a member of Ozzy Osbourne's band. Hedges got his musical start singing in church and playing drums when he was about five years old. Roth has the most extensive musical background of the band. He noted in a personal questionnaire on the band's web site, "I started playing piano and drums at age 7. Bass at age 10. Studied composition and arranging in college. Moved to New York City when I was 19." Pence began his musical career as an adult. He related in the same questionnaire, "Started playing in bars ... Later I joined a band called Slamm and met Eliot [Sloan]." Sloan's musical career also began early in his life, when he started to sing and play piano at the age of five. He joined his first band, The Movies, at 18 as a keyboard player. He recalled that while playing for Slamm, he and Pence decided to write their own songs.
BUOS spent five years cultivating their music within the band with the extra experience of outside projects. At this time, BUOS was a foursome. Tony Clark was added for their second album. This extra time helped the band solidify their own unique sound of classic soul, country, and folk with an important progressive message. Their approach to song lyrics is the primary design for the band. "The goal of our band is to make a change ... without being preachy," Sloan explained in an article from the band's website. The importance of being socially responsible is reinforced by the spiritual nature of the band and its members. Sloan describes their liberal ethereal views and its affect on their music in the same article: "Basically, God is love ... and like the song 'I Believe' says, 'Love is the answer.' We have to let ourselves to love our enemies, not just our friends. That's the thing about love--it's not prejudiced."
This theme of spirituality in BUOS's work can also be seen in their name itself. Sloan explained in the website article, "I heard someone talk about a union of souls blessed by God, and I thought, 'Blessed Union of Souls--that would be a great name for a group.' I asked the guys what they thought of the name, and it was unanimous--everybody loved it." Pence made the suggestion to misspell "blessid," so their future fans would have no confusion pronouncing the band's name.
BUOS went on to record their demo for EMI with Cincinnati producer, Emosia, who would later join the band to produce their debut album. By December 1992, the BUOS's demo tape had been heard by Pete Ganberg, an EMI director. He recalled BUOS's demo in Billboard: "I remember giving it a casual listen in my office on a Friday afternoon, taking it home for a closer listen over the weekend, and just flipping out over it.... I don't think that tape left my stereo for two solid days. The deal for an album was done within two weeks after that."
The debut album, Home was not completed and released until March 21, 1995. Sloan and Pence worked very closely and carefully as the primary songwriter and composer duo to create songs which showcased the band's individual and group talents. Emosia and Roth spent extra time in their production of the album until every song was meticulously crafted. Ganburg told Billboard about the direction of the album,"making sure that every song could stand alone. It can be a slow process, but the end result is an album of potential classics."
Commercial and popular success came earlier for BUOS than the March 1995 release of Home. All of their experience playing around Cincinnati paid off for the band when a local radio station, WKRQ(Q-100), began playing the first single from the unreleased album, "I Believe." Jimmy Steal, programming director at WKRQ, heard the song and decided to put it on the air. The hometown response was incredible. EMI released a cassette single of the song which sold extremely well in local record stores; selling as many cassette-singles as well-known musicians with recently released singles. The song would later hit number 1 on the pop chart and remain in the Billboard Top Ten for two months. By the end of the year, "I Believe" was the fourth most played song of 1995. The song describes some of the social concerns of the band, such as poverty, drug use, and racism. The band's message, or dominant belief, conveyed in the song as the solution to these personal and social problems is, "Love is the answer." The song appropriately introduced the band and their debut album which would later be designated gold and spawn two other hits, "Let Me Be the One" and "Oh Virginia." The song "Nora,"written by Sloan as a eulogy to the life and times of his grandmother, was critically acclaimed for its exceptionally poignant message and remembrance.
After the release of Home BUOS spent 18 months touring visiting over 120 cities. Mark Liggett, the band's manager, described BUOS's live show and their typical fans. In Amusement Business, Liggett made this description:"They are a live touring band with real musicians.... Mainstream radio really digs them and their fan base is a wide cross-section, from high school kids up to 40-year-old people." Along with their live performances at clubs, fairs, and festivals, BUOS appeared on various television shows including, Top of the Pops (UK), Entertainment Tonight, Extra, Late Night with Conan O'Brien, and Regis and Kathie Lee. BUOS even appeared on the soap opera, All My Children, where, "I Believe," and "Let Me Be the One," were the theme songs to the romance between two of the show's characters, Noah and Julia.
The extensive touring gave BUOS more exposure to new listeners and to their fans who came to see them perform. This aspect of live performing is very important to BUOS. Sloan explains, "Our songs are about real people in real situations, so we have to be out there and experience--either first hand or third party." BUOS proved their commitment to real people when in the midst of their Home tour, they went back to their hometown of Cincinnati to help raise money for Tory Koch, a local 13-year-old girl, whose parents were incapable of paying for her medical bills due to the complications of her severe cystic fibrosis. BUOS with WKRQ(Q-100) stayed on the air for 28 hours performing listener requests to raise donations for the family. BUOS was happy to help Koch as well as the local radio station which first gave them air-time. Overall, BUOS helped raise about $60,000 for the young Koch and her family.
Immediately after the Home tour, the band began to work on their second album. BUOS utilized their experience on the road and in the studio for their first album to explore additional lyrical and musical influences. "Light in Your Eyes," was cowritten with Tommy Sims who won a Grammy in 1996 for his song of the year,"Change the World." "Jelly" adds musical diversity to the band's work with its use of the combined piano and strings. Two other songs,"Humble Star," and "Hold Her Closer," continue in the BUOS lyrical tradition which attempts to understand the complexities of human relationships.
This theme of discovery and complexity within human relationships is described by Sloan as being essential to successful human connections. As he explained in a statement released by EMI Records, "It's easy to be all lovey-dovey in the beginning, but two or three years into the relationship you have to restore what was there when things were new and fresh." This attitude of exploration and regeneration seems to describe the band's approach to their music itself. The continuous venture into the human heart and emotions has given BUOS a place in a long line of previous musicians who have combined popular success with real social consciousness.
Between 2001 and 2005, Blessid Union of Souls stayed away from the studio, but they released a greatest hits album that also featured a few previously unreleased songs that were recorded around 2000. During this time, they still toured. Roth and Hedges left the band in 2002.
At the end of this period, the band's fifth studio album Perception was released. In the beginning of 2008, Blessid Union of Souls began touring with members Eliot Sloan, Tony Clark, Bryan Billhimer, and Shaun Schaefer, as Jeff Pence had amicably left the band in order to focus on his multimedia production career.
Blessid Union of Souls's sixth studio album, Close to the Edge, was released on September 16, 2008 on Torque Records. Eight of its twelve tracks were taken from their previous album, Perception. There was only one single released for the album, "Could've Been with You".
Blessid Union Of Souls debut Contemporary Christian album was released on Salvation Road Records through Sony/Provident in March 2011. The first single "The Only Song" reached # 32 on the Nielsen BDS Christian AC chart. The video for "The Only Song" was also added to the Gospel Music Channel & JCTV. The second single, "Pray For You" slated for release on July 15, 2011.
Read more
Blessid Union of Souls Picture Gallery
Latest headlines