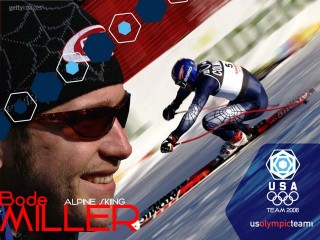 Bode Miller biography
Date of birth : 1977-10-12
Date of death : -
Birthplace : Easton, New Hampshire, U.S.
Nationality : American
Category : Sports
Last modified : 2010-07-28
Credited as : Alpine ski racer, World Championship gold medalist,
Bode Miller
is a ski coach's nightmare and a ski fan's dream. Questioning authority and pushing the limits of his sport since he was a teenager, Bode refuses to follow the paths—both literally and figuratively—carved by those who went before him. Part redneck, part rock star and part All-American coverboy, he redefined alpine racing and brought it into the sports mainstream in this country. Win or lose, on his feet or face-down in a snowbank, Bode is the best show on snow.
GROWING UP
Samuel Bode Miller
was born on October 12, 1977, in Easton, New Hampshire. As a youngster, his middle name stuck, and soon everyone was calling him
"Bode."
Jo and Woody Miller also had two daughters, Kyla and Genesis, and a younger son, Chelone. His grandparents, a couple of skiing fanatics, met in California during World War II. They married and moved to the White Mountains of New Hampshire, where they founded the Tamarack Tennis Camp and Ski Lodge near Cannon Mountain. Over the years, their relatives, kids, cousins and various friends moved into the area, with many living in ramshackle cabins both on and off the 450-acre property. They were all insane for skiing.
Jo met Woody, while he was teaching tennis at the family's camp. A med student and the founder of the Turtle Party, Woody dropped out of the University of Vermont after they were married and built a house deep in the woods in Easton nearly a mile from the nearest road. The closest town is Franconia, site of the Old Man of the Mountain, once the state's most famous symbol.
Bode was raised to explore the world around him, ask a lot of questions, and distrust authority. At the age of two, he began sliding down the half-mile path from his house to the driveway on a homemade snowboard. At four, he was on skis almost every day there was snow on the ground.
The Millers lived a simple life, without electricity or plumbing. The outhouse was on the other side of a nearby stream. They cooked on a wood stove. This lifestyle extended to Bode's education. He was home schooled until he was 10.
Bode's parents had their share of problems. They split up when he was six, but his mom lived close by and they saw each other all the time. He was raised by Woody and his new wife.
Bode spent a lot of time wandering the woods. When he started going to school, he walked through the forest in the pre-sunrise hours to catch the bus. His time alone helped him see the many connections in the world around him and influenced the way he approached people, problems and just about everything else he encountered in life, including schoolwork and sports.
By the time Bode began high school, he was an accomplished tennis player—he would become state champ in his age group. Thanks to the leg strength, balance, footwork and anticipation he had developed on Cannon Mountain, Bode was also a terrific soccer player. By the age of 11, he was the star of the local junior ski team. He was fearless, unorthodox and fast. When Bode's coach explained he would have to change his technique to progress, Bode called him stupid—ending any chance he had of making the junior Olympic team.
Over the next few years, it became clear that Bode had a possible future as a skier. The family sent him to Carrabassett Valley Academy in Maine, a prep school that transforms talented downhill athletes into polished racers. When the coaches saw Bode careening down the mountain, they were appalled—he did so many things wrong there was almost no place to start. So they ignored him, and he continued to develop his own technique, leaning back in his boots and feathering his way through turns he was taking way too fast. Bode bit it a lot back then, but he learned from his falls. In fact, no one at the academy—including the coaches—thought more about the minutiae of skiing. Bode was obsessed with learning all he could about everything that went into winning a race, from equipment to physiology to how the brain worked, to looking especially closely at the things other skiers ignored.
During Bode's senior year at CVA, he was chatting with a K2 rep and the conversation turned to snowboarding. Bode explained that there were elements of board racing that translated to skiing—particularly when it came to making small adjustments on the fly—then went out and showed him. The rep mentioned that the company was developing a short, hourglass-shaped ski for beginners which sounded like what Bode was talking about. It was a eureka moment for American skiing as a new technology got the boost it needed.
Bode's academic experience as a senior was also something of a eureka moment. When he received a 68 on a paper on author Toni Morrison, he refused to make the revisions that would have guaranteed a diploma. Feeling he had done the work the best he could, he stuck to his guns and refused to do a rewrite. At the prom, he was told he could not wear sandals and cursed out the teacher who scolded him. Bode walked out of CVA with a Certificate of Attendance instead of a diploma, but that was cool as far as he was concerned.
ON THE RISE
Besides, things were going well on the slopes. Bode unveiled his parabolic carving skis to the 1995 Junior Nationals. A year later, he returned as a 19-year-old and finished third in the Slalom, which qualified him for the national team. At this point, Bode was still his own coach. His strategy was to go as fast as he could, and either crash or win.
Bode joined the World Cup Tour for the 1997-98 season. In his first run of his first race, he streaked down the mountain with a Top 25 time. His coaches were ecstatic—American rookies never started this well. They advised Bode to ratchet it down on his next run to protect his position. He looked at them like they were nuts and then tore down the hill even faster. He finished the event 11th. It was at this point where the U.S. Skiing Assocation began to sense they had a very special skier on their hands.
Bode crashed in 14 of his next 20 races but learned something each time. He had a few more good finishes, particularly in the Giant Slalom, ending the year ranked 97th. In '98, he competed in the Slalom and Giant Slalom at the Nagano Olympics but wiped out in each for a pair of DNFs. The following season, Bode rose to 38th overall, finishing among the Top 25 in the Slalom and Giant Slalom.
After a couple of seasons of World Cup, Bode realized he might be pushing against a ceiling. Going fast was only going to carry him so far—it might also might get him killed. Someone compared his style to a cat thrown onto an icy driveway. Bode bristled when he was accused of being reckless, claiming that he was simply "experimenting." Eventually, he sensed it was time to evolve.
Bode started looking at ways to cut gates closer and pick up precious seconds along way. That meant executing turns that weren't taught in mainstream skiing, which in turn meant gaining a new perspective both on his own body and the way his equipment was constructed. This would take time.
Part of this process meant that Bode would have train differently. This irked USSA officials, especially when he scored lower on the physical tests administered to team members. Bode was building his body up to ski his way. By contrast, he belived the others were training just to do well on the test. Bode proved his point by rising to world-class status in both the speed events—Downhill and Super G—and the technical ones—Slalom and Giant Slalom.
The friction between Bode and the skiing establishment increased as the 2002 Winter Games approached. The 2001-02 season saw Bode reach the podium in nine World Cup races, winning twice. He finished second in the Slalom, and was the fourth-ranked skier in the world. But it was during the Olympics that he became a pop superstar.
There were five events in the Salt Lake City Olympics that Bode could have entered (though most skiers restrict themselves to one or two). He chose three—the Combined, Giant Slalom and Slalom. Bode tore it up in the combined event, making one of the greatest recoveries ever caught on camera on his way to a silver medal. The voracious American media ate it up.
Jay Leno invited Bode to appear on the Tonight Show, and to the dismay of the USSA, he accepted—during the Olympics. Bode jetted from Salt Lake to Los Angeles, rapped with Leno, and then flew back in time to win silver in the Giant Slalom. With his best event next, he looked like a lock for three medals, but he pushed the envelope too far and fell twice in the Slalom, placing out of medal consideration.
After the Olympics, Bode decided he would ski as many events as possible, giving him little time to rest but a lot of room to improve. He dazzled the following season at the 2003 World Championships, finishing first in the Giant Slalom and Combined, and finishing second in the Super G. He won two other races that year, racking up tons of points across the board to finish as the second-ranked skier in the world.
MAKING HIS MARK
Bode won six World Cup races in 2003-04, doubling his career total in one season. After leading the overall standings for much of the season, he finished the year ranked fourth but did nail down the top ranking in the Giant Slalom. It was the first win in any Alpine category for an American since Phil Mahre in 1983.
Many of Bode's fans—and certainly his coaches—wondered why he continued to compete in speed events like the Downhill and Super-G when his finishes were so much better in technical events like the Slalom and Giant Slalom. Indeed, he was known as a "technical" skier, which irked him.
Bode would silence the nay-sayers during an historic 2004-05 season. He won six of his first 10 events—including first-place finishes in Downhill and Super-G—building an insurmountable points lead by December.
Then came the crashes—week after week he piled up DNFs and did poorly in his specialty, the Slalom, until his advantage had been whittled down to just 29 points going into the World Cup finals. There Bode turned it back on. He took World Cup gold in the Super G and silver in the Giant Slalom and Downhill. His finish in the Giant clinched the overall title. After flirting with the #1 ranking for several seasons, he finished as the top skier in the world. In all, he notched seven wins—with at least one victory in each of the four Alpine disciplines.
In the World Championships, Bode won gold in the Super G and Downhill. He became the only American ever to win the Downhill at the Worlds, and the second-place finish by Daron Rahlves marked the best day in American skiing history since the Mahre brothers won gold and silver in the slalom at the 1984 Olympics. Bode's most memorable run, however, came during the combined, when a ski popped off 15 seconds into his run but he tried to finish anyway.
The 2005-06 season found Bode trailing playing catch up to a host of skiers, including Olympic teammate Rahlves. The year also tested his concentration when he learned that his younger brother had smashed his skull in a dirt bike accident. Chelone was in a coma for a week.
As the 2006 Olympics neared, Bode made headlines, admitting in a 60 Minutes interview that he had skied "wasted." Later, in a magazine story, he indirectly accused Barry Bonds and Lance Armstrong of steroid use. His first comment incurred the wrath of the USSA, which forced him to make a public apology.
Bode's family, concerned he might be getting unhinged in the run-up to Turin, sent his uncle, Mike Kenney, to join Bode's cousin Chance Stith as part of his entourage. Stith grew up with Bode on the slopes and had some promise as an international competitor until he blew out an ACL. Kenney was a former racer. With two more sets of friendly eyeballs on Bode, there was less chance he would crash off the mountain before the Olympics.
The team that the United States brought to Italy for the Winter Games was a good one, including Rahlves, Bryon Friedman, Steve Nyman and Ted Ligety. With all of America watching—not to mention the rest of the skiing world—the men's squad was performing under more pressure and higher expectations than ever before.
Bode was expected to contend for medals in all five events. He failed to win any hardware at all. Bode received DNFs in the Super G and Slalom, finished 5th in the Downhill, 6th in the Giant Slalom and was disqualified in the Combined for straddling a gate. It was a catastrophe.
The fact that Bode was living apart from the rest of the team and partying into the nights didn't help. Nor did the fact that he turned an ankle playing pick-up basketball. The Americans did manage to capture one gold medal, in the Combined by Ligety. Women's team member Julia Mancuso won another gold for Team USA in the Giant Slalom.
Bode fared better during the 2006 World Cup schedule. He won two races and finished third in the overall points standing. At the U.S. Nationals, he won the Downhill and Giant Slalom. He followed with a strong 2007 season, winning four World Cup races, finishing fourth overall, and capturing the world Giant Slalom title. After the World Cup season, he announced that he was leaving the U.S. team and would compete as a member of his own independent Team America.
The move appeared to pay instant dividends. Bode won the World Cup overall title for the second time in 2008 and nearly captured the Downhill crown. He took six events in all. But in 2009, Bode appeared to run out of gas. For the first time in eight seasons, he didn't win a single event. A left ankle injury was partly to blame, but many fans thought the sport's brightest light had finally flamed out. Bode did little to dissuade them when he took two months off during the World Cup schedule and hinted at retirement. He also folded Team America after two seasons.
Bode decided a return to the U.S. might be the key to recharging his batteries. He came back into the fold in 2010 and scored an impressive Super Combined victory in Switzerland. It was his first trip to the winner's stand since March 2008. Next Bode made the Olympic team and was selected to compete once again in five events.
Bode scored a medal in his first try, taking third in the Downhill in Vancouver. He finished less than a tenth of a second off the lead. The difference between gold and bronze was the slimmest in Olympic history. Bode also medaled in the Super G, taking silver for Team USA. With four Olympic medals to his credit, Bode became America's most honored Alpine skier.
All eyes were on Bode as the Super Combined event began. Four years after
screwing the pooch in Turin and less than a year after nearly retiring, he
finally fulfilled his early promise and added that elusive gold medal to his
trophy case. Bode finished seventh in the Downhill, and then tore it up in the Slalom for a combined time of 2:44.9—a third of a second ahead of silver medalist Ivica Kostelic.
Bode had long insisted that medals aren't important, but clearly this one
was. He held back nothing in his final run, skiing with all of his heart.
Awesome was the word he used to describe the feeling, adding that there was nothing else to say.
Bode is one of only a handful of skiers who can walk away from the sport and exist comfortably—at least by his standards—tomorrow. He has made nearly $20 million in his career, which is about 20 times what most of his peers have earned.
Thus the really interesting question—How long will Bode want to keep doing this? As long as he skis in search of that perfect run, he'll keep having fun. And as long as skiing is fun, Bode will be the man to beat in every event he enters.
BODE THE SKIER
Bode stands taller than six feet and goes more than 200 pounds, with bulky legs and a big rear end—an ideal build for his sport. He leans far back in his boots, and executes tight-radius turns that others simply do not try.
At one time or another, Bode has been the best man on the mountain in all four Alpine disciplines. He often pushes himself to compete in four or five events where others concentrate on only one or two.
Bode obsesses on his equipment, endlessly tweaking and experimenting with new ideas. His eyebrow-raising training methods have irked his coaches since he was a teenager.
What makes Bode so exciting to watch is that he never slows down, no matter where he is in the standings. And he will risk everything to go faster, ever in pursuit of that perfect run.
EXTRAS
* In 2005, Bode became just the second man in history to win Giant Slalom, Slalom, Downhill and Super G races in the same season. The first was Marc Girardelli, in 1989.
* When Atomic began furnishing Bode and Daron Rahlves with skis for the 2004-05 season, Austrian fans accused the company of treason. Prior to that, only Austrian team members used Atomics. When Stephan Eberharter retired, his ski technician was assigned to work with Bode and Rahlves.
* Bode's Downhill victory in 2008 at Wengen tied him with Phil Mahre as the winningest American skier, with 27 titles. He broke the record a week later with a Combined victory in Kitzbuhel.
* Bode only reached the podium twice in 2009—both second-place finishes in the Downhill.
* At the 2010 Olympics, Bode became the first American since Tommy Moe to win an Olympic Downhill medal.
* Bode's 2010 season nearly ended in disaster when he hurt his right ankle playing volleyball with other U.S. team members.
* Bode's 2006 endorsement deal with Atomic was the biggest for a skier in history. Nike's deal with Bode includes his own web site.
* Bode says he likes being able to walk the streets of Manhattan without being recognized. The only fan who has ever spotted him was "some Austrian dude."
* Bode trains at home in the summer instead of with the U.S. ski team. His unique methods include balance-building activities such as unicycling and tightrope walking.
* Bode goes from event to event like a rock star, in his own RV, claiming he prefers his own bed and food to what he gets in hotels. His childhood friend, Jake Sereno, does the driving.
* Bode has a higher percentage of wipeouts than any World Cup champion in history.
* Bode has failed to complete (or been disqualified from) around one-third of his career races.
* Once at a charity event, a bidder paid $13,000 to play a round of golf with Bode.
* Bode's brother, Chelone—who is six years younger—is a world-class snowboarder.
* Among Bode's hobbies are thumbing through used car magazines and playing golf.
* Bode paid off the mortgage on the family tennis camp and is now the official owner.
* Bode once completed a three-mile downhill race after losing a ski.
* Bode claims he once used his World Cup medal to stabilize his toilet seat.
* Bode once kept a daily online journal for the Denver Post. He also is a frequent contributor to the Sirius radio network.
* Bode was the subject of the 2006 film Flying Downhill.
* In 2006, Bode signed a one-day contract to play baseball for the minor-league Nashua Pride. He went hitless in two at-bats but made an acrobatic catch in the outfield.
* In 2008, Bode's daughter, Neesyn Dacey, was born.
* In 2009, Bode and celebrity teammate Paige Hemmis finished second in ABC's "The Superstars.
* Bode's dream is to qualify for the U.S. Open tennis tournament. He plans to try in 2010.
Read more
Latest headlines