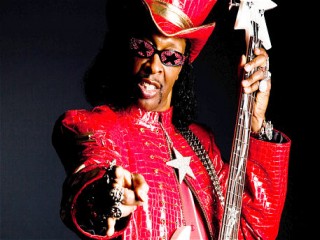 Bootsy Collins biography
Date of birth : 1951-10-26
Date of death : -
Birthplace : Cincinnati, Ohio,U.S.
Nationality : American
Category : Arts and Entertainment
Last modified : 2011-11-04
Credited as : singer-songwriter, funk bassist, Funkadelic
William Earl "Bootsy" Collins is an American funk bassist, singer, and songwriter.
Having played bass guitar with the "Godfather of Soul" James Brown while still in his teens, Collins found his audience in the "geepies"--his term for his six- to twelve-year-old fans--when he joined George Clinton's rising groups Parliament and Funkadelic (collectively known as P-Funk). In 1976 the singer went solo with his own group, the Rubber Band, an extension of P-Funk. Collins is renowned for the appealing whimsy of his live performances and his trademark--star-shaped, rhinestone-studded mirror glasses. As he explained to John Leland in Vogue , "It's not just about doing records. It's got to be a circus, with a three-headed man and everything."
Collins followed in the footsteps of his older brother, Phelps "Catfish" Collins, who played guitar. Phelps introduced Bootsy to rock and roll when he brought home a recording of Lonnie Mack. During adolescence, both brothers played sessions at Cincinnati's King Records studio. In 1969 James Brown entered King Records in search of a bass player. After he heard the teenaged Bootsy, Brown used him on the cut "Lickin' Stick." In Interview magazine, Greg Goldin recounted Collins's "laying down a legendary groove" on the song. Brown hired Bootsy to fill the bass guitarist spot in his back-up band, the JBs, along with Bootsy's brother Phelps. "It had something to do with being in the right place at the right time," Collins told Goldin.
From the late 1960s to early 1970s, Brown pioneered the shift from "negro" to "black" music, reflecting the change in racial perceptions in the United States and the growing diversity of black artists' audiences. "He was in control of everything that was going down with him, and I dug him for that," Collins explained to Gilmore. Brown and the JBs were the masters of the new electric music known as "funk." Membership in the JBs fostered long-term relationships between Bootsy and fellow musicians, including trombonist Fred Wesley and saxophonist Maceo Parker.
Bootsy left the Brown organization in 1971. Rather than back the Spinners, he decided instead to join bandleader Clinton's funk groups Parliament and Funkadelic. "I thought, 'Wow ... Funkadelic ... acid trip...!' That's where we was at," Collins related to Gilmore. Promoting his musical growth, Clinton let Bootsy write songs and arrangements. "When we were doing funk ... it was a nasty word," Collins explained to Goldin. "It wasn't legal then. It wasn't the thing to play on the radio." Collins was the coauthor of most of Parliament's material when the pivotal album Mothership Connection was recorded.
Post-Jimi Hendrix but influenced by acid rock replete with sexual imagery, Clinton's group played party music with more message than the tracks of the disco scene. The pounding funk beat and dazzling electronic effects enhanced the musical scenarios the band created with their bizarre stage personalities. "In the prevideo epoch," summarized Goldin, "the band was outrageous on stage--sometimes garbed in diapers, their mothership flying saucer descending--playing funk, funk, funk. It was danceable psychedelics long before Prince, Oingo Boingo, or the Sex Pistols broke through the conformity, and the uniform -ity, of the disco 1970s."
Collins commanded the crowds during Funkadelic concerts as his stage persona "Bootzilla," a sci-fi cartoon character with an outrageous wardrobe. He sported his trademark "Bootzilla" sunglasses--the frames were cut-outs of stars decorated with rhinestones. An additional rhinestone star adorned the center of his forehead. Collins's finery was influential enough to reach the Orient in the mid-seventies, where Japan boasted a Bootsy nightclub frequented by dreadlocked Japanese males clothed in Bootsy regalia.
When Clinton signed a recording contract with Warner Brothers for Parliament/Funkadelic in 1976, he negotiated an independent, solo contract for Collins. Collins continued working with Funkadelic, and Funkadelic band members Wesley and Parker, among others, recorded with him as his back-up group, the Rubber Band. That same year, Bootsy released his first album, Stretchin' Out in Bootsy's Rubber Band. Gilmore assessed the two albums that followed, Ahh ... the Name Is Bootsy, Baby! and Bootsy? Player of the Year, in Rolling Stone as honing "Bootsy's sense of the absurd into a more sensually playful and childlike jargon.
Though Collins netted several hit singles and gold albums with the Rubber Band--which eclipsed Funkadelic in popularity--he quit performing in the early 1980s. "I got stuck in a role and I couldn't get out," he divulged to Leland. Bootsy lived with his mother and relaxed with his hunting dogs for eight years. When he released the album What's Bootsy Doin'? in 1988, Collins told Leland, "Now, I think I know how to hang Bootsy up when I get off the stage." Goldin noted, however, that Collins had not given up his "quirky, humorous approach" since his return to recording. "I look at it like this," Collins disclosed to Goldin: "They say it couldn't be done. I say if we ain't at the party, there is none. It's putting the fun back into what is supposed to be gone, what is not supposed to be around here now."
Throughout his musical career, he has continued to find opportunities to serve as sideman and producer for an impressive list of diverse musicians, including Sly Stewart, Johnnie Taylor, the Sweat Band, Zapp, Iggy Pop, Malcolm McLaren, Herbie Hancock, and Keith Richards. In the early nineties, he joined JB cohort Fred Wesley and other musicians to back up their fellow JB alumnus Maceo Parker on his highly touted album Roots Revisited. "Everybody's got [some] kid in them, and that's where I've placed my head," Collins disclosed to Gilmore. "When it's time to be a man, I'll be a man. But other than that, I'm a geepie at heart." Mindful of his image, Collins shuns booze and drugs, but his style remains the substance of fun.
Bootsy has collaborated extensively with Bill Laswell and made appearances on two Fatboy Slim records, as well as reading a poem at the end of FatBoy Slims's release in the LateNightTales dj mix series. Bootsy provided "vocal spice" on the TobyMac album Welcome to Diverse City. He also appears on Nicole C. Mullens' latest album, "Everyday People". He has also worked with the Lo-Fidelity Allstars on the album 'Don't be Afraid of Love', with Praxis, and with Buckethead on several occasions, for example on Buckethead's first album, "Bucketheadland". Bootsy was featured in the 2002 film Standing in the Shadows of Motown. In 2004 he appeared on Snoop Dogg's Rhythm & Gangsta album and on the cover of "The Joker" on the Fatboy Slim album Palookaville.
In 2005, Bootsy Collins added vocals to fellow bassist Victor Wooten's album Soul Circus. He also served as "Heineken's Amsterjam 2005" curator and master of ceremonies on Randall's Island, New York, and appeared with Madonna, Iggy Pop, Little Richard, and The Roots' Questlove, in an American TV commercial for the Motorola ROKR phone.
In October, 2005, Collins co-wrote a song celebrating the resurgence of his hometown team, the Cincinnati Bengals of the National Football League called "Fear Da Tiger" which features "raps" written and performed by several Bengals players, including defensive end Duane Clemons, offensive tackle Stacy Andrews, and center Ben Wilkerson. An edited version of the song was made into a music video which features cameos by many other Bengals players. It has garnered tremendous local airplay and is viewable on Bengals.com Additionally, Cincinnati Bell is offering "Fear Da Tiger" as a free ringtone for its wireless customers in both polyphonic and MP3 formats. Collins appeared with Little Richard, Bernie Worrell, and other notable musicians as the band playing with Hank Williams, Jr. for the Monday Night Football opening during for the 2006 season. Collins was the only all star to return with Williams for the 2007 season.
In 2006, ABC Entertainment / A Charly Films Release released a DVD/CD from Bootsy Collins and the New Rubber Band's concert at the 1998 North Sea Jazz Festival. In the same year, Collins split from long-time friend and guitarist Odhran "The Bodhran" Rameriz, citing creative differences as the reason.
Also in 2006, Collins recorded music for the animated television series Loonatics Unleashed. Collins also voiced the character Bootes Belinda in the episode The Music Villain.
In June 2007, Bootsy Collins, along with Phelps Collins, Clyde Stubblefield, John "Jabo" Starks, and Bernie Worrell, participated in the recording of the soundtrack for the movie Superbad.In July 2007, Bootsy also told Billboard magazine that he's working on a project by the name of Science Faxtion and an album called Living On Another Frequency in which he serves as bassist and co-producer along with his lead vocalist Greg Hampton. The band also features guitarist Buckethead and drummer Brain.[5] The album was released in November 2008.
Bootsy has been mentioned in the song "Genius of Love" by Tom Tom Club in the line "Clinton's musicians such as Bootsy Collins raise expectation to a new intention", while "Got more bass than Bootsy Collins" is a line in the song "Rumble in the Jungle" by the Fugees. His influence in popular culture is seen in that he has been referenced by a number of television series. In The Fresh Prince of Bel-Air episode "Sooooooul Train", Geoffrey sneaks into the Soul Train tapings posing as Bootsy Collins, while in The Mighty Boosh episode "The Legend of Old Gregg" an alien creature named 'The Funk' lands on Bootsy's house, giving him his ability to play the bass guitar "like some kinda delirious funky priest", as well as the ability to see around corners. His song I'd Rather Be With You was featured in the movie Baby Boy and on January 26, 2007, Bootsy, a native of Cincinnati, gave the commencement address at the graduation ceremony at The Art Institute of Ohio - Cincinnati.. Red Hot Chili Peppers bassist Flea, who cited Collins as one of his primary influences, appeared in unmistakably Bootsy-esque clothing in the video for RHCP's "Dani California", and Bootsy's "What's a Telephone Bill?" was sampled for 2Pac's "Str8 Ballin'" track off the THUG LIFE album..
In October 2010 Bootsy was awarded a Bass Player Magazine Lifetime Achievement Award at the Key Club in Los Angeles.
Selective Works:
-(With Parliament) Mothership Connection Casablanca, 1975.
-Stretchin' Out in Bootsy's Rubber Band Warner Bros., 1976.
-Ahh ... the Name Is Bootsy, Baby! Warner Bros., 1977.
-Bootsy? Player of the Year Warner Bros., 1978.
-Ultra Wave Warner Bros., 1980.
-The One Giveth and the Count Taketh Away Warner Bros., 1982.
-What's Bootsy Doin'? (includes "Party On Plastic"), Columbia, 1988.
-Jungle Bass.
Read more
Latest headlines