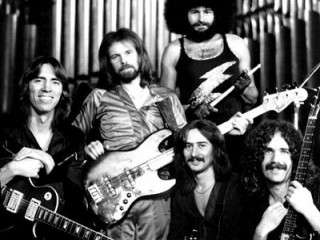 Boston biography
Date of birth : -
Date of death : -
Birthplace : Boston, Massachusetts, U.S.
Nationality : American
Category : Arts and Entertainment
Last modified : 2012-04-17
Credited as : Rock band, Tom Scholz, Don't Look Back album
Boston is an American rock band from Boston, Massachusetts that achieved its most notable successes during the 1970s and 1980s. Centered on guitarist, keyboardist, songwriter, and producer Tom Scholz, the band is a staple of classic rock radio playlists. Boston's best-known works include the songs "More Than a Feeling", "Peace of Mind", "Foreplay/Long Time", "Rock and Roll Band", "Smokin'", "Don't Look Back" and "Amanda." They have sold over 31 million albums in the United States, of which 17 million are their self-titled debut album and 7 million are their second album, Don't Look Back.
From the very beginning the success story of Boston did not follow the typical pattern for rock bands. The unprecedented sales of their first, self-titled album--which sold more copies than any previous debut album--made Boston seem like an overnight sensation, but the material on Boston resulted from six years of work in the basement recording studio of Toledo, Ohio-born Tom Scholz. Scholz, an MIT graduate who had been working as a product designer for Polaroid, was also, in his spare time, a songwriter, keyboardist, and producer. The driving force behind Boston, he has became known for a perfectionism that has resulted in unusually long gaps between Boston albums, a tendency that flies in the face of conventional recording industry wisdom. In spite of the elapsed time between albums, though, each Boston disc has become a platinum seller, demonstrating the enduring popularity of a sound that Jay Cocks described in Time as "heavy-metal music with easy-listening inflections, rock fierce enough for the FM stations, flighty enough to fit right into Top 40 AM radio."
Scholz's early life did not suggest rock stardom. The only member of Boston not from that city, Scholz spent his youth earning good grades, playing center on the high school basketball team, and listening to rock music. After high school, he moved to the Boston area to attend the rigorous and highly regarded Massachusetts Institute of Technology. Although he spent some of his time there playing piano in local bands, he concentrated primarily on his studies, eventually earning both a bachelor's and master's degree in mechanical engineering. He took a job with Polaroid after graduation, but his interest in playing and recording music continued to grow, leading him to answer an ad for a keyboard player that had been placed by a local band that included Barry Goudreau, who would play guitar in Boston's original lineup.
It was not long before Scholz became the leader of the band. Besides playing keyboards, he quickly became proficient on guitar, inspired by the sound of the power chords he had first heard listening to seminal rock bands Cream and Led Zeppelin. Soon he was writing songs for the band and lending their music the sound that would later become Boston's trademark. Along with Goudreau, Scholz recruited vocalist Brad Delp and together they honed the group's material, not by going the usual route of playing live gigs at local clubs, however, but by spending their nights playing in the basement recording studio that Scholz had built with his earnings from Polaroid. Much of the material for the first Boston album came from these sessions. In fact, the first version of "More Than a Feeling" was recorded on Scholz's equipment in 1971, five years before the song would become a Top Five hit.
Evidently intrigued by the sophisticated demo tapes produced on Scholz's home gear, Epic record executives nonetheless wanted to see a performance before tendering Scholz's group a recording contract. Drummer Sib Hashian and bassist Fran Sheehan joined the band at this point, 1976. After the audition, Epic signed the band and sent them to California to re-record their material. Scholz explained to Charles Young of Rolling Stone why Epic wanted the songs re-recorded: "They're afraid to release an album unless it has a producer they know. We finished it in California in a regular studio, but I still did most of the producing." Once the record was completed, the band was officially dubbed Boston after its home base.
Epic's caution seemed pointless once the album was released. It debuted in Record World' s charts at Number 46, a remarkably high position for an unknown band, and it kept climbing until it became the best selling debut album ever (a distinction it maintained until the release of pop diva Whitney Houston's first album almost a decade later). Boston hit the Number Three position and by 1994 had sold over 11 million copies. The record spawned the smash singles "More Than a Feeling," which went to Number Five, "Long Time," and "Peace of Mind." The disc peaked at Number 11 in the U.K.
Naturally, Epic wanted more material, so the band went back to the basement, which was now even better outfitted--thanks to Boston's success. But after six years of work on the first album, Scholz was not about to rush the next one. Epic kept announcing release dates, but Scholz kept holding onto the material. Finally, in September of 1978, Don't Look Back was released.
The second album also topped the U.S. charts, reached Number Nine in the U.K., and the title track became a Number Four hit. In November the band played two sell-out shows at Boston Garden, its first appearance in the city that bears its name. Despite the band's continued popularity, Scholz was not satisfied with the second record as he considered it largely unfinished. He vowed not bow to record company pressure in the future and put his money where his mouth was, suing Epic to extract himself from a contract that called for five albums in ten years. In retaliation, the record company withheld the band's royalties and obtained an injunction preventing them from recording material for any other label. That did not prevent Boston from working on new songs, however, though Goudreau and Hashian had left during the early 1980s to pursue solo careers. Scholz, Delp, and drummer Jim Masdea, who had played some with the band in the early 1970s, continued to record in the basement.
In order to earn money during the prolonged legal battles, Scholz drew on his training as an engineer; already the inventor of various devices to enhance the output of the electric guitar, he set up Scholz Research & Design, Inc. The company's most successful product was the Rockman, a portable amplifier that boasted the sound of a full-sized one. Scholz received 3,000 orders for the Rockman before the first one had even been produced. With the income from his company, Scholz managed to keep Boston recording.
Although the legal dispute was not wholly resolved, the injunction against Boston was lifted in 1985, and the band signed with MCA. Featuring a lineup of Scholz, Delp, Masdea, Gary Phil on guitar, C. David Sikes on bass, and Doug Huffman on drums, the band finally released their third album, Third Stage, in the fall of 1986. The wait apparently had not dampened the appetite of Boston's fans. Third Stage topped the charts for four weeks and became the first album to achieve gold status in the then-novel compact disc format. The single "Amanda" also clobbered the charts.
Still, continued success did not turn Scholz into a stereotypical rock star. He explained to Michael A. Lerner of Newsweek that the title Third Stage referred to the phase in life that follows childhood and adulthood and revealed, "What I'm really interested in is not how all this can change my life, but how I can use the money to change things I care about."
Indeed, Scholz's life appears not to have changed much because of Boston's success. Still living in the same house that he bought while working for Polaroid, Scholz and Boston continue to record in the underground studio. Although they have not released an album since Third Stage, the wait has not been due to the legal difficulties that had earlier held up that album--a jury decided in Scholz's favor in 1990. Rather, Boston's long silence has resulted from Scholz's legendary perfectionism. Meanwhile, fans of the band from Beantown must satisfy themselves with their records and the enduring popularity of the group's hits on classic rock radio.
Boston released a compilation album in 1997, titled simply Boston: Greatest Hits. The album featured all of the band's hit singles except "We're Ready", along with three new songs, "Higher Power", "Tell Me", and an instrumental version of the "Star Spangled Banner". Smith and Sikes left the band in late 1997 and recorded an album together.
November 2002 marked the official release of Corporate America on the independent label Artemis Records. This album featured the largest Boston lineup ever; returning members included Delp and Cosmo on guitar and lead vocals, Scholz on lead guitar and organ, and Gary Pihl on guitar, along with new members Anthony Cosmo on rhythm guitar, Jeff Neal on drums and Kimberley Dahme on bass and vocals. Dahme, Delp and Cosmo all contributed lead vocals to the album. The group embarked on a national tour in support of the album in 2003 and 2004. In 2006, the first two Boston albums appeared in remastered form.
On March 9, 2007, lead singer Brad Delp committed suicide at his home in Atkinson, New Hampshire. Police found Delp dead in his bathroom, along with several notes for whomever would find him. In the bathroom where Delp committed suicide, two charcoal grills were found on the bathroom fixtures, and the door sealed. Police Lt. William Baldwin called the death "untimely" and said that no foul play was indicated. Delp was alone at the time of his death according to the police report. Delp was found by his fiancée, who saw a dryer hose attached to his car. According to the New Hampshire medical examiner, Delp's death was the result of suicide by carbon monoxide poisoning as evidenced by carboxyhemoglobin. Delp's last concert with Boston was performed at Boston Symphony Hall on November 13, 2006 at a concert honoring Doug Flutie.
The ongoing conflicts between the surviving band members spilled over to the 2008 Presidential campaign. Barry Goudreau appeared with Mike Huckabee and played with him at some rallies in New Hampshire. Huckabee used "More than a Feeling" as a campaign theme song.
An update was posted to the official Boston website revealing progress on a new studio album, which is "progressing at an agonizingly slow rate." As of August 13, 2011, according to publicist Gail Parenteau, the new album is 85% complete. It is said to contain Brad Delp's singing on many songs, along with "several excellent performances by our other three lead vocalists."
Michael Sweet left the band in August 2011 in order to focus on Stryper.
Current members:
Tom Scholz - lead and rhythm guitar, bass, keyboards, percussion, backing vocals (1976–present)
Gary Pihl - rhythm and lead guitar, keyboards, backing vocals (1985–present)
Kimberley Dahme - bass, guitar, vocals (2001–present)
Jeff Neal - drums, percussion, backing vocals (2002–present)
Tommy DeCarlo - lead vocals, keyboards, percussion (2008–present)
Read more
Boston Picture Gallery
Latest headlines