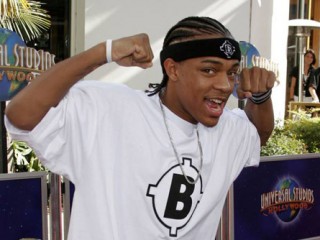 Bow Wow biography
Date of birth : 1987-03-09
Date of death : -
Birthplace : Columbus, Ohio, United States
Nationality : American
Category : Arts and Entertainment
Last modified : 2010-07-13
Credited as : Rap musician and singer, worked with Snoop Dogg,
Bow Wow
or
Lil' Bow Wow
, born
Shad Gregory Moss
on March 9, 1987 in Columbus, Ohio, United States is an African-American rap musician.
The youngest rapper ever to have a hit single in the United States, Bow Wow was six when he made his recording debut as a guest artist on a Snoop Dogg album. Calling himself "Lil' Bow Wow," he made his solo recording debut in 2000 at the age of 13 with Beware of Dog, which went double platinum the following year. A single from this album, "Bounce with Me," earned him a place in the Guinness Book of World Records as the youngest rap star in American history with a hit single. Bow Wow followed this release with Doggy Bag in 2001, and added "film star" to his resume a year later, when he starred in the basketball movie Like Mike. In 2003 Bow Wow released his third album, Unleashed, added more film roles to his list of credits, and dropped the "Lil'" from his name. Unleashed continued the rapper's practice of clean lyrics, proving that rap music need not be vulgar to be popular.
Bow Wow
was born
Shad Gregory Moss
on March 9, 1987, and grew up in Columbus, Ohio. His parents separated before he was even a year old; they would eventually divorce in 2002. His mother, Teresa Caldwell, a purchasing manager at a computer systems company, saw her son's talent early on, entering him in talent contests when he was only four. Bow Wow began rapping when he was just five, repeating lyrics he heard on TV, performing at that time as Kid Gangsta. His biggest musical influence as a young boy was the pop superstar Michael Jackson. The first rapper he listened to extensively was Jay-Z.
Joined Snoop Dogg's Entourage
Bow Wow got his start when he climbed on stage at a Snoop Dogg concert and began rapping. "The next thing you know," Bow Wow later told Lauren Wakefield in the Washington Post, "he wanted me to come backstage, which I did with my mom." The famous rapper invited Bow Wow to continue with him on his tour, which he did, accompanied by his mother. During the show, Bow Wow would wait for his cue, then jump on stage and begin rapping as part of Snoop's act.
After moving to Los Angeles with his mother, Bow Wow made his first recording when he was six years old, appearing as a guest artist on the 1993 Snoop Dogg album Doggystyle. Snoop Dog gave Bow Wow his stage name and also helped him land his own recording deal with Death Row Records, Snoop's label. Bow Wow's first recording sessions at Death Row were not successful, however, and the label decided that the young rapper did not fit its lineup of hard core gangsta rappers.
Disappointed, Bow Wow's mother moved him back to Columbus, where she worked, hoping to land a new record deal. Her persistence paid off in 1998 when Snoop referred her to an executive at Epic Records, a Sony label. Sony signed Bow Wow to make his first solo album under the creative direction of producer/rapper Jermaine Dupri.
In 2000, at the age of 13, Bow Wow released his debut album, Beware of Dog. It was a hit, selling upwards of three million copies. A single from the album, "Bounce with Me," earned the young rapper a spot in the Guinness Book of World Records as the youngest rapper in the United States to have a hit single. Dupri, who the New York Times claimed had "created the blueprint for kid rap," believed the time was ripe for a new wünderkind. He described his working relationship with Bow Wow to Josh Rottenberg in the New York Times: "I wanted him to get my vibe, to turn basically into me as a little guy. I'd write all the lyrics and do all the demos. Everything you see from Bow is basically from me."
Caldwell made sure that she was at the center of all decisions regarding her son's career, to make sure he was not exploited, despite money and pressure to do so. "I will not," she told Rottenberg, "let anybody make a slave out of my son." In 2001 Bow Wow won the Nickelodeon Kids Choice Best Male Singer Award. Among his many appearances that year was at the Grammys, which he opened with pop superstar Madonna. That same year Bow Wow released his second album, Doggy Bag, which also went platinum. A single from the second album, "Thank You," was an homage to the fans who helped him become so successful.
Signs of Change
By the time he was in eighth grade, the demands of his career made it impossible for Bow Wow to attend school. He began to study under tutors, beginning in the ninth grade. Predictably, he said that he didn't miss being in school.
In 2002 Bow Wow starred in the film Like Mike, in which he played an orphan who finds a pair of magic sneakers that allow him to play basketball like NBA superstar Michael Jordan. Bow Wow said that he'd always dreamed of being a basketball player, and that acting in movies had been another ambition. As he told Barry Koltnow in the Pittsburgh Post-Gazette, "I always knew [movies] ... would be part of my rapping career."
In 2003 Bow Wow released several singles off his upcoming third album, including "Let's Get Down" and "18," in which he raps about wanting to be old enough to get a tattoo and have other adult privileges. When he released Unleashed in August of 2003, fans found that the rapper's voice had deepened. Then 16, Bow Wow told Jim Farber in the New York Daily News that "it didn't change my flow and that's what matters."
There were other changes, as well: with this album, Bow Wow dropped the "Lil'" from his name, no longer wanting to be regarded as a child star. He wrote most of the album himself, and insisted on covering more mature themes, saying that his fans had grown with him and no longer wanted to listen to kid's stuff. If the charts were any indication, his new sound was right on the money; a single from the album, "Let's Get Down," landed in the number 15 position on the Billboard Hot R&B/Hip-Hop Singles & Tracks chart, and hit number 30 on the Billboard Hot 100 chart.
In addition to his recording efforts, Bow Wow launched a line of clothing called Bow Ware. In 2003 he worked on more film projects, including Mr. President, a comedy in which he appeared with Will Smith, and Johnson's Family Vacation, co-starring Vanessa Williams. Asked whether he intended to pursue acting as a full-time career, Bow Wow was noncommittal, saying that he just wanted to keep trying new things and see what appealed to him. He did say that he still held his dream of joining the NBA, adding that he did not intend to be a rapper for the rest of his life. He planned to go to college at 18, then play for the NBA at 20. In the meantime, he said that he loved his celebrity status and was quite happy just being where he was.
Began Using Real Name
In 2005 Bow Wow began a gradual progression away from his doggy moniker, back to his real identity as Shad Moss. He released an album whose title, unlike those of his previous albums, did not refer to dogs. Wanted had two singles that hit the Hot 100 list and the Hot Rap Tracks chart. In that same year he made another career stretch, starring in the feature film Roll, Bounce. In the film, set in 1978, he played X, a young man from Chicago whose world revolved around the local roller skating rink. When the rink has to close, he and his friends are pushed to the other side of town, where they compete in a roller-skating showdown. Although the movie was about X and his friends, it was also a coming-of-age drama about X's longing for a close relationship with his father. Bow Wow told a reporter from Jet that he could relate to the role, because "growing up, I only saw my father on the weekends." He added, "I feel that every kid wants 'that' relationship with his father and in this movie that's what X wants, and in real life that's what I want with my father. That was one of the things that really drew me to play the character."
In 2006 Bow Wow released The Price of Fame. He told Gail Mitchell in Billboard that the album revealed a shift in his persona to a more adult perspective on life: "I'm grown. This time I'm definitely pushing the edge." He continued to alternate between music and acting; in that same year, using his real name, Shad Moss, the singer won a role in the HBO show Entourage, in which he played a stand-up comic. He also won a role in the sports drama Patriots. He told Nellie Andreeva in the Hollywood Reporter, "After 16 years in the music industry and six successful albums, I've decided to shift my energy to something else I'm passionate about, acting," Bow Wow said. "I'm going to try to be the next Will Smith."
However, he was not quite done with music. New Jack City II, released in 2009, revealed a move to a harder edge; it included a parental advisory and had lyrics discussing the influence of crack cocaine in the inner city.
In late 2009, Bow Wow was at work on another album. Tentatively titled The Transition of Shad Moss, it was scheduled for release in 2010. At the same time he was also at work on a film, Lottery Ticket, in which he played a young man from the projects who has a winning lottery ticket, and who must survive three days of being pursued by his greedy neighbors before he can claim the prize. Bow Wow told Shirley Halperin in Entertainment Weekly that he had been planning the move to film for a long time: "One day I will stop [making music] and just be an actor."
PERSONAL INFORMATION
Born Shad Gregory Moss on March 9, 1987, in Columbus, OH; son of Teresa Caldwell (his manager). Addresses: Record company--Sony Music Entertainment, Inc., 550 Madison Ave., New York, NY 10022-3211. Web site--Bow Wow Official Web site: http://www.bowwowunleashed.com/.
AWARDS
Nickelodeon Kids Choice Awards, Best Male Singer, 2001.
CAREER
Made recording debut on the Snoop Dogg album Doggystyle, 1993; released debut solo album, Beware of Dog, 2000; released debut solo single, "Bounce with Me," 2000; released second solo album, Doggy Bag, 2001; starred in film Like Mike, 2002; dropped "Lil'" from his name, released third album, Unleashed, 2003; Wanted, 2005; The Price of Fame, 2006; New Jack City II, 2009.
Selected discography
Singles
* "Bounce with Me," Sony, 2000.
* "Bow Wow (That's My Name)," Sony 2001.
* "Ghetto Girls/Puppy Love," Sony, 2001.
* "Thank You," Sony, 2001.
* "Let's Get Down," Sony, 2003.
Albums
* Beware of Dog, Sony, 2000.
* Doggy Bag, Sony, 2001.
* Unleashed, Sony, 2003.
* Wanted, Sony, 2005.
* The Price of Fame, Sony, 2006.
* (With Omarion) Face Off, Sony, 2007.
* New Jack City II, Sony, 2009.
Read more
Latest headlines