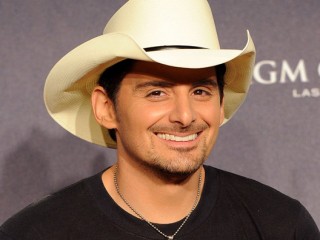 Brad Paisley biography
Date of birth : 1972-10-28
Date of death : -
Birthplace : Glen Dale, West Virginia, U.S.
Nationality : American
Category : Arts and Entertainment
Last modified : 2012-01-06
Credited as : Singer-songwriter, Country artist, Grammy Award winner
Brad Douglas Paisley is an American singer-songwriter and musician. His style crosses between traditional country music and Southern rock, and his songs are frequently laced with humor and pop culture references.
In what seemed a meteoric rise to fame, singer, songwriter, and guitarist Brad Paisley went from obscurity to near-superstardom with the release of his debut album in 1999. By early 2000 he was scheduled for concerts every other day as both an opening act and as a headliner. In reality, however, this illusion belied years of study, practice, and experience--Paisley started young, worked very hard, and controlled every aspect of his recording career.
Born on October 28, 1972, in West Virginia, Paisley's hometown of Glen Dale had a population of fewer than 2,000. He spent his after-school time with his grandfather, Warren Jarvis, who worked the afternoon shift at the railroad. Jarvis, who also played bluegrass acoustic guitar, gave his grandson a guitar--a Sears Danelectro Silvertone, complete with an amplifier and case--at age eight. Jarvis also sent Paisley to Clarence "Hank" Goddard, a local guitar pro.
With Goddard's encouragement Paisley learned to fret and riff like a professional musician. His earliest live performances were at his church at age 9; he wrote his first song, "Born on Christmas Day," at age 12. That year he played a radio concert on USA Jamboree Live, a popular Saturday night program broadcast on WWVA radio in Wheeling, West Virginia. The public response was so positive that the young singer-guitarist spent the next eight years as a regular on the show and sang warm-ups for many popular recording stars, including George Jones and Little Jimmy Dickens. It was an invaluable apprenticeship in the business of country music.
When Paisley was 13, Goddard invited him to join his own band. According to Paisley, he was not very good, but Goddard was a dedicated teacher who encouraged his progress. Paisley also joined the roster of the yearly Jamboree in the Hills at age 14, and for the next for six years entertained about 60,000 spectators annually in the hills outside of Wheeling.
In 1991 Paisley began his college career at West Liberty State College, West Virginia, but two years later he moved to Nashville, a decision spurred in part by encouragement from a professor. Paisley enrolled in a music business curriculum at Belmont University. After completing college internships at the American Society of Composers, Authors & Publishers (ASCAP), Atlantic Records, and Fitzgerald-Hartley Management, Paisley had a solid background and extensive experience in the music business by the time he graduated in 1995.
Paisley made many contacts during his various internships, including scouts from EMI Music Publishing. The connections proved invaluable, and within a week of graduation, he had signed a songwriting deal with EMI. Eventually one of his song demos attracted the attention of singer Alan Jackson, who requested a hold on the composition, called "I'm Gonna Miss Her." Arista Records, after hearing the demo, requested a longer demo and signed Paisley to a recording contract soon afterward.
Paisley began work on his first album, Who Needs Pictures, in 1998. He had already written a large repertoire of songs--enough for several albums. Opting not to hire a studio guitarist, he played all the parts himself and used his tour band in the studio despite the group's limited recording experience. The album was under production and nearing completion when he decided to bring in a former college schoolmate, Frank Rogers, as producer. Rogers, a friend and musical collaborator of Paisley's, had no experience as a major record producer, but Paisley had faith. The debut album was released on June 1, 1999.
"He Didn't Have to Be," a track from the album, lingered at the top of the Billboard country singles chart for two weeks, earning Paisley a special distinction as the only new country star to score a number-one hit on that chart that year. It was written by Paisley and Kelley Lovelace, a frequent collaborator and close friend, and was inspired by the relationship between Lovelace and his stepson. The song was honored with several award nominations, including Single of the Year and Song of the Year from the Country Music Association. The track won Song of the Year honors from Turner News Network and the Country Music Television Country Weekly Music Awards, which also gave it a nod in the running for Single of the Year. The Country Music Association recognized Paisley with a nomination for Male Vocalist of the Year. In other reviews, Don "Hoppy" Jeffrey of KFRG in San Bernadino, California, told Billboard that "Brad Paisley's music is blazing a path and setting the pace for country music in the new millennium." The album, an enhanced compact disc, was certified platinum in February of 2001.
On May 28, 1999, Paisley made his debut at the Grand Ole Opry. After approximately 40 appearances, Paisley was inducted as a regular cast member on February 17, 2001, at age 28, the youngest member of the Opry.
Paisley says his albums are musical photographs, pictures of life that sometimes flow like movies. He called his 2001 follow-up album Part II, in an allusion to movie sequels. He was in fact so concerned with flow that he orchestrated the beginning of Part II to pick up the fading fiddles from the end of Who Needs Pictures. Released on May 28, Part II had risen to number three on the Billboard country albums chart by June 6 and was certified platinum by August. By the end of 2002 Part II had spent more than 70 weeks on the charts.
Part II features Paisley's award-winning track, "Too Country," written by Chuck Cannon and Bill Anderson. The song, which presents a warm, cozy image of country life: fried chicken, gravy, biscuits, and nostalgia, was named Vocal Event of the Year by the Country Music Association in 2001.
Although he prefers midsize venues, Paisley nonetheless opens for superstars such as Alan Jackson and Lonestar. In 1999 Buck Owens invited him to appear at his nightclub the Crystal Palace in Bakersfield, California, and in 2000 Paisley appeared at a number of festivals and fairs, including River Bend in Chattanooga, City Lites in Commerce, Georgia, West Virginia's Jamboree in the Hills, the New Mexico State Fair, the West Virginia Intermountain Fair, and the Georgia Mountain Fair.
Paisley's favorite instrument, according to Guitar Player, is a 1968 Fender Telecaster with a maple fret board decorated in a paisley pattern. After an endorsement deal with Gibson, he was able to add a Chet Atkins Gretsch Country Gentleman model to his collection. Paisley is all pro; he uses a Vox AC30 top-boost amplifier, and meticulously adjusts even the voltage input before he plays. The license plates on his pickup truck read GTR-PLR.
In a Field & Stream interview, Paisley confided that he loves to fish for bass, and almost every other fish except trout. Furthermore, his "I'm Gonna Miss Her" (The Fishing Song) expresses the sentiment that fishing is more important than a relationship with any particular woman, a notion upon which he elaborates in the song's video. He also loves to hunt, with both with bow and arrows and with rifle.
In 2000 Paisley secured a sponsorship deal with USA Meats not only for his own live concerts, but also for the Brad Paisley Foundation to benefit the Children's Miracle Network, St. Jude's Research Hospital, the Opry Trust Fund, and the American Cancer Society.
Paisley released his third album, Mud on the Tires (2003), following Who Needs Pictures and Part II. The album features the hit song "Celebrity", the video of which parodies reality shows such as Fear Factor, American Idol, The Bachelorette and According to Jim, and included such celebrities as Jason Alexander, James Belushi, Little Jimmy Dickens, Trista Rehn and William Shatner. (Paisley later contributed to Shatner's album Has Been.) The album's title track, "Mud on the Tires", reached Billboard #1 in 2004.
In 2005, after touring with Reba McEntire and Terri Clark on the "Two Hats and a Redhead Tour," he released Time Well Wasted, containing 15 tracks. This album includes "Alcohol," two duets — "When I Get Where I'm Going" with Dolly Parton and "Out in the Parking Lot" with Alan Jackson — and a bonus track, "Cornography." On November 6, 2006, the album "Time Well Wasted" won the Country Music Association CMA Award for Best Album. "Time Well Wasted" also won album of the year at the 2006 ACM Awards.
Paisley's fifth studio album, 5th Gear, was released in the United States on June 19, 2007. The first four singles from the album, "Ticks", "Online", "Letter to Me", and "I'm Still a Guy", all reached number one on the country music single charts, making seven straight number one hits for Paisley." "Online" featured the Brentwood High School marching band playing toward the end of the song, a cameo by Jason Alexander, and again featured a cameo by William Shatner. Throttleneck would also reach number one, which would get Paisley his first Grammy.
A sixth, largely instrumental album, titled Play, was released on November 4, 2008. Brad Paisley and Keith Urban released to country radio their first duet together on September 8, 2008, "Start a Band." It was the first and only single from Play, and it went on to become Paisley's thirteenth number one hit and his ninth in a row. The album also features collaborations with James Burton, Little Jimmy Dickens, Vince Gill, John Jorgenson, B.B. King, Albert Lee, Brent Mason, Buck Owens, Redd Volkaert and Steve Wariner.
Brad Paisley cohosted the 44th Annual CMA Awards on November 10, 2010, where he was also awarded the CMA's top award, Entertainer of the Year. During his acceptance speech, Paisley emotionally honored his grandfather, who inspired him to play the guitar.
In December 2010, Paisley released "This Is Country Music" as the title track to his eighth studio album, released May 23, 2011. The album's second single, "Old Alabama" (with Alabama), released to country radio on March 14, 2011 and became Paisley's nineteenth number one hit. "Remind Me," with Carrie Underwood, was released May 23, 2011 to radio.
Studio Albums:
1999: Who Needs Pictures
2001: Part II
2003: Mud on the Tires
2005: Time Well Wasted
2006: Brad Paisley Christmas
2007: 5th Gear
2008: Play
2009: American Saturday Night
2011: This Is Country Music
Read more
Latest headlines