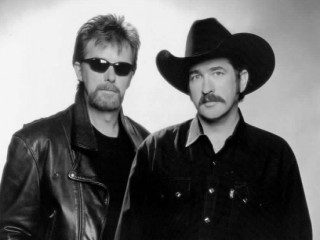 Brooks & Dunn biography
Date of birth : -
Date of death : -
Birthplace :
Nationality : American
Category : Arts and Entertainment
Last modified : 2012-04-17
Credited as : country music duo, Brand New Man album, Cowgirls Don't Cry
Brooks & Dunn was an American country music duo consisting of Kix Brooks and Ronnie Dunn, who were both vocalists and songwriters. They were paired by record producer Tim DuBois in 1990. Before the duo's foundation, both members of the duo were solo recording artists.
Mixing two elements can sometimes cause an explosive reaction that results in something completely new , something greater than the sum of its parts. When Kix Brooks and Ronnie Dunn teamed up, two little-known solo artists who struggled for decades were transformed into overnight superstars, becoming country's top vocal duo. Their debut album, Brand New Man, remained on Billboard's Top Country Albums charts for more than five years and is the best-selling album by a country duo in music history. Since their 1991 breakthrough, the duo's standout songwriting and performances have continued to win critical acclaim and every major industry award-as well as an enthusiastic audience, evidenced by record-breaking tours and album sales topping 17 million. "There's never been a male pairing that's turned into this kind of sociological phenomenon," Country Music Association director Ed Benson told Entertainment Weekly. "They have an electricity and a camaraderie together that's infectious."
The energetic Kix Brooks-who earned his nickname before he was born -began his musical journey in Shreveport, Lousiana. At six years old, he started playing the ukelele. At age 12, he gave his first performance, during a birthday party for country legend Johnny Horton's daughter, who lived down the street. By the time he began college at Louisiana State University, Brooks was a regular on the club circuit. He recalled a New Orleans joint where flying fists and beer bottles filled the air. "I got a blank pistol," he told People. "When they'd get too wild, I'd pop a cap, and they'd be looking for bullet holes in themselves and running for cover." Dunn added, "It took us about 40 years combined, but we finally got out of those danged bars."
After traveling to Alaska to work on the pipeline and to Maine to work in advertising, Brooks moved to Nashville, where a former classmate worked for Charlie Daniels' publishing company. Brooks became a staff writer at Tree Publishing, where he penned hits for John Conley, Nitty Gritty Dirt Band, Highway 101, Sawyer Brown, The Oak Ridge Boys and Ricky Van Shelton. He also continued pursuing a solo career, releasing albums on Avion and Capitol, with only minor success.
Meanwhile, Ronnie Dunn grew up performing with his father's band in west Texas. He was later forced to choose between music and the Baptist ministry while at Abilene Christian College. Moonlighting in honkytonks was not an approved part of the curriculum for psychology and theology students.
Confronted with the choice, Dunn quit school and moved to Tulsa, Oklahoma, with his parents. After years of playing clubs in Texas and Oklahoma, he won the Marlboro Talent Search. His prizes included recording sessions with producers Barry Beckett and Scott Hendricks. It was Hendricks who later brought Dunn to the attention of Arista executive Tim DuBois. Dunn moved to Nashville and signed with Tree Publishing, where Brooks was also on staff.
DuBois noticed similarities in Brooks' and Dunn's music, introduced the two over lunch in 1990, and suggested they try writing together. Brooks told People, "Ronnie and I were the most unlikely duo candidates. We had always held onto single egos." When they first paired up, Brooks told David Zimmerman of USA Today that,"these songs kept poppin' out," adding that the duo hoped Alan Jackson would include one of their songs in his next project.
DuBois told Zimmerman, "The first song they brought me that they'd written together was 'Brand New Man.' I knew we had something special there. It was obvious I had to convince them that they were an act. They both wanted solo careers very badly and had pursued it for so long. It's not the same thing when you're having to share that spotlight with someone else. I think there was that element of letting go of that dream." Determined to succeed, they cast their chances together. Dunn told Dana Kennedy of Entertainment Weekly the duo's success was a result of "sheer blind determination. Psychotic need. There are a lot of people who make it who don't have a thimbleful of talent. They just want it more than anybody else. That's what it takes."
Their debut album, Brand New Man,was released in 1991.The album proved the duo had what it took. Kennedy wrote, "Their appeal stems from the way they mix styles-the music is part lonesome-hearted country, part stomping rock & roll, overlaid with a '70s singer/songwriter sensibility."
Their sophomore effort, 1993's Hard Workin' Man, left no doubt about the duo's star status. Ted Drozdowski wrote in Rolling Stone, "Hard Workin' Man is a smooth-running machine, fueled by Dunn's burr-edged lead vocals, the duo's strong harmonies and choruses built on hooks heavy enough to pierce even the heartiest Saturday night honky-tonker. And that's what hits are made of on anyone's assembly line." USA Today's Zimmerman wrote, "Leave the weepy ballads to Vince Gill and the message songs to Garth Brooks (no relation to Kix); the duo's sole aim is to scar up those hardwood dance floors with the gotta-dance tug of songs like ... 'Hard Workin' Man' and the career-making 'Boot Scootin' Boogie,' the dance-hall classic that even invaded disco clubs."
In 1996, the release of Borderline marked what Ronnie Dunn called "a little bit of a left turn for us," according to imusic.com. " I felt like it was time for us to kind of veer off the most traveled path. It sure doesn't hurt, in today's climate, to step just a little bit over into what the traditionalists might call 'progressive.'" "Dunn's range and persuasion as a singer have perhaps never been better showcased than on 'My Maria,'" noted imusic.com, "the thrilling remake of a B.W. Stevenson hit of yesteryear that practically jumps out of the grooves at you." Brooks told Tamara Saviano of Country Weekly, "We use everyone's input to decide which songs to cut. And of course, Ronnie has such a great voice and radio is really locked into it. As a result, he sings most of the singles. We keep that in mind when we're making the record."
The duo's 1998 album, If You See Her, included the 1966 Roger Miller classic "Husbands and Wives." "Cutting that was just a whim," Dunn told Saviano. "I was in the studio, and we had a little bit of down time, and I looked at [producer Don] Cook and said, 'Do you remember that Roger Miller song? Does anybody know the lyrics? I want to cut it while we have a minute." The song eventually went to number one.
The album's title track, "'If You See Him/If You See Her,' [sung with Reba McEntire] was the result of an unprecedented alliance between two superstar acts and their label chiefs, managers, producers and promotion and marketing teams," wrote Billboard's Chet Flippo. "One song became a single for two acts on two different labels, as well as a video. The song also anchors the new album for each act, and the albums themselves are named after the song. A joint tour with McEntire and Brooks & Dunn is powering the whole venture." During that co-headlining tour with McEntire, the two acts took turns going on first. At times, the question of who would open in what city was settled by a simple coin toss. "After a month or so," Dunn joked, "the only argument we had was over who'd go on last. We both wanted to be the opening act!"
In 1998, Brooks and Dunn were ranked the fourth highest-grossing tour for joint dates with McEntire, according to Amusement Business magazine, and ninth for the shows they headlined. The duo's performance style has evolved to gain them coveted entertainer of the year awards from both the Academy of Country Music and the Country Music Association. They are the only duo ever to have achieved this honor. "A dynamo in concert," People noted, "Brooks likes to jump into the audience, while his laid-back foil packs his energies into the vocals." USA Today's Zimmerman wrote, "In concert, ... Dunn is the less flamboyant of the two, but his vocal intensity somehow matches Brooks' manic leaps, duckwalks and near-violent guitar work." "I come from the school where you just stand there and sing," Dunn told USA Today. "I was real shocked when I first saw Kix jumping all over the place and running to the end of the stage."
Their contrasting styles seem to be the secret of the duo's success. "I really don't know why we work so well together," Dunn was quoted in imusic.com. "It must be because we are such opposites, in image and stuff like that and even in our approach to music. ... I think the freedom we give each other has a lot to do with it. We each kind of do our own thing then bring it all together."
In a biography from Arista, Dunn explained, "Kix and I really give each other room to stretch. The two of us are just very different musically, in terms of what we like to hear and write. We accept that. We basically meet in the middle. There's never been a rift, and it keeps things fresh." Brooks told imusic.com, "I'm not much good at analyzing it. We just do what we do and thank God that a lot of folks are into it. I think the public just sees us for what we are: a couple of buddies making music together that obviously has a fun factor to it. We really have fun at what we're doing ... ." But, he explained further in the Arista biography, "I think it's the fear factor that really keeps us going. Our career will have to go on for a lot longer for Ronnie and I to get comfortable with our success or merely take it for granted. We've been scared to death since the day we got together. We know this whole big fun thing that we do all revolves around that next hit. That's a wolf that never stops barking at you."
Brooks summarized on imusic.com: "It goes through your mind sometimes how long all this is going to last.... That tremendous rush we feel when we hit the stage, or when we lay down final vocal tracks in the studio, is still there. It's something I can't imagine losing.... And we hope to keep doing it for a long, long time."
Their seventh studio album, Steers & Stripes, was released on April 17, 2001. For this album, the duo worked with producer Mark Wright, who also produced for Lee Ann Womack at the time. Its lead-off single, "Ain't Nothing 'Bout You", became their longest-lasting Number One hit, with a six-week stay at that position.Brooks & Dunn released a Christmas album in 2002 titled It Won't Be Christmas Without You. Four of its cuts made the country music charts based on seasonal airplay: the title track, "Hangin' 'round the Mistletoe", "Rockin' Little Christmas" and a rendition of "Winter Wonderland".
Arista released Brooks & Dunn's second Greatest Hits package, The Greatest Hits Collection II, in October 2004. The album included singles from If You See Her, Steers & Stripes and Red Dirt Road, as well as the previously-unreleased "That's What It's All About" and "It's Getting Better All the Time". Respectively, these cuts peaked at numbers two and one on the country music charts, as well as 38 and 56 on the Hot 100.
Their tenth studio album, Cowboy Town, was released on October 2, 2007. Its lead-off single "Proud of the House We Built" reached number four on the country charts and 57 on the Hot 100. Following this song were "God Must Be Busy" at number eleven and "Put a Girl in It" at number three. After this song, the duo released "Cowgirls Don't Cry", which they later performed with Reba McEntire at the Country Music Association awards. Following this performance, the song was re-released with McEntire's vocals. In early 2009, the song peaked at number two on the country charts.
The duo released its final compilation, #1s… and Then Some, on September 8, 2009. The album features 28 past hits songs and two new songs. Both of these new songs, "Indian Summer" and "Honky Tonk Stomp" (the latter a collaboration with Billy Gibbons of ZZ Top), peaked at number sixteen on the country music charts.
The duo announced their retirement in August 2009 and performed their final concert on September 2, 2010 at the Bridgestone Arena in Nashville, Tennessee. Brooks has been the host of the radio show American Country Countdown since 2006, while Dunn has continued to record for Arista as a solo artist.
Albums:
1991: Brand New Man
1993: Hard Workin' Man
1994: Waitin' on Sundown
1996: Borderline
1997: The Greatest Hits Collection
1998: If You See Her
1999: Tight Rope
1999: Super Hits
2001: Steers & Stripes
2002: It Won't Be Christmas Without You
2003: Red Dirt Road
2004: The Greatest Hits Collection II
2005: Hillbilly Deluxe
2007: Cowboy Town
2008: Playlist: The Very Best of Brooks & Dunn
2009: #1s… and Then Some
Read more
Brooks & Dunn Picture Gallery
Latest headlines