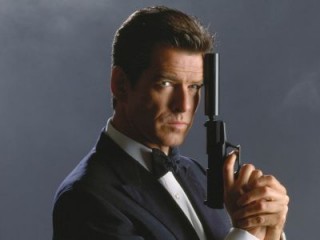 Brosnan Pierce biography
Date of birth : 1953-05-16
Date of death : -
Birthplace : Drogheda, County Louth, Ireland
Nationality : Irish
Category : Arts and Entertainment
Last modified : 2010-05-12
Credited as : Hollywood actor and film producer, James Bond 007, Golden Eye
Pierce Brendan Brosnan
(born 16 May 1953) is an Irish actor, film producer and environmentalist who holds Irish and American citizenship. After leaving school at 16, Brosnan began training in commercial illustration, but trained at the Drama Centre in London for three years. Following a stage acting career he rose to popularity in the television series Remington Steele (1982-87).
After Remington Steele, Brosnan took the lead in many films such as Dante's Peak and The Thomas Crowne Affair. He took over from Timothy Dalton as secret agent James Bond, starring in GoldenEye, Tomorrow Never Dies, The World Is Not Enough and Die Another Day (1995- 2002). He also provided his voice and likeness to Bond in the video game James Bond 007: Everything or Nothing and James Bond 007: Nightfire. Since playing Bond he has starred in such successes as The Matador (nominated for a Golden Globe, 2005) and Mamma Mia! (National Movie Award, 2008).
Moving to London with his family at an early age, Irish-born actor Pierce Brosnan made ends meet as a commercial illustrator and cab driver before turning to acting full-time. After training at the London Drama Centre, Brosnan made his West End stage bow in 1976, and appeared in his first film, The Long Good Friday, four years later.
American audiences got their first glimpse of the charismatic, muscular young actor in the 1981 network miniseries The Manions of America. The following year, he was cast as the suave adventurer hero of the weekly TV series Remington Steele. Brosnan's casual panache and his gift for quippery led the producers of the James Bond movies to select him as the new Bond upon the departure of Roger Moore in 1986. However, at the last moment, the canceled Remington Steele was renewed, and Brosnan was contractually obligated to remain with the program, forcing him to relinquish the James Bond role to Timothy Dalton. Insult was later added to injury when it became evident that the renewal of Steele was something of a subterfuge by its producers to keep Brosnan on their leash. This professional setback was further compounded by personal tragedy seven years later when Brosnan's actress wife Cassandra Harris died after a long illness.
The actor began to regain his motion picture bankability when he was cast in a choice secondary role in the 1993 comedy megahit Mrs. Doubtfire. In 1995, he finally got his chance to play Agent 007 in GoldenEye, and proved that the producer's instincts were right on target. Brosnan not only provided a much-needed boost for the ailing series, but also cemented his status as a capable leading man in a variety of roles, ranging from the title character in Daniel Defoe's Robinson Crusoe (1996) to a stuffy, love-struck professor who meets a ludicrous fate in Mars Attacks! (1996) to a courageous vulcanologist trying to save a town threatened by a reawakened volcano in Dante's Peak (1997). Brosnan played Bond for the second time in Tomorrow Never Dies (1997), essaying the role with great success.
Following his turn as the titular thief in the stylish 1999 remake of The Thomas Crown Affair, the actor went on to his third Bond outing in The World is Not Enough, again proving that saving the world was most convincingly done by those with convincing tans, straight teeth, and plenty of fun gadgets. And the world isn't the only thing Bond saved. While, the next half-decade found Brosnan stumbling with disappointments like The Tailor of Panama and The Laws of Attraction, he found box office success with the Bond franchise yet again 2002 with his final film in the franchise, Die Another Day. He soon followed this with a critically acclaimed comedic performance in the sleeper hit The Matador, before signing on for the highly anticipated film adaptation of the Abba inspired musical Mama Mia!
Personal life
Brosnan met Australian actress Cassandra Harris through David Harris, one of Richard Harris' nephews, in 1974, shortly after he left drama school. On meeting her he has described his feelings saying "What a beautiful looking woman. I never for an instant thought she was someone I'd spend 17 years of my life with. I didn't think of wooing her, or attempting to woo her; I just wanted to enjoy her beauty and who she was". They began dating, and eventually bought a house in Wimbledon in 1979. They lived with her children, Charlotte (born 27 November 1971) and Christopher (born 6 October 1972), and after their natural father Dermot Harris died in 1986, he adopted them and they took the surname Brosnan. They married on 27 December 1980 and had one son together, Sean, who was born on 13 September 1983.
Financially, Brosnan was concerned about earning enough money to get by at this time, and supplemented their income by working in West End productions, and a television film about Irish horse racing. Soon after Harris appeared in the James Bond film For Your Eyes Only in 1981, with a bank loan, they moved to southern California where Brosnan had his first interview in Hollywood for Remington Steele, and subsequently no longer had financial worries.
When Remington Steele was sent to Ireland to film an episode there, generating significant publicity in doing so, Brosnan was briefly reunited with his father who visited his hotel. Brosnan had expected to see a very tall man, but describes his father as, "a man of medium stature, pushed-back silver hair, flinty eyes and a twizzled jaw. He had a very strong Kerry accent". However, Brosnan expresses regret that they met under such circumstances in a public environment rather than on his own terms which would have given him the opportunity to speak privately with him.
While filming The Deceivers in Rajasthan, India in 1987, his wife Cassandra Harris became seriously ill. She was later diagnosed with ovarian cancer and she died as a result of the illness in December 1991, aged 39. Brosnan struggled to cope with her cancer and death and has said; "A young woman making her way through life, as a mother, as an actress. When your partner gets cancer, then life changes. Your timetable and reference for your normal routines and the way you view life, all this changes. Because you're dealing with death. You're dealing with the possibility of death and dying. And it was that way through the chemotherapy, through the first-look operation, the second look, the third look, the fourth look, the fifth look. Cassie was very positive about life. I mean, she had the most amazing energy and outlook on life. It was and is a terrible loss, and I see it reflected, from time to time, in my children".
Harris had always wanted Brosnan to play the role of James Bond, and in 1995, some four years after her death, Brosnan achieved this when he appeared in GoldenEye.
In 2001, Brosnan married American journalist Keely Shaye Smith in Co.Mayo, Ireland and they have two sons together, Dylan Thomas Brosnan (birth 13 January 1997) and Paris Beckett Brosnan (birth 27 February 2001).
In July 2003, Queen Elizabeth II awarded Brosnan an honorary OBE for his "outstanding contribution to the British film industry". As an Irish citizen, he is ineligible to receive the full OBE honour, which is awarded only to a citizen of the Commonwealth realms. In 2002, Brosnan was also awarded an Honorary degree from the Dublin Institute of Technology and, one year later, the University College Cork.
Pierce Brosnan is a fan of the football team Celtic F.C.
On 23 September 2004, Brosnan became a citizen of the United States, but has retained his Irish citizenship. Brosnan said that "my Irishness is in everything I do. It's the spirit of who I am, as a man, an actor, a father. It's where I come from". Brosnan was asked by a fan if it annoyed him when people get his nationality confused. He said: "It amuses me in some respects that they should confuse me with an Englishman when I'm dyed-in-the-wool, born and bred Irishman...I don't necessarily fly under any flag. But no, it doesn't bother me".
Brosnan supported John Kerry in the 2004 Presidential election and is a vocal supporter of same-sex marriage. An outspoken environmentalist, In 2004, he was named 'Best-dressed Environmentalist' by the Sustainable Style Foundation.
Brosnan first became aware of nuclear disarmament at the age of nine when worldwide condemnation of the 1962 U.S. nuclear tests in Nevada headlined international news. During the 1990s, he participated in news conferences in Washington, D.C. to help Greenpeace draw attention to the issue. Brosnan boycotted the French GoldenEye premiere to support Greenpeace's protest against the French nuclear testing program. From 1997 to 2000, Brosnan and wife Smith worked with the Natural Resources Defense Council (NRDC) and International Fund for Animal Welfare (IFAW) to stop a proposed salt factory from being built at Laguna San Ignacio. The couple with Halle Berry, Cindy Crawford and Daryl Hannah successfully fought the Cabrillo Port Liquefied Natural Gas facility that was proposed off the coast of Malibu and would cause damage to the marine life there; the State Lands Commission eventually denied the lease to build the terminal. In May 2007, Governor Arnold Schwarzenegger vetoed the facility. Brosnan is also listed as a member of the Sea Shepherd's Board of Advisors.
Brosnan also raises money for charitable causes through sales of his paintings. He trained early on as an artist, but later shifted to theatre; during his first wife's terminal illness, he withdrew from acting to be with her and took up painting again for therapeutic reasons, producing colourful landscapes and family portraits. He has continued painting since then, using spare time on set and at home. Profits from sales of giclée prints of his works are given to a trust to benefit "environmental, children's and women's health charities". Since Harris's death, Brosnan has been an advocate for cancer awareness and, in 2006, he served as spokesperson for Lee National Denim Day, a breast cancer fundraiser which raises millions of dollars and raises more money in a single day than any other breast cancer fundraiser.
In May 2007, Brosnan and Smith donated $100,000 to help replace a playground on the Hawaiian island of Kauai, where they own a home. On 7 July 2007, Brosnan presented a film at Live Earth in London. He also recorded a television advertisement for the cause. Brosnan lives with his family in Malibu, California.
Pierce Brosnan has been an Ambassador for UNICEF Ireland since 2001. Pierce recorded a special announcement to mark the launch of UNICEF's "Unite for Children. Unite against AIDS" Campaign with Liam Neeson.
Read more
Latest headlines