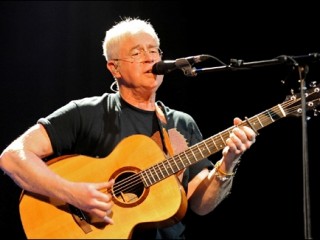 Bruce Cockburn biography
Date of birth : 1945-05-27
Date of death : -
Birthplace : Ottawa, Ontario, Canada
Nationality : Canadian
Category : Arts and Entertainment
Last modified : 2011-11-04
Credited as : singer-songwriter, folk/rock guitarist, River of Sand
Bruce Douglas Cockburn is a Canadian folk/rock guitarist and singer-songwriter.
For more than two decades he has written articulate, insightful songs that point out the political and social injustices and inadequacies of the world. "To his credit," remarked Darren Ressler in Pulse!, "Cockburn's public visage has remained enigmatic as he eschews trends and flash-in-the-pan pop fashionability."
Critics have tried to pigeonhole Cockburn with such labels as folksinger, mystic, and environmentalist prophet. But he has defied definition, just as he has resisted the pressure to make his music conform to popular demand. By sticking uncompromisingly to his own inner truth throughout two decades of recording, by refusing to dilute his angry lyrics and--perhaps costlier in today's pop-rock world--his Christianity, Cockburn has developed an intensely loyal following and great respect within the music industry. But for most of his career he has stood stubbornly on the outskirts of fame.
A dedicated political activist, Cockburn is beginning to reap the rewards that many feel are his due from 20 years of sticking to his convictions. Worldwide sales of his more than 20 records total more than ten million, and his concerts in Australia, South America, and Europe usually draw sell-out crowds. His sudden rise in status, especially in Canada, must seem ironic after years of putting up with comparisons to popular American singers.
Cockburn, divorced, lives modestly in downtown Toronto with his one daughter. After high school he traveled throughout Europe as a street musician, then studied at Boston's Berklee School of Music. Dropping out after a few years, Cockburn returned to Ottawa to play organ in a Top Forty cover band and harmonica in a blues band; he also began writing songs seriously. "About 1969," the singer recalled to Ressler, "I was in a state where I was so choked up with my songs that I just wanted to record them to forget them. When I hooked up with the means to do that, it didn't have the effect of allowing me to forget--people wanted to hear the songs that they liked from the album all of the time!"
Cockburn's writing, tending to the folky and romantic at first, has taken on an increasingly serious, often angry and militant quality over time. He is not only involved with political issues--frequently visiting Third World countries and speaking out on their behalf--but also with such environmental causes as stopping the destruction of tropical rain forests and cleaning the Exxon oil spill off the Alaskan coast. He has expressed that his activism was heightened after the birth of his daughter. "When my daughter was born, it sort of forced me to step back and look around," he told Ressler. "I mean, the first headline that you see is bound to threaten this precious life.... At the time, everything seemed very urgent and I started thinking about the world and the future. For me, that was really the beginning to take the need to act politically seriously."
Cockburn perhaps garnered the most attention for his four trips to Central America in the 1980s. After his first journey, during which he observed a Guatemalan military attack on a refugee camp in Mexico, the musician wrote one of his most popular, politically volatile anthems, "If I Had a Rocket Launcher." Subsequent visits to such countries as Nicaragua and Guatemala prompted Cockburn's "growing disdain for U.S. policy in Central America," according to Jennings. In addition to meeting with a Canadian foreign affairs minister to discuss that country's Central American policies, Cockburn, whose Juno Awards--the Canadian equivalent of the Grammys--began accumulating, increasingly addressed political issues on his albums, including Stealing Fire of 1984 and World of Wonders of 1986.
But Cockburn can also show a gentler side in his music. When not outraged, he writes songs about the simple day-to-day experiences common among all people. Scott Alarik of the Boston Globe described this marriage of emotions: "The presence of topicality in his love songs, and of personal love in his political songs gives Cockburn's work a total vision rare among political songwriters.... Through it all is a raw anger ... the real anger of a feeling heart."
Despite the serious message of Cockburn's songs, they are written in the easygoing manner of a storyteller. The Washington Post' s Geoffrey Himes noted, "Without any overt pleas for sympathy, he simply sets a scene, tells a story and lets listeners draw their own conclusions.... Cockburn's songs are marked by a powerful sense of place. In a few verses, he draws a vivid picture of a muddy road through the Amazon, a crowded street in Tibet or a bird-laden jungle as he weaves Asian, Latin and Dixieland motifs into his propulsive folk-rock."
Cockburn feels that songs can be a catalyst for social change. "What's important to remember," he expressed to Andrew Watt of Australia's In Press, "is that [as a singer/song-writer] you're either doing something to change the status quo, or you're reinforcing the status quo and as a human being it's your choice to make." Cockburn, who indicated to Ressler that "change is the theme that runs through all of my albums," has worked tirelessly to promote reform through his music.
Two years after touring to promote his 1989 album Big Circumstance-- a work filled with songs contemplating such topics as rain forest depletion, Central American violence, and the Chernobyl nuclear accident in the former Soviet Union--Cockburn released the acclaimed Nothing But a Burning Light. The singer had been wanting to record an album somewhere other than his hometown of Toronto and headed for Los Angeles, hooking up with producer T-Bone Burnett and organist Booker T. Jones. Cockburn commented on the content of the LP in Pulse!: "In some ways it's a return to a rootsier, more direct style of songwriting that's folksier than my last few albums.... The songs are much more concrete than ones I'd written back in the old days."
Richard C. Walls of Musician, pointing out Cockburn's tendency toward political and social preachiness, found Nothing But a Burning Light to be "still dripping slightly, from the slough of moral goopiness." Nevertheless the reviewer declared, "Cockburn demonstrates once again that he's an excellent guitarist." Labeling the musician "one of the undersung heroes in the fading art of the well-tuned song," Down Beat' s Josef Woodard found the album Cockburn's "most satisfying collection to date."
Although in the early 1990s Cockburn was concentrating more on songwriting than his political involvements, there is no doubt that the Canadian rock star will continue to play an activist role, giving voice to the hearts and consciences of those who care about the fate of their planet and fellow human beings. Acknowledging the interconnectedness of his activism and his music career, Cockburn told Ressler, "To me, all of my songs spring from the same place--they're the product of some kind of life experience."
In 1998 Cockburn travelled with filmmaker Robert Lang to Mali, West Africa, where he jammed with Grammy Award-winning blues musician Ali Farka Toure and kora master Toumani Diabate. The month-long journey was documented in the one-hour film River of Sand, which won the Regard Canadien award for best documentary at the Vues d'Afrique Film Festival in Montreal.Some of Cockburn's previously published material had been collected in several albums: Resume, Mummy Dust, and Waiting for a Miracle. His first greatest hits collection was Anything Anytime Anywhere: Singles 1979–2002, released in 2002.
In January 2003 Cockburn finished recording his 21st album, You've Never Seen Everything, which features contributions from Emmylou Harris, Jackson Browne, Sam Phillips, Sarah Harmer, Hugh Marsh, Jonell Mosser, Larry Taylor and Steven Hodges.Speechless, an instrumental compilation of both new and previously released material, was released on October 24, 2005. His 22nd album, Life Short Call Now, was released on July 18, 2006.
In 2009 Cockburn travelled to Afghanistan to visit his brother, Capt. John Cockburn, and to play a concert for Canadian troops. He performed his 1984 song "If I Had a Rocket Launcher" and was temporarily awarded an actual rocket launcher by the military. Cockburn has stated that, while unsure of the original Invasion of Afghanistan, he supported Canada's role there.
Cockburn released his studio album Small Source of Comfort in 2011. A cheerful and experiential instrumental recalling Rouler sa Bosse from "Salt, Sun and Time" and entitled Lois on the Autobahn is a tribute to Cockburn's mother, Lois, who succumbed to cancer in 2010.
Selective Works:
-Bruce Cockburn Epic, 1970.
-High Winds White Sky 1971, reissued, Columbia, 1991.
-Sunwheel Dance Epic, 1972.
-Night Vision True North, 1973.
-Salt, Sun and Time 1974.
-Joy Will Find a Way 1975, reissued, 1988.
-In the Falling Dark Island, 1976, reissued, 1988.
-Circles in the Stream 1977.
-Further Adventures Of 1978.
-Dancing in the Dragon's Jaws Millenium, 1979, reissued, Columbia, 1991.
-Humans 1980, reissued, 1988.
-Mummy Dust 1981.
-Resume 1981.
-Inner City Front 1981, reissued, 1988.
-The Trouble With Normal 1983, reissued, Gold Castle, 1989.
-Stealing Fire 1984, reissued, Columbia, 1991.
-World of Wonders 1986.
-Waiting for a Miracle 1987, reissued, Gold Castle, 1989.
-Big Circumstance 1989, reissued, Columbia, 1991.
-Bruce Cockburn Live Gold Castle, 1990.
-Nothing But a Burning Light Columbia, 1991.
-Christmas – 1993
-Dart to the Heart – 1994
-The Charity of Night – 1996
-Breakfast in New Orleans, Dinner in Timbuktu – 1999
-You've Never Seen Everything – 2003
-Speechless – 2005
-Life Short Call Now – 2006
-Small Source of Comfort – 2011-03-08
Read more
Latest headlines