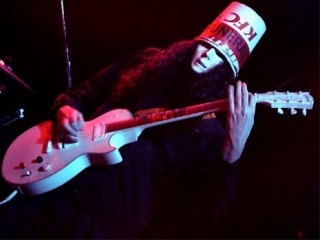 Buckethead biography
Date of birth : 1969-05-13
Date of death : -
Birthplace : Los Angeles, California,U.S.
Nationality : American
Category : Arts and Entertainment
Last modified : 2011-11-01
Credited as : Singer, guitarist, Guns N' Roses
Brian Carroll, better known by his stage name Buckethead, is a guitarist and multi instrumentalist who has worked within several genres of music. He has released 34 studio albums, four special releases and one EP. He has performed on over 50 more albums by other artists. His music spans such diverse areas as progressive metal, funk, blues, jazz, bluegrass, ambient, and avant-garde music.
The experimental guitarist known as Buckethead is shrouded in such a self-perpetuated mystery that no publicist or record label truly knows the musician. Also known as Brian Carroll, the guitar guru even speaks about Buckethead in the third person. Buckethead's own website offers no more of a clue to the identity of the "masked, inverted KFC-bucket wearing 'mutant guitar virtuoso.'" Carroll has turned his obsession with horror films, martial arts, and robots into a stage persona that gives him the freedom to play the high-speed, highly technical guitar music he loves. As the masked Buckethead, he creates an "alternative mental universe" onstage, according to Joel Selvin of the San Francisco Chronicle.
Buckethead's website states that he was "raised in a chicken coop by chickens," but suburban Los Angeles, California, is closer to the truth. As a child, Carroll grew up fascinated with horror films, martial arts, classical music theory, heavy metal music, and Disneyland--which he claims to have visited over 500 times. He took karate lessons from the age of ten, and the walls of his childhood bedroom were plastered with posters of Bruce Lee, Michael Jackson, and The Texas Chainsaw Massacre's Leatherface. His bookshelf was loaded with books on Niccolo Paganini, Nicolas Slonimsky, Glenn Gould, and magic. He also collected robot toys. James Rotondi noted in Guitar Player that it seemed Buckethead's visual obsessions and collecting have as much to do with his playing style as any musical influence or his study of classical theory. Buckethead picked up the guitar by the time he was 13 years old, inspired by AC/DC's Angus Young and Black Sabbath's Randy Rhoads. Though he liked playing sports, he was drawn to guitar "because it was something you could do all by yourself," he told Rotondi.
Watching Buckethead play in his highly technical style at a breakneck pace "is humbling," Rotondi wrote. "But he makes it look incredibly easy, as if technical wizardry were second nature." It may be second nature to him, but Buckethead developed his own talent by keenly observing the intricate details of guitar masters' playing styles and then mimicking them. He also studied a great range of highly technical classical texts, including Slonimsky's Thesaurus of Scales and Melodic Patterns, as well as country music instructional books and videos. In addition to reading, listening, and watching, Buckethead took lessons with guitar virtuoso Paul Gilbert of Mr. Bigs. He honed his technique, right-hand/left-hand independence and theory, with classical guitar studies. Ultimately, Buckethead turned away from the study of guitar to his own experimentation with it. "Taking people away in their imaginations is a lot more important to Buckethead than freaking people out with the guitar.... He never thinks about scales or techniques," he told Joe Gore in Guitar Player.
Buckethead's sound may be just as difficult to categorize. Heavy metal and funk play heavily in Buckethead's work, but as his website biography states, he is as comfortable "chicken country pickin'" as he is "recreating the sound of a roller coaster with his guitar." He claims many of his songs are conceived as soundtracks for thrill rides at his imaginary amusement park, Bucketheadland. He has cited his influences as varied--from Paul Gilbert, fusion guitarist Shawn Lane, and Swedish technical guitar whiz Yngwie Malmsteen, to Angus Young from AC/DC, 1970s funk guitarist Bootsy Collins, and Michael Jackson, an influence on Buckethead's stage moves.
In 1989, after watching the horror film Halloween IV, the young guitarist sought out a mask like the one worn in the movie by the character Michael Myers. The local store he went to had a similar white mask, which Carroll liked just as much. Also that same evening, his father brought a bucket of fried chicken home for dinner. In a moment of inspiration, Carroll donned the mask and turned the bucket upside down on his head, looked in the mirror, and Buckethead was born. "It was just one of those things" he told Rotondi. "After that, I wanted to be that thing all the time." The Buckethead guise seemed like a perfect fit for Carroll's unique playing style and allowed him to play more freely. "I thought it made sense with the way I play" he continued. "I play all this weird stuff, but if I just look like me, it just isn't going to work. But if I'm, like, this weird freak.... It opened the door to endless possibilities."
The alter ego is a source of tremendous freedom for Carroll and another way to keep his childhood loves alive in his music. "I can work anything into that character and make it totally work: all the things I love in my life, like Disney, Giant Robot, Texas Chainsaw," he told Rotondi. "Even though I'm wearing a mask and have a character, it's more real, more about what I'm really like, because I'm too shy to let a lot of things out. Every reason I became Buckethead and am Buckethead has to do with the way I live. It's not because I thought it'd be successful. I never use anything that isn't part of what I really loved as a child or love right now."
It was with the band the Deli Creeps that Carroll introduced Buckethead. It was his first band to gain notoriety in the San Francisco Bay Area. The group disbanded soon after forming, though the members re-formed briefly in 1996. Buckethead made his major label debut in 1992 as a member of the band Praxis. After getting a copy of one of Buckethead's homemade videos, legendary Parliament/Funkadelic (P-Funk) guitarist Bootsy Collins, with fellow P-Funk member Bernie Worrell on keyboards, became part of the first Praxis ensemble. The group debuted in 1992 with the Bill Laswell-produced release, Transmutation. Praxis would release five more albums, including Sacrifist in 1994, Metatron in 1995, and three live and collection albums. Collins became a frequent collaborator and produced Buckethead's first solo album, Bucketheadland.
In 1994 Buckethead released Dreamatorium under the moniker Death Cube K, which is an anagram for Buckethead, with Bill Laswell. "The album was a dark, quasi-ambient duet with Laswell that highlighted his cinematic flair, clean-toned melancholy and improvisational sensitivity," Rotondi wrote. Buckethead told Gore that the album was full of "weird ambient stuff, real stark and scary." For the guitarist, the improvisational freedom he has while recording is the result of lots of practice. He likened it to shooting so many baskets in basketball practice that at game time, the player has the control to shoot without much thought.
In 1995, Buckethead did not release any solo albums but collaborated with several artists like Jonas Hellborg and Michael Shrieve (Octave of the Holy Innocents). He also contributed to several movie soundtracks, such as Johnny Mnemonic and Mortal Kombat.
In 1998, Buckethead released Colma, an album dedicated to his mother, who was sick during this time with colon cancer. The same year saw a compilation album by Praxis called Collection.
In 1999, Buckethead released his fifth album, a collaboration with Les Claypool from the band Primus, entitled Monsters and Robots — currently the best-selling album of his career. This album includes the song "The Ballad of Buckethead," for which his first music video ever was made.
Buckethead achieved a higher public profile as lead guitarist for Guns N' Roses from 2000 to 2004. He recorded the often-delayed album Chinese Democracy with the band and appeared live on stage in 2001 and 2002, including Rock in Rio 3, MTV's Video Music Awards, and parts of the Chinese Democracy Tour.
Despite being a member of GN'R, Buckethead released his sixth studio album, called Somewhere Over the Slaughterhouse in 2001, and also his only EP, called KFC Skin Piles. He also released two albums with his band Cornbugs, Cemetery Pinch and How Now Brown Cow. He joined two new projects, the first being Thanatopsis, with Dickerson, releasing a self-titled debut album; the other one with Laswell and Japanese producer Shin Terai, released as Unison.
In 2002, Buckethead released three studio albums: Funnel Weaver, a collection of 49 short tracks, Bermuda Triangle, and finally, Electric Tears, a calming album that is similar to his earlier release, Colma. When Laswell was not able to play with Praxis at the Bonnaroo Music and Arts festival, Les Claypool asked to jam with Brain, Bernie Worrell, and Buckethead, forming a new supergroup called Colonel Claypool's Bucket of Bernie Brains. The jamband experiment was successful enough to do some further live dates.
Later, in 2003, marking the release of his tenth studio album, Buckethead released the sequel of his debut Bucketheadland, simply called Bucketheadland 2. Together with actor Viggo Mortensen, he did Pandemoniumfromamerica, and with Thanatopsis, its second release, called Axiology.
In March 2004 Buckethead left Guns N' Roses, according to his manager, because of Guns' inability to complete an album or tour.
The year 2004 saw the release of three new studio albums: Island of Lost Minds, which was his first tour-only album being later re-released by TDRS Music Population Override, a blues-rock tour de force with Dickerson; and The Cuckoo Clocks of Hell, considered his heaviest effort to date. The latter includes "Spokes for the Wheel of Torment," for which Syd Garon and Eric Henry made a music video based on the famous triptychs by Hieronymus Bosch. Buckethead also recorded the final two albums by the Cornbugs, Brain Circus and Donkey Town as well as another release with Viggo Mortensen called Please Tomorrow and a second with Shin Terai, entitled Heaven & Hell. C2B3 also released their only album, The Big Eyeball in the Sky, and toured it in North America.
In 2005, Buckethead released an album as "Buckethead & Friends," called Enter the Chicken, through Serj Tankian's record label, Serjical Strike. The album features Tankian himself, Maximum Bob (of the Deli Creeps), Death by Stereo singer Efrem Shulz, Bad Acid Trip, and others.In 2006, the highlight of the year was the cross-console video game Guitar Hero II, featuring Buckethead's song "Jordan" as an unlockable bonus track. Although the song has been performed live in the past, the video game version is the only known studio recording of the song.
2008 started with the release of From the Coop through the label Avabella (where he released Acoustic Shards), consisting of the demos Buckethead gave to Jas Obrecht back in 1988. This CD also included the first ever "official" biography of/by the artist. Later that same year, he announced the release of the album called Albino Slug (a tour-only CD until official release on December of the same year).
Along with this album, he appeared on the album The Dragons of Eden, with Dickerson and Mantia, and in collaboration with That 1 Guy as the Frankenstein Brothers, an album called Bolt on Neck was released. That 1 Guy and Buckethead toured together through fall 2008, playing songs from this album.
Buckethead released a limited-edition album titled Happy Holidays From Buckethead in 2010 with a holiday greeting card included. It was announced that a regular version of the album would be released in or around February. The tribute song Buckethead had done for Rammellzee was also included on this release.On May 15 2011 Buckethead released his 31st studio album It's Alive, featuring both Lebrontron and Crack the Sky, as well as six all new tracks. This is also the first album to be released under Buckethead's new series of CD's entitled "Buckethead Pikes". Shortly after, on May 20, Buckethead released his 32nd studio album, as well as the second edition in the Buckethead Pikes series entitled Empty Space via iTunes. It was then sold as a tour only CD on July 7, and finally released to the worldwide public on the Buckethead Pikes website.
On August 17, Buckethead released the long awaited regular edition of the 2010 Untitled album, 3 Foot Clearance via the Buckethead Pikes website. Along with this, Buckethead also released 2 new CD's entitled Underground Chamber and Look Up There. Both were the fourth and fifth installments of the Buckethead Pikes series, respectively.
Selected discography:
As Buckethead
-Bucketheadland , Avant, 1992.
-Giant Robot , Sony Japan, 1994.
-Day of the Robot , Subharmonic, 1996.
-Plays Disney , Avant, 1997.
-Colma , CyberOctave, 1998.
-Monsters & Robots , EMI, 1999.
-Somewhere Over the Slaughterhouse , Stray, 2001.
As Death Cube K
-Dreamatorium , Strata, 1994.
-Disembodied , Ion, 1997.
-Tunnel , TDRSmusic, 1999.
As Giant Robot
-Giant Robot , NTT Records, 1996.
With Praxis
-Transmutation (Mutatis Mutandis) , Axiom, 1992.
-Sacrifist , Subharmonic, 1994.
-Metatron , Subharmonic, 1995.
-Transmutation Live , Douglas, 1998.
-Collection , Douglas, 1998.
-Warszawa , InnerRhythmic, 1999.
Read more
Latest headlines