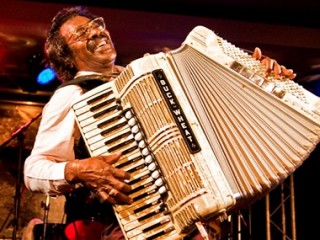 Buckwheat Zydeco biography
Date of birth : 1947-11-14
Date of death : -
Birthplace : Los Angeles, California,U.S.
Nationality : American
Category : Arts and Entertainment
Last modified : 2011-11-01
Credited as : zydeco musician, Buckwheat Zydeco, Tomorrow Recordings
Buckwheat Zydeco is the stage name of Stanley Dural, Jr., an American accordionist and zydeco musician. He is one of the few zydeco artists to achieve mainstream success. His music group is formally billed as Buckwheat Zydeco and Ils Son Partis Band, but often they perform as merely Buckwheat Zydeco.
The renewed interest in zydeco music owes much to Stanley "Buckwheat Zydeco" Dural, who worked with one of the genre's masters before forming his own group, Buckwheat Zydeco and the Ils Sont Partis Band, in 1979. Within a few years, Dural had become the first zydeco artist to be signed by a major label, Island Records, and during the 1990s, he played at major events including the closing ceremonies of the 1996 Summer Olympics in Atlanta, Georgia, and both of President Bill Clinton's inaugural celebrations. Despite the mainstream acceptance of zydeco music, however, Dural has continued to insist on preserving its cultural integrity as a distinct, although eclectic, genre. "If you're calling it a Cajun band, or you're calling it a jazz band, then you have the wrong people performing for you," Dural told Michael Tisserand in his book, The Kingdom of Zydeco. "You see, I didn't come this far saying that I'm somebody I'm not. And if you don't have that identity, man, you're just lost."
Born on November 14, 1947, Stanley Joseph Dural, Jr. was the fourth of thirteen children in the Dural family. His parents farmed around the Lafayette, Louisiana area, and young Dural had numerous jobs before he reached his teens. In addition to working as a delivery boy, catching crawfish, and raising chickens, he also picked cotton with his family in the fields where he picked up some of the traditional songs of his French-speaking Creole elders. Although the term Creole had first been applied to the descendants of European immigrants to southern Louisiana during the eighteenth century, over time it came to denote inhabitants with predominantly African and French origins. In contrast, Cajun inhabitants traced their ancestry to the Acadians expelled from Nova Scotia, Canada, by British authorities in 1755 who were furious over the Acadians' refusal to ally with them in their colonial wars with the French and local indigenous tribes. Many of the exiled Acadians eventually settled in Louisiana where they became known as "Cajuns." Like the Creoles, Cajuns were primarily working-class people who preserved their French heritage, particularly the French language, over succeeding generations. Although the two groups shared many cultural traits in their southern Louisiana home, however, differences of race often kept them apart.
For Creoles and Cajuns alike, the urban center of the region was not New Orleans, but the smaller city of Lafayette, about 80 miles to the west. There were a large number of music clubs around the city and its outlying districts, and Dural, having earned the nickname "Buckwheat" for his hair, which resembled that of the Little Rascals serial character, soon came to play in a number of them as a pianist. In fact, Dural was a professional piano player by the time he was ten years old, and in his teens played for his idol, Fats Domino, as well as for Little Richard and Ray Charles. Dural disappointed his father, however, by refusing to play the accordion, a traditional instrument in zydeco music and one that the elder Dural often played at home. "Me and my dad, we had a big problem," Dural told Tisserand. "He'd never been out to see me perform from the age of nine until 1979, because he didn't want me to play R&B.... And I was one of the biggest critics about accordion music, but I wouldn't tell that to him. In my generation, you don't tell that to your dad, man."
One of the chief reasons that Dural was so opposed to zydeco music was that he, like many other young Creoles, considered it a distinctly old-fashioned kind of music. Indeed, zydeco seemed to be losing ground in the era after World War II. For many, its traditional mix of African rhythms and simple instruments such as the accordion, fiddle, and washboard (or frottoir) played with spoons could not match the appeal of contemporary R&B and rock 'n' roll. One of the few musicians to forge ahead during the era was one of Dural's eventual mentors, Clifton Chenier, who happened to be a friend of Dural's father. Chenier was acknowledged as the "King of Zydeco" from the 1960s onward. He even claimed to have invented the term zydeco, a word derived from the traditional Creole song, "Les haricots sont pas sales" ("The snap-beans aren't salted"), that referred to the poverty that Creoles often endured. Whatever the true origins of the term, Chenier was its undisputed master, and when Dural agreed to play at a Chenier concert in 1976, it was a revelation to the young musician.
Dural had just dissolved his own 15-member funk band, Buckwheat and the Hitchhikers, and joined Chenier as a keyboardist for two years before taking up the accordion. In 1979, he felt that he had mastered the instrument and formed another band, Buckwheat Zydeco and the Ils Sont Partis Band, a term that loosely translates as "And they're off!," a typical comment from an announcer at the beginning of a horse race. Dural's timing was fortunate, as zydeco was just beginning to find an audience outside of its traditional home in Louisiana. "In October of seventy-nine I built the band, and between eighty and eighty-one I was touring Europe," he told Tisserand. The band quickly released two albums on small labels before joining Rounder Records in 1983. As one of the leading labels for roots, bluegrass, and folk-oriented music, Rounder helped familiarize the public with zydeco, and Dural gained two Grammy Award nominations for 1983's Turning Point and 1986's Waitin' for My Ya-Ya.
Zydeco became even trendier with the release of The Big Easy in 1987. The movie, starring Dennis Quaid as a Cajun detective, featured Dural and his band on its soundtrack and gave a huge boost to the interest in all things Cajun and Creole. Like many Creoles, however, Dural saw the rise in popularity of zydeco music as a mixed blessing as many of those who enjoyed the music assumed it was a Cajun tradition. Although the two musical types shared many common traits, they had grown increasingly distinct after World War II when Cajuns tended to listen to country-and-western music and Creoles tuned into R&B stations. As a result of these influences, zydeco bands emphasized the accordion while Cajun music favored the fiddle; while Cajuns sang more song lyrics in French, zydeco bands usually sang in English. Larger zydeco ensembles also added horn sections, electric guitars, and drums in addition to the accordion, washboard, and fiddle. Although his own music incorporated a range of contemporary influences, Dural nonetheless tried to raise awareness of the importance of these differences in order to preserve Creole culture. As he reflected to Tisserand after playing at the Atlanta Olympic Games, "I think our people here should put full force behind the artists and the culture, because that's what we live by. If it's bad, try to help it. If it's good, continue to push it. That's what I'm about."
Dural's status as a leading zydeco musician was confirmed with his signing to Island Records in 1986, the first such contract between a major label and a zydeco artist. His major-label debut, On a Night Like This in 1987, featured some traditional zydeco tunes in addition to covers of rock songs, including the title track by Bob Dylan. "This album is different than anything else I ever did before," Dural told Ben Sandmel for his book Zydeco! "This one has more of a mixture, mixing in some pop and R&B, more of a 'now generation' thing, but there's traditional zydeco, too." Dural also changed his recording habits for the album, taking a week to rehearse the material with his band before entering the studio; in the past, they had simply shown up and began recording. "You can hear the difference. They took time with the setup and the recording too," he told Sandmel. "The sound quality is a lot better, and I like that."
Buckwheat Zydeco continued to release albums throughout the 1990s on several different labels, often suffering from record company mergers and buyouts. In 1998, frustrated at the constant turnover in the music industry, Dural formed his own label, Tomorrow Recordings, and immediately reissued the band's 1997 album Trouble as its first release. With "ten tracks of propulsive, rollicking dance party music," Peoplewelcomed the album as a "swamp-boogie joy ride," a sentiment that was common among reviewers of the band's work. In 1999, Tomorrow Recordings released The Buckwheat Zydeco Story: A 20-Year Party in honor of the band's two decades of music. The band also remained a favorite on the concert circuit, playing with everyone from Eric Clapton to U2.
Buckwheat Zydeco's latest album, Lay Your Burden Down, was released on May 5, 2009 on the Alligator Records label. It was produced by Steve Berlin of Los Lobos and included guest appearances by guitarists Warren Haynes and Sonny Landreth, Trombone Shorty, JJ Grey and Berlin himself. The album was nominated for a Grammy Award. Sonicboomers.com says, "The CD is a vastly entertaining and appealingly diverse package. Bandleader Dural remains an ever-engaging vocalist and a whiz on any keyboard he touches. So, for Buckwheat Zydeco fans, Lay Your Burden Down finds the maestro and his group near the top of their form. For listeners with less interest in the ol' accordion get-down, the collection supplies enough interesting wrinkles to get the good times rolling.
Buckwheat's especially powerful and haunting version of the classic "Cryin' in the Streets" appears on the benefit album for Hurricane Katrina recovery, Our New Orleans: A Benefit Album for the Gulf Coast.
Buckwheat's version of Led Zeppelin's "When the Levee Breaks" appeared on 2011's Alligator Records 40th Anniversary Collection. It originally appeared on the 2009 Buckwheat Zydeco album "Lay Your Burden Down".
Selected discography:
-One for the Road , Paula/Flyright, 1979.
-100% Fortified Zydeco , Black Top, 1983.
-Turning Point , Rounder, 1983.
-Waitin' for My Ya-Ya , Rounder, 1986.
-Buckwheat Zydeco Party , Rounder, 1987.
-On a Night Like This , Island, 1987.
-Ils Sont Partis , Blues, 1988.
-Taking It Home , PolyGram, 1988.
-Zydeco Party , Rounder, 1988.
-Where There's Smoke There's Fire , Island, 1990.
-On Track , Charisma, 1992.
-Five Card Stud , PolyGram, 1994.
-Trouble , Atlantic, 1997.
-The Buckwheat Zydeco Story: A 20-Year Party , Tomorrow, 1999.
-Down Home Live , Tomorrow, 2001.
Read more
Latest headlines