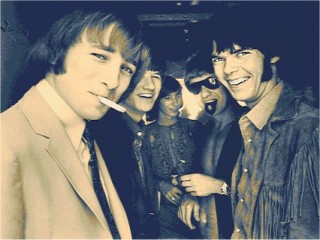 Buffalo Springfield biography
Date of birth : -
Date of death : -
Birthplace : Los Angeles, California, U.S.
Nationality : American
Category : Arts and Entertainment
Last modified : 2012-04-18
Credited as : folk band, For What It's Worth hit single, Last Time Around album
Buffalo Springfield is a North American folk rock band renowned both for its music and as a springboard for the careers of Neil Young, Stephen Stills, Richie Furay and Jim Messina. Among the first wave of North American bands to become popular in the wake of the British invasion, the group combined rock, folk, and country music into a sound all its own. Its million-selling song "For What It's Worth" became a political anthem for the turbulent late 1960s.
The recording and performing career of Buffalo Springfield bore striking similarity to a flash fire. Thanks to a series of debilitating ego trips and personality conflicts, the group's aspirations of achieving widespread commercial success always remained just out of reach.
Buffalo Springfield combined rock, folk, country-western, rhythm and blues, and even Latin music into what biographer John Einarson described in a 1997 article in Goldmine magazine as "a unique acoustic-electric folk/county/rock amalgam that would become known as the California sound." Despite its share of critical acclaim, the group's legacy is represented as much in the accomplishments of its members following the band's breakup, and in its guiding influence on dozens of other groups in the decades that passed after Stills, Young, Furay, and the others went their separate ways.
"Our influence speaks for itself," noted Furay in Goldmine. "Crosby, Stills and Nash, Neil Young, Poco, Loggins and Messina ... [plus] the stake we smacked into the ground took root in bands like the Eagles and other California bands that came after us." A member of the Eagles, Randy Meisner, confirmed the importance of Buffalo Springfield when he said in Marc Eliot's 1998 biography, The Eagles: Take It to the Limit, that his career and the bands in which he played "shifted away from pure folk-rock and into the kind of newer, harder country thing they were doing."
The origin of Buffalo Springfield was akin to a rock and roll fairytale. The individual paths of Stills, Young, and Furay crossed in Canada and New York City during the mid-sixties. However, their "once upon a time" moment came on April 6, 1966 in a Hollywood traffic jam, when the planets finally aligned on all three, plus Palmer. It was nearly unbelievable, but only nine days later--time enough to find a drummer and have a few rehearsals--Buffalo Springfield opened for the Byrds, America's premier folk-rock band at the time, at the Orange County Showgrounds in San Bernardino, California.
The Texas-born Stills was the acknowledged leader of the band. He and Furay had performed as members of a large, East Coast folk group, the Au Go Go Singers. The group dissolved shortly after the flop of its debut album, They Call Us the Au Go Go Singers. Stills started a new group minus Furay, and met Young during a tour of Ontario. By 1965, Stills moved to California and even auditioned for the Monkees.
Young's first band was a Winnipeg, Manitoba quartet known as the Squires. After leaving school, he moved back to his hometown of Toronto and worked in some of the city's folk clubs. In late 1964, he visited New York in hopes of reuniting with Stills, who had already left town. Young did find Furay and shared one of his songs, "Nowadays Clancy Can't Even Sing." Then it was back to Canada, where Young joined Palmer and future funk star Rick James in the Mynah Birds, a short-lived group that recorded some unreleased material for Motown.
Furay remained in New York following Stills' departure for Los Angeles and Young's return to Toronto. In February of 1966, though, he flew to California based on the false belief that Stills had a new band and an opening for a singer. Despite the fact that there was no ready-made opportunity, Furay's trip brought the two musicians together again.
In late March 1966, Young and Palmer headed for Los Angeles, arriving on April Fool's Day. They were tired and broke, but quickly began looking for Stills. Five days later and without luck, they sat in Young's old Pontiac hearse, stuck in a massive traffic tie-up on Sunset Boulevard and ready to return to Canada. But Stills and Furay were not far away. They were killing time in another vehicle caught in the same tie-up. Stills looked out and saw a black hearse, much like the one that he knew Young drove. A glance at the Ontario license plate clinched it. He and Furay hurried over and renewed acquaintances. During a jam session that night, an arrangement and performance by Stills and Furay of "Nowadays Clancy Can't Even Sing" left Young impressed. The four decided then to form a band.
Furay was designated the featured singer and rhythm guitarist, Stills and Young would handle lead guitar, and Palmer would play bass. Drummer Dewey Martin, another Canadian, was added days later. Rehearsals took place immediately. "The whole thing happened at hyper speed, warp drive," recalled Palmer in Goldmine.
During this nine-day period, the guys even borrowed a name, Buffalo-Springfield, that they saw on a steamroller parked outside a friend's home. They just dropped the hyphen.
The booking for Buffalo Springfield to open on the Byrds' short, five-stop tour of southern California was arranged with the help of Dick Davis, who soon became the group's manager and had a hand in getting the band to open for the Rolling Stones' Hollywood Bowl concert in July. The Byrds' Chris Hillman helped set up a guest shot for Buffalo Springfield at the popular Whisky A Go Go. The group was soon signed for a six-week run as the house band. The public response was immediate, and Buffalo Springfield responded. "The first week at the Whisky was absolutely incredible," recalled Stills in Goldmine. "That's when we peaked ... when we were a band, when we lived together." Richie Furay was the centerpiece for the group's live performances. "He'd bounce from one end of the stage to the other on his tiptoes backward," recounted Davis in Jerry Hopkins' 1970 book, The Rock Story.
Buffalo Springfield signed with Atlantic Records, with the band's releases coming out on Atco, a subsidiary. Davis introduced the group to a management team that had handled Sonny and Cher, and who would produce the band's first album, Buffalo Springfield. The managers were not music producers, though. Despite initial sessions at Gold Star Studios in Los Angeles, the site for many of Phil Spector's legendary recordings of the Ronettes, Crystals, and Righteous Brothers, the Buffalo Springfield management team could not capture in the studio the excitement of the group's live performances. Members of the band wanted to scrap those recordings and start over, but Atlantic refused. Buffalo Springfield was released in December 1966, with "Nowadays Clancy Can't Even Sing" as the first single. It was the record company's decision to release the song as the A-side. The band expected Stills' "Go and Say Goodbye" to have that distinction.
The band's fortunes were at low ebb in November of 1966, when long-haired youths clashed with police in what came to be known as the Sunset Strip riots. Shortly afterward, at a Topanga Canyon party, Stills picked up his guitar and started strumming and singing. The title of the song was "For What It's Worth," but it would be better known by its lyrics, "Something is happening here, what it is ain't exactly clear," followed by the chorus, "Stop, hey, what's that sound, everybody look what's going down." Buffalo Springfield went into the studio the next day and, with Stills producing, recorded what would be their only hit single. Atlantic rush released it to early acclaim in California and a slow, 14-week ascent up the charts across the country, reaching number seven on the charts nationwide in April of 1967. Its impact was nationwide, too, as the tune, "the first explicit document of an unbridgeable generational chasm, helped consolidate the youth movement," according to editors Ed Ward, Geoffrey Stokes and Ken Tucker in the 1986 book, Rock of Ages: The Rolling Stone History of Rock & Roll.
On the strength of "For What It's Worth," Atlantic re-pressed Buffalo Springfield, adding the hit to the song lineup and dropping another number, "Baby Don't Scold Me." Album sales eventually reached a quarter-million. The fortunes for Buffalo Springfield should have been looking up, but this was a group which writer Jerry Fuentes would call in a 1987 Goldmine article, "arguably America's best Sixties rock band in terms of artistic impact, musical creativity, and psychodrama."
Friction was developing among band members, especially between Stills and Young. Each sought to have as many of their own compositions as possible on an album, plus both were eager to not only play lead guitar but also to sing their own songs. Furay's role was diminished by this internal dissension. Despite having an abundance of talent, "the band quickly became a collection of individuals pursuing their own interests," wrote Fred Goodman in his 1997 book, The Mansion on the Hill. At the same time that recording sessions were underway for a second album, Buffalo Springfield Again, the group was touring the Midwest. Stills and Young would "walk off the stage ready to kill each other," recalled Davis in The Rock Story. Young left Buffalo Springfield in 1967, prior to important bookings at the Monterey Pop Festival and Newport Folk Festival. He returned later in the year, but a pattern was set that had bandmembers feeling it was only a matter of time before Young was gone for good, in favor of a solo career. Complicating matters, Palmer was in the United States illegally, and he soon faced a series of drug and immigration charges that would force him from the band, at first temporarily, then permanently by the time of Buffalo Springfield's third album, Last Time Around.
Buffalo Springfield Again was produced by Atlantic Records' president Ahmet Ertegun and released in late 1967. Despite the apparent disintegration of the group, the album has been praised by many, including writer Jerry Fuentes, as "the band's creative peak.... Every song is inspired and brilliantly performed." Highlights included Stills' "Bluebird" and "Rock & Roll Woman," plus Young's "Mr. Soul" and "Broken Arrow."
The recording engineer on Buffalo Springfield Again was Jim Messina, Palmer's eventual replacement as the group's bassist. In 1968, Furay and Messina were left to assemble Last Time Around from tapes submitted by bandmembers. Studio musicians filled in the holes. The album includes "Kind Woman," considered to be the best tune that Furay contributed to Buffalo Springfield.
A drug bust on March 20, 1968 nabbed Young, Furay and Messina. Martin had left moments earlier and Stills squeezed out a back window. This essentially served notice that Buffalo Springfield was ready to fold. The band's farewell concert came in Long Beach, California on May 5, 1968, barely two years following their first live performance. "We were good, even great," reflected Young in Goldmine. "When we started out, we thought we would be together forever. But we were just too young to be patient...."
Following the breakup, Martin toured with a group of session musicians under the name of the New Buffalo Springfield, but former members filed a lawsuit to halt that effort. In 1984, Martin and Palmer tried to resurrect the band as Buffalo Springfield Revisited, but there were few takers.
In 1969, Stills began performing with Crosby, Stills and Nash, a group that would periodically include Young. He also pursued a solo career and recorded with Chris Hillman in a group known as Manassas. Young maintained a long and storied solo career, often with his band, Crazy Horse. Furay joined Messina and Rusty Young, the latter a session musician on Last Time Around, in Poco, a leading country-rock band. Messina later recorded with Kenny Loggins as Loggins and Messina. In May 1997, Buffalo Springfield was inducted into the Rock and Roll Hall of Fame in Cleveland, Ohio.
Buffalo Springfield reunited for six concerts starting in Oakland on June 1, 2011, followed by dates in Los Angeles,and Santa Barbara before moving on to play the 2011 Bonnaroo Music & Arts Festival in Manchester, Tennessee. The band consisted of Richie Furay, Stephen Stills, and Neil Young, with the lineup completed by Rick Rosas and Joe Vitale. According to Richie Furay and a band spokesman, the band were supposed do a full tour in 2012, but the tour was put on hold again, because of Young recording two new albums with Crazy Horse. On February 27, 2012, Furay announced that the band are on indefinite hiatus.
Read more
Buffalo Springfield Picture Gallery
Latest headlines