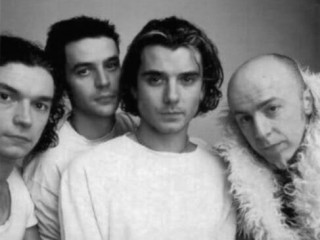 Bush biography
Date of birth : -
Date of death : -
Birthplace : London, England
Nationality : English
Category : Arts and Entertainment
Last modified : 2012-04-18
Credited as : alternative rock band, Gavin Rossdale, The Sea of Memories album
Bush are an alternative rock band formed in London in 1992 shortly after vocalist/guitarist Gavin Rossdale and guitarist Nigel Pulsford met in a London nightclub. Realizing they shared a love for such diverse artists as the Pixies, Bob Marley, The Jesus Lizard, MC5, Nirvana, Hüsker Dü, and Big Black, they decided to form a band together. It was not long before they recruited drummer Robin Goodridge and bassist Dave Parsons and started writing. Dave Parsons joined Bush shortly after leaving the band Transvision Vamp. Drummers such as Sasha Gervasi, Amir, and Spencer Cobrin had all filled in as Bush drummers before Robin Goodridge was made the permanent fit and thus completing the Bush lineup.
Bush frontman Gavin Rossdale quipped in Details: "I understand why people are suspicious of us. I'd be suspicious of us." The British rock band rose to fame in the mid-1990s with a thrashing alternative sound more reminiscent of Seattle grunge than London Britpop; the suspicion to which Rossdale alluded had to do with their lack of "indie" credentials and his own matinee-idol looks. Despite being labeled "Nirvanawannabes" by detractors, Bush rocketed up the American charts with their multiplatinum debut album, Sixteen Stone, achieved huge sales with their 1996 follow-up, Razorblade Suitcase, and have earned success with subsequent releases The Science of Things and Golden State.
Singer-songwriter and rhythm guitarist Rossdale was born and raised in North London. His parents divorced when he was eleven, and he grew up under the care of his physician father. He already tended toward adolescent rebellion when his older sister introduced him to punk rock. In school, he told Details, "I was intimidated a lot and I would just sit in the back." He dropped out by age 17, and a few years later began to play with various rock bands. Eventually, his pop-oriented group Midnight got a record deal. "We got signed way too young in the mid-'80s, when everyone was throwing all this money around," the singer recollected in Rolling Stone. "So as far as the A&R community in London, was concerned, I was soiled."
Rossdale went to Los Angeles for half a year, hoping to find a new project and scraping by as an assistant on music video shoots. Though things didn't fare particularly well for him there, he did see a performance by Nirvana at the Roxy nightclub that had a pronounced impact on his musical direction. He returned to England and hooked up with guitarist Nigel Pulsford, formerly of the indie band King Blank. Though the two bonded over their love for such influential alternative bands as the Pixies--who also strongly influenced Nirvana--their band Future Primitive was a far cry from the sonic barrage they would later craft into Bush. The two later enlisted bassist Dave Parsons, formerly of the notorious glam-pop band Transvision Vamp, and continued to play around London.
Eventually, the band came to the attention of drummer Robin Goodridge, an engineer and former member of dance-rock experimentalists Beautiful People. "I thought Gavin was a rock star but the drummer was shite," he told Details. He took over percussive duties and the band--renamed Bush after the Shepherd's Bush neighborhood in London that had spawned them--began entertaining offers. In 1993, A&R executive Rob Kahane signed Bush to his own label, which was affiliated with Hollywood Records, a subsidiary of the Walt Disney Company. When Kahane lost influence at Hollywood, however, the band found themselves with a completed record that they were unable to release. Fortunately, Interscope/Trauma issued their debut, Sixteen Stone, in 1994.
The album scored immediately on modern rock radio stations, thanks to the heavy rotation given its first single, "Everything Zen." With its grunge-influenced bombast, the single appealed to the audience that was still mourning the suicide of Nirvana's Kurt Cobain. The accompanying video capitalized on Rossdale's lovely visage and turned the band into teen idols in the United States virtually overnight. Ironically, their success in England was far more gradual and limited. "Here it's been more of a natural growth," Pulsford noted of their homeland in a 1996 huH magazine interview. "In the States we were thrust into the big arena rather quickly."
More hits followed, notably the ballad "Glycerine" and the thundering anthem "Machine Head." Poor reviews and sniping from the hipper stratum of the rock world didn't seem to slow the album's momentum over the ensuing two years, and Bush won the Viewers' Choice Award at the 1996 MTV Video Music Awards. "I think that's kinda the award for us to win," Gavin said pointedly in his acceptance speech, "you know, we've always been the most favorite with the people out there, the real people, as opposed to the non-real people."
Though accusations abounded charging that Bush had exploited the hard-won inroads made by Nirvana and other alternative rock innovators, much of the criticism leveled at Bush in the wake of their phenomenal success had to do with their audience. Because many of their admirers were teenage girls who worshipped Gavin, Bush were derided as a pinup band. Goodridge even joked in Detailsabout the band's importance in young girls' lives. "We're their first band," he declared, "so we'll take them hand in hand, write about their first boyfriend, their first heartbreak, the whole gamut of events." Later, he added, Bush would provide "a graduation record. After that, we'll have a rather directionless first-year-out-of-school album--that'll be an ambient, underwater thing. [Avant-garde musician and producer] Brian Eno can produce it."
Rossdale was somewhat more defensive about the issue of his looks. "You know," he mused in Details, "some people might like the band because of things that have less to do with the music, and that doesn't flatter me. I was a musician for years, so if my appearance is all there is, then why wasn't I successful with my other bands? Because they weren't good enough." He was particularly angered by a Rolling Stone cover photo that showed him shirtless on a bed; next to this cheesecake pose, the magazine asked archly why Rossdale wasn't taken seriously. "They really sucker-punched me," he complained in an MTV profile, claiming that the magazine had promised not to use the shirtless shot on the cover. "They didn't need to f*** me up like that," he groused.
Rossdale's public friendship with other celebrities also kept him in the news. Of special note, because of the Nirvana connection, was his appearance at various places with Courtney Love, Cobain's widow. Yet both have denied that they were romantically involved. Love--famous for eviscerating other celebs in interviews--confirmed what most people have observed in Rossdale: his decency. "He asked me not to say he's nice," she averred in Spin. "But I'm me and even I can't say anything mean about him." Rossdale also spent a great deal of time with Gwen Stefani, singer for the popular band No Doubt. The two became engaged in January of 2002 after dating for six years, and married later that year in no less than three seperate ceremonies on both sides of the Atlantic.
Bush tempted further comparisons to Nirvana by hiring producer Steve Albini--the man who recorded Nirvana's second major-label effort--to work behind the boards on their sophomore album, Razorblade Suitcase. Released amid much advance hype in late 1996, the album got off to an auspicious start with the single "Swallowed." The Los Angeles Times indicated that the album was not a huge step forward for the band. Most of the songs, argued reviewer Sara Scribner, "are well-crafted diversions, never quite hooky or even memorable. Radio programmers will be pleased, but Bush isn't any closer to earning its hefty paycheck." It seemed that reviews would have, if anything, even less impact on Razorblade's success. Bush had cultivated a devoted fan base with the "real people," and was determined to hold onto it.
The band released a remix collection, Desconstructed, in 1997 and The Science of Things in 1999. The Science of Things would be the last album released under the Trauma label due to a $40 million breach-of-contract lawsuit Trauma filed against the band. The lawsuit grew from a lack of communication between the band and the label. According to Billboard, Trauma Records GM/senior VP of marketing Jim Martone said of the lawsuit, "When a band has the kind of success Bush does, it is inevitable to have contract renegotiations. There was a communication breakdown.... Once communication between the band and the label got back on track, we were able to resolve our differences amicably." The Science of Things, which reunited Bush with producers Clive Langer and Alan Wintanley, who co-produced Sixteen Stone, features the single "The Chemicals Between Us."
Golden State, Bush's 2001 release on East West/Elektra, brought the band back to the basics of rock. Rossdale said of the band's new record on Bush's official website, "It's a very naked record, definitely a real rock record. It's such a rock record it even surprised us. The songs speak for themselves, I think ... it's like the record exists in its own space." Reports surfaced after Golden State's release that Pulsford was leaving the group permanently to work on a solo album and spend time with his family, but the group's founding guitarist said "Why would I quit something I started," in comments at Bush's official website in January of 2002. He was replaced by former Helmet guitarist Chris Traynor on the group's tour in support of the album.
Due to declining record sales and a lack of support from Atlantic Records, Bush disbanded in 2002. In 2005, the band released a greatest hits album called The Best of: 1994-1999, and, a few months later, a live album called Zen X Four.
Gavin Rossdale formed a new band, Institute, in 2004, serving as their lead vocalist and guitarist, just as in Bush. Chris Traynor also joined the band, as lead guitarist. (In addition to playing in Institute, Traynor also joined the reunited metal band Helmet in 2004 on bass; he quit the band in 2006.) Institute released one album, Distort Yourself, but failed to achieve much commercial success in spite of opening for U2's Vertigo Tour at some shows. Institute broke up in 2006 and Rossdale then embarked on a solo career. In 2007, he covered the John Lennon song "Mind Games" for the Lennon tribute album Instant Karma: The Amnesty International Campaign to Save Darfur. His first solo album, Wanderlust, supported by leading single "Love Remains the Same", was released in June 2008. Wanderlust was originally intended to be the next Bush album but after originally agreeing to take part in the Bush reunion, guitarist Nigel Pulsford opted out as he doesn't care to tour anymore.
Rossdale has also ventured into the world of acting, appearing in the films Zoolander, Little Black Book, The Game of Their Lives, Constantine, How to Rob a Bank and others.
Robin Goodridge recorded with the British rock band Elyss in 2004, although they have not released any new material since. In 2006, Goodridge began drumming for indie rock band Spear of Destiny, and appeared on their 2007 album, Imperial Prototype. During the summer of 2008, he toured the UK with British rock band Stone Gods after their current drummer Ed Graham reportedly fell ill. On 29 July it was announced that Graham had left the band and on 6 October 2008, the band's website announced that Goodridge had joined the band full time.
Nigel Pulsford has spent most of his time since leaving Bush raising his children with his wife.
In an interview with Blender, Gavin Rossdale admitted that the likelihood of a Bush reunion was "very high". He then added "quite high,"In a November 2008 interview, Rossdale revealed that he had tried to contact the other members of Bush, "I reached out to them."
On June 22, 2010, it was announced that Bush would play their first show in eight years at the second-annual Epicenter Music Festival in Fontana, California on September 25, 2010. A new album, then-titled Everything Always Now, was also announced as well as a new single "Afterlife".
Pulsford and Parsons were replaced by Chris Traynor and Corey Britz respectively. Traynor had also stood in for Pulsford during the Golden State tour. The new line up played seven shows in 2010, performing songs from Bush's previous four albums as well as their new song "Afterlife".
Gavin announced on Radio that the album had been renamed The Sea of Memories and was released in September and managed to peak at #18 on the Billboard Top 200. The first single of the album, "The Sound of Winter" was released in July 2011 and reached number one on the Billboard Alternative Songs chart.
Discography:
-Sixteen Stone (1994)
-Razorblade Suitcase (1996)
-The Science of Things (1999)
-Golden State (2001)
-The Sea of Memories (2011)
Read more
Bush Picture Gallery
Latest headlines