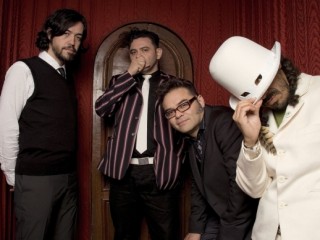 Cafe Tacvba biography
Date of birth : -
Date of death : -
Birthplace : Mexico City, Mexico
Nationality : Mexican
Category : Arts and Entertainment
Last modified : 2012-04-18
Credited as : Music group, Reves/Yosoy album, Grammy Awards winners
Café Tacuba (often stylised as Café Tacvba) is a band from Naucalpan, Mexico. The group gained popularity in the early 1990s. They were founded in 1989, and since then have had the same musical lineup of Rubén Isaac Albarrán Ortega (lead vocals, rhythm guitar), Emmanuel "Meme" del Real Díaz (keyboards, piano, programming, rhythm guitar, melodica, vocals), José Alfredo "Joselo" Rangel Arroyo (lead guitar, vocals), and Enrique 'Quique' Rangel Arroyo: (bass guitar, electric upright bass, vocals). Mexican folk music player Alejandro Flores is considered the 5th tacuba, as he has played the violin in almost every Café Tacuba concert since 1994. Since the Cuatro Caminos World Tour, Luis "El Children" Ledezma has played the drums in every concert but is not considered an official member of the band.
Formed in 1989 in Mexico City, Café Tacuba is at the forefront of rock en espanõl, Latin rock with all-Spanish lyrics. Consistently popular in Mexico, the band has gathered a loyal following of fans in the United States over their more than decade-long career. Café Tacuba are praised for their innovative sound that incorporates a wide variety of styles, including alternative rock, traditional Mexican music, ska, punk, funk, new wave, and electronica. The only consistent trait across the band's albums is that there is no consistency--each album is different from the previous, and critics have found it nearly impossible to define Café Tacuba's style. After winning the first Latin Grammy Award for Best Rock Album of the Year in 1999 for their double CD Reves/Yosoy, Café Tacuba took time off to refresh their creative energy. Much to the delight of their fans and critics, Café Tacuba emerged from their hiatus in 2002 with a quirky four-song EP, Vale Callampa, and a well-received full-length album, Cuatro Caminos, in 2003.
The four members of Café Tacuba--lead singer Ruben Albarran; guitarist Joselo Rangel; Joselo's brother, bassist Enrique "Quique" Rangel; and keyboardist and programmer Emmanuel del Real--met while they were design students at the National Autonomous University in Satellite, a northern suburb of Mexico City. They formed their band in 1989, jamming as a hobby. They named themselves Café Tacuba after a restaurant in Mexico City called El Café de Tacuba, which had been established in the early twentieth century. The restaurant was known for using Mexican ingredients in dishes from other countries, which inspired the group's goals for their music: they hoped to create a mix of traditional Mexican flavor spiced with sounds from all over the map. Early on, Café Tacuba hoped to define a Mexican identity through their music. Albarran told Elena Oumano in the Los Angeles Times, "We don't want to sound like a North American or European band. The music that came to us from all over the world goes through our filter and then becomes something different. We want to find a sound that in any part of the world, you can say, 'This is Mexican music.' We have an extraordinary culture, so we take from that."
The members of Café Tacuba ultimately put aside their design ambitions and turned to making music full time. They signed with WEA Latina, a division of Warner Bros., in 1992 and released their debut CD, Café Tacuba. The album--a mix of Mexican folk, techno, hard rock, Afro-Cuban, and jazz--was an immediate double gold hit in Mexico and sold over 40,000 copies, surpassing the expectations of their record label. Record sales were especially high in the United States, despite the fact that the band received very little air play and the strength of the original songwriting was lost to non-Spanish-speaking listeners.
Describing Café Tacuba in the Boston Globe, Joan Anderman maintained that the band "came up with a sound that was as aggressively avant-garde as it was traditional." Lead singer Albarran assumed the name Juan on this first CD, ushering in a longstanding tradition of using a different name for each release. (He also frequently dons a mask for live performances). This irreverent penchant for change reflects the band's aversion to repeating a previous success. In the Los Angeles Times, Josh Kun stated, "Like a musical amoeba determined to never be locked into a single shape, Café Tacuba has always been a band tethered to change." Band member Joselo Rangel explained in an interview quoted by Greg Kot in the Chicago Tribune, "It's not just important for us to make something, but to make something different every time. A lot of bands like to have a formula and stick with it. For us, changing with every album is expected."
Coming two years after their debut, the band's second release, Re, reflects a fusion of wide-ranging musical styles and is considered by most critics one of the most significant works of the rock en espanõl movement. Los Angeles Times critic Kun maintained that Re was a very impressive follow-up: "A dizzying kaleidoscope of stylistic explosions, Re started with Indian chants and Morse codes, then went anywhere it wanted to, from punk to banda to bolero, without losing its focus." Not all critics, however, were enamored of the band's diversity. Writing in the All Music Guide, Victor W. Valdivia praised the band's creative efforts, but asserted, "The album occasionally seems too ambitious, and the songwriting could stand to be a bit more focused; the band's power is sometimes diluted by the diffuse energy."
In 1996 Café Tacuba released Avalancha de Exitos, which comprised the band's progressive covers of both well-known and little-known Latin pop and rock songs. Following the album's tour, the band members had grown disengaged with their music, and they felt the need to reenergize their approach. When they came together to begin their next album, each of the band members took on a different role, and rather than bringing songs to their session, they brought recordings of found sounds and switched away from their usual instruments. The result of this approach was the instrumental 12-track CD Reves. Included on this experimental album were two collaborations with avant-garde classical group Kronos Quartet. Needless to say, WEA Latina was less than enthusiastic about the marketing appeal of such an album. As a compromise the group also offered previously unreleased songs on a second CD called Yosoy, and the two CDs were packaged and released together in 1999 as Reves/Yosoy. Although the songs of Yosoy were added to balance the less commercial instrumentals of Reves, critics gravitated toward the tracks on Reves. Chicago Tribune rock critic Kot asserted, "Without the issue of 'language' to muck up perceptions of the band, the members of Tacuba can be appreciated for what they are: bold experimentalists who use their status as one of Mexico's most commercially successful bands to subvert preconceived ideas about what a 'typical' Mexican rock band must sound like." Reves/Yosoy was awarded the first Latin Grammy for Best Rock Album of the Year in 1999.
After ten years with WEA Latina, Café Tacuba switched labels, and three years passed before the band released its next recording, this time with MCA. With their new label, they would now have a worldwide deal, rather than separate deals in the United States and Mexico. Vale Callampa, a four-song EP of covers of the defunct and obscure Chilean band Los Tres, and the band's tour to promote the EP, continued to intrigue fans and critics, but many perceived this effort as more of a stopgap or stepping stone to the band's next major project. Richie Unterberger summarized the response in the All Music Guide, concluding "[Vale Callampa is] pretty eclectic for an EP, but it's not a release that seems destined to endure as a notable venture, or even side project, in the Café Tacuba discography." Notably, with Vale Callampa, Café Tacuba incorporated a drummer into their mix, moving away from del Real's signature use of drum machines.
The lack of commercial sales for Reves/Yosoy did not deter the group as the members began work on Cuatro Caminos in 2002. Albarran--who had gone by the name Rita Cantalagua a.k.a. Gallo Gasss most recently with Vale Callampa and who now presented himself as Elfego Buendia--noted in the Los Angeles Times, "We needed that album to get where we are now. Reves was very sophisticated, complex, in some way dark and introspective. We needed to make that album so that we could make this one, which is simple, direct, spontaneous and full of light."
Their most accessible album to date, Cuatro Caminos--originally under the MCA label but released by Geffen after MCA restructured in mid-2003--nevertheless continues to defy any type of classification. As with each of the band's previous albums, Argentinean-born producer Gustavo Santaolalla added his deft touch, and this time he was joined by Flaming Lips producer Dave Fridmann and Ween producer Andrew Weiss. The band also added two drummers to their lineup--Victor Indrizzo, who previously worked with Beck, Macy Gray, and Chris Cornell; and Joey Waronker, who had worked with Beck, R.E.M., and Smashing Pumpkins. The Rangel brothers mixed it up further by trading in their usual acoustic guitar and upright bass for electric guitars. Most notable about Cuatro Caminos was the surprising mix of styles and the band's continued reach for artistic integrity without gloomy posturing. Sasha Frere-Jones proclaimed in the Village Voice, "[Café Tacuba is] a straight-up art band.... Hipsters who like their art bands to truck in melancholy and reach for the ungraspable will find Tacuba impossibly cheerful and energetic." For the band members, that ecstatic energy came from their enjoyment in working together again after their break. Albarran maintained in the Orange County Register, "When we make a record, the energy lends itself to a creative space. That's what we know. That's who we are."
When Café Tacuba began work on Cuatro Caminos, the band took a different approach than in the past. They decided to work with a live drummer, and recruited Victor Indrizzo and Joey Waronker. Secondly, they wanted to work with a couple choice producers besides Santaolalla and Kerpel; they recruited Dave Friedman and Andrew Weiss. Released in June 2003, Cuatro Caminos was met with commercial and critical success. The album won a Grammys for Best Latin Rock/Alternative Album as well as two Latin Grammys for Best Alternative Album and Best Rock Song ("Eres").
In 2007 Café Tacuba returned with a new studio album, Sino. The album has been compared to classic rock groups such as The Who and the Beach Boys, a departure from their previous techno and funk-influenced sound. The band also performed on the main stage at Lollapalooza that summer. On September 10, 2008, Café Tacuba became the leading nominee at the Latin Grammy Awards of 2008 with a total of six nominations: Album of the Year and Alternative Music Album, for Si No. The lead single "Volver a Comenzar" was shortlisted for Record of the Year and Best Alternative Song, the second single "Esta Vez" received nominations for Best Rock Song and Song of the Year. The band took the record for most Latin Grammys won in one night.
Studio albums:
-Café Tacuba (1992),
-Re (1994),
-Avalancha de Éxitos ("Avalanche of Hits", 1996),
-Revés/Yo Soy (actually a two-album vocal/instrumental collection, winner of a Grammy for Best Latin Rock Album of 1999).
-Cuatro Caminos ("Four Paths", 2003 Grammy Award for Best Latin Rock/Alternative Album ).
-Sino (winner of two 2008 Latin Grammies, one for best rock song and the second one for the best alternative song of the year), October, 2007.
Read more
Cafe Tacvba Picture Gallery
Latest headlines