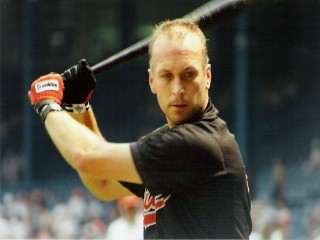 Cal Ripken Jr. biography
Date of birth : 1960-08-24
Date of death : -
Birthplace : Aberdeen, Maryland
Nationality : American
Category : Sports
Last modified : 2011-01-24
Credited as : Baseball player MLB, shortstop and third baseman,
Cal Ripken, Jr. holds many records in professional baseball, but it is his breaking of Lou Gehrig's record of 2, 131 consecutive games played that especially endears him to his admirers, who call him the "Iron Man" of baseball. The perseverance, endurance and everyday work ethic that Ripken has exhibited throughout his 17 seasons with the Baltimore Orioles has made him one of the most popular professional athletes in all of sports.
Calvin Edwin Ripken, Jr. was born on August 24, 1960 in the small Maryland town of Havre de Grace to Calvin, Sr. and Viola Ripkin. His father had been with the Baltimore Orioles as a minor-league catcher since 1957, and after a shoulder injury dashed his hopes of a major-league career, the elder Ripken stayed on with the club as a coach and manager at both the minor and major-league level. While the family made their home in Aberdeen, Maryland, Ripken's father traveled around from Wisconsin to South Dakota before finally managing the Orioles minor-league team in North Carolina.
His father would also work extra jobs in the summer to help the family keep their heads above water. During the summers, the family would leave Aberdeen, about 30 miles north of Baltimore, and travel with their father during the baseball season. Even with all of the traveling alongside his father, Ripken never saw much of him because of the long hours he put in at the ball park. He soon came to the conclusion that the only way he would be able to see his father was if he played baseball.
Sitting in the stands watching his father coach, the young Ripken learned the finer points of the game that would one day be his life. After the games, he would spend what little time he had with his father discussing the games. At the age when most young children dream of becoming a fireman or an astronaut, Ripken had already decided what his future career would be. "I've always been serious about baseball, " Ripken told the Washington Post. "From eight or nine on, I knew sports were my life. The teachers would say, 'Write down what you want to be, ' and by eleven or twelve, I had narrowed it to baseball." By the time Ripken was 12-years-old, he was taking batting and in-field practice with his father's team and idolizing his favorite minor-league player, Doug DeCinces, who he would one day replace in the Orioles line-up.
In 1976, Ripken's father was promoted to a coaching position with the Orioles in Baltimore and Ripken was a constant presence pitching and hitting during batting practices, retrieving balls, getting advice from major-league stars like Brooks Robinson and dreaming of becoming a Baltimore Oriole. After games, Ripken would quiz his father further about the day's game, picking up more knowledge about the intricacies of the game. A two time letter-winner in soccer, it was baseball that was Ripken's first love during high school and he made the varsity team as a freshman. Ripken played in the Mickey Mantle World Series in Texas in 1977, and won the Harford County batting title with an amazing .492 batting average his senior year. Behind his play, his high school team was crowned state Class A champions in 1978 and, soon after, Ripken was selected by the Orioles in the second round of the annual baseball draft. His dream was complete, as he was now a member of the Baltimore Orioles baseball team.
Ripken was employed by the Orioles amateur-league team in Bluefield, West Virginia, where he decided to play shortstop instead of pitcher. He reasoned that if he failed as a shortstop, he could instead try out as a pitcher. His first season with the Orioles organization was not an amazing success, he had a mediocre .264 batting average and led the league in errors with 33. Soon after, he was moved to the Oriole's Florida Instructional League team in Miami and improved to a .303 batting average.
At the end of the 1979 season, he was promoted to a spot on the Oriole's AA team in Charlotte, North Carolina and had a .180 batting average after only 61 at-bats. In 1980, he had a .276 batting average and hit 25 home runs after hitting only eight in his previous two seasons. Behind this performance, he was named the Southern League's all-star and was soon moved up the ladder again, this time to the Oriole's AAA team in Rochester, New York in 1981. He continued to develop in Rochester, with a batting average of .288 and 23 home runs, before being called up to the Orioles in August of 1981.
Ripken had a batting average of only .128 in 39 at-bats during his first season with the Orioles, but his second season would prove to be a watershed. The Orioles had traded former third baseman Doug DeCinces, who had been with the club since 1977, to the California Angels believing that third base would be Ripken's ultimate spot on the team. Although he had started out switching back and forth between third base and shortstop, Oriole manager Earl Weaver placed Ripken at third base to start his second season. After hitting a home run during his first at-bat his second season, Ripken's performance declined to a mere .117 batting average.
After consulting his father and future baseball hall of fame star Reggie Jackson, Ripken's performance improved to a .264 batting average with 28 home runs and he was selected as the American League's Rookie of the Year. "[Reggie Jackson] told me to just be myself and everything would fall into place…. After that, everything seemed to click, " Ripken told the Sporting News. With the club struggling during the playoff race at the end of the 1982 season, Ripken was moved to shortstop, a position many thought him too young and too tall, at six-feet-four-inches, to play effectively. The Orioles eventually lost the eastern division championship to the Milwaukee Brewers, but Ripken had played well and Jackson's advice had worked. Ripken would continue to play shortstop until 1996 before moving back to third base.
In 1983, with Ripken firmly in place and comfortable, he helped the Orioles win the World Series against the Philadelphia Phillies. For his efforts he was voted the American League's most valuable player for the series and the Sporting News player of the year. Earlier that year, he also helped captain the American League all-star team to its first victory since 1971 over the National League.
In 1984, Ripken signed a new four-year contract, but even with going on to set record after record, his team finished only in fifth place. In 1985, the Orioles finished in fourth place, but Ripken had a respectable .282 batting average. In 1986, the Orioles finished last in their division, the first time this had happened in team history. In response the team fired their manager and hired Ripken, Sr.
At the beginning of the 1987 season, there were three Ripkens in the Orioles training camp, Cal, Sr. and Jr. and Billy, Cal, Jr.'s younger brother, who would play second base. Ripken had only a .252 batting average that year but led American League short stops in assists and later that year signed a new one-year contract worth $1.75 million. At the end of the 1987 season, Ripken married his longtime girlfriend, Kelly Greer. During the 1988 season, Ripken's father was fired as the Orioles had the worst record in baseball history. However, Ripken was seen by fans and management as a player the team could not afford to be without, and he soon signed a new four year contract worth $8.4 million.
During the 1989 season, Ripken was slowly taking over as the team's leader, as Eddie Murray, who had been traded to the Los Angeles Dodgers, was no longer there. Despite losing the divisional title to the Toronto Blue Jays, Ripken committed only eight errors and hit 21 home runs. This made him the first shortstop to have eight 20-homer seasons. On June 12, 1990, Ripken moved into second place for the record of most consecutive games played as he appeared in his 1, 308th consecutive game, surpassing Everett Scott's mark. Ripken also broke Scott's record for the most games played in one position. "It wasn't a goal coming to the big leagues that I wouldn't miss a game, " Ripken told the New York Times. "You just try to prepare yourself each and every day and go there. Eight years later, it had evolved into this."
Unfortunately, Ripken's batting average had declined every year since 1983 and many wondered if his insistence to play every game was wearing him down. But, his defensive play was improving and in the 1990 season, he made only three errors. He also set a record for shortstops by playing 95 games without committing an error. In 1990, the Orioles finished only in fifth place, but Ripken continued to hit over 20 home runs and was runner-up for the Gold Glove award. In 1991, Ripken won the American League's most valuable player award for the second time and was voted the major-league player of the year by the Sporting News and the Associated Press. That year he would win the Gold Glove award for the best defensive player and was named the most valuable player for the all-star game.
The opening of the 1992 season saw Ripken bogged down in contract talks with Orioles management. Although he continued to play, his batting average dropped dramatically from the previous year. The fans showed their support and empathy by making him the leading vote-getter in the all-star balloting. On his thirty-second birthday, the talks with management were resolved and Ripken signed the richest deal in baseball history with a five-year contract worth $30.5 million. The deal improved his playing, as he had a batting average of .300 for the 1993 season and in 1994 surpassed Brooks Robinson as the all-time Orioles run-scorer.
On September 6, 1995, Ripken became baseball's "Iron Man" as he surpassed Lou Gehrig's all-time consecutive games played record of 2, 130. He had not missed a game since May 30, 1982 and when the game became official in the fifth inning, the capacity crowd at Baltimore's Camden Yards roared its approval. During a speech after the milestone game, Ripken underplayed his achievement and showed the humility that had become his trademark. "Tonight I stand here, overwhelmed, as my name is linked with the great and courageous Lou Gehrig. I'm truly humbled to have our names spoken in the same breath."
On May 29, 1996, Ripken hit his 334th home run for first-place on the Orioles all-time list. On June 14, 1996, he played in his 2, 216th consecutive game. This mark surpassed the record of Sachio Kinugasa of the Hiroshima Carp of Japan's Central League and gave Ripken the world record. After moving to third base, he helped lead the Orioles into the playoffs for the 1997 season.
Ripken is signed to a contract extension to play for the Orioles through the 1999 season and lives with his wife and two children, Rachel and Ryan in Reistertown, Maryland. In the spring of 1996, Ripken helped open the Ripken Museum in the town hall at Aberdeen, Maryland and he is extensively involved in various charity organizations throughout Baltimore and Maryland.
Rosenfeld, Harvey, Iron Man: The Cal Ripken, Jr. Story, St. Martins Mass Market Paperback, 1996.
Read more
Latest headlines