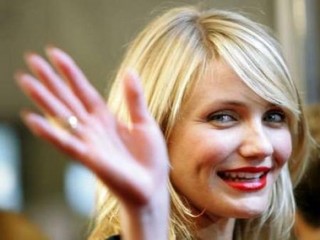 Cameron Diaz biography
Date of birth : 1972-08-30
Date of death : -
Birthplace : San Diego, California, U.S.
Nationality : American
Category : Arts and Entertainment
Last modified : 2011-05-05
Credited as : Actress, Knight and Day 2010, Alex Rodriguez
Diaz firmly established her bona fides with an exuberant co-starring role in "My Best Friend's Wedding" (1997) that managed to pull the rug out from under the feet of star Julia Roberts. But it was "There's Something About Mary" (1998), the Farrelly Brothers' wildly successful gross out comedy, that cemented her status atop the A-list. Despite success in mainstream features, she did broaden her horizons with challenging performances in "Being John Malkovich" (1999) and "Things You Can Tell Just by Looking at Her" (2000), two critically-lauded indies that allowed Diaz to display her strong acting chops. Easily fluctuating between the worlds of small-budge indies and major Hollywood blockbusters like "Charlie's Angels" (2001) and "Shrek 2" (2004), Diaz demonstrated that she was so much more than a pretty face.
Born Aug. 30, 1972 in San Diego, CA, Diaz was raised in Long Beach by her Cuban father, Emilio, a foreman for the Union Oil Company of California, and Billie, who worked for an exporter. Though she was an above average student at Los Cerritos Elementary School, she was more interested in roughhousing with the boys. By the time she reached Long Beach Polytechnic High School, Diaz was interested in football games and socking anyone who dared make fun of her thin frame. At 16, she caught the eye of a fashion photographer while partying in Hollywood and soon found herself signing a contract with the Elite Model Management. Both her parents were supportive, though they asked Diaz to promise to finish high school, which she did. After graduating, she spent the next five years modeling all over the world for clients like Coca-Cola and Nivea, making $2,000-a-day in Europe, North Africa, Mexico, Japan and Australia. Then when she was 21, a Hollywood casting director asked Elite for some headshots - one of which was of Diaz. He so liked what he saw in her non-traditional looks, he had her flown from Paris to L.A. to see if this girl could act.
On a lark, Diaz auditioned for the Jim Carrey vehicle, "The Mask" (1994), a cartoon comedy about a meek and mild banker (Carrey) who finds an ancient mask that suddenly transforms him when worn into an indestructible superhero able to fulfill his innermost whims and desires - but not without consequences. Diaz originally intended on playing the supporting role of a reporter - a part that eventually went to Amy Yasbeck. Instead, she wound up auditioning 12 times to play Carrey's chief love interest. Diaz wowed audiences from the get-go with her Rita Hayworthesque entrance and subsequent strong performance. Despite her lack of formal training, she more than held her own against Carrey's over-the-top antics. Thanks to the movie's $120 million take at the box office, Diaz became an overnight star. Meanwhile, her newfound star power did not go unrecognized by critics. Roger Ebert, writing in his review in the The Chicago Sun-Times (July 29, 1994), called her "a true discovery in the film; a genuine sex bomb with a gorgeous face, a wonderful smile, and a gift of comic timing." Even more flattering were comparisons to the benchmark by which all beautiful blonde comediennes were measured: 1930s screwball comedy queen, Carole Lombard. Through the years, the Lombard comparison would often pop up in reference to Diaz, as the two were both able to effectively channel their inner goofball, while still looking stunning on the surface.
Riding the buzz from her performance in "The Mask," Diaz suddenly became a hot commodity, both with producers and with the tabloids. Though intensely fearful of fame, Diaz nonetheless found herself front and center of national tabloids, thanks to her public relationship with actor Matt Dillon. On the screen, she made a series of shrewd moves, opting to take roles in low-budget films which allowed her to stretch her abilities. In "The Last Supper" (1996), Diaz was one of five liberal college students who invite a weekly right-winger guest to break bread and discuss current affairs, only to have one such conversation turn deadly. She quickly followed with the small town dramedy, "Feeling Minnesota" (1996), playing a confused bride-to-be who finds herself attracted to her potential brother-in-law (Keanu Reeves). Game from the start to play less-than-likable women, she deftly essayed a former hooker-turned-Wall Street shark in the Edward Burns comedy "She's the One" (1996). Though she stumbled as a spoiled rich girl who conspires with her kidnapper (Ewan McGregor) in the uneven caper comedy, "A Life Less Ordinary" (1997), Diaz found her footing as the fiancée of a man (Dermot Mulroney) who suddenly finds herself competing with a rival (Julia Roberts) in "My Best Friend's Wedding" (1997). While Roberts may have been America's resident "sweetheart" up to the film's release, when the hit movie finally opened, it was clear there was a new girl in town - someone who managed to steal Roberts' long held thunder. Diaz's goofy good-girl performance - which should have been the villain of the story - won over audiences, particularly when Diaz shameless mangled a karaoke song to great comedic effect.
Having proven her comedic abilities as a supporting player, she was granted leading status in the Farrelly Brothers' uproarious comedy, "There's Something About Mary" (1998). Playing the object of desire for her nerdy high school prom date (Ben Stiller) who hires a private detective (Matt Dillon) to track her down in Miami after 10 years, Diaz exuded eternal optimism and beauty, while playing the perfect foil against two love-struck buffoons willing to do anything to capture her attention. Though several outlandish moments occurred onscreen, nothing compared to the infamous hair gel scene, where an unsuspecting Diaz sees a dollop of sperm hanging from Stiller's earlobe and uses it in her hair. Perhaps the biggest hit of 1998, "There's Something About Mary" propelled Diaz to assured stardom and earned her a surprise New York Film Critics' award for Best Actress. Meanwhile, after being wasted in a cameo as a television reporter in Terry Gilliam's hallucinatory "Fear and Loathing in Las Vegas" (1998), Diaz delved into the dark side by downplaying her bubbly onscreen persona in Peter Berg's black comedy "Very Bad Things" (1998), playing a manipulative, almost psychopathic woman hell-bent on marching down the aisle.
It was around this time that she and Matt Dillon parted ways; their very public relationship was at an end. Perhaps learning her lesson the hard way, she kept her subsequent romance with actor Jared Leto - which apparently led to an engagement that was broken off in 2001 - out of public view. On screen, she tackled perhaps her most challenging role to date in "Being John Malkovich" (1999), donning a frizzy brown mane of hair that rendered her nearly unrecognizably frumpy. Diaz played the wife of a puppeteer (John Cusack) who discovers a mysterious portal that allows anyone to spend 15 minutes inside Malkovich's mind and body. Once again, Diaz built a funny persona out of seemingly contradictory parts and proved her versatility. Adopting a more serious pose, she rounded out the millennium in Oliver Stone's "Any Given Sunday" (1999), playing the new owner of a flailing NFL team who is more concerned with making big money than with the health of her players. Continuing to stretch her talents, Diaz successfully undertook a challenging role as a blind woman with an active social life in the female ensemble of "Things You Can Tell Just by Looking at Her" (2000).
Returning to the world of full-blown blockbusters, Diaz joined Drew Barrymore and Lucy Liu for "Charlie's Angels" (2000), playing Natalie, the smart, but silly member of the trio. Though panned by many critics, "Charlie's Angels" was a big enough hit that it provided her an opportunity to show off her lighter side - and her backside, in the memorable Underoos booty-shaking scene - while convincingly displaying her newfound talent as an action hero. Continuing her hot streak, she won a legion of younger fans with her animated turn as Princess Fiona in the charming CGI tale "Shrek" (2001) and its sequel "Shrek 2" (2004). Meanwhile, Diaz earned even more critical respect with a supporting role in "Vanilla Sky" (2001), playing a woman whose desire for more than a casual relationship with a womanizer (Tom Cruise) drives her suicidal. The following year, she played a desirable woman who falls in love with a man (Thomas Jane) she can not win over in the romantic comedy "The Sweetest Thing" (2002). Although it failed to satisfy, Diaz charmed audiences with her loopy, infectious grin and freewheeling approach. It also further solidified her on-screen status as the girl-next-door who d sn't mind the occasional raunchy joke.
Diaz shifted gears entirely for her next film, "Gangs of New York" (2002), Martin Scorsese's long-awaited epic about the New York immigrant riots of the late 19th century. Diaz played the comely street pickpocket Jenny Everdeane, love interest to Amsterdam Vallon (Leonardo DiCaprio), a young Irishman determined to hunt down his father's killer, Bill the Butcher (Daniel Day-Lewis). Though "Gangs" was singled out for many accolades, the film also frequently missed the mark, though Diaz gave a satisfying performance. Diaz returned to familiar territory as the ass-kicking Natalie - as well as working with now best friend Drew Barrymore - in their sub-par sequel "Charlie's Angels: Full Throttle" (2003). In between film roles, Diaz - who made regular appearances in the checkout aisle due to her three-year romance with singer Justin Timberlake - starred in "Trippin'" (MTV, 2004-05), a 10-episode travel series for MTV she helped create that followed celebrities to exotic locales, where they engaged in unusual activities like riding elephants in Nepal, sand-boarding in Chile and enjoying the hot springs in Yellowstone. Diaz returned center stage in Curtis Hanson's dramedy "In Her Sh s" (2005), playing a reckless party girl opposite her responsible attorney sister (Toni Collette) with low self-esteem. They have a calamitous falling out and must slowly come to learn that they share more than the same sh size.
In "The Holiday" (2006), Diaz was a disgruntled woman living in Los Angeles who realizes that the man she has been living with is having an affair. She meets an English woman (Kate Winslet) online having romantic problems of her own, so the two impulsively decide to switch houses for the Christmas holiday, only to find the one thing neither of them want: romance. Meanwhile, Diaz voiced Princess Fiona for a third go-round in "Shrek the Third" (2007). Always vocal about her left-leaning politics, Diaz made appearances in a couple of documentaries, first sitting down for an interview in "Who Is Norman Lloyd?" (2007), a biographical documentary about a multi-hyphenated talent whose life and career span was a part of Hollywood history without many having knowledge of it. She then was one of several celebrities, including Halle Berry, Susan Sarandon, Harrison Ford and Ben Affleck, who appeared in "Manufacturing Dissent" (2007), a look at controversial documentary filmmaker Michael Moore. Returning to the comfortable confines of romantic comedy, she starred in "What Happens in Vegas " (2008), playing a woman who wakes up in a Vegas with a new husband (Aston Kutcher) she d s not know and a huge slot machine jackpot both claim as their own. Though a mild success at the box office, the comedy was panned by most critics. Meanwhile, she co-starred in the tearjerker "My Sister's Keeper" (2009) before starring in the horror flick "The Box" (2009), which was a remake of the revival "Twilight Zone" series in the 1980s. Following her fourth and final turn voicing Fiona for "Shrek Forever After" (2010), Diaz played a mild-mannered Midwestern woman who accidentally becomes entangled with an international spy (Tom Cruise) trying to flee the United States in "Knight and Day" (2010).
Read more
Cameron Diaz Picture Gallery
Latest headlines