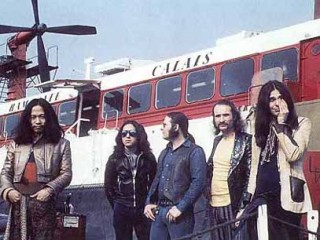 Can (band) biography
Date of birth : -
Date of death : -
Birthplace : Cologne, West Germany
Nationality : German
Category : Arts and Entertainment
Last modified : 2012-04-18
Credited as : Rock band, The Can Soundtracks,
Can was an experimental rock band formed in Cologne, West Germany in 1968. Later labeled as one of the first "krautrock" groups, they transcended mainstream influences and incorporated strong minimalist and world music elements into their often psychedelic music.
Although the Can never boasted more than a cult following during their career, the German combo would later be acknowledged as the leading avant-garde rock band to emerge from the 1970s. Always ignoring the trends of contemporary pop music, Can desired to explore other areas of music by breaking traditionally held concepts about rock and roll. In describing the group's sound, rock historians often named Frank Zappa or the Velvet Underground as Can's closest contemporaries, but also noted that in contrast to these artists, Can created a much more serious and inaccessible style of music. "Instead of recording tight pop songs or satire," stated All Music Guide contributor Stephen Thomas Erlewine, "Can experimented with noise, synthesizers, nontraditional music, cut-and-paste techniques, and, most importantly, electronic music; each album marked a significant step forward from the previous album, investigating new territories that other rock bands weren't interested in exploring." By the end of their career, Can, whose core members included Irmin Schmidt, Jaki Liebezeit, Michael Karoli, and Holger Czukay , had produced some of the most respected examples of experimental rock ever recorded. The group's groundbreaking, as well as challenging, music would later influence such bands as Public Image Limited, the Fall, Einsturzende Neubauten, and numerous others.
In 1968, the people of Germany felt divisions in both a political and a cultural sense. Aside from the obvious tensions resulting from the East/West split, a decentralized sense of culture prevailed that caused local fixations of various music scenes. However, the late 1960s were nonetheless rebellious, watershed years for youth culture around the world, and changes would arise, especially in music, that would also touch intellectual and artistic activity in Germany. The germ cell of a band that would make history later on as Can felt the new vibrations as well in June of 1968, when five young musicians, together searching for a new musical concept and under the spell of innovative artists such as Jimi Hendrix, the Velvet Underground, and the Mothers of Invention, held a meeting at Irmin Schmidt's apartment in Cologne, West Germany.
Schmidt, a 31-year-old pianist and conductor at the time, along with a then 30-year-old double-bassist named Holger Czukay and an American flautist named David Johnson, received formal classical training in music. Schmidt and Czukay had previously studied with classical avant-garde musician Karlheinz Stockhausen. Abandoning promising careers in academia and classical pursuits to form their own avant-garde rock group, the three men enlisted one of Czukay's students, then 19-year-old Michael Karoli, to play guitar. The band found a fifth member in then 30-year-old jazz percussionist and drummer Jaki Liebezeit, who nominated himself for the position after responding to Schmidt's inquiry about the availability of local drummer.
Adopting the name Inner Space Productions, the group started out working within the German film industry composing and recording soundtrack music. Meanwhile, a wealthy local art patron donated the band free rehearsal and recording space at his castle, Schloss Narvenich, situated near Cologne. It was at this location that Inner Space held their first gig, an improvised show that produced a spectacular collage of rock music and tape samples. The 1968 performance was documented on a cassette tape entitled Prehistoric Future.
Toward the end of 1968, a black American sculptor named Malcolm Mooney arrived in Cologne to visit Schmidt and his wife and Can's longtime manager Hildegarde. During his stay, Mooney linked up with the band as vocalist, leading the band with his intuitive drive closer to rock music. One of the first sessions with Mooney adding vocals yielded the track "Father Cannot Yell." Around the same time, another lineup change occurred; Johnson, whose involvement with the band was more limited than the other members, departed in December of 1968. Shortly thereafter, Mooney and Liebezeit thought up a new name for the group--Can--and the band began work on their debut album, 1969's Monster Movie. A unique cosmos of sound recorded with two-track technology, Monster Movie shattered numerous well-worn production and musical concepts, and introduced the Can ethic of playing and recording spontaneously against a backdrop of repetitive rhythms.
In December of 1969, Mooney, suffering from paranoia and a psychological breakdown, left the band and returned to the United States. Although his involvement with Can lasted only one year, he would be forever remembered for participating in the band's groundbreaking debut. Mooney also appeared on a few tracks for the project The Can Soundtracks (released in 1970), which featured Can's film scores from 1969 through 1970. His era was also extensively documented on the 1981 release Delay 1968, a collection of then-unreleased material. Following Mooney's departure, in May of 1970, Can invited Japanese singer Kenji "Damo" Suzuki to join the band when they spotted him on a street corner in Munich, Germany, one afternoon prior to a scheduled Can show. Suzuki immediately accepted Can's offer and gave an impromptu performance with the band that night. In addition to making a living as a traveling street performer, Suzuki had also worked as a cast member for the musical Hair. The extraordinary gig, a pandemonium of feedback and ingenious, chaotic noise experiments held at Munich's Blow Up club, became one of the most notable live performances in the band's history.
With Suzuki fronting the band, Can, early in 1971, recorded again on a two-track machine their second official offering, the legendary psychedelic double album Tago Mago. Released later that year and illustrating new departures for the skilled collective, the record caught the immediate attention of critics in both England and France. Describing the energy captured on Tago Mago, Mills asserted, "the five-pronged Can assault--Liebezeit's volcanic-but-precise cyclical drumming, Czukay's impulsively jabbing bass, Karoli's psychedelicised splatter guitar, Schmidt's pan-topographical keyboards, Suzuki's free-form vocal incantations--was further shaped by Czukay's tape-editing wizardry, and the group was able to lay down lengthy jams from which to whittle its unique studio recordings."
As Tago Mago steadily earned acclaim, the band, in December of 1971, officially founded the Inner Space Studios in an old movie theater in Weilerswist, a town near Cologne. After taking up residence at Inner Space to make Tago Mago, Can recorded and produced all subsequent projects at their new studio, known as the Can Studio since 1978. In an interview with Magnet in 1989, Karoli reflected upon Can's early days and the creation of Innerspace: "We were into instant creation," he recalled. "Because we couldn't afford to pay studio fees, we built our own studio. We didn't have proper technology, just two microphones and not even a real mixing desk. But we got so skilled and the discipline was so tight, that we produced stuff that sounded like it was produced in a proper studio."
During the early 1970s, Can earned a reputation for their highly developed and entertaining live performances as well, creating different arrangements of songs so as not to reproduce an exact replica of a track recorded in the studio. One of Can's performances at the Cologne Sporthalle on February 3, 1972, featured vaudeville artists and other acts in addition to the group's own music. Prominent cameramen, including Martin Schaefer, Robbie Muller, and Egon Mann, were also on location, and captured the show on tape for Peter Przygodda's film Can Free Concert.
The band's third album, Ege Bamysi, released in October of 1972, included Can's first and most prominent chart success in Germany, the song "Spoon," also the title track for the crime thriller Das Messer. Another substantial achievement, Ege Bamysi, prompted Melody Maker that year to conclude, according to Can's website, "Can are without doubt the most talented and most consistent experimental rock band in Europe, England included." In 1973, Can returned with a proto-ambient classic entitled Future Days, the last album recorded with Suzuki. Despite the band's increasing international popularity, Suzuki left the band that year to follow the religious group the Jehovah's Witnesses. After Suzuki's departure, Can's music changed and the remaining members continued more or less as a quartet with Karoli taking on vocal duties at first. Later, various other singers, among them Tim Hardin, joined Can for brief interludes.
In 1974, Can released the album Limited Edition and also held the longest concert in the band's history in Berlin, lasting from eight o'clock in the evening until eight thirty the next morning. That same year, the band recorded Soon Over Babaluma, an album marking the end of Can's technique of recording straight onto one track. However, this change also gave rise to new discoveries for the band, evidenced on the track "Quantum Physics," Can's first entirely ambient composition. The year 1975 saw the release of the double album Unlimited Edition, an extended version of Limited Edition that included unreleased session material. For their next album of new material, 1975's Landed, Can abandoned two-track recording altogether. Although critically hailed as one of the most advanced rock units after Landed's release, Can nonetheless suffered consequences by availing themselves to newer technology.
According to the band, Can's spontaneity and creativity as a collective slowly started slipping away. "In the beginning, when we only had a two-track recorder, we all had to be there together," Liebezeit told Mills. "Later, we had a multi-track machine, so we didn't work together so much in the studio. One would come to the studio and do some overdubbing, and the other ones would stay home. And I think that was not good for the group." Nonetheless, the band prevailed for a while longer, and using more advanced recording methods, Can recorded the musically versatile Flow Motion (released in 1976), an album featuring David Gilmour's "I Want More," which became a disco hit single and reached number 30 on the British chart.
Around the same time, Czukay developed interests in non-rock instrumentation, including short-wave radios and Dictaphones as primitive samplers, and introduced such elements into Can's music. Not only did these new methods alter the group's sound, but it also necessitated that the band hire a new bass player to cover Czukay's former role. Thus, the well-known rhythm duo of bassist Rosko Gee and percussionist Reebop Kwaku Baah, both former members of the band Traffic, joined Can for 1977's Saw Delight. Now retired from the bass position, Czukay for this album served as the "special sounds" engineer. Although Saw Delight was well-received, the record's funkier sound and Czukay's new musical process was at odds with the other members' interests in rock music.
Consequently, Czukay departed from Can in May of 1977, and the remaining members recorded two more albums: 1978's disappointing album Out of Reach without Czukay and 1979's self-titled release, which was edited by Czukay. The group also issued in 1978 a "best of Can" compilation double album entitled Cannibalism. In 1979, realizing that the magic had come to an end, Can finally dissolved. The various members went on to work on solo and collaborative projects, though Czukay enjoyed the most prolific post-Can career. Can played their final show in Lisbon at the end of May of that year before a crowd of more than 10,000 fans. The original Can lineup reunited briefly in 1988 with Mooney at Karoli's new studio near Nice, France, called Outer Space Studio to record another album, 1989's Rite Time. The above mentioned members, minus Czukay, came together again in 1991 at the old Can Studio to record the track "Last Night Sleep" for the Wim Wenders film Until the End of the World.
Meanwhile, in 1980, Schmidt's wife established the Spoon label--distributed by Mute Records-- to start reissuing the group's catalog. Because of her efforts, many of Can's records were later made available on compact disc. In 1997, the label released the remix album Sacrilege, followed in 1999 by an impressive and highly recommended box set entitled Can Box. "[Can Box] was an expensive project and very difficult to organize," Hildegarde Schmidt, who worked tirelessly on the project, revealed to Mills. "The hours and hours of live tapes; the video itself, which was difficult to put together; and the book, which I did with (German journalist) Wolf (Kampmann)." The finished product included two live discs, a 130-minute video of concert and documentary footage, and a 500-page book with text in French, English, and German.
Since the split, all the former members have been involved in musical projects, often as session musicians for other artists. In 1986 they briefly reformed, with original vocalist Mooney, to record Rite Time (released in 1989). There was a further reunion in 1991 to record a track for the Wim Wenders film Until the End of the World, and Can have since been the subject of numerous compilations, live albums and samples.
In 1999 the four core members of Can, Karoli, Liebezeit, Schmidt and Czukay, performed live at the same show, although playing separately with their current solo projects (Sofortkontakt, Club Off Chaos, Kumo and U-She respectively). Michael Karoli died of cancer on 17 November 2001. In 2004, the band began a series of Super Audio CD remasters of its back catalog, which were finished in 2006.
Discography:
-Monster Movie (1969)
-Soundtracks (1970)
-Tago Mago (1971)
-Ege Bamyasi (1972)
-Future Days (1973)
-Soon Over Babaluma (1974)
-Landed (1975)
-Flow Motion (1976)
-Saw Delight (1977)
-Out of Reach (1978)
-Can (1979)
-Rite Time (1989)
Read more
Latest headlines