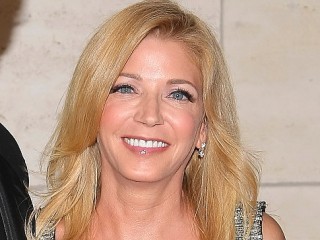 Candace Bushnell biography
Date of birth : 1958-12-01
Date of death : -
Birthplace : Glastonbury, Connecticut, United States
Nationality : American
Category : Arts and Entertainment
Last modified : 2010-08-31
Credited as : Author and columnist, wrote the book "Sex and the City", and "One Fifth Avenue" 2008
Candace Bushnell
born December 1, 1958 in Glastonbury, Connecticut, United States is an American author and columnist based in New York City. She is best known for writing a column that was anthologized in a book,
Sex and the City
, which in turn became the basis for a popular television series and its subsequent film adaptations.
"Sidelights"
Candace Bushnell
's
Sex and the City
is a collection of twenty-five semiautobiographical columns originally written under the same title for the New York Observer. Writing with humor and insight, according to Los Angeles Times Book Review contributor Sandra Tsing Loh, Bushnell humanizes the glamorous substratum of New Yorkers who are models, artists, and book publishers, as well as other high-profile individuals at work in business and advertising. While the author's focus is on her characters' search for romance, she reveals at the same time the social fabric from which they are cut.
Bushnell thinly disguises the identities of her subjects with such names as "Mr. Big" (a publisher) and "Bone" (a model). Mr. Big, remarked a Kirkus Reviews contributor, "is a better date than most of the model-obsessed men" described in Sex and the City; however, Mr. Big is also selfish and unable to maintain a serious romantic relationship--a "toxic bachelor," as Bushnell puts it. Writing for Time, Ginia Bellafante summed up the ethic by which most of the author's characters seek partners: "Men just want to go out with models; women just want to marry moguls."
Bushnell has "an absolutely uncanny ear for dialogue," maintained Loh. Basing her reports from such locations as a swingers' club, a gallery opening, and a book publicity launch, Bushnell focuses more on talk about sex and dating rituals than sex itself. A Kirkus Reviews contributor remarked that the book "is a captivating look at the 'Age of Un-Innocence,' in a city in which the glittering diversions don't quite make up for the fact that 'Cupid has flown the coop.'" In 1998 Sex and the City became a popular television series for Home Box Office (HBO). Bushnell served as a consultant during the first two seasons of the series.
Bushnell's next book, Four Blondes, also looks at the sex lives of glamorous women in upscale professions, but they are women who enter into relationships for reasons other than love. The book contains four loosely connected stories, all with titles referring to methods of hair coloring. "Nice N' Easy" is about a model who has affairs with wealthy men so she can summer at their homes in Long Island's exclusive Hamptons area. "Platinum" concerns a woman who marries into royalty but finds being a princess does not make her happy. "Highlights (For Adults)" deals with a wife and husband, both journalists, who are discontented with their marriage and seek excitement through extramarital liaisons. In "Single Process," a beautiful New York writer travels to London to research an article on the differences between British and U.S. ideas about sex.
People contributor Anne-Marie O'Neill commented that the protagonists of Four Blondes "set feminism back decades" by seeking identity and status through the men in their lives, yet they are somehow sympathetic. The author also manages to show "the tarnish behind the glitz" of her characters' rarefied environment, O'Neill related. New York Times Book Review contributor Kim France granted that "Bushnell has her milieu down cold," but added: "She is not the satirist these times so richly deserve, and the reader quickly grows tired of the sulky, faux world-weariness of her blondes. ... No one in these stories experiences any manner of education, redemption or meaningful resolution." Booklist contributor Donna Seaman voiced a similar criticism, commenting that the book's "bitter little tabloid tales are too tired and careless for genuine satire and too nasty and lacking in soul to even qualify as entertainment." A Publishers Weekly contributor, though, deemed Bushnell's work "mercilessly satirical" and full of "scathing insights and razor wit," with characters who share the "universal human fear" of "dying without having left their mark."
One of the characters from Four Blondes is featured in a Trading Up, Bushnell's satirical look at American society. Her heroine is a lingerie model for Victoria's Secret named Jamie Wilcox. Jamie finds success by embracing a shallow lifestyle only to learn in the end that she must reevaluate her life and relationships. A somewhat more serious look at women's lives in modern society comes next with Lipstick Jungle. In this novel, Bushnell's heroines are three successful career women in their forties: Nico O'Neilly is a magazine publisher, Wendy Healy is a film studio executive, and Victory Ford is a fashion designer.
The title of the novel refers to the working world of women, and in Lipstick Jungle the gender roles seem definitely reversed. Bushnell's female characters are strong, successful, and at least fairly confident figures, while the men in their lives are shown as often weak, lazy, indecisive, or unambitious. However, the emphasis in the book is more on personal fulfillment through careers and female friendships than romantic relations. Critics of the novel predicted that the high-society setting would attract her current fans, while a Publishers Weekly contributor noted that "Bushnell's emphasis on female friendship and career ambition may also win her a legion of new readers." While Andrea Y. Griffith of the Library Journal had some reservations concerning "awkward plot machinations" in the book, she praised the "likeable yet strong characters."
Bushnell continues her examination of New York's economic and social upper class with her next book, One Fifth Avenue. Noting that Bushnell "has matured as a writer," Time Out London Web site contributor Serena Kutchinsky added that the author is "making it her mission to expose the warped materialism that life in the fast lane breeds, turning decent people into twisted, label-obsessed caricatures."
The novel focuses primarily on the lives of people who live at a swanky, historic co-op apartment building in Manhattan. When one of the prestigious owners of an apartment in the building dies, residents began wondering who will come in as the new owners. "It's about the new replacing the old and how the city goes on," the author told Eve Macsweeney in an interview for Vogue. "Real estate is the perennial New York topic. ... And in New York, which has always been a place of success and status, people need a way to distinguish themselves."
The story features a wide cast of characters, from those who have found wealth and success but who remain unhappy to those on the fringes of New York's elite society to the younger generation seeking to attain the good life in Manhattan. "Bushnell--whose books Sex and the City and Lipstick Jungle were both turned into television series, and who, if we can trust the gossip columns, manages to get out of the house on a regular basis--brings her real-life experience to bear on these fictional proceedings," wrote Henry Alford for the New York Times Book Review. "Her greatest strength is her ability to build (or slowly ratchet up) the two commodities--sexual tension and the striving for success--that define her characters."
Among the book's many characters is the young, brash Lola Fabrikant, who comes to New York to find success and lands a job as a researcher for Philip Oakland, a writer who has won a Pulitzer Prize and an Oscar but who is now writing a screenplay about younger women whom he doesn't understand. Philip believes that Lola may be his muse. "Lola is the literalized parody of everything Carrie Bradshaw," a character from Sex and the City, noted a contributor to the Uinterview Web site. Also on hand is movie star Schiffer Diamond, Philip's ex-flame who has returned to her apartment in New York to star in a new television series. The Uinterview contributor noted: " One Fifth Avenue introduces us to a New York wonderland of old money, new money, celebrities and hangers-on, each with his own stash of pipe schemes and burning resentments."
Other characters in the novel include Mindy and James Gooch, who have failed to achieve success until both become popular writers. They live in a series of small rooms on the ground floor of the building. The rooms were previously maids' rooms and storage areas that the Gooches managed to buy from the building's co-op board over many years. Profoundly unhappy, Mindy ends up writing a successful blog about being a middle-aged married woman, while James, a failed novelist, suddenly writes a best seller. Doree Shafrir, writing for the New York Observer, commented that with these two characters the author "explores what happens when two people who have always been just on the outskirts of Manhattan success do, finally, find success."
Another couple living in the co-op building are Paul and Annalisa Rice, who have bought the apartment vacated by the owner's death. Paul has become wealthy quickly via his hedge fund investments and has turned into a self-centered bully who believes that everyone should cater to his every wish, even if it means ruining the outside was of the historic co-op building by inserting external air-conditioners into his apartment. Meanwhile, the beautiful Annalisa, who was a hard-working lawyer until her husband insisted she give up her career, meets Billy Litchfield, a fifty-four-year-old gay man who lives in a building down the street from One Fifth and on the fringes of New York's elite society. Billy takes on the task of teaching Annalisa to operate in high society. "Annalisa watches with a healthy skepticism as she is schooled in One Fifth Avenue's most venerable social rules," noted New York Times contributor Janet Maslin.
In addition to the characters in her book, Bushnell also writes about the modern world of the Internet and blogging. For the most part, the author writes disparagingly of bloggers and their work, which often negatively targets successful writers and celebrities. For example, in the novel, Philip comments about Lola's mindset, noting: "In her mind, a blogger was the same as a novelist, a star on a reality show was equal to an actress." Philip goes on to add that Lola's generation "had grown up in a culture of insistent democracy in which everyone was the same and everyone was a winner."
"Bushnell's unparalleled ability to capture type borders on uncanny; the perceptiveness of David Attenborough studying a rare bird," wrote Sarah Maslin Nir in a review of One Fifth Avenue for the London Times. Writing for the Washington Post Book World, Claudia Deane commented: "This is a book you read because it takes some of the challenges of modern, middle-age urban life and has the characters try to meet them amid a swirl of heliports and Hamptons visits, and because Bushnell has a track record of channeling the N.Y.C. zeitgeist. Which, if she's right, includes a burgeoning backlash against the nastier parts of Internet-driven celebrity journalism."
PERSONAL INFORMATION
Born December 1, 1958, in Glastonbury, CT; daughter of Calvin and Camille Bushnell; married Charles Askegard (a ballet dancer), July 4, 2002. Education: Attended Rice University and New York University.
AWARDS
Matrix Award, 2006; Albert Einstein Spirit of Achievement Award.
CAREER
Writer and journalist. New York Observer, New York, NY, columnist, 1994-c. 1998; Sex, Lives, and Video Clips (talk show), VH1, host, 1997; Sex, Success, and Sensibility (radio show), Sirius Satellite Radio, host, 2006-08. Also coproducer of one episode of Sex and the City, Home Box Office (HBO), 1998; executive producer for several episodes of Lipstick Jungle television series, National Broadcasting Company, Inc. (NBC), 2008; appeared on television shows.
WRITINGS:
FICTION
* Sex and the City, Atlantic Monthly Press (New York, NY), 1996.
* Four Blondes, Atlantic Monthly Press (New York, NY), 2000.
* Trading Up, Hyperion (New York, NY), 2003.
* Lipstick Jungle, Hyperion (New York, NY), 2005.
* One Fifth Avenue, Hyperion (New York, NY), 2008.
Contributor to the book Big Night Out, Penguin Books (New York, NY), 2002. Contributor to periodicals, including Self, Mademoiselle, and Ladies' Home Journal.
MEDIA ADAPTATIONS
Sex and the City
was adapted by Darren Star into a television series for Home Box Office that ran from 1998 to 2005;
Four Blondes
was adapted to audiotape;
Trading Up
was adapted to audiotape by Audiobooks America, 2003;
Lipstick Jungle
was adapted as a television series, National Broadcasting Corporation (NBC), 2008-09, and for cassette and CD, 2005;
Sex and the City
was adapted into a film and released by New Line Cinema, 2008.
Read more
Latest headlines