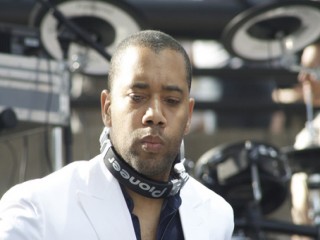 Carl Craig biography
Date of birth : 1969-05-22
Date of death : -
Birthplace : Detroit,Michigan,U.S.
Nationality : American
Category : Arts and Entertainment
Last modified : 2011-11-07
Credited as : DJ, techno music, Paperclip People
Carl Craig is a Detroit-based producer of techno music, and is considered to be one of the most important names in the Detroit second generation of techno producers and DJs. According to an article about Craig, "Of this group, Craig was often recognised as being the most artful and the most willing to engage the rapidly growing shape of techno outside Detroit." Carl Craig has approached techno using inspiration from a wide range of musical genres, including jazz and soul.
Techno music sustains a particularly unique Detroit music legacy. Like its predecessor, the Motown sound, techno was born underground in makeshift studios and basements in some of the grittier parts of the city. Both musical genres came as a result of a dedicated few who channeled their personal visions into aural innovation. And techno, like early Sixties R&B, draws upon a rich array of African-American musical traditions. However, the artists that Detroit techno produced, Carl Craig among them, remain far more famous abroad than in their own city, and their heady, almost intellectualized sound has failed to find any mass, MTV-viewing audience.
As with that of his turntable peers, Craig's music rests somewhere between dance-club beats and avant-garde composition, and the one- time teen techno prodigy was the first among a new younger wave of DJs/recording artists to sign with a major label. In an interview with Urb magazine's Tim Barr, New York producer Joey Beltram called Craig "a true innovator. He has his own sound and his own identity. You hear other people's records and you can tell they've been listening to his stuff. There just isn't anybody else like him."
Craig, who records under the aliases Paperclip People, 69, Psyche, and BFC, as well as his own name, is several years younger than most of Detroit's more celebrated techno artists. Born in the early 1970s, Craig grew up on Detroit's west side and attended the Cooley High immortalized in the Seventies movie of the same name. In his formative years, he was as much enamored of white alternative music-- including groups like Bauhaus and the Smiths--as he was the current and past Motown sounds and Prince. He also loved the cool metallic sounds of German avant-garde act Kraftwerk, which he discovered at the age of twelve. When Craig was a few years older, he began accompanying his cousin, a lighting technician, to jobs at dance clubs. One such venue was a Detroit discotheque called Cheeks, a legendary draw in the early- to mid-Eighties; there Craig witnessed the power of the star DJ, observing Cheeks' mixmaster, Jeff Mills, play European disco tracks intermixed with the first rap records of the decade.
Craig also became a participant in the burgeoning techno scene, which took off in the mid-Eighties helmed by a trio of young Detroiters-- Derrick May, Kevin Saunderson, and Juan Atkins. At private loft parties and techno nights at large city clubs, hundreds danced themselves into "group bliss" with the help of the thumping, hypnotic tracks mixed by these three, and by the others who followed. Inspired, Craig borrowed recording equipment and began experimenting in his bedroom. He made a tape--without any beats since he didn't yet have a drum machine--and then took it to the home of Derrick May after simply finding out where he lived. Craig was just seventeen, and May was on his way out the door to catch a plane to Europe, but gave him a minute. He told Craig to work on it some more, which he did, and Craig brought it back.
May then took Craig into the recording studio to record a track called "Neurotic Behaviour," andanother song entitled "Elements" (recorded under the tag Psyche) was included on the Virgin Records compilation Detroit Techno II. By this time, techno's Detroit epicenter was the Music Institute, a downtown Detroit club that turned away throngs every weekend. In the spring of 1989 Craig, still a teenager, went to London with May's Rhythim Is Rhythim DJ group. "It was like a big thing for me to be in London," Craig told Mixmag's Tony Marcus, "in a club, this was like a dream, I think it's kind of where I caught the bug." He liked the city so much he stayed another six months, and would make it his intermittent home for several more years. Craig still remained tied to Detroit, however, and continued his collaboration with May. His mentor's Transmat and Fragile labels released Craig's another two singles, "Crackdown" (also recorded under the moniker Psyche) and "Galaxy" (recorded as BFC), both in late 1989.
The following year, Craig co-founded a Detroit-based record label called RetroActive. He worked in a copy shop to make ends meet, though he was already gaining a reputation as the "boy genius" of the scene. In a rudimentary studio in his parents' basement, Craig created and engineered the RetroActive sound. "That was a good time," Carl recalled of the era in the Urb interview. "Nobody had expectations that I conform in a certain way.... At heart, I was just making music for myself." In time, conflicts within the tight-knit techno community severed Craig's ties with his RetroActive partner and even with May--though the two later reconciled, and Craig still refers to him as a profound influence.
In 1991, Craig founded his own label, Planet E Communications, whose first release was the EP "Four Jazz Funk Classics." The record's title is homage to a similarly-named album from Throbbing Gristle, an avant-garde industrial act fronted by former Psychic TV instigator Genesis P. Orridge--yet another of Craig's startling musical inspirations. Another Craig record, "Oscillator," released around the same time under the moniker Paperclip People, also broke new ground. The Paperclip People alias would serve as home for Craig's more traditional dance-club tracks.
What many critics consider Craig's most profound record came in 1992 under the alias Innerzone Orchestra. "Bug in a Bassbin" has been credited with fertilizing the ground from which the jungle music movement germinated. (The record achieved such fame that upon its re- release a few years later, a DJ/techno magazine called Jockeyslut devoted an entire feature article to the song in homage; it included interviews with some of the most famous names in the business who had remixed versions of it.) "Bug in a Bassbin" and Craig's other work eventually attracted the attention of Warner Brothers, and he signed onto its United Kingdom subsidiary Blanco Y Negro. His first full- length record, Landcruising, took a long time to come to fruition before its 1995 debut, he told Barr in Urb, because he held out for a budget that would allow him to record it the way he felt it should be done.
Designed as a smooth, interlocking whole--not simply a collection of disjointed singles--Landcruising "relocated techno in a shinier, glossier future," wrote Barr. During this period of his life, Craig was crisscrossing the globe for DJ gigs, from Europe to Tokyo. "`Landcruising' catches a sense of motion and flight," wrote Mixmag's Marcus, "city lights all over the world seen glittering from a thousand different aeroplane windows." Landcruising, however, didn't fly with critics. Others, Craig included, also believe that the label bears some of the blame for poor sales, since they gave generously for its recording then failed to promote it enough to recoup their investment.
By early 1997 Craig had retired from DJing, exhausted at playing countless clubs from Tokyo toAmsterdam, and somewhat disillusioned with the greed of the scene-machine. He also felt that he needed to make Detroit a more permanent home base and start recording in earnest. "It's definitely more rewarding being here," Craig confessed to Raygun's Dan Sicko after he moved back and forsook the DJ gigs, "even just contemplating making music--rather than to go somewhere, sit in a hotel for eight hours and try to get pumped up for something you don't know whether or not it's going to be good." Becoming more settled also allowed him to look to new horizons for inspiration. One definite influence has been former Sun Ra drummer Francisco Mora, who introduced Craig to even more outre experimental jazz percussion as well as Afro-Cuban rhythms.
Such influences found their way to Craig's second full-length LP, More Songs about Food and Revolutionary Art, released in 1996 on Craig's Planet E label. Named in homage to a lauded Talking Heads album, the record, asserted Barr in Urb, "is a tour de force, the classic example of what happens when sweat, genius and circuit-boards collide with beats, rhythms and melodies that sound like they come from a future time." The science-fiction novels Craig loved as a kid, Mora's exotic meters, the futureworld of all-night techno parties held three floors underground to elude Tokyo's vice police, the changing Detroit landscape--all found their way into the grooves of More Songs. "Many tracks have a cinematic effect, as if Craig were composing for a movie of his own mind," wrote Barry Walters in Spin.
Craig's second effort also included a collaboration with May, "Frustration." The influential music-industry magazine CMJ predicted More Songs to go down as the techno released of the year. Kuri Kondrak, writing for Resonance, also heaped praise upon it. "More Songs combines styles from Craig's past and present in a way that breaks the mold of the traditional Detroit context while still maintaining a link with the original manifesto," Kondrak declared. Craig liked the record, too. "It's my ultimate album," he Urb's Barr. "Everything that I love, everything that I can listen to a hundred million times, is on there." Around the same time, Planet E also issued The Secret Tapes of Dr. Eich, a collection of his Paperclip People work, including the much-lauded "Oscillator." Reviewing it for Alternative Press, Dave Segal praised its melding of"globular funkiness and cyborgian synth squeals."
Craig takes the visiting European journalists who come to interview him on personalized tours of the Motor City. His favorite stops include such unusual Detroit landmarks as Tyree Guyton's found-art streetscape known as the Heidelberg Project, and the Eastern Market loft buildings where techno was born. Crag's Planet E offices are located in downtown Detroit not far from the legendary but now defunct Music Institute. Another favorite spot is Belle Isle, the large island in the middle of the Detroit River that serves as the city's park.
Teenagers still congregate on here on hot nights with their cars and elaborate mobile sound systems booming from the trunks, but when Craig crosses the bridge into the park late at night, he is reminded of the paradox of techno's great fame abroad, and its failure to catch on in Detroit and America as Motown did. The city, seen from this slight distance, symbolizes that to him for the moment. "People are going to recognise what is happening in this city," Craig predicted in Mixmag. "We are the future and we are right here and we are not getting recognised and every time I come to this island that's kind of what I feel. It's like this power that comes, it's something that hits me in my heart."
Craig served as co-creator and artistic director for the widely successful Detroit Electronic Music Festival in 2000 and 2001. His subsequent dismissal by festival organizers caused substantial controversy within the Detroit techno community, igniting a high-profile campaign in his favor. In 2001, Craig filed a breach-of-contract lawsuit against festival producer Pop Culture Media. Craig will return as artistic director for the 2010 festival, which is now produced by Paxahau.
Selective Works:
-As Carl Craig Landcruising, Blanco Y Negro, 1995.
-More Songs about Food and Revolutionary Art, Planet E, 1997.
-As BFC "Please Stand By," RetroActive, 1990.
-As Psyche "Neurotic Behaviour" (reissue), Art, 1993.
-As 69 Four Jazz Funk Classics (EP), 1991.
-As Paperclip People "The Climax," RetroActive, 1990.
-Oscillator," RetroActive, 1991.
-Throw," Open, 1994.
-The Secret Tapes of Dr. Eich, Planet E, 1997.
-As Innerzone Orchestra "Bug in a Bassbin," RetroActive/MoWax, 1992.
Read more
Latest headlines