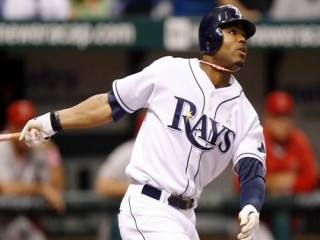 Carl Crawford biography
Date of birth : 1981-08-05
Date of death : -
Birthplace : Houston, Texas
Nationality : American
Category : Sports
Last modified : 2010-10-18
Credited as : Baseball player MLB, outfield with the Tampa Bay Rays,
Carl Demonte Crawford was born in Houston, Texas on August 5, 1981. His younger brother, Cory, arrived a year later. Their father, Steve Burns, cut out when they were toddlers, leaving their mother, Leisha Crawford, to raise her two boys in a tiny, two-bedroom house located in Houston's Fifth Ward, close to downtown, near the location of present-day Minute Maid Park.
A fine volleyball and basketball player during her high-school days, Leisha encouraged her boys to get involved in sports. She had help from her brother, Jack, a good baseball player who had played briefly in the Angels organization. Between these two, the boys had plenty of support.
By the age of 10, Carl was a terrific all-around athlete. He focused most intensely on football and basketball, and suited up for baseball in the summer mostly for fun. Carl joined a crack youth league baseball squad coached by local legend Ray Bourn, who first spotted him while scouting a playoff opponent. After watching Carl, a lefthander, drill a pair of doubles against a fastballing lefty, then single in his third at-bat, he vowed to get him on his club.
Despite being the star of the team, Carl could take or leave baseball. Football and basketball captivated him, and like most kids in his neighborhood Warren Moon and Hakeem Olajuwon were heroes. During the summer, if Bourn didn't swing by the house to pick up for games and practices, Carl probably would have stayed home. It helped that the coach's son, Michael—an outfielder in the Phillies organization who the club's brass hopes will turn into their version of Carl—became a good friend.
Bourn was always looking to put his boys up against the best competition. When the team was preparing to face a particularly hard thrower, Bourn took the kids to the local batting cage but was denied the use of the 85 mph machine. Bourn convinced the attendant to let one player in the cage—if he survived, the whole team could hit. Carl grabbed a bat and hit all 15 pitches.
Four years later, Carl was slam-dunking basketballs and roaming the defensive backfield for Jefferson Davis High School. These were still his two favorite sports, though he played baseball for Davis—still for fun—each spring. He was a power hitter back then, and never thought much about stealing despite his speed.
Unlike many high-school athletes from the poorer parts of town, Carl managed to sidestep the dangers and temptations of being a young celebrity. He was friendly with gang members and drug dealers, but did his best to avoid trouble.
By Carl's junior year, the basketball and football coaches at Davis were literally fighting over him. Chuck Arnold was the one who moved Carl to quarterback after his starter was injured. He ran the option offense beautifully in his first game, racking up 50 points. By his senior year Carl—who now stood 6-1 and weighed 190—had become the school's most famous three-sport athlete. He played outfield on the baseball team, point guard on the basketball team, and was now an All-State quarterback for the football team. Baseball, however, remained an afterthought.
Carl established himself as one of the best option quarterbacks in the country fn 1998. He was recruited heavily by several programs, and eventually accepted a scholarship from Nebraska. He and another QB, Jammal Lord, were the Cornhuskers's most heralded recruits for 1999. After the basketball season, during which he averaged 25.9 points per game, Carl was recruited by a number of powerhouses, including UCLA.
Needless to say, Carl had a lot to think about during his senior baseball season—which was even better than the ones he enjoyed in football and basketball. In 64 at-bats, he hit .563, with seven homers, 28 RBIs and 29 steals, and was named a Second Team All-American by Baseball America.
With the spring draft approaching, however, Carl was off the radar screen of most teams and he knew it. When you get a scholarship to play quarterback at Nebraska, why tinker with baseball? Carl's brother, Cory—himself a star football player—thought he was crazy for even thinking about a big-league career. So did the rest of the family.
But Carl felt confident he could make it as a major leaguer, and decided that if he were drafted high enough—and offered a large enough bonus—he would quit football. The trick was to get this message across. After the baseball season, Carl decided to showcase his skills, at his own expense, at large workouts in Kansas City and Cincinnati.
Next, Carl traveled to the site of the draft, Seattle, accompanied by his Uncle Jack. He worked out one last time for the scouts in the Kingdome. His performance was only so-so—the result of playing on the heels of a long plane ride—but there was no hiding his talent. The fact that he was an inch taller and had 10 more pounds of muscle than many teams had him listed didn't hurt Carl's chances, either.
The Tampa Bay Devil Rays held the first pick overall, and they spent it on North Carolina high-schooler Josh Hamilton, widely considered the best teenager in the draft. The entire first round passed without Carl's name being called, but the D-Rays opened round two by selecting him. Tampa Bay was thrilled he was still on the board. Bart Braun and Doug Gassaway, who were calling the shots on draft day, actually had Carl rated above Hamilton in many categories. USA Today, in fact, predicted he would be a "high first-round pick." Obviously, his Nebraska scholarship scared the other teams off. All in all, it was a bad day for college football coaches. The Rays' third pick, Doug Waechter, was set to become South Florida's QB.
ON THE RISE
It took less than two weeks for Tampa Bay to cut a deal with Carl. His $1.2 million bonus was the fourth-highest ever paid to a non-first-round pick. He reported to Princeton of the Appalachian League, where he joined Hamilton in the D-Ray outfield under the tutelage of manager Bobby Ramos. Both players hit well, but Hamilton, with 10 homers and a .349 average in 56 games, was the one who earned a late-season promotion. Carl's stats were nearly as good. He batted .319 in 60 games and stole 17 bases in 19 attempts. While the team hoped to see more power out of Carl, he was named one of the league's Top 10 prospects.
The 2000 season found Carl playing for Charleston of the South Atlantic League. Once again, he was overshadowed by Hamilton, who starred in the Futures Game and the SAL All-Star Game, and was named the league's co-MVP with JR House. Hamilton hit .302 for the year, and finished with 13 homers and 61 RBIs despite missing the final month due to pain associated with a spring-training car wreck. Carl had himself a nice season too, matching Hamilton's .301 average and knocking in 57 runs. His 38 extra-base hits were one short of Hamilton's total, while his 55 steals easily led the RiverDogs. And once again, Carl was named one of his league's Top 10 prospects.
The Devil Rays could not have been more pleased with Carl's development. Tropicana Field favors quick players with good range, and Carl was already as fast as anyone on the big club. In 2001, playing for Orlando of the Class-AA Southern League (where he was one of the circuit's youngest players), Carl overcame a sluggish start and thrived against top-level talent. He batted .274 while leading the Rays in hits, runs, RBIs and stolen bases. The only stat that worried the organization was Carl's 90 strikeouts. Before he could succeed against major-league pitching, he would have to develop a better feel for the strike zone. Hamilton, who injured his back early in the season, failed to hit and played in just 23 games for Orlando, which finished dead last.
That fall, Tampa Bay sent Carl to the Arizona Fall League. There, playing for the Maryvale Saguaros, he blossomed as a primetime prospect. He hit .386 and was the star of a team that included fellow prospects Mike Gonzalez and Chad Hermansen. In November, he was invited to join Team USA for the World Cup in Taiwan, where America won a silver medal.
After watching Carl closely in camp, the D-Rays started him at Class-AAA Durham in 2002, with an eye toward calling him up in September. Looking beyond his raw speed, manager Hal McRae loved his quick wrists, understanding of hitting, aggressiveness in the field and work ethic, which was as good as anyone's that spring. The only minus for Carl was his throwing arm, which was only average, though he was doing everything possible to improve both his strength and accuracy. Off the field, Carl found the spring training experience nerve-wracking. He knew every at-bat was being picked apart, and felt stressed out much of the time.
Carl relaxed once he was assigned to Durham and broke from the gate quickly. Meanwhile, Tampa Bay fans were suffering through miserable performances by their two corner outfielders, Greg Vaughn and Ben Grieve. The team was no doubt tempted to bring Carl up early, but he strained both his oblique muscles in May. Ignoring the pain, Carl impressed with his ability to play through injuries, as he kept his average above .300 and stayed among the lead leaders in stolen bases and triples. He was also beginning to flash the home run power everyone knew would someday come.
Carl got a preview of the majors when Toby Hall, the D-Rays' catcher, was shipped back to Durham that spring. Drafted two years before Carl, Hall had torn it up for the Bulls the year before, which helped him secure a regular job in the majors. A slow start in 2002 earned him a ticket back to Triple-A for 22 games. Down on the far, he told Carl what he could expect, and was certain he would hold his own at the highest level.
After playing in the July Futures Game, Carl got the call. GM Chuck LaMar decided the fans, on their way to a 100-plus loss season, needed something to cheer about, and Carl had nothing left to prove at Triple-A. Though he admitted the youngster probably wasn't ready, he believed his mental toughness would win out in the end. When the 20-year-old started his first game in leftfield, he became the youngest player in franchise history.
Carl joined the club in Toronto and started nicely, with a hit and two RBIs against the Blue Jays. He batted over .350 in his first dozen games, rapping out three triples in the process. He was not only the fastest player on the Rays, but probably the fastest player in the league. AL pitchers caught up with Carl in August (.242) and September (.228) and his average ended up at .259. He stole nine bases and homered twice, and finished the year with 11 doubles and six triples in 259 at-bats.
Carl took a month off after the seaosn and then began training like a mad mad in the gym and the batting cage. When he heard Lou Piniella had been hired to manage the team, he worked even harder. Then he packed his bags, flew to Phoenix, and began a one-month training session with Mark Verstegen of Athletes Performance, working on his speed, lateral movement and conditioning.
That March, in an exhibition game against the Yankees, Carl joined Josh Hamilton and fellow prospect Rocco Baldelli in the Tampa Bay outfield for the first time. Hamilton, still nagged by injury, had hit .300 in A ball in 2002. Baldelli pounded the ball at all three minor-league levels to win Baseball America's Player of the Year award. The three 21-year-olds were still being counted on to be Tampa Bay's outfield of the future. For Carl and Rocco, the future was now. They nailed down the leftfield and centerfield jobs, respectively as the team broke camp.
MAKING HIS MARK
The 2003 season opened with a bang, as the D-Rays squared off against the Red Sox at Tropicana Field. Boston took a 4-3 lead into the ninth, when Tampa Bay put two runners on. Carl came to the plate with two out, and immediately fell behind 0-2 to reliever Chad Fox. After fouling off several pitches to stay alive, he golfed a low inside slider into the rightfield stands to win the game. Later in the year, he jacked another three-run, walk-off homer, this against Billy Koch of the Chicago White Sox.
Carl also made the highlight tapes with his glove. Among his many memorable catches was one in Yankee Stadium, on a pop-fly to shallow center. Baldelli, who did not break quickly enough, slowed down to take it on a hop. Just then, Carl streaked into the picture and snared the ball inches off the ground. (Carl credits his work with coach Billy Hatcher for the impeccable lines he takes to fly balls.)
Installed as Piniella's leadoff hitter, Carl had a fine season, batting .281 and leading the league with 55 stolen bases. His Opening Day heroics notwithstanding, Carl was basically a singles hitter, and he only took 26 walks all year for a .309 on-base percentage.
When his average sank below .250 in June, there was some talk about moving him out of the leadoff spot. At that juncture, coach Lee Elia worked with Carl to open up his stance, and this produced positive results. He hit over .300 the rest of the way, and ended the year with a franchise-record 58 multi-hit games. Piniella was so pleased with this turnaround that he kept him at the top of the order, and predicted Carl would one day add a batting title to the Gold Glove he also envisioned.
Despite losing 99 games, the Devil Rays as a whole were a better team in '03. Pitcher Victor Zambrano showed grit at the top of the rotation, and Carl's fellow draftee, Doug Waechter, looked sharp in a handful of September starts. Aubrey Huff hit 34 homers and Julio Lugo flashed good power for a shortstop after joining the team in May. The biggest story in Tampa, however, was Baldelli, who won AL Rookie of the Year.
Prior to spring training in 2004, Carl was interviewed by the Tampa Tribune. In that story, he was asked how he felt about the All-Star Game being played in his hometown of Houston. Carl said he wished the Mid-Summer Classic could have come to his hometown later in his career, so he would have been able to play in front of family and friends. Little did he know that he would be on the AL roster five months later.
For the first time in their history, the Devil Rays had a puncher's chance going into the season. The AL East race figured to be a Yankee-Red Sox affair, but Piniella's crew was good enough to keep the front-runners honest. Tino Martinez, signed to play first base in his hometown, was joined by Lugo and Huff to form a powerful infield nucleus. Carl, Rocco and Jose Cruz, Jr—a former 30-30 man with the Blue Jays—gave the D-Rays a good defensive outfield with decent pop. The starting staff featured Zambrano, who gave the Yankees fits all spring, and phenom Dewon Brazelton promised to contribute soon, too. The bullpen, stocked with reliable journeymen, looked like they could hold a lead.
The Rays played .500 ball right into the All-Star break, eclipsing Baltimore and Toronto in the East, and staying in early Wild Card contention. They had the best record in baseball during June, thanks to a club-record 12-game winning streak. Carl was the catalyst, batting well over .300 in the first half and reaching base at a .350 clip—his primary pre-season goal.
In early July, Carl learned that he had been added to the AL All-Star team as a reserve. He felt being picked by manager Joe Torre was more of an honor than being voted in by the fans. The Yankee skipper could hardly ignore the fact that the young leftfielder was already closing in on 40 steals, or that he was slugging over .450, or that he had an outside shot at becoming the first 25-triple man since Kiki Cuyler. After his selection, Carl celebrated with a home run against the Florida Marlins that rocketed 420 feet on a line to rightfield.
Carl got two at-bats in the All-Star Game. After pinch-hitting for Jason Giambi in the fourth, he stayed n the game and grounded out in the fifth. He admits to being incredibly nervous, with more than 20 family members watching him from the stands.
With a quality nucleus and a winning attitude established in Tampa Bay, LaMar faced a tough decision as the July 31st trade deadline neared. A longshot for the Wild Card, his team had a chance to build for the future by auctioning off Zambrano to the highest bidder. Although it meant pulling the plug on the season early, the GM decided to swap the D-Ray ace to the Mets for super prospect Scott Kazmir, whose earliest arrival will probably be late 2005.
After a promising first half for the young Devil Rays, their play fell off dramatically in the second half of the season. At 28-45, they were among the worst in the AL.
Carl, by contrast, remained one of baseball's most exciting players. He improved in every statistical category, including 11 home runs, 55 RBIs and a .296 batting average. He led Tampa with 104 runs and 185 hits, and used his amazing speed to top the league with 19 triples and 55 stolen bases.
The 2005 season began with some big question marks for Carl. Would the D-Rays let him go to arbitration? Would he play centerfield while Rocco Baldelli was on the mend? The answers came quickly—no and no. Tampa Bay inked him to a six-year deal worth over $30 million, and Piniella announced that he had no intention of moving the "best leftfielder in the game" to center.
Carl did nothing to change his skipper's opinion. Once again, he scored 100 runs and reached double figures in doubles, triples and homers. Carl inched over the .300 mark in September, batting .371 in the final month. He finished with 46 stolen bases.
The Devil Rays' numbers were not as good. They finished with just 67 wins, though they played amazingly well against contending teams—particularly the Yankees. But Tampa Bay could not maintain consistency against the rest of the league. Jorge Cantu and Julio Lugo had miraculous seasons at the plate, but the pitching was horrid.
Carl turned in his second straight .300 season in 2006. He also led the AL with 16 triples and blasted 18 home runs. After relinquishing the stolen base title for a season, he returned to the top of the leader board with 58. In a game against the Blue Jays, Carl had five hits and four stolen bases. In a year that saw a considerable amount of instability in the Tampa Bay lineup, Carl was the Rock of Gibraltar.
The 2007 season saw the Devil Rays finish with a losing record again, but there was a different feel to the team. The young players were gaining confidence, thepitchers were learning how to go deep into games, and the roles within the team were becoming clearer under fatherly Joe Maddon. Most important, the Devil Rays were acquiring a healthy disrespect for the Yankees and Red Sox. They were no longer intimidated by these clubs.
And why should they have been? With players like Carl, and emerging stars James Shields, Scott Kazmir, Justin Upton and Carlos Pena, they had a chance to win every game they played against New York and Boston.
Carl made the All-Star team for the second time in '07. In the sixth inning, he lined a pitch from Francisco Cordero into the seats for a home run. Ironically, Carl was hampered by a sore wrist for much of the season, which sapped his power. In fact, he went homerless for 42 games at one stretch.
Carl batted third for much of the first half of the year. But when it became clear that he would not produce the power numbers he had in '06, Maddon moved him to the two-hole, where he hit over .350 in the second half.
Carl finished the year with 11 homers, but he batted a career-high .315, which topped Aubrey Huff's franchise record. Carl also led the AL in stolen bases again, with 50—this despite missing several games with a sore hamstring. On the balance, it was a fine season.
The Devil Rays became the Rays in 2008. They celebrated their name change by playing good baseball in the first half. The Yankees and Red Sox, meanwhile, stumbled. By June, Tampa Bay had fashioned an eye-opening lead over the traditional division champions.
The baseball pundits took Tampa Bay's rise with a grain of salt. Wait, they said, until the inevitable injuries expose their lack of depth. When Carl tore a tendon in his hand in early August, everyone watched to see how the Rays would do without their catalyst. They did just fine. In fact, the Rays overcame injuries to other key players and wrapped up their first winning season with a division crown. Carl finished the year with respectable numbers considering he only played 109 games—.273, 25 stolen bases and 30 extra-base hits in 443 at-bats.
Carl was back in the lineup for the playoffs. He stole three bases in Tampa Bay's victory over the White Sox in the Division Series. In the ALCS, with the Rays holding a one-game lead over Boston, Carl led the charge in a Game 4 blowout, going 5-for-5 with a pair of stolen bases. The Rays took the series in seven games, extending their magical season. Carl got 10 hits against the Red Sox and knocked in four runs, but young ace Matt Garza was named the series MVP.
The World Series turned out to be a disappointment for the young Rays. Their bats fell silent against the Philadelphia Phillies, and they lost in five games. Carl hit two solo shots and stole a base.
Common wisdom used to hold that the Rays had a bright future with Carl leading the way and leading off. Indeed, their future is brighter than anyone imagined, partly because of Carl. But the team also benefits from no longer depending on him to be Willie Mays. Credit goes to the Tampa Bay braintrust, too. Carl's name seems to come up every July at deadline time when teams are looking for the player who can provide a spark. The Rays kept Carl, and he returned the favor by bringing them to the summit of baseball.
CARL THE PLAYER
Carl is that most valuable of baseball properties: a lightning rod leadoff hitter and a superb manufacturer of runs. What makes scouts salivate is that he can be so much more. As his power develops, many of his gap hits will start clearing the fences. With his new stance, he has already learned how to turn on pitches and redirect them to the far reaches of Tropicana Field. A string of 30-homer, 50-steal seasons is not unfathomable.
On defense, Carl should continue to improve with age and experience. He makes tough plays look easy, while making the impossible plays, too. His arm, once thought to be a weak point, is good enough to play centerfield—a flip-flop that could soon be in the offing. Should he remain in left, comparisons to a young Barry Bonds would not be out of place. He is already faster than Bonds ever was—and may be the fastest man in the game—and his throwing arm may be better, too.
The difference between Carl early in his career and Carl now all comes down to comfort level. He has always possessed the ability to be an impact offensive player, now he has a good feel for the game. And it's only getting better.
EXTRA
# When Carl joined the Tampa Bay organization, he became one of six potential college quarterbacks in the minor-league system. The others were Kenny Kelly (Miami), Doug Johnson (Florida), Jason Standridge (Auburn), Marquis Roberts (Fresno State) and Doug Waechter (South Florida).
# During Carl's stint on Team USA in 2001, he became friends with Reds outfielder Austin Kearns.
# Carl blamed his so-so 2001 season on not working out hard enough in the off-season. He has vowed never to make that mistake again.
# Carl's first pro at bat was an infield chopper that he beat out by a full stride. From that day on, he has always batted leadoff.
# Carl led AL rookies in triples in 2002, despite playing only half a season. He was leading all minor leaguers in triples when he was called up.
# In 2003, Carl's 55 stolen bases made him the first Devil Ray to lead the league in an offensive category.
# In 2008, Carl became only the eighth player to get 1000 hits and 250 steals before his 27th birthday.
# In 2008, Carl homered in his second World Series at-bat.
# Carl's seventh-inning single in Game 1 of the 2008 ALCS broke up a no-hitter by Daisuke Matsuzaka.
# Carl was the fourth-youngest player in history to win a stolen base title. Only Ty Cobb, Rickey Henderson and Tim Raines were younger..
# Carl and Rogers Hornsby are the only players in history to increase their home runs and batting average in each of their first five seasons.
# Carl is the only player since Arky Vaughn to reach 70 triples before age 26.
# Upon Carl's return to Houston for the 2004 All-Star Game, he was honored at City Hall by Mayor Bill White.
# Carl moved his home from Houston to Phoenix in 2004 so he could workout more frequently with trainer Mark Verstegen, whose other clients include Curt Schilling and Nomar Garciaparra.
# Carl is only they 8th American Leaguer to club a walk-off homer on Opening Day.
# Carl is just the eighth player in history to amass 200 steals before his 25th birthday.
# Carl has said is goal is to become the #1 Fantasy Baseball player.
# Carl no longer uses weights in his off-season training. He prefers elastic bands so as not to bulk up. If he were still playing football, he estimates his weight would be over 230 pounds.
# Carl is a graduate of Houston's RBI program.
Read more
Latest headlines