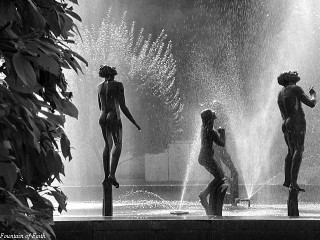 Carl Milles biography
Date of birth : 1875-06-23
Date of death : 1955-09-19
Birthplace : Lagga, Sweden
Nationality : Swidish
Category : Arts and Entertainment
Last modified : 2010-07-23
Credited as : Artist sculptor, best known for his fountains,
Carl Wilheim Emil Milles
, born June 23, 1875 in Lagga, Sweden - died September 19, 1955 in Lidingö, Sweden was a Swedish sculptor, best known for his fountains. He was married to artist Olga Milles and brother to
Ruth Milles
and half brother to the architect
Evert Milles
. Carl Milles sculpted the Poseidon statue in Gothenburg, the Gustaf Vasa statue at the Nordiska museet, the Orfeus group outside the Stockholm Concert Hall and the Folke Filbyter sculpture in Linköping. The latter was featured on a stamp issued in 1975, commemorating the fact that he would have turned a hundred years old that year.
Millesgården became his last home and is now a museum.
One of the foremost Scandinavian artists of the 20th century, Swedish-born Carl Milles (1875-1955) combined many of the influences of late 19th and early 20th century sculpture into his trademark eclectic, humorous style. In addition to producing many grand fountains and publicly commissioned statues, Milles taught at the respected Cranbrook Academy of Art for 20 years.
Early Years in Stockholm and Paris
Carl Milles was born Wilhelm Carl Emil Andersson on June 23, 1875, in Lagga, Sweden, near Uppsala to Lieutenant Emil "Mille" Andersson and Walborg Tisell. Mary Abbe recorded in her Minneapolis Star Tribune article "Star of the North" that "Milles was a shy, rather sickly child who preferred nature to school." However, from a young age, he showed an aptitude for modeling figures; in XXth Century Sculptors, Stanley Casson noted that "His predilection for sculpture showed itself first in the carving of wood"--for in 1892, Milles began his earliest training as an apprentice to a cabinetmaker in Stockholm. Milles then attended the Kungliga Tekniska Högskola (Technical School) in Stockholm from 1895-1897. In 1897, he was awarded a monetary prize for being the best student in his class. This prize enabled him to leave Sweden, initially to travel to Santiago, Chile, where a family friend had asked him to come to run a gymnastics school. However, Milles stopped in Paris, France, on the way to Chile and was enthralled with the vibrant, artistic capital.
Paris proved to be a fertile ground for Milles to develop his talent and he decided to remain in Paris, where he spent the next eight years enhancing his art form. He attended the Ecole des Beaux-Arts (School for the Fine Arts) and the Académie Colarossi, while, as Abbe noted, "supporting himself by making coffins, waiting tables and carving furniture." After two years of living hand-to-mouth, Milles had work accepted in 1899 for exhibition at the distinguished Salon and his career began to accelerate. The following year, Milles exhibited again at the Salon, receiving an Honorable Mention. Two years later, in 1902, Milles's entry to the Sten Sture monument competition in Uppsala, Sweden, received fourth place; however, due to popular demand, the award was changed to first place.
Milles met the renowned sculptor Auguste Rodin at the close of the 19th century. He became an assistant to Rodin and his early works, including The Struggle for Existence, Women in the Wind, and American Bison, are heavily influenced by Rodin's distinctive style. In the St. Louis Post-Dispatch, Jeff Daniel observed "But these weren't yet Milles's work, and he realized as much. According to some accounts, he went so far as to destroy many of his earliest sculptures, such was his desire to break free of Rodin and develop something from his own experience, of his own time--and within his own limits of imagination."
Artistic Development in Europe
In 1904, Milles left Paris for Munich, Germany. During his two years in Munich, Milles found inspiration in the works of Adolf von Hildebrand; he also married Austrian portrait painter Olga Granner in 1905. From Munich, Milles spent two years traveling and studying in Rome and Austria before settling again in Sweden in 1908. Milles and his wife purchased a villa on the small island of Lidingö, just outside Stockholm, and spent several years developing works in their studio there. Milles poured so much money into the villa and accompanying grounds that his wife, Olga, quoted on the Millesgåden website, once remarked, "We have no forks and no sheets, but pillars, that's something Carl can always afford!"
Milles's sculptures from this era--still showing signs of the influence of Rodin--were frequently publicly commissioned and include a set of bronze doors for the Church of Saltsjöbaden; Dancers, a piece inspired by Classical Greek sensibilities; and two fountains called Susanna; one in black granite and one in bronze, executed for the grounds of Milles's villa. Milles's works at the 1914 Baltic Exposition in Malmö, Sweden, drew the attention and praise of European critics, encouraging Milles to continue working on the development of his own unique style.
In 1920, Milles was appointed a professor of modeling at the Kongsthögskola (Royal Academy of Art) in Stockholm. During his 11-year tenure, Milles also produced many monumental public sculptures and fountains in his exuberant and sometimes humorous style. Milles won a gold medal at the landmark 1925 Exposition Internationale des Arts Décoratifs et Industriels Modernes à Paris, which set the stage for--and lent its name to--the Art Deco movement.
1926 provided another hallmark of things to come when Milles executed his first major public fountain, Europa and the Bull, for the city of Halmstad, Sweden. This neoclassical fountain played on Milles's fascination with ancient Greek and Roman myth, a theme that characterized many of Milles' works during this period. Abbe described the fountain thus: "Lovely Europa veritably floats above the beast's back and leans forward to stroke his outstretched tongue in a gesture that would make Freud blush... Europa is one of Milles' most successful pieces in its coupling of a powerful beast and a willfully free-spirited woman."
However, perhaps the most notable of these public commissions is Folke Filbyter, which Casson described as "a remarkable achievement. The counterpoise of [Folke Filbyter and his horse], the man leaning forwards and gazing down towards his left, the worn and weary horse leaning in the other direction, is one of the best examples of the proper interrelation of masses in a statue that can be found. The reliefs on the panels of the basin shows episodes in the history of the Folkunga dynasty of Swedish kings. The scenes are rendered with quick humor and Gothic freshness in a manner strongly reminiscent of the carving of English bench ends and choir seats of the fourteenth century." This work, opened at the end of 1927, capped off a successful year which also saw Milles's first major exhibition of exclusively his own work outside of Sweden, at London's Tate Gallery.
Successes in America
Milles and his wife made their first visit to the United States in 1929. Within two years, Milles had achieved fame and success in America following a large touring exhibition of his work, which stopped in St. Louis, Cleveland, New York, and Detroit. At this time, Milles was invited to head the sculpture department at the newly founded Cranbrook Academy of Art in Bloomfield Hills, Michigan, a suburb of Detroit. He and his wife settled at Cranbrook, where he taught until 1951. During this time period, Milles's fame as well as critical recognition for his work grew quickly. He was awarded several honors, including an honorary doctorate from Yale University, gold medals from the American Institute of Architecture and the Architectural League of New York, an Award of Merit from the American Academy of Arts and Letters, and a prize at the 1939 Golden Gate Exhibition. In 1945, Milles and his wife became American citizens.
Milles also produced several public installations for American cities during his two decades at Cranbrook. These include sculptures such as the Swedish Tercentenary Monument in Wilmington, Delaware (Milles' first commissioned piece in the U.S.); the Monument of Peace, a colossal sculpture of a Native American in the St. Paul, Minnesota, City Hall; and Man and Nature, in Rockefeller Center, New York City.
However, as throughout his life, Milles was best known for his fountains; Casson commented "In fountains Milles excels. [With one exception]... I know of no modern sculptor who has mastered this art that baffled even the Renaissance... The conception of a work of art in which the graceful lines of falling or spurting water were combined with a harmonious arrangement of bronze and stone seems something altogether new." Milles's American fountains can be found in cities such as St. Louis, Missouri; Falls Church, Virginia; Ann Arbor, Michigan; and Kansas City, Missouri. An extensive collection of Milles's pieces, both sculptural and water elements, remained where he produced them on the grounds of Cranbrook Academy, where today nearly 70 of Milles's sculptures are on display--the largest such collection in the United States.
A Productive Later Life
In 1950, Milles celebrated his 75th birthday, remaining an active artist despite his age. The American Academy in Rome, Italy, offered Milles a resident artist position in 1951, and he and his wife returned to Europe, spending the summers in Sweden. (The Milles had turned their villa in Lidingö into a foundation and public museum, Millesgåden, in 1936; however, they continued to maintain a home on the grounds.) These later years saw the creation of more works in Milles's distinctive style. Daniel described one of these in the Post-Dispatch: "Yet Milles' most famous later work, and possibly his most realized, is "Hand of God," a literal interpretation that works so well because of a deceptive simplicity. A figure stands on the hand of God, his feet resting on the holy thumb and index finger. This could be Adam, but Milles once pointed out that this figure was instead all of us, looking skyward and precariously balanced, with an ability to rise or fall based in large part upon our own decisions." With copies around the world, Hand of God, completed in 1954, is in Detroit, Michigan, a city that also commissioned the Spirit of Transportation for its Civic Center in 1952.
Milles died at his home in Lidingö on September 19, 1955--yet his sculptures did not die with him. In fact, the Encyclopedia Britannica noted that "[Milles'] Aganippe Fountain was set up in the Metropolitan Museum of Art, New York City, shortly after his death." The last piece Milles executed, the Aganippe Fountain, or Fountain of the Muses, features jets of water shooting among five stylized figures representing a poet, an architect, a musician, a painter and a sculptor, while animals drawn from myth and the goddess Aganippe form the background. The fountain was purchased by Brookgreen Gardens, America's largest outdoor sculpture garden, located in South Carolina.
Milles's Influence on Sculpture
Casson argued that "No ... sculptor combines so much personal style with so great variety of treatment, so deep an insight with so varied an imagination." The evolution of Milles' style from its earliest, Rodin-influenced roots to its most idiosyncratic zenith is easily discernible in the chronological progression of his sculpture. His themes draw equally on Neoclassicism and mythological figures, on the creatures of and movements in the sea, and on a later fascination with religion, creating what Daniel called a "curious mix of playful fantasy and existential spirituality." As the art world moves past the minimalist and abstract movements that have dominated artists' works for nearly 50 years, Milles represents a form of art coming back into vogue and influencing modern pieces. As Pierre Volboudt, quoted in the Dictionnaire critique and documentaire des Peintres, Sculpteurs, Dessinateurs et Graveurs, said, "His art, at once sensual and austere, tormented and serene, is animated with the power of the gods."
AWARDS
Honorable Mention, Paris Salon, 1900; Awarded 4th Place, later changed to First, in the Sten Sture Monument Competition, 1902; Gold Medal,Exposition Internationale des Arts Décoratifs et Industriels Modernes à Paris, 1925; Gold Medal, American Institute of Architecture, 1938; Gold Medal, Architectural League of New York, 1938; Prize, Golden Gate Exposition, 1939; Award of Merit, American Academy of Arts and Letters, 1943; Founder's Award, Cranbrook, 1955.
Read more
Latest headlines