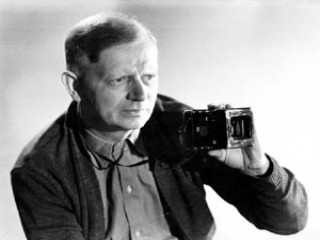 Carl Theodor Dreyer biography
Date of birth : 1889-02-03
Date of death : 1968-03-20
Birthplace : Copenhagen, Denmark
Nationality : Danish
Category : Famous Figures
Last modified : 2011-01-27
Credited as : Film director, awarded Golden Lion,
Although the output of Danish film director Carl Dreyer was slim by Hollywood standards, he was nonetheless a master of early cinema. His insistence on artistic independence and the personal, idiosyncratic style of his films have influenced generations of European filmmakers.
Born in Copenhagen on February 3, 1889, Dreyer's childhood is somewhat clouded in mystery. What facts are known are those he himself revealed to his friend and biographer, Ebbe Neergaard. According to some sources (and his own claim) he was the illegitimate son of a Swedish woman and that his father was unknown; other sources mention that his father was the Swede and his mother a Danish housekeeper. At any rate the boy was orphaned at an early age and was adopted by the Dreyer family. Dreyer's original family name remains unknown. His early life had something of a Dickensian tone about it. David Bordwell, in The Films of Carl-Theodor Dreyer, quotes one of Dreyer's recollections to Edde Neergaard, saying that his adopted family "consistently let me know that I had to be very grateful for the food I got and I really had no claim on anything because my mother had cheated her way out of paying for me by going off and dying… ." One cannot, however, discount Dreyer feeding his own legend as the gloomy, independent-minded artistic genius.
Dreyer claimed his family wanted him to earn his way by playing piano in a cafe, for which he had no aptitude. Instead, after completing school he left home at the age of 17 and embarked on a series of office jobs: the young Dreyer worked in the municipal administration, a power company, and a telegraph company. In 1909 he quit the telegraph company job in a moment of existential despair and went to work as a journalist. During the next three years Dreyer wrote for the Copenhagen newspapers, Berlingske Tidende and Riget, concentrating on aviation and nautical reporting. In 1912 Dreyer moved to the daily newspaper, Ekstrabladet, where in October of that year, writing under the pseudonym "Tommen," he introduced a series of feuilletons (literary sketches of people and events) titled Vor Tids Helt (Heroes of Our Time), which where profiles of Copenhagen's celebrities. This proved fortuitous for Dreyer because in the years just prior to the First World War many of Copenhagen's celebrities were associated with the film industry. In these years the Nordisk Films Kompagni dominated the Danish film industry and earned a good profit from its foreign market (which included the United States, France, Britain, and Germany). Dreyer profiled Ole Olsen, the head of Nordisk Films, and director Asta Nielsen among others. Eventually he tried his hand at film writing.
Dreyer wrote or co-wrote three film scripts for a small studio, Skandinavisk-Russiske Handelshus, before joining Nordisk Films in 1913. His first two years at Nordisk were part-time positions. Dreyer began by writing intertitles (brief verbal plot explanations that were flashed on the screen and which served as narrative bridges in silent movies). He was also a reader of film script submissions and acquired the film rights to literary works for the company. Soon Dreyer started writing adaptations of these acquired works and also original screenplays. Including his three pre-Nordisk screenplays, there are 23 films, shot between the years 1912 and 1918, which had Dreyer's name in the credits as script-writer, though nearly all have been lost. These include originals as well as adaptations of works by Zola, Balzac, and others. Dreyer also wrote another 17 film scripts for Nordisk, but it is unclear whether or not they were filmed.
Nordisk Films was hit hard financially by the First World War, forcing the exodus of numerous personnel, including directors. The vacuum gave Dreyer his opportunity. The first of the 15 films on which Dreyer's reputation as director rests was Pr3sidenten (The President), based on a novel by Karl Emil Franzos. In his acquisitions capacity at Nordisk, Dreyer had purchased the film rights. Completed in 1918, Praesidenten was released in Sweden in 1919, but not screened in Denmark until 1920. Critics have recognized influences as varied as German avant-garde theater and the innovative American director, D.W. Griffith. His second film was Blade af Satans Bog (Leaves from Satan's Book), loosely based on a novel by Marie Corelli. It was filmed in 1919, but not released in Denmark until 1921. During the pre-production of the film Dreyer quarreled with his superiors at Nordisk over the budget. For Dreyer, however, the quarrel was more than that: he saw it as a battle between art and commercialism. In the end he was forced to accede to Nordisk's demands for a smaller budget. Despite the budget constraint, edits that Dreyer had not authorized and criticism leveled against the film by political and religious groups, Blade af Satans Bog established Dreyer as a director. It was also his final film for Nordisk.
Dreyer next went to work for Svensk Filmindustri, but he would leave after making only one film, Prastankan (The Parson's Widow), in 1920. The film was shot in Sweden. Because Svensk Filmindustri, like Nordisk, was experiencing postwar financial troubles Dreyer went to Berlin the next year. Thus began his period as a nomad, working wherever in Europe he could find financing—a recurrent problem for Dreyer since he refused to compromise his artistic vision. In Berlin, he made Die Gezeichneten (The Stigmatized One) for Primusfilm in 1921. Considered by critics to be one of the great films about the plight of Jews in pre-Revolutionary Russia (certainly the best by a non-Russian filmmaker), it was an adaptation of a Danish novel, Love One Another, by Aage Madelung and featured Richard Boleslawski, who had been a member of Stanislavsky's acting troup before the Revolution. Actors from Max Reinhardt's troupe as well as Scandinavians such as Johannes Meyer (a Dreyer favorite) were also in the film. It was Die Gezeichneten which caught the eye of film critics in France.
For his next film Dreyer returned to Denmark. In 1922 a theater owner, Sophus Madsen, agreed to finance Der Var Engang (Once Upon a Time), a sentimental operetta. (During the early years of the film industry it was not uncommon for production companies to own theaters, or vice versa.) The most interesting aspect of this film (slightly more than half of Der Var Engang remains) was Dreyer's plan to build sets within sets to economize during filming. However conflicting schedules forced him to abandon this plan. Dreyer returned to Berlin in 1923. The following year he directed Michael for UFA—actually Decla-Bioskop, which David Bordwell describes as "the artistic wing of UFA." Michael was a remake and again Dreyer quarreled with his producer, Erich Pommer, who made changes to the ending without consulting him. The assistant cameraman for this production was Rudolf Mate, who would work with Dreyer on some of his most famous films, and later went to Hollywood.
By 1925 Palladium Films had taken control of the Danish film industry from Nordisk and Dreyer signed on to direct the tragicomedy, Du Skal AEre Din Hustru (translated as both Thou Shalt Honor Thy Wife and The Master of the House). The film starred Johannes Meyer and proved to be a huge success in Europe, especially France, where it was named one of the year's best by a film magazine. In 1942 it was remade as Tyrannens Fald—the title of the play on which it was based. Dreyer also shot Glomdalsbruden in Norway in 1925. It was primarily an improvised affair that was far overshadowed by his next film. Indeed, everything Dreyer had done to date would be overshadowed by La Passion de Jeanne d'Arc.
Produced by Societe Generale de Films, in Paris, the film follows the last day in the life of Joan of Arc, who had been canonized as a saint only in 1920. The Societe Generale de Films allowed Dreyer a free hand; Rudolph Mate was his cinematographer and he used primarily stage actors including Renee Falconetti (Jeanne), who never again acted in film, and Antonin Artaud. The film was shot in chronological order and the actors appeared without make-up, which intensified the film's "realism" all the more since it relies upon an extraordinary number of close-ups. La Passion de Jeanne d'Arc premiered in Copenhagen in April 1928 and was first shown in Paris in October 1928, though it wasn't until June 1929 that French audiences finally saw an uncensored version. Unfortunately the film was a financial failure (as was Abel Gance's Napoleon, another picture produced by the Societe Generale de Films) and Dreyer never worked for them again.
The subsequent history of the film is somewhat murky. There are conflicting accounts by Dreyer himself as to whether or not he edited it, though evidence seems to point that he did. Also the original negative was destroyed in a fire and various versions of the film have been floating around since. A print discovered in 1952 was for years the standard version, but in the early 1980s a copy of the original print that was submitted to the censor was discovered in a Norwegian mental hospital and was proclaimed the authentic version. In 1990 La Passion de Jeanne d'Arc was voted by film critics as sixth among the world's ten best films; directors gave it ninth place. In 1992 noted film critic David Robinson declared in the (London) Times, "The film has no parallel, either in stylistic austerity or emotional force." David Cook in his study, A History of Narrative Film, regarded La Passion de Jeanne d'Arc as "the last great classic of the international silent screen." It was the first of the five films (each filmed in a different decade) on which Dreyer's reputation rests.
Film legend has it that Dreyer's next film, Vampyr, (1932) was a response to Todd Browning's Dracula. Dreyer's first sound film was financially backed by the young Baron Nicolas de Grunzburg, who was credited as co-producer along with Dreyer. De Grunzburg, under the pseudonym Julian West, played the role of David Gray, the film's protagonist. The film premiered in Berlin to only mixed success. In subsequent years it has become a classic. However a decade passed before Dreyer made his next film, Modrehjaepen (Good Mothers). It was financed by a consortium, which included Nordisk. It is a wartime documentary (at the time Denmark was occupied by Nazi Germany) showing how the state assists an unmarried mother.
In 1944 Dreyer made Vredens Dag (Day of Wrath) for Palladium Films. The film is about witchcraft, persecution and murder in the 17th century. However, as Derek Malcolm pointed out in the Guardian, it is "sometimes seen as an allegory of the German occupation of Denmark." It is the third of Dreyer's five great films and Bordwell (in The Films of Carl-Theodor Dreyer) observes that "it is a moment of equilibrium in Dreyer's career … but not in any simple way." As with La Passion de Jeanne d'Arc Dreyer used established stage actors (this time from the Danish Royal Theatre) and wanted to film in chronological order, but could not because of previous commitments of one of the actors. The Danish critics hated the film, but as Bordwell points out Andre Bazin (in Jours de colere) wrote, "like its contemporary Ivan the Terrible, this is a film which is not of the moment, a masterpiece at once anachronistic and ageless." In 1944 Dreyer also made Tva Manniskor (Two People) for Svensk Filmindustri. It was an artistic and commercial failure, all but disowned by both Dreyer and his producer.
During the ten years following the Second World War Dreyer worked on a dozen short documentary films. In not all of these was he the director, sometimes working only on the script, sometimes only the editing. It was an extremely fallow period for him as he struggled to find financing and uphold his personal artistic vision. This came about in 1954 when Palladium financed Ordet (The Word). Ordet has a Romeo and Juliet plot interwoven with the symbols of religious mystery and theological differences as two families seek to reconcile their different beliefs. Dreyer employed long takes that effectively highlighted his slow, deliberate style. The film was a commercial and critical success, and was awarded the Golden Lion at the 1955 Venice Film Festival.
It was another ten years before Dreyer made Gertrud (1964), his final film. The distinguishing aspect of the film is that sound, particularly speech, supercedes image: Dreyer had the characters realistically speak past one another's lines. For this reason the film was initially poorly received in France (where Dreyer was revered) and elsewhere. Dreyer remained undaunted. For years he had been researching and writing a film, Jesus, but had unsuccessfully sought backing. In late 1967 and early 1968 the Danish government and RAI, the Italian film and television company, decided to finance the film. However Dreyer died on March 20, 1968 before work could proceed.
Read more
Latest headlines