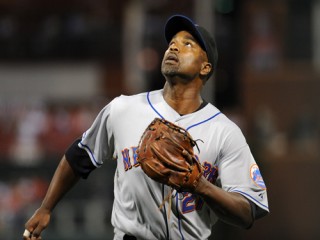 Carlos Delgado biography
Date of birth : 1972-06-25
Date of death : -
Birthplace : Aguadilla, Puerto Rico
Nationality : Puertorican
Category : Sports
Last modified : 2010-10-18
Credited as : Baseball player MLB, Fisrt baseman with the New York Mets ,
Carlos Juan Delgado Jr. was born on June 25, 1972 in Aguadilla, Puerto Rico. First made famous by Christopher Columbus, who landed there on his second trip to the New World, Carlos's hometown is located on the island's northwest coast, about two hours from San Juan. Every offseason, he returns to those same shores, where he happily blends in with family, friends and neighbors to enjoy a couple of months as just another Aguadillan.
One of four children, Carlos grew up with a variety of interests, thanks in large part to his parents, Carlos and Carmen. His father was a drug and alcohol counselor. His mother worked as a medical laboratory assistant. Both preached the importance of a good education, but neither was blind to their eldest son's obvious athletic ability. Though the Delgados lived comfortably, they realized a career as a professional athlete might take Carlos a long way.
Carlos inherited his athletic skills from his father's side of the family. His grandfather was a first baseman whose booming bat was legend in Aguadilla. Carlos's dad was a talented basketball player who stood 6-4 and tipped the scales at more than 300 pounds. To this day, the Blue Jay slugger is known back home as "Little Carlos."
Carlos joined his first organized baseball league when he was six. Bigger than all his teammates (he weighed more than 100 pounds), Carlos was told to go behind the plate. He took to catching right away. Not that Carlos needed a way to keep his head in the game. He thought about baseball 'round the clock, and would pace around the house in his cleats before games, a habit that always earned a scolding from his mother.
Like all kids who play baseball in Puerto Rico, Carlos idolized Roberto Clemente (who, incidentally, died the same year he was born). One of his greatest thrills was suiting up for the Santurce Crabs, Clemente's team in the Puerto Rican League. Carlos hung on every word of pitching coach Juan Pizarro, who regaled the team with stories about the Hall of Fame outfielder.
Despite his deep love for baseball, Carlos found time for other sports. At 14, as a sophomore at Jose de Diego High School, he considered concentrating solely on volleyball. His father convinced him that he was making a mistake. The elder Delgado sensed his son's destiny awaited him on the diamond.
Carlos began planning seriously for a career in the big leagues as a high-school junior. He figured he would need to converse easily with pitchers and coaches, so he took advanced English courses. In addition to expanding his mind, Carlos was strengthening his body, lifting weights on a regular basis to increase his power at the plate.
In the summer of 1988, the Texas Rangers, New York Mets, Montreal Expos, Cincinnati Reds and Toronto Blue Jays all wanted to sign Carlos. He chose Toronto. At the time, the organization was far ahead of the learning curve in developing young Hispanic talent. The jewels of the franchise were George Bell, Nelson Liriano and Tony Fernandez. GM Pat Gillick believed Carlos had more potential than any of them.
Carlos inked a deal that included a $90,000 signing bonus. Toronto also agreed to foot the bill for his college education, if he decided to pursue one. That was all the Delgados needed to hear;they fully supported their son's desire to play professional baseball, but only if he had a backup plan in the event he failed.
In the summer of 1989, after completing his final year of high school, Carlos joined St. Catharine's, Toronto's Class-A affiliate in the New York-Penn League. Before he left, his father gave him two pieces of advice: Remember where you came from, and never let money or fame change you.
For Carlos—who didn't turn 17 until his second week with St. Catharine's—the transition to life away from home was difficult. The responsibilities of paying his own rent and bills were intimidating enough, but he was also trying to make adjustments on the field. A low minor league, the NY-PL is where many teams send their top draft picks. Among Carlos's teammates were Jeff Kent, Ryan Thompson and Nigel Wilson, all of whom were tabbed for stardom. St. Catharine's manager Bob Shirley used Carlos mostly as a DH. In 89 a bats, he struggled mightily, hitting just .180, and striking out 39 times. But Carlos learned important lessons nonetheless. Blue Jays roving instructor Mel Queen took a liking to him, and made sure Carlos understood the value of hard work.
ON THE RISE
The following season, Toronto sent Carlos back to St. Catharine's. But first he attended spring training, where he made a lasting impression with his enthusiastic approach to the game. He especially caught the attention of veteran Blue Jay hurlers, who could always count on him to grab a glove if they wanted to get in some extra throwing.
More confident and relaxed, Carlos improved greatly as a hitter in 1990. Though he started slowly, he heated up as the temperatures rose, and earned a spot in the NY-PL All-Star Game. In his first full season in the minors, Carlos led his club in runs, doubles and RBIs. He also showed some promise as a catcher, topping the league in putouts and assists. The Blue Jays honored him with the R. Howard Webster Award as their Class-A MVP, and Baseball America named him the NY-PL's fourth best prospect.
To start the 1991 campaign, Carlos was bumped up to the Myrtle Beach Pelicans of the South Atlantic League, a more advanced level of Class-A ball. By August, he was among the league leaders in home runs, slugging percentage and walks. His solid performance precipitated a late-season call-up to the Triple-A Syracuse SkyChiefs, where he appeared in one game and went hitless in three at-bats.
The Toronto brass was particularly impressed with Carlos's knowledge of the strike zone. Though he tended to chase bad pitches with two strikes on him, he showed tremendous patience early in the count. His ratio of a homer every 24 at-bats was second best in the league. Defensively, however, Carlos still had far to go. His arm was strong, but erratic, and his footwork awkward. He committed 19 errors behind the plate.
By the spring of 1992, Carlos was being touted as one of Toronto's prospects. Scouts loved his bat, and at 6-3 and more than 200 pounds, he was a good enough athlete to learn another position. Carlos began the season with Dunedin, in the Florida State League. Known as a haven for pitchers because of its expansive stadiums, the FSL offered an interesting test for the 19-year-old.
Carlos started quickly. In May, he became the fifth player in league history to hit three homers in a game. At mid-season, Carlos had 19 dingers, and also boasted a .362 average and 56 RBIs—numbers that prompted speculation about his chances for the Triple Crown. With a month remaining in the campaign, he locked up the power categories, leaving him in a neck-and-neck race for the batting title with teammate Rob Butler. Though a late-season slump doomed his chances, he still wound up hitting .324. Baseball America named him the FSL's best power prospect, while Baseball Weekly voted him its Minor League Player of the Year.
Carlos credited much of his success to Willie Upshaw, Toronto's minor league hitting instructor. The former Blue Jay taught him to use his hands more in his swing. The effect was a quicker bat, which allowed Carlos to stay back longer and see the ball better.
Heading into 1993, Toronto was in a fortunate position. Loaded with talent at the big-league level, the club didn't feel pressure to rush Carlos to the majors. Coming off their first world championship, the Blue Jays featured an infield of John Olerud, Roberto Alomar, Tony Fernandez and Ed Sprague, while Joe Carter and Devon White anchored the outfield. The top four starters—Pat Hentgen, Dave Stewart, Juan Guzman, and Todd Stottlemyre—were solid, and Duane Ward was a dominant closer. Handling the pitching staff was Pat Borders. While not much with the stick, the veteran more than held his own behind the dish.
The Blue Jays still envisioned Carlos as the eventual replacement for Borders, and promoted him to Class-AA Knoxville of the Southern League, where he caught 140 games. After a rough start, his bat came to life in May. Right before the All-Star break he enjoyed a memorable day against Greenville, blasting two long homers, including a grand slam.
Back in Toronto, the Blue Jays were steaming towards another postseason berth. In late September, with the division wrapped up, the team called up Carlos. He made his major league debut in Baltimore on October 1, drawing a walk in his only plate appearance. The next day, he popped out as a pinch-hitter. The Blue Jays captured their second title in a row that fall, beating the Philadelphia Phillies in the World Series on Carter's walk-off home run in Game Six. Carlos was not on the post-season roster, which made him even more determined to become a part of Toronto's championship picture.
During the winter Carlos picked up valuable experience, splitting time behind the plate with another hot prospect, Javy Lopez, for the San Juan Senators. Playing alongside veterans Carlos Baerga and Edgar Martinez, the two young catchers helped the team to a 35-13 record and the Puerto Rican League title. Carlos did his greatest damage in the playoffs, batting .384 with eight home runs and 17 RBIs.
In the spring of 1994, Carlos was given every chance to make the Blue Jays, either as a catcher or DH. Though training camp got off to a rocky start when he took a pitch off his right thumb while warming up Stottlemyre, it was smooth sailing from there. When the club left Florida, Carlos was one of the 25 players on manager Cito Gaston's roster.
On Opening Day against the Chicago White Sox, Carlos hit a screamer off lefty Dennis Cook that landed in a private box next to the Hard Rock Cafe. With seven more homers in his next 13 games, he tied a rookie record set by Kent Hrbek. Gaston responded by moving Carlos to left field—it was the only way to play him every day. But the challenge of switching positions proved to be the least of the youngster's problems. When AL hurlers got wind of the lefty's weakness against breaking pitches and off-speed stuff, Carlos fell into a severe slump. From the start of May to early June, he hit just one home run, and his average plunged to .215.
The Blue Jays eventually sent Carlos down to Syracuse to find his stroke. In 85 games—nearly half of them behind the plate—he batted .319 and belted 19 homers. His confidence restored, Carlos played another season of winter ball for San Juan. There, he tore up the league and captured MVP honors. Baseball America named him Winter League Player of the Year.
A long year of baseball took its toll on Carlos, and he showed up for spring training in 1995 with a sore right shoulder. The Blue Jays originally planned to platoon him at catcher with Randy Knorr, but changed gears and signed veteran Lance Parrish as an insurance policy. In turn, Carlos was relegated to pinch-hitting duties, a role in which he felt uncomfortable. In the campaign's first two months, Carlos collected just four hits in 26 at-bats and struck out 11 times. On June 1, he was optioned back to Syracuse.
The demotion signaled an end to Carlos's days as a catcher. With the SkyChiefs, he logged innings at first base and in the outfield—and thrived at his new positions. In June, Carlos was named the International League's Player of the Month. By late August, he was among the leaders in slugging percentage, batting average and extra-base hits. He had also settled in nicely at first, committing only four errors in 78 games.
The Blue Jays were impressed enough to recall him on September 1. With nothing at stake (Toronto was far below .500 and buried in the AL East basement), the club viewed the season's remaining weeks as a casting call for young players. Carlos never got it going, however, and at one point suffered through a disheartening 0-for-24 slide.
MAKING HIS MARK
Despite Carlos's poor finish in 1995, Toronto still counted on him in 1996. In a free-fall after a 56-88 campaign, the rebuilding Blue Jays needed all the help they could get. Of the pitchers in the projected starting rotation, only Erik Hanson had a record above .500 and an ERA below 5.00 the year before. Just as troublesome, the club looked to converted set-up man Bill Risley as its closer. The lineup was thin, too. Beyond veterans Carter, Olerud and Sprague, Toronto featured a mish-mash of retreads and tenderfoots, including Otis Nixon, Juan Samuel and Alex Gonzalez. Carlos was penciled in as the DH in the six-hole, behind his good friend Shawn Green, another highly touted prospect.
To the delight of Gaston, the Blue Jays played much better than expected, improving by 18 victories over their 1996 record. One of the keys to their resurgence was Pat Hentgen, who at age 31 finally emerged as the ace of the staff. A 20-game winner, he edged out New York's Andy Pettitte for the AL Cy Young.
Carlos was also a clutch performer. On the advice of Upshaw, he shortened his swing and began using the whole field. After batting .333 in April, he replaced Olerud as the team's #3 hitter, and his hot bat helped boost the rest of the lineup. Though Carlos slowed down a bit in the second half, he ended his first full season in the majors with 25 HRs and 92 RBIs. He hit a team-best .292 with men on base, and also led the club in pitches per plate appearance. Both were signs that he was maturing as a hitter.
Over the winter Carlos took time to address some nagging health problems. In December he had arthroscopic surgery on his right knee. Six days later, a similar procedure was done on his right wrist. Almost completely healed by spring training, Carlos went into the '97 campaign with two goals in mind. One was to cut down on his strikeouts (he fanned 139 times in 138 games in '96). The other was to work on his defense at first, his new everyday position. The job opened up when the Blue Jays dealt Olerud to the Mets for pitcher Robert Person. The hard-throwing righty was one of several acquisitions made by Toronto. The biggest was Roger Clemens, who left Boston after 13 seasons with the Red Sox.
The offense received a facelift, as well. In a nine-player deal with Pittsburgh, the Blue Jays picked up a pair of solid hitters in second baseman Carlos Garcia and rightfielder Orlando Merced. Toronto also signed free-agent catcher Benito Santiago. If Carlos and Green continued to develop, the club felt it could compete for the pennant.
The Blue Jays, however, never got on track. Though Clemens was awesome—with a record of 21-7, he gave Toronto its second-straight Cy Young winner—the club struggled for consistency. As the trade deadline approached, the team waved the white flag, moving closer Mike Timlin and set-up man Paul Spoljaric to the Mariners for Jose Cruz, Jr. The Blue Jays then limped home at 76-86, a mark which cost Gaston his job.
Carlos had done his best to stop the bleeding. Early in the season, Gaston often benched him against lefties. But when Carlos ended April as the team's best hitter, he secured a regular spot in the order. In June, he went deep in four consecutive contests—capping the streak with a grand slam—then recorded a pair of two-homer games in July. Carlos finished the campaign with a 16-game hitting streak, and established career highs in doubles (42), home runs (30) and walks (64).
In the off-season, for the second year in a row, Carlos faced the surgeon's knife. This time it was because of an injury suffered during a winter game in Puerto Rico. After tearing a muscle in his right shoulder diving for a ball, Carlos chose to have surgery that would likely shelve him for several months.
The slugger's absence created a hole in Toronto's lineup. The Blue Jays plugged fading veterans Jose Canseco and Mike Stanley into the cleanup spot until Carlos returned to action at the end of April. New manager Tim Johnson, who had previously served as the skipper Chicago Cubs' Triple-A affiliate in Iowa. was happy to see his lefty slugger back in the lineup. Toronto was four games under .500, and the Yankees were running away with the division (they eventually finished at 114-48).
Carlos tried to keep the Blue Jays in contention. In May, he batted .324 with four home runs and 21 RBIs—including his first five-hit game—then began June by being named named AL Player of the Week. Just after the All-Star break he stumbled through an 0-for-29 slump, but snapped out of it with a massive blast into SkyDome's previously unreachable fifth deck.
By August, the Blue Jays were in the hunt for a playoff spot. Clemens was having another sensational year, and Canseco and Tony Fernandez—in his third stint with the ball club— both appeared rejuvenated. It was Carlos, however, who emerged as the club leader. On August 13, in fact, Johnson named him team captain. In September, he broke the club record for home runs with 11, including the 100th of his career. Carlos finished at .292 with 38 homers and 115 RBIs. But his effort wasn't enough. Though Toronto won 88 games, they could not overtake the Red Sox, who grabbed the Wild Card.
Heading into the 1999 season, the Blue Jays found themselves in a bind. Clemens wanted to renegotiate his contract, but the team had no intentions of paying him more. GM Gord Ash solved the problem by swapping the Rocket to the Yanks for David Wells, Homer Bush and Graeme Lloyd. Weeks later the organization was rocked when Johnson was fired after making misleading comments about his military career. The club quickly turned to Jim Fregosi, a pennant-winning manager who had been working as a special assistant in San Francisco's front office.
Fregosi inherited a team with loads of offense. Carlos and Green formed a devastating one-two punch, and Cruz seemed ready to fulfill his immense potential. Bush, meanwhile, added even more speed to a lineup that had led the league in steals the previous season. Fregosi's major challenge was his pitching. After Wells, the starting quartet of Hentgen, Chris Carpenter, Joey Hamilton and Roy Halladay was iffy at best, and the closer's job would likely be handed to the unproven Billy Koch.
But somehow Fregosi pushed all the right buttons. Come August, the Blue Jays were right on Boston's heels for the Wild Card. They fell out of contention, however, when Pedro Martinez and the Red Sox got hot down the stretch and edged them once again.
Despite this disappointment, Carlos had another exceptional year. After homering on Opening Day (for the third time in his career), he rolled into All-Star break with 77 RBIs. As AL hurlers learned, Carlos had become maddeningly patient with runners on base. And when he got a pitch he liked, he rarely missed it.
He peaked in August, blasting eight homers and collecting 13 RBIs over an eight-game stretch. Unfortunately, his season ended prematurely in September when he fouled a pitch off his right leg and broke his tibia. Still, Carlos registered career-highs in runs (113), walks (86), hits (156), homers (44) and RBIs (134).
Carlos's offensive explosion gave Toronto a lot to consider in the offseason. He and Green, who posted 42 homers and 123 RBIs, were eligible to become free agents after the 2000 campaign, and each would command more than $10 million on the open market. Forced to choose between the two, Toronto shipped Green to Los Angeles for Raul Mondesi, who had worn out his welcome in Chavez Ravine. Carlos and the Blue Jays then agreed on a three-year deal worth more than $30 million.
Toronto's fortunes in 2000 were tied to its starting pitching. Wells was solid as the staff ace, but Halladay, Hamilton, Carpenter and Kelvim Escobar were all question marks at the back end of the rotation. That put more pressure on the Blue Jays to score runs. Carlos and his teammates were eager for the challenge. Twenty-six-year-old Shannon Stewart was developing as a dangerous leadoff hitter, Mondesi added power from the right side, and Cruz and Tony Batista—the surprise of '99—also offered plenty of pop.
Opposing hurlers began the year pitching around Carlos. When the rest of the batting order made them pay, he started seeing more strikes. By the end of May Carlos was batting .333, and was closing in on 20 homers and 50 RBIs. He was quick to credit Cito Gaston, Toronto's former skipper, who had been rehired as the team's hitting coach.
In mid-July, with the Blue Jays hovering around .500, Carlos became the big story in Toronto. At .368 with 28 HRs and 80 RBIs, he had a realistic shot at the Triple Crown. When Mondesi went down with an elbow injury, the spotlight got even brighter. Carlos refused to wilt. Though the Yankees were running away from the pack in the AL East once again, he spearheaded a charge that put the Blue Jays in position for the Wild Card. At SkyDome, chants of "MVP" became commonplace.
Unfortunately, Carlos and the Jays tailed off a bit in September. Toronto finished behind the Mariners for the last playoff spot, and Carlos ended up at .344 with 41 HRs and 137 RBIs. It was one of the best seasons in recent memory, but not enough to out-poll Oakland's Jason Giambi for MVP honors. As for the Triple Crown, Carlos ended fourth in batting average, homers and RBIs.
Toronto retooled again in the off-season. Buck Martinez replaced Fregosi as manager, and Wells was shipped to Chicago for lefthander Mike Sirotka. The Blue Jays also rewarded Carlos with a new deal, four years at $68 million.
The changes had little effect. Toronto went 80-82 in 2001, and placed a distant third in the AL East. Martinez's switch from the broadcasting booth produced mixed results. After a strong April, the club wore down, and the skipper's sometimes brutally honest approach didn't sit well in the clubhouse. The pitching suffered a major blow when Sirotka revealed a problem with his left shoulder and was sidelined for the entire season. Toronto's offense, meanwhile, swung and missed far too often for the manager's liking.
Carlos, of course, remained the lineup's primary threat. Early in the year it seemed like he was trying to justify his contract with every swing, and enemy hurlers took advantage of this by busting him inside. Unable to extend his arms, Carlos could not drive the ball. A few weeks into the season he took a deep breath, made the necessary adjustments, and began stinging the ball again. Carlos finished the year at .279 with 39 homers and 102 RBIs.
With attendance sagging in Toronto, the Blue Jays spent the winter cutting payroll. Koch, who had developed into a formidable closer, was one of several big names dealt away, and the pitching staff was restocked with young arms that seemed better suited for Triple A. The cost-saving measures continued into the 2002 campaign, as Mondesi was traded to the Yankees. In June, Martinez was fired, and bench coach Carlos Tosca took the reins. When the young Blue Jays responded to their new manager, the interim label was removed from his title. At 78-84, Toronto was praised for a surprisingly good season.
For much of the year, Carlos had to carry the offense by himself. Young Vernon Wells and rookie third baseman Eric Hinske—acquired from Oakland for Koch—both developed into excellent hitters, but neither had the reputation to provide real protection in the lineup. As a result, Carlos usually didn't see much to hit. He finished fourth in the AL with 102 walks, and tied for second with 18 intentional passes. Injuries also limited his opportunities. Normally an iron man, Carlos sat out 20 games, most due to a bad back. Still, he managed to bat .277 with 33 homers and 108 RBIs.
With a return to full health in 2003, Carlos began the year swinging a scorching bat. Not only was his back feeling good, but he had arthroscopic surgery to clean out his bothersome left knee. The resulting strength and flexibility enabled him to resume hammering the ball to all fields. Carlos also altered his batting stance slightly. More upright at the plate, he began seeing the ball better, which gave him an extra split-second to pull the trigger on pitches. Carlos soon found himself near the top of the league in average, home runs and RBIs, and talk of a Triple Crown began again.
As the season unfolded, the Blue Jays stayed on the fringes of the Wild Card race. More important, they took a major step toward respectability, playing above .500 in a division that included the playoff-bound Yankees and Red Sox.
Carlos's success at the plate had a direct effect on his fellow Jays. Up and down the lineup, Toronto hitters were emulating their captain's patience, forcing opposing starters to amass high pitch counts. Wells, in particular, had a great year, topping 30 homers and 100 RBIs. Shannon Stewart put up good numbers, too, but was dealt to the Twins after the Jays drifted out of contention. Frank Catalanotto and rookie Reed Johnson platooned in left to pick up the slack. And although the team still searched for a replacement for Koch, Roy Halladay fully emerged as a Cy Young-caliber ace.
Carlos, meanwhile, mashed the ball from April through September. His average stayed around .300 all year, he finished second in the AL walks and on-base percentage, and led the league in RBIs with 141. He also gave A-Rod a run for his money, with 41 home runs. Four of those round-trippers came against the Devil Rays on September 25th. The first of the game, off Jorge Sosa, was the 300th of his career. His last, a shot to center, gave him the team record for RBIs.
Entering the 2004 campaign, Carlos had a lot on his mind. Known in the past as a quiet guy who let his bat do the talking, he felt it was time to make a statement. Growing up in Puerto Rico, he had always resented the presence of the American Navy in his country. (The island of Vieques was a weapons testing ground for more than 60 years before shutting down in 2003.) Also angered by the war in Iraq, Carlos refused to stand when teams played "God Bless America" during the seventh inning stretch. Instead, he would head back to the clubhouse. When fans began to notice, Carlos received widespread criticism.
At the same time, he was getting knocked for his lack of production. Injuries nagged him all year long. Carlos started the season playing through pain in his rib cage. His big swing exacerbated the injury, and he was finally forced from the lineup during a game in late May.
His absence crippled the already struggling Jays, whose thin hitting and pitching had little margin for error. In fact, despite missing a week's worth of action, Carlos still led the club in homers (8) and RBIs (32). His batting average, however, was lower than expected at .277.
Carlos landed on the DL in June, and with Halladay also sidelined, Toronto sunk in the standings. When Wells also wound up on the injured list a short time later, the Blue Jays were all but done.
Out of the race for the division and wild card by mid-season, Toronto GM J.P. Ricciardi started to field trade offers. Carlos was a logical candidate, though his big price tage scared some clubs off. But this wasn't the only stumbling block. Happy as a Jay, Carlos vowed not to wave his no-trade clause. Teams called daily, with White Sox general manager Kenny Williams acting as a the main suitor. But Carlos refused to leave Toronto.
His presence in the lineup meant little. The Blue Jays finished a disappointing 67-94, their worst mark since 1980, and manager Carlos Tosca lost his job. Carlos ended up with respectable numbers—a .269 batting average with 32 home runs and 99 RBIs—but well below his career bests.
The '04 season was a tough one for Carlos. Questions about his patriotism, Toronto's poor record and his drop in production tested him in new ways. He was looking for a fresh start in 2005, when he changed uniforms for the first time in his major-league life. After considering offers from the Rangers, Mets and Orioles, he went with a four-year $52 million deal with the Florida Marlins. Carlosd liked the idea of playing in a Spanish-speaking city, and for a team that had a good young pitching staff. With Juan Pierre and Luis Castillo hitting in front of him and Miguel Cabrera offering right-handed protection, it seemed like the smart choice.
Miami may well have been the right destination, but it was the wrong year. The Marlins never put together a decent run, which doomed them to middle-of-the-pack status in a division where every team finished at .500 or better. Worse, Florida fans were staying away in droves. As soon as the Braves established their usual dominance over the NL East, the Marlins began looking to shed salaries during the off-season. At $13 million per, Carlos was as good as gone.
Luckily, there were a number of teams in the market for a slugging first baseman. Despite a balky knee and time on the DL with a sore hand, Carlos played 143 games for Florida. He hit his usual 30-plus homers, and topped the .300 mark with 115 RBIs.
Just before Thanksgiving, the Mets announced that their acquisition of Carlos in a trade for Mike Jacobs and Yusmeiro Petit, both prized prospects. It was a deal that hurt New York, but one they had to make given their first base woes in '05. Indeed, had they played with a slugger of Carlos's caliber, they might well have won the division.
Carlos was an impact player for New York from Day One for Willie Randolph and the Mets. The New York skipper hit him in the heart of a lineup with Carlos Beltran and David Wright behind table-setters Jose Reyes and Paul LoDuca, Carlos made the most of his RBI opportunities despite being hampered by a sore wright wrist and elbow—both of which required surgery after the season.
But what a season it was. Carlos finished the year with 38 homers and 114 RBIs in 144 games. Though his averaged dipped to .265, he slugged .548, which was on par with some of his best seasons.
More important, the Mets won the NL East and made it all the way to Game 7 of the NLCS. Carlos made the most of his first career playoff appearance. He batted .429 with a homer against the Los Angeles Dodgers in a three-game Division Series sweep, then launched three more home runs against the St. Louis Cardinals. Carlos was waiting, bat in hand, to be a hero when he watched Beltran take a two-strike curve to end New York's season.
The Mets offense is perfectly suited to Carlos's skills. He had the contractual right to ask for a trade after the 2006 campaign, but told New York he wanted to stay put. And who could blame him? With the addition of righthanded slugger Moises Alou to the middle of the 2007 lineup, Carlos could put up superhuman numbers.
CARLOS THE PLAYER
When Carlos is locked in on a pitcher, he can be a nightmare. There is no ballpark that can contain him, and because he drives the ball from foul line to foul line, there is no way to defend against him.
Like most classic home run hitters, he prefers to make contact with the ball just below the midway point. This enables him to lift pitches with a menacing arc, but does not prevent him from hitting for average. Carlos is very patient at the plate. When he's ahead in the count, he rarely misses his pitch.
As good as Carlos is as a hitter, it is safe to say he will never be confused with a Gold Glover at first base. He's a bit stiff, and his hands aren't particularly soft. But he has improved his defense with hard work, and his calming influence on young infielders and pitchers in tight spots probably saves the team more runs than he might give up defensively.
In his first year in New York, Carlos proved his value as a leader. In fact, many attributed Carlos Beltran's big year to the calming influence of his senior teammate. And, of course, when the postseason rolled around, Carlos did more than talk the talk—he hit like a Hall of Famer.
Read more
Latest headlines