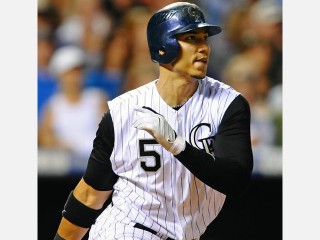 Carlos Gonzalez biography
Date of birth : 1985-10-17
Date of death : -
Birthplace : Maracaibo, Venezuela
Nationality : Venezuelan
Category : Sports
Last modified : 2010-10-28
Credited as : Baseball player MLB, outfield with the Colorado Rockies,
GROWING UP
Carlos Eduardo Gonzalez was born on October 17, 1985, in Maracaibo, Venezuela. His parents, Lucila and Euro, already had one boy, Euro Jr. They would have a third child, a girl named Nathalie. The Gonzalezes were a tight-knit family. Euro's brother Jose married the sister of Carlos's mother.
Carlos learned his love of baseball from his brother. Euro Jr. discovered the sport at an early and was a baseball nut by his 12th birthday. He had some ability, but he was still learning the game when others were refining their skills.
Euro Jr. decided to focus his baseball ambitions on Carlos, who was 11 years younger and already a fine mimic of the players they watched together on TV. The family didn't have much money, so the boys would snap limbs off trees and carve them into bats. Their baseball was made of rolled-up socks. Euro Jr. worked odd jobs so he could buy spikes and a glove for Carlos.
By the age of five, Carlos was starring in the local Little League program. Within two years, he had progressed to the point where he was playing with boys who were 10, 11 and 12.
Carlos faced stiff competition everywhere he went. Maracaibo is one of Venezuela]s top breeding grounds for baseball talent. Hall of Famer Luis Aparicio and his father, Luis Sr., were legends in the city. During Carlos's childhood, Maracaibo's top product was Wilson Alvarez, who in 1991 pitched a no-hitter in his second major league start. Among the top prospects Carlos played with and against in his hometown were pitcher Yusmeiro Petit and infielder Jonathan Herrera, who would later become a teammate in Colorado.
By his early teens, Carlos was playing all over the country. He first made headlines when he slammed a monstrous home run off of future All-Star Felix Hernandez, the country's top teen pitching prospect. Carlos also competed in some overseas tournaments. At one of these events, he met a young shortstop named Troy Tulowitzki. Ten years later, the pair would be hitting back -to-back in the Colorado lineup.
By 2001, scouts became a regular sight at Carlos's games. After he turned 16, his parents arranged for him to live and play in Tampa for a few months, hoping to further showcase his talent. The strategy was a success.
In 2002, the Diamondbacks—fresh off a surprising World Series championship—offered Carlos a signing bonus that enabled him to buy a beautiful home for his family in Maracaibo. He put what was left over in the bank. Lucilla made her son swear that he would not be satisfied with the one-time payday. He promised her he would reach the majors.
That process would take some time. Carlos's first stop on the minor league ladder was Missoula, Montana, where he played for manager Tony Perezchica in the Rookie-level Pioneer League in 2003. Carlos hit .258 in 72 games with decent power. His teammates on the Ospreys included future big-leaguers Miguel Montero and Emilio Bonifacio.
The following year, Carlos worked his way from the Northwest League to the Midwest League, splitting the season between the A-level Yakima Bears and South Bend Silver Hawks. He batted a cumulative .285 and upped his home run total to 10.
ON THE RISE
Carlos returned to South Bend in 2005 for what would be a breakout season. He hit 18 homers and drove in 92 runs to go along with a robust .307 average. He was named the Midwest League Prospect of the Year and played in both the midseason and postseason All-Star Games.
Despite being ranked among Baseball America's Top 100 Prospects in 2006, Carlos still had plenty of rough edges to work on. A notoriously impatient hitter, he collected most of his long hits off of mistakes, and he still had trouble with lefties.
Carlos began the season at Class-A again, this time for the Lancaster JetHawks of the California League. He teamed with Mark Reynolds to give the club an awesome one-two punch. They combined for 44 homers and 171 RBIs before earning promotions to Double-A for the end of the season. Carlos was honored that summer with a selection to the Futures Game in Pittsburgh.
Carlos would play in this event a year again later, this time while a member of the Class-AA Mobile BayBears. For the season, he led the club with 16 homers and 75 RBIs, and he hit .286.. But Carlos was hardly a finished product. He still had a 100-point differential in his batting average between lefties and righties. Defensively, Carlos was smooth and confident in the outfield. And he could steal a base when needed. Toward the end of the season, he got a taste of Triple-A ball with the Tucson Sidewinders. He batted .310 in 42 at-bats.
At this point, the Arizona farm system was flush with excellent prospects. Heading into 2008, they felt that a few key pieces would enable them to compete for the National League West crown. At the top of the list was a pitching ace.
The A's had just that in Dan Haren. Looking for young talent to build around, Oakland put the up-and-coming hurler on the trading block. In December, the two teams made a deal. Carlos was a part of a package that included Chris Carter, Aaron Cunningham, Greg Smith and Brett Anderson. The D-Backs had a starter to match with Brandon Webb at the top of the rotations, and Carlos had a new address.
The A's were coming off a 76–86 season under manager Bob Geren. They were a work in progress, as evidenced by the fact that no outfielder was able to nail down a full-time job in 2008. That worked to the advantage of Carlos, who was called up at the end of May. He doubled off Kevin Millwood in his major league debut. He hammered another two-bagger later in the game against the Texas Rangers. Incredibly, Carlos's next five hits were all doubles.
Fueled by their young players—along with veteran hurlers Joe Blanton and Rich Harden—the A's surprised a lot of people in the American Leagueand were in contention at the All-Star Break. However, the plan was to keep rebuilding and soon Blanton and Harden were traded away.
After those deals, Oakland lost 20 of 24 games and sunk into third place in the AL West. Carlos ended up as one of the team's bright spots. He batted .242 in 81 games and was third on the team with 22 doubles. He was still hitting under .200 against lefties, however, and seized up in pressure situations. Carlos batted .067 with two outs and runners in scoring position—the second-worst mark in the American League.
Perhaps that was what made him expendable in the eyes of the Oakland front office. In November, the A's included the young slugger in a deal with the Rockies. Carlos, Greg Smith and closer Huston Street were shipped off to Colorado in exchange for Matt Holliday, an All-Star who was entering the final year of his contract.
Even with the departure of Holliday, the Rockies were well-stocked with outfielders, including Brad Hawpe and young gun Dexter Fowler. When Fowler failed to hit consistently at the top of the lineup, the Rockies called up Carlos to give him a try. After a slow start, he batted .320 and slugged .608 in the second half to finish with a .284 average and 13 home runs in 89 games. The Rockies, meanwhile, stayed close to the top of the NL West and the Wild Card standings. Ultimately, they finished three games behind the Los Angeles Dodgers in the division but four games of ahead of the San Francisco Giants for the fourth playoff berth.
The Rockies faced the defending champion Philadelphia Phillies in the Division Series. Colorado's pitchers could not hold back the Philly offense, allowing four or more runs in every game. After splitting the first two games on the road, the Rockies dropped two at home to lose the series in four games. The lone highlight for Colorado fans was the play of Carlos, who tortured the Philly pitchers. He had 10 hits and batted .588 in the four games.
Carlos became the centerpiece of the Colorado offense in 2010. With injuries to Tulowitzki and Todd Helton, and a disappointing year from Hawpe, the Rockies needed his bat badly, and they got more than they could have imagined. Carlos was among the league leaders in the Triple Crown categories, as well as hits, runs, slugging and extra-base hits. When he got a pitch he could handle, the ball simply exploded off his bat.
Manager Jim Tracy kept the Rockies afloat with a variety of makeshift lineups and a pitching staff anchored by Ubaldo Jimenez. They were a few games over .500 heading into the last month of the campaign, when things finally came together for them. A healthy Tulowitzki began launching homers at an eye-popping pace, and Jorge de la Rosa and Jhoulys Chacin began pitching like All-Stars. The result was a 10-game winning streak that put Colorado back in the hunt behind the pitching-rich Giants and surprising San Diego Padres.
By then, Carlos had already reached 30 homers, 100 runs and 100 RBIs. He had also boosted his average above .340. He fell out of Triple Crown contention when tendonitis in his right wrist and thumb sapped his power and Albert Pujols went on a home run tear.
Unable to drive the ball the way he had earlier in the season, Carlos altered his approach and continued to contribute singles and doubles. He hit in the clutch and played Gold Glove defense in left field, center field and right field. Carlos drew the attention of the national media. He was regularly mentioned in discussions about NL MVP candidates.
At the age of 24, Carlos is due to enter the impact portion of his career. But no one expected him to develop as quickly as he did. Indeed, he transformed himself from an overanxious, free-swinger into a consistent line-drive machine. Where he goes from here is anyone's guess, but one thing's for sure—Colorado fans can't wait to find out.
CARLOS THE PLAYER
It's hard to watch Carlos and not think of Ken Griffey Jr. Like Junior, Carlos is a superior athlete. He has a long, fluid swing that produces scorching line drives and tape-meaure home runs. In the outfield, he reads the ball well off the bat and has a strong, accurate arm.
It's amazing what a little patience will do. In 2010, Carlos finally figured out how to work the count and wait for a pitch he could drive. Relaxed and infused with confidence, he was able to adjust to the different approaches and pitching patterns teams adopted and hits just kept coming. He could go deep into at-bats, or jump on strikes early in the count, making it difficult for teams to prepare for him.
The big difference for Carlos in his breakout year was his ability to handle lefties. He batted well over .300 against them—an astounding improvement over the previous year. He may not be able to maintain this lofty percentage, but even hitting in the high .200s should be enough to keep southpaws honest when they face him on the mound.
Carlos has a smooth power stroke that utilizes his spacious home park very well. He is at his best when he focuses on hitting the ball up the middle. In the field, he has the wheels to cover any of the outfield positions, and the arm to make enemy runners think twice. As a base stealer, he is successful about 75% of the time.
Teammates and coaches alike rave about the attitude that Carlos brings to the field everyday. He keeps the clubhouse loose and sets the tone on the field with his intensity and desire to win. He is great leader and a joy to be around.
Read more
Latest headlines