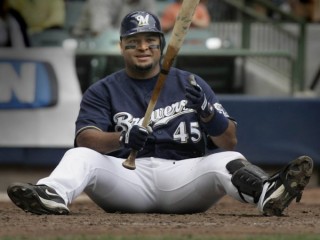 Carlos Lee biography
Date of birth : 1976-06-20
Date of death : -
Birthplace : Aguadulce, Panama
Nationality : American
Category : Sports
Last modified : 2010-11-04
Credited as : Baseball player MLB, outfield with the Milwaukee Brewers ,
Carlos Noriel Lee Jr. was born June 20, 1976, in Aguadulce, Panama. Carlo Sr. worked for the phone company and was one of the best fastpitch softball players in the area. He talked hitting with his son constantly, and encouraged him to aspire to a sports career. There was just one problem. Though Carlos was a great young player, he couldn't stand practice. Until his teen years, his father literally had to drag him to the field. He preferred to watch the game on TV.
Carlos's mom indulged her husband's dream, but demanded that her son work hard on his education and graduate with a diploma. She had seen many other boys leave school early after signing with U.S. teams, only to return home without a degree and a future.
Once he decided to commit himself fully to baseball, Carlos burned to become a major leaguer. Unlike so many other hitting prospects, he understood what it would take to get there. When the scouts came around, the other boys would swing from the heels and try to crack long home runs. Carlos worked the count, driving balls the other way with two strikes. He also listened when his coaches talked—something that did not go overlooked among the talent evaluators.
Of course, Carlos could hit for power. When the ball came off his bat, it sounded like a rifle shot. He had good reactions at third base, and a decent arm. And he could run. Among the wiry young teenagers who dotted Panama's humid playing fields, Carlos stood out in another way—he was simply enormous. It was difficult to tell where the prime beef ended and the fat started.
Like most young Panamanians, Carlos looked up to countrymen Rod Carew and Manny Sanguillen. But his favorite player was Jose Canseco. The two shared a lot in common. Canseco broke into the majors when Carlos was 10, and entranced the young man with his power, speed and confidence.
The New York Yankees and Los Angeles Dodgers loved Carlos's bat, but could not get past his body. The word on him among scouts, in fact, was that his baby fat might not melt away. The kid loved to eat. Chicago White Sox scout Miguel Ibarra did not agree.He saw an extra dimension to Carlos that had nothing to do with girth. He liked the kid's heart, and believed he was worth a take-out bonus. While other clubs were debating whether to nudge their offers above four figures, the White Sox swooped in and inked Carlos for $25,000.
Carlos played his first year in the organization at the club's Venezuelan academy. One day, scout Duane Shaffer paid the young players a visit. He lectured them on how hard they would have to work to make it to the majors, and then asked Carlos to stand up. He asked the still-pudgy 17-year-old his position. Carlos answered that he was a third baseman. Shaffer asked him how many third basemen in the majors looked like him.
Carlos was embarrassed, but he got the message. When he reported for spring training in 1994, he was 34 pounds lighter. The team assigned him to its rookie-level team in Sarasota. Carlos felt lost at times during his first year of pro ball in the U.S. He would stay in his room alone and wait for the moment when he could leave for the ballpark. There, everything made sense. It was the only place he felt at home so far from home. Not that he had much of a season. Carlos shared third base with Tom Koerick and batted .125 for a team that had only one other future major leaguer, catcher Mark Johnson.
The following year, Carlos was assigned to the Class-A Hickory Crawdads of the South Atlantic League, where once again he had to share his position. He hit .246 in 63 games with just four home runs. Despite an improved physique and a year of minor-league ball under his belt, Carlos still carried with him the tag of being lazy. It was said around the organization that if Carlos had a chance to run through rocks or lay on a pillow, he would choose the pillow. His baserunning did little to assuage his critics. Unless it meant the difference between a hit and an out, he tended to go at three-quarters speed. But when a run or an extra base was out there, he could motor with the best of them. This drove his managers crazy. Carlos defended himself by saying he wanted opponents to think he was slow so he could surprise them at crucial times. No one was buying this.
ON THE RISE
Carlos returned for another year with the Crawdads, but this time things were different. He was the everyday third baseman, and manager Chris Cron let him know he believed in him. Carlos started to exude confidence at the plate. By season's end, he was the league's second best hitter at .313 average, the tenth-best mark among all minor league third basemen. The Crawdads had the league's worst record, so Carlos got little attention for his skills. He did receive the Lubin Award as the organization's top minor leaguer, although he was still not considered a major-league prospect.
That changed in 1997, when Carlos was bumped up to the Winston-Salem Warthogs of the Carolina League. He led the circuit with 173 hits, 50 doubles, 71 extra-base hits, 282 total bases, and once again was the runner-up in the batting race with a .317 average. For the second straight year, Carlos was honored as the top player in the White Sox system, but this time his name began popping up on prospect lists. Baseball America had him rated as Chicago's tenth-best minor leaguer.
The White Sox moved Carlos up to the Class-AA Birmingham Barons to see if he could make it three strong years in a row. Once again, he hit over .300 with power, blasting 21 homers and knocking in a team-high 106 runs. For a month starting in early August, no one could get Carlos out. He had hitting streaks of 18 and 11 games during that span. After the season, Carlos completed his version of the the Triple Crown by winning the Lubin Award for a third time.
With Joe Crede and Greg Norton projected as future third basemen, the White Sox started eyeing Carlos as a potential outfielder. They sent him to Arizona to work as a flychaser, and he led the Fall League with 33 RBIs, 24 extra-base hits and 19 doubles, which set an AFL record.
The plan for Carlos in 1999 was to get him comfortable in the outfield at Triple-A and then see if he could help the team down the stretch. The White Sox had jettisoned two-thirds of their outfield over the winter, dispatching Albert Belle and Mike Cameron in favor of Chris Singleton and a combination of Jeff Abbott, Darrin Jackson and Brian Simmons. Singleton did fine alongside holdover Magglio Ordonez, but no one grabbed the leftfield job early on. After lighting up Class-AAA pitchers for 25 games with Charlotte, Carlos got the call in May.
He started his major-league career with a bang—literally—belting a home run in his first at-bat for the White Sox. He showed good power and a quick bat over his first three months, then toward the end of August he kicked it into high gear. Carlos won Player of the Week honors on his way to a 15-game hitting streak that boosted his slugging average above .450 for the year and brought his batting average close to .300. He ended up hitting .293 with 16 homers and 84 RBIs, and finished seventh in Rookie of the Year balloting. No one could stop talking about his smooth swing. The only concern, however, was his plate discipline. His walk total plummeted to 13, and he got himself out chasing pitches he had no business trying to hit.
In 2000, Carlos was part of a power-packed White Sox lineup that saw no fewer than six players crank out 20 homers and drive in 90 runs. He also showed his baserunning skills, scoring more than half the time he reached base—the best figure in the league. At the season's midway point he had 17 homers, eclipsing his total of 16 from the year before. Carlos finished with 24 and knocked in 92 runs while batting .301. By September, he had worked his way up from seventh to fifth in the batting order.
After chasing the Cleveland Indians for years, the White Sox finally won their division in 2000. They faced the Seattle Mariners in the playoffs and got snookered, losing two of the three games in the final inning. Carlos didn't help much, collecting one hit in the series.
Carlos made up for this with a quick start in 2001, with 15 homers and a .300 average in the first half. However, a sore thumb in the second half contributed to a .228 average and just nine homers after the All-Star break, and his final numbers ended up looking ordinary. The White Sox were starting to grow concerned over his lack of walks, and his troubles hitting anything but a dead-red fastball.
Carlos's late-season slump carried into the beginning of 2002. But he turned his season around after coach Gary Ward and manager Jerry Manuel put in extra time with him in the batting cage. Carlos finally started laying off pitchers' pitches and saw better strikes to hit and his walk total soared. Going into the season, he had accumulated 89 career passes. In '02 he was walked 78 times. Carlos belted 26 homers with 80 RBIs, and though he batted just .264, it was clear he was a different hitter.
Carlos also experienced change in his personal life. With the White Sox out of the running, he received permission to miss the final five games so he could be in Panama for the birth of his first child, Karla Marie.
That winter, embarrassed by his league-high eight outfield errors, Carlos played winter ball and concentrated almost entirely on improving his defense. Although leftfield was no longer a "new' position for him, he was often caught flat-footed when he should have been getting good jumps on hard-hit fly balls. As spring training approached, he asked the White Sox if they would assign first base coach Gary Pettis—a five-time Gold Glover—to continue working with him.
MAKING HIS MARK
Carlos exhibited even more patience at the plate in 2003, and it resulted in the breakout season the White Sox had long expected. He established new personal highs in virtually every offensive category. Carlos got off to a roaring start in April, homering in five straight games to tie a club mark shared by Greg Luzinski, Ron Kittle and teammate Frank Thomas. He finished with 31 homers, 113 RBIs, a .291 average and 18 stolen bases. He led the league with 59 RBIs after the All-Star break, knocked in 93 runs against righthanded pitching, and also showed improvement in leftfield.
Carlos's great year enabled him to emerge from the long shadow cast by friend and teammate Magglio Ordonez. Ordonez had a decent season, but Carlos was definitely "The Man" in Chicago in '03.
In 2004, Carlos continued to evolve as a hitter, taking what pitchers were giving him and inflicting maximum damage when ahead in the count. He set a new White Sox mark with a 28-game hitting streak that lasted from mid-May to mid-June—hitting just one homer during this span. When pitchers began challenging him again, he reignited his home run stroke, finishing with 31. His 50 multi-hit games topped the team, and for the second year in a row he collected more than 300 total bases. Carlos also got kudos for his defense when he wasn't DH-ing, playing the entire year error-free in leftfield.
The success of the '04 season was marred for Carlos by his oil-and-water relationship with new manager Ozzie Guillen. Guillen was never a man to mince words, and when he felt that Carols was giving less than a full effort, he chewed him out in front of the team and the media. After the season, Carlos was dealt to the National League. The Brewers sent Scott Podsednik and Luis Vizcaino to the White Sox for Carlos. It turned out to be a classic win-win trade.
Milwaukee had great young talent that had played together and won on a couple of minor-league levels. But after an encouraging start in 2004, the offense took a step backwards and the Brewers found themselves getting little respect from enemy pitchers in the second half. Trading for Carlos gave the team a rock-solid cleanup hitter.
It also showed Milwaukee fans something to which they have historically been unaccustomed to: A slugger with a plan. Traditionally, the Brewers had featured notorious free-swingers in the power slots, including strikeout artists Richie Sexson, Jeromy Burnitz, Rob Deer, Gorman Thomas and George Scott.
Carlos took to the new league in spectacular fashion, playing in 162 games and setting new career highs with 32 homers, 114 RBIs and 41 doubles. He batted in the four-hole for the Brew Crew throughout the 2005 campaign, and patrolled leftfield even in interleague competition.
After a slow April, his first half was sensational, but his tank was running low in the second half. Still, Carlos finished eighth in the MVP balloting and, more importantly, provided the team with a highly productive and durable veteran presence around which it could arrange its young puzzle pieces, including Prince Fielder, Rickie Weeks, Billy Hall and J.J. Hardy. In fact, his greatest contribution to the club in '05 was his skull sessions with Hall, who went from a light-hitting utility player to a line drive machine. To the amazement of almost everyone in baseball, the Brewers got great pitching, timely hitting and decent defense, and finished the year at 81-81.
Expectations for the club were high heading into 2006. The club had added depth in the infield and outfield, featured a trio of proven starters in Ben Sheets, Chris Capuano and Doug Davis, and boasted a reliable closer in Derrick Turnbow. The Brewers failed to meet those expectations early on, struggling to reach .500 again.
Carlos was not part of the problem. He went on a two-month hitting spree that saw him reach 20 homers in June. The question was, would he be part of the solution? As a veteran on a young club, he will be asked to do more in the leadership department—or be asked to go elsewhere if the another club wants to pay the price for his potent bat. Ultimately, Carlos is just like most players—all he wants is a couple of 3-1 fastballs, and a dugout he can call home.
CARLOS THE PLAYER
Carlos has a picture-perfect smooth, compact swing that generates awesome power. He looks for pitches he can drive out of the ballpark until he gets two strikes, then shortens up and tries to whack balls into the gaps. Carlos is one of the few righthanded sluggers who hits righties better than lefties. For most of his career, in fact, this differential has been extremely pronounced.
When Carlos goes first-ball swinging, he can be murder on pitchers. But he also does well when he waits out an at-batr. He typically moves back and forth between the two extremes during the season, sticking with what works until it stops working.
On the bases, Carlos still has better than average speed for a guy his size, and he is not afraid to swipe a bag when the team needs one. In the outfield, he gets the occasional poor jump, but his speed and experience enable him to cahse down many balls he used to miss.
EXTRA
* Carlos socked 50 doubles in 1997 to tie for first among all minor leaguers.
* Carlos's first career grand slam came against Bartolo Colon in 1999.
* Carlos's 84 RBIs in 1999 tied him with Pete Ward for 8th all-time among White Sox rookies.
* Of the 24 homers Carlos hit in 2001, 22 came off of righthanders.
* Carlos had one of his biggest baseball thrills in 2001, when the White Sox signed his boyhood hero, Jose Canseco.
* When the White Sox hired hitting coach Greg Walker early in 2003, he told Carlos he wanted him to drive pitches up the middle more often. During a batting practice session, Carlos smacked a line drive back to the mound that broke Walker's arm.
* Carlos's 28-game hitting streak in 2004 broke the White Sox club record of 24 set by Chico Carrasquel in 1950.
* Carlos had 76 RBIs before the All-Star break in 2005 to set a Brewers team record.
* Carlos won the Silver Slugger award in 2005 as the best-hitting leftfielder in baseball.
* Carlos led the NL with 11 sacrifice flies in 2005.
* Carlos represented Panama in the 2005 All-Star Home Run Derby and cranked out 11 bombs. He lost in the first round to Bobby Abreu and Ivan Rodriguez.
* Carlos's nickname is El Caballo—The Horse.
* Carlos runs a cattle ranch in Panama during the off-season.
* Carlos has a younger brother—also named Carlos—who turned into a good ballplayer, too. He was signed as a catcher by the White Sox in 2000.
* Carlos and his wife, Mary, have three children—Karla, Cassandra, and Karlos.
* Whenever there is a rumble of thunder near the stadium, the running joke among the Brewers is that someone just dropped Carlos's glove.
* Carlos is known for making silly faces while his teammates are being interviewed on TV.
* Carlos can often be seen at shortstop during batting practice. He still loves playing the infield and sometimes tries to turn double plays.
Read more
Latest headlines